Los Angeles Soccer:

Ted Eck
April, 5, 2012
4/05/12
11:20
PM PT
By
Scott French
| ESPNLosAngeles.com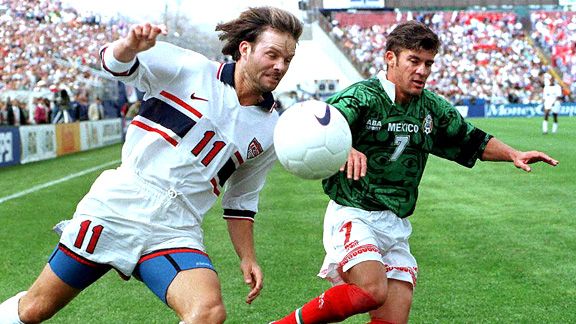 John Mottern/Getty ImagesEric Wynalda, left, shown playing Ramon Ramirez and Mexico in 1997, will be part of a Legends game at Home Depot Center.

Ever wish you could travel back in time to see some of the region's greats of yesteryear? American stars such as Cobi Jones and Eric Wynalda, Alexi Lalas and Paul Caligiuri, or Mexicans Jorge Campos, Jared Borgetti, Luis Hernandez or Alberto Garcia Aspe?

Circle a week from Sunday on the calendar. The Legends Classic, featuring some of the biggest names in the North American game, is scheduled for April 15 at Home Depot Center, with a 6 p.m. kickoff. Tickets start at $15, and the game will be officially announced any moment.

The U.S. roster, according to the PRIMETIME Sports, the event's organizer, features National Soccer Hall of Famers Jones, Wynalda, Lalas, Caligiuri and Thomas Dooley, all key figures on the U.S. World Cup sides of the 1990s (and 2002, with Jones).

Also on the list: John O'Brien, who played in two World Cups; Cle Kooiman, a defender on the 1994 World Cup team; former Galaxy stars Clint Mathis, Chris Klein and Jovan Kirovski, plus longtime pros Roy Lassiter, Ted Eck and Christopher Sullivan.

Hall of Famer-to-be Brian McBride and Galaxy goalkeeper coach Ian Feuer are on the list but unconfirmed, and Galaxy assistant coach Curt Onalfo will guide the American "legends."

The Mexican roster will feature Campos and Hernandez, both former Galaxy standouts, plus Garcia Aspe and Roberto Luis Alves, better known as Zague, the organizers confirmed. Hoy Los Angeles reports that Borgetti and former Chivas USA star Francisco Palencia also will play.

UPDATE (April 6, 5:40 p.m.): The game has been announced, and with it Mexico's roster, which includes former Chivas USA stars Claudio Suarez, Ramon Ramirez and Mariano Trujillo. Organizers report that also suiting up for El Tri, in addition to the players listed above, are Martin Zuniga, Carlos Reynoso, German Villa, Ramon Morales, David Oteo, Joel Sanchez, Missael Espinoza, Marco Antonio "Chima" Ruiz and Jesus Olalde.
March, 22, 2012
3/22/12
3:40
PM PT
By
Scott French
| ESPNLosAngeles.com
CARSON -- The Galaxy announced Thursday they will take on Tottenham Hotspur in a July friendly at Home Depot Center. What they didn't announce is how difficult a fit the game is in their schedule.
The July 24 date makes for five matches in 15 days in the middle of one of the toughest stretches in L.A.'s schedule: Seven of eight league clashes on the road, with the home game (and one of the away games) a SuperClasico match against Chivas USA.
The Galaxy plays at Portland on July 14, at Vancouver on July 18, and at home July 21 against Chivas. L.A. is off to play FC Dallas in Frisco, Texas, four days after the Tottenham match.
Summer friendlies are increasingly a highlight of the American soccer schedule, and the Galaxy is expected to play two top clubs this summer. Tottenham, with which L.A. has a longstanding relationship, had long been rumored. Manchester United's name has been bounced around a bit, too.
What about Real Madrid? The Galaxy played friendlies with the Merengues the past two seasons, at the Rose Bowl and the Coliseum, and manager
Jose Mourinho
has annually brought his team -- first Chelsea, then Inter Milan, the Real -- to UCLA for preseason. There has been speculation Mourinho will depart Real in May, and former president of business operations
Tom Payne
last summer told ESPN Los Angeles that he had told the Spanish giant that their presence in Southern California prevented other clubs, which the Galaxy hoped to play in friendlies, from visiting the area.
The Galaxy has been more aggressive about scheduling friendlies since
Bruce Arena
took charge in August 2008. AC Milan and Barcelona visited in 2009, Real Madrid and Argentina's Boca Juniors in 2010, and Manchester City -- currently second in the EPL -- played at Home Depot Center eight days after last year's Real Madrid tilt. Chelsea visited HDC in 2007.
The Galaxy also played a July 2009 friendly against Crystal Palace in Richmond, Va., but it was abandoned at halftime because of heavy rains.
Tottenham, which features American goalkeeper
Brad Friedel
and has spent most of this season sitting third in the English Premier League standings, has a business relationship with the Galaxy, and
David Beckham
and
Robbie Keane
are close to Spurs manager
Harry Redknapp
, who could become England's national team coach in May. Beckham trained before the 2011 season with Tottenham, and Keane, a former Spurs striker, spent a few days in January working out with the club before joining Aston Villa on loan.
BECKHAM IS WEALTHY:
Beckham is the soccer world's second-best earner,
France Football
magazine reports, making $41.5 million last year through salary, endorsements and other earnings. He was MLS's only player in the top 20, no surprise except that New York's
Thierry Henry
was a regular presence on the annual list until arriving in the league two years ago.