Los Angeles Soccer:

Tim Melia
June, 26, 2012
6/26/12
11:51
PM PT
By
Scott French
| ESPNLosAngeles.com
FULLERTON --
Jose Erik Correa
took a goal away from Chivas USA a half-hour into Tuesday night's U.S. Open Cup showdown, and he wasn't about to let that be his legacy in the Goats' biggest game so far this season.
The Colombian forward, returning from a hamstring injury that had sidelined him most of June, made up for his miscue by scoring two goals, including a dramatic stoppage-time winner, as Chivas USA overcame the pesky Charlotte Eagles to advance to the 99-year-old competition's semifinals for the second time in club history.

Correa headed home a
Laurent Courtois
free kick nearly four minutes into added time to deliver a 2-1 triumph at Cal State Fullerton and set up a July 10 date with
three-time defending champion Seattle Sounders
, a 1-0 winner over the San Jose Earthquakes. The Sounders beat the Goats two years ago in the semifinals.
"This is huge ...," said Chivas coach
Robin Fraser
after the Goats' third one-goal victory in this Open Cup and the second in a row on a stoppage-time finish. "Sometimes the play's been good, sometimes the play's not been great, but at the end of the day, the team is finding ways to get results. That's going to serve you well in the long run."
Correa also tallied in the 64th minute, finishing a through ball from
Juan Agudelo
that looked as if it would hold up until the end. Charlotte, a third-division side that beat FC Dallas in a third-round game nearly a month ago, pulled even in the 89th minute when
Mauricio Salles
knocked home the remains of a
Jorge Herrera
shot that
James Riley
slid in to block.
"It goes to show you waste some really big chances and you let the team stay in it, they're going to fight until the very end," said center back
Danny Califf
, who wore the captain's armband. "We didn't make it easy on ourselves, especially in the second half. We weren't able to hold the ball, we didn't finish our attacks very well, they were able to get rebounds and come at us with numbers.
"It wasn't pretty, but in the end it showed a lot of character. That's two games in a row that we've done that, so we'd like to make it easier on ourselves, but a win is a win is a win."
Correa clinically finished on the first, with Agudelo -- a late-first-half substitute for
Miller Bolaños
, who retweaked his hamstring injury in his first game since May 23 -- feeding him after Courtois chested a
Tim Melia
clearance onto his path near midfield. The second was almost as nice, with Correa getting assistance from countryman
Juan Pablo Angel
to nod home Courtois' free kick from about 30 yards out on the right flank.
"I was arriving at that ball with not a lot of strength, and [Angel] pushed me from the back with a lot of strength," Correa said through a translator. "The next thing I know, he yells, 'Goal!' and then I turn around. Practically, the whole strength on that goal was from him. He pushed me."
June, 18, 2012
6/18/12
6:18
PM PT
By
Scott French
| ESPNLosAngeles.com
CARSON -- Neither of Chivas USA's center backs Monday morning was under contract, and one of them hadn't played competitively in months -- focused more on his UCLA degree and keeping up with two young sons.
One winger played on the indoor Anaheim Splash's reserve team last winter, and his replacement's experience is primarily in the minor leagues of Germany and the Netherlands. Neither are under contract.
Add in a couple of Chivas Academy stars -- high-schoolers, really -- and the Goats produced a most experimental lineup for their MLS Reserve League clash with Portland. They came out of it with a point -- rookie
Casey Townsend
and German trialist
Sebastian Stachnik
scored goals in an entertaining 2-2 draw in Home Depot Center's Track and Field Stadium -- and, more important, without having to expend much first-team energy.
Chivas is through one of four games in a grueling 11-day stretch, facing a critical Major League Soccer showdown Wednesday against Montreal, and the last thing it needs is to find minutes for players. There are enough meaningful minutes to spread around.
"For sure, we have a game in two days and another three days after that. And the [U.S.] Open Cup game next week," head coach
Robin Fraser
said. "We have a busy schedule and are trying to manage the schedule for everyone involved."
Only six first-team players saw action, and among them, only wingers
Laurent Courtois
and
Ryan Smith
, who came on in the second half, can be considered major contributors.
All three trialists in camp -- Stachnik, center back
Bobby Burling
and Brazilian winger (and former Spash reserve)
Tiago Luzardi
-- were given roles, and Academy midfielder
Eric Gonzalez
(Corona/Santiago HS) and forward
Ben Spencer
made their Reserve League starts since last year.
Also on hand was MLS veteran
Nelson Akwari
, who has played for the MetroStars, Columbus, Real Salt Lake and Vancouver (when it was a second-division team) before returning to UCLA last year to complete his education. He doubled up in the L.A. Blues' backline last season, but this year has been about school (he's two years from an engineering degree) and family.
May, 29, 2012
5/29/12
11:56
PM PT
By
Scott French
| ESPNLosAngeles.com
VENTURA -- The way its Major League Soccer brethren were dropping games left and right, Chivas USA couldn't be too disappointed after capturing its U.S. Open Cup opener Tuesday night, even if the performance left plenty to be desired.
The Goats got an early goal, from
Cesar Romero
, and withstood heavy pressure at times to pull out a 1-0 victory over the Ventura County Fusion and advance to a fourth-round meeting next week in North Carolina.
The Fusion, an amateur powerhouse from the Premier Development League -- and featuring former Chivas midfielder
Rodrigo Lopez
and two players, Kennedy Chongo and Daniel Steres, who were with the Goats during preseason -- were the better side much of the night but couldn't beat
Tim Melia
, the No. 2 goalkeeper, despite creating more opportunities than Chivas.
"In a single-elimination tournament, the most important thing is to win, and these games are tough," Goats coach
Robin Fraser
said. "The 'underdog' really treats it like it's a huge game, and certainly we need to as well, but as you can tell by tonight with seven teams losing in the MLS, these are difficult games.
"So to come out and win and move onto the next round is the most important thing."
An expected SuperClasico showdown with the
Galaxy was dead
before kickoff -- L.A. was one of seven MLS clubs to lose against lower-division competition -- so Chivas has a date next Tuesday in Cary, N.C., with the Carolina RailHawks.
"[Playing the Galaxy] is what we expected," said Chivas winger
Ryan Smith
, an Englishman, "but this is like the F.A. Cup back home. You don't know who's going to win because it's who turns up on the day. I'm glad L.A. are out."
Chivas managed only a couple of chances and tested Ventura's goalkeeper, UCLA's
Earl Edwards
, only once, on Romero's 13th-minute goal. He took a through ball from
Juan Agudelo
, and his low shot nutmegged Edwards from right of the net.
It was Romero's first goal for Chivas' first team, but his 12th in all for Chivas, including preseason, MLS Reserve League and reserve friendlies.
"I've been knocking on the door [of the first team]," said Romero, who has played sparingly the past six week. "Every day is a new day for me, and every day I train and work hard for the main goal which is to start on the first team."
April, 2, 2012
4/02/12
11:13
PM PT
By
Scott French
| ESPNLosAngeles.com
CARSON -- Chivas USA's offensive problems, Robin Fraser believes, come down to mindset. The Goats need players willing to "go for it" if they're going to score goals and win games.
[+] Enlarge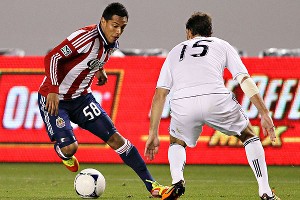 Victor Decolongon/Getty ImagesChivas USA's Cesar Romero
Cesar Romero
has a message for Fraser: He can be that guy.
The first-year forward from San Diego scored a second-half hat trick Monday to lead Chivas past the Galaxy, 4-2, in an MLS Reserve League opener on L.A.'s training field at Home Depot Center, and after humbly noting that it "feels very good to win" and that he needs to "keep working hard to win my spot, try to win my time," a little of his swagger crept through.
"When I'm coming into the game, in my head I'm like, 'When I'm going to score?' " Romero said. "And if I get a chance, in my head, you know what? It's going to be in the back of the net. That's my confidence."
He sparked the Goats to a 3-0 lead, crossing for
Miller Bolaños
' header in the 54th minute, finishing from Bolaños' feed five minutes later, then volleying a
Blair Gavin
cross in the 64th. He scored his third in the 86th after
Chad Barrett
had pulled two back for L.A.
"Cesar, he's a dangerous player," Fraser said. "He makes good runs in behind, and if he continues to do that, I think he'll score goals in this league."
Chivas (1-3-0) could use goals. They've scored just one (from just eight real chances) in their first four Major League Soccer outings, wasting outstanding defensive performances in three 1-0 losses.
"Are we producing enough opportunities? Absolutely not. Absolutely not," Fraser said. "But a little bit of it, I think, is a shift in our mindset. To create goalscoring chances, you've got to just go, you've got to go for it. And I felt like today we did a decent job of that. We did a decent job of looking to play in behind, guys running in behind, and we have talented players. So we put ourselves into position where we can make plays, where we can make half-opportunities into whole opportunities.
"So I think the lesson to be learned for us is we've talked about being aggressive -- for a long time we've talked about it -- but really when you see it in practice and you just go for it, you just create more chances and you have to be willing to do it."
March, 12, 2012
3/12/12
8:54
PM PT
By
Scott French
| ESPNLosAngeles.com
CARSON -- Jorge Villafaña celebrated his call-up to the U.S. Olympic qualifying roster Monday with 90 solid minutes in a friendly against the L.A. Blues. The Goats' 1-0 defeat at Home Depot Center's Track and Field Stadium couldn't knock the smile from his face.
"I'm happy to be called up for the qualifiers," said Villafaña, who as
Jorge Flores
(he legally adopted his mother's name last fall) made Chivas' roster five years ago after winning a television competition for the chance. "Can't wait to be there with my teammates and the national team. It's going to be a great experience and a good opportunity for all the players who will be there."
Villafaña was among 19 players on University of Akron coach
Caleb Porter
's U.S. under-23 national team roster for the March 22-April 2 qualifying tournament, which will determine CONCACAF's two entrants for the men's soccer tournament at this summer's London Games. Home Depot Center will stage one of the first-round groups, but the U.S. will play in Nashville, Tenn., with the all-important semifinals and the title game in Kansas City, Kan.
Galaxy midfielder
Michael Stephens
, former UCLA midfielder
Amoki Okugo
(with Philadelphia), former Chivas defender
Zarek Valentin
(with Montreal) and San Diego's
Joe Corona
(with Club Tijuana) are part of the group set to convene Tuesday in Nashville. Porter has one player to add before the 20-man tournament roster must be finalized March 20.
Villafaña, who in the last year has been converted from left-sided midfielder to left back, grew immensely the past two seasons and impressed the U.S. staff during a January camp with the U.S. U-23s and last month's stint in Frisco, Texas, before a Feb. 29 victory over Mexico's U-23s. He's the first-choice backup for
Ante Jazic
with Chivas, and Goats coach
Robin Fraser
likes how he's developing.
"You get picked for a national team, you're obviously doing something right," said Fraser, who made 26 international appearances for the full U.S. national team from 1988 to 2001. "I think he's a determined player who wants to play well wherever he's put on the field. An opportunity arose for him [at left back], and he's taken in and run with it. … I just think his confidence and understanding has grown greatly."
March, 1, 2012
3/01/12
11:31
PM PT
By
Scott French
| ESPNLosAngeles.com
The most exciting newcomer for Chivas USA this year? It might be
Cesar Romero
, the forward from San Diego who has spent his career with little clubs -- one of them indoors -- but has taken his chance with the Goats to heart.
Romero, 22, netted his fourth goal of the preseason Thursday night, and if it wasn't enough to beat the Portland Timbers, it should have been. Lax defending on a corner kick enabled the home side to pull out a 1-1 draw in the second of three doubleheaders in a four-team tournament, a match that drew 15,195 at Jeld-Wen Field.

Romero provided a 21st-minute advantage for Chivas, nodding trialist
Alan Souza
's cross from the right powerfully between the slight space separating Timbers goalkeeper
Jake Gleeson
and the right post.
Romero has been a handful for opposing defenses in nearly every one of his nine preseason-match appearances, and he was rewarded eight days ago with a contract. He's a nice foil for
Juan Pablo Angel
or rookie
Casey Townsend
, especially when Chivas uses a 4-4-2 alignment, as they did Thursday, rather than the 4-2-3-1 head coach
Robin Fraser
has employed during most of the buildup toward its March 11 Major League Soccer opener.
"[The goal] was certainly a result of hard work and desire," Fraser said afterward. "It was the result of good, aggressive team play."
With better fortune, the Goats could have added to their lead. A sharp cross caromed off Townsend's head to challenge Gleeson shortly after Romero struck, and
Rauwshan McKenzie
beat Gleeson to a header following a corner kick that
Chris Taylor
cleared off the goal line.
Portland got its goal in the 78th minute. Chivas' backline was caught flat-footed on a corner kick into the goalmouth, and rookie
Ryan Kawulok
, who signed his contract earlier in the day, beat trialist
Scott Gordon
to push it past Goats keeper
Tim Melia
, who was sharp all night.
"At the end of the day, the guys are getting into 90-minute fitness," Fraser explained. "Set pieces in Portland are always going to be a big part of the story. They have a lot of big guys, and at home they thrive on them."
Portland possesses one of the most rabid fan bases in MLS, and although the crowd was a little smaller than the group that saw the Timbers tie San Jose on Monday night, it provided a glimpse of regular-season atmosphere for, especially, Romero and Townsend.
February, 24, 2012
2/24/12
7:11
PM PT
By
Scott French
| ESPNLosAngeles.com
CARSON --
Robin Fraser
has roster decisions to make in the next week, and they're not getting easier. The performance of three trialists in Chivas USA's preseason game Friday afternoon certainly gives the Goats' coach and his staff something to think about.
Colombian attacking midfielder
Jose Manuel Najera
and Brazilian winger
Alan Souza
were as impressive as hoped for in their first game action for Chivas in a 4-0 romp over Loyola Marymount University on a training field outside Home Depot Center's main stadium.
Matt Dallman
's showing at left back was just as good -- and far more unexpected.

Dallman, who is from Portland, Ore., started training with Chivas about two weeks ago -- not on trial, just to get fit. He has spent the past 4½ years in Europe, and he came to Carson after childhood friend
Heath Pearce
vouched for him.
"He talked to the coaches, asked if I could train with them for a little bit, and they've been great," said Dallman, who played with Pearce in club ball, at the University of Portland, and in six months at Danish club Nordsjaelland before spending four years in Germany, with Arminia Bielefeld and Sportsfreunde Ziegen.
Dallman, 26, teamed with Souza on the left flank Friday to terrorize LMU's defense, setting up the second of two goals by rookie
Casey Townsend
with a fine run to the end line. He was solid defensively and looked very much at home in a 90-minute outing.
"We had the opportunity to look at him, and he's come in, and I think he did well today," Fraser said.
His chances of making this roster? No telling.
"I haven't really heard much [about prospects]," Dallman said. "It was more of they said I could come in and train. I don't think it was a very official trial. It was just me kind of getting fit again. I just moved back from Europe about a month ago, so I'm tring to find a club here between [MLS and second-division North American Soccer League], just kind of decide what I want to do.
"I didn't come in with expectations. It was just great that they let me train."
January, 19, 2012
1/19/12
10:48
PM PT
By
Scott French
| ESPNLosAngeles.com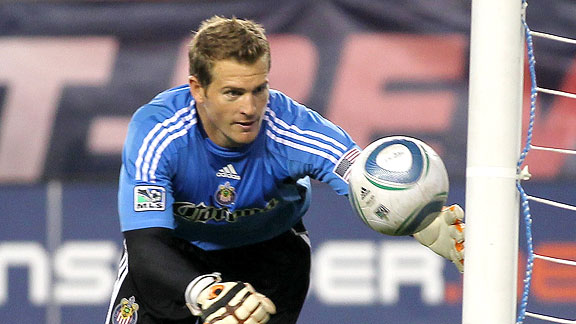 Jim Rogash/Getty ImagesDan Kennedy, last season's team MVP for Chivas USA, will have plenty of competition for the goalkeeper spots.
CARSON -- If any returning Chivas USA player can be guaranteed a starting spot, it's got to be
Dan Kennedy
, who was a deserved selection as the club's 2011 MVP after a marvelous campaign in the Goats' nets.
Not so fast. Chivas has five goalkeepers in camp, possess the Major League Soccer rights to a sixth, and head coach
Robin Fraser
and his staff figure competition in the preseason camp will determine which three (or four) make the roster.
Veteran
Zach Thornton
and Mexican loaner
Sergio Arias
, Kennedy's backups last season, are gone, and the Goats have signed
Tim Melia
, a backup the past two seasons in Real Salt Lake when he wasn't on loan to lower-division sides.
Kevin Guppy
, an MLS pool goalkeeper the last three years who has trained extensively with Chivas and was on the roster after Kennedy suffered a torn biceps tendon in August 2010, is on trial, and so is
Patrick McLain
, who just completed his college career at Cal Poly.
The Goats took UCLA's
Brian Rowe
, a second-team All-American, in Tuesday's MLS supplemental draft, but he's on trial in Finland with VPS Vaasa.
Kennedy, 29, a former UC Santa Barbara star from Yorba Linda, was a revelation last year, bouncing back from the biceps injury and supplanting Thornton, a two-time MLS Goalkeeper of the Year (the second time in 2009 with Chivas), two games into the season. He didn't leave the field the rest of the season.
"Coming off last year, you have to say Dan's No. 1 ...," Fraser said after some prodding. "It's a battle between everyone for all the spots. We have a number of keepers in, and the competition is what we want to have in order to push everyone as hard as we can."
That's fine with Kennedy, who joined Chivas in 2008 after stints with the MetroStars, Puerto Rico Islanders and Chilean club Municipal Iquique.
"That's the way it's been my whole career, wherever I've been," he said following Chivas' fitness session -- nothing but running -- Thursday at Home Depot Center. "As a player, you should never expect anything. You have to work hard for everything you earn. [The competition for jobs] should spread through the team. You need to be on top of your game to be on the field, and that's what we're going to need from everybody to be a winning club."
January, 18, 2012
1/18/12
11:34
PM PT
By
Scott French
| ESPNLosAngeles.com
CARSON --
Ryan Smith
's disappearance was among the oddest occasions in Major League Soccer last season, and the mystery surrounding his departure for England just three months into the campaign led to understandable doubt he'd be around when Chivas USA opened its preseason camp this week.
[+] Enlarge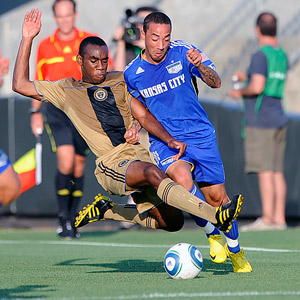 G. Newman Lowrance/Getty ImagesRyan Smith, right, had to leave MLS last season to be with his ailing mother in England.
Turns out that was never in question.
The London-born midfielder, whose rights Chivas acquired from Sporting Kansas City in a November trade, is in great spirits as he begins his tenure in Southern California, and he understands there are questions about why he left last June.
Smith, 25, who came up in his neighborhood club Arsenal's system and played for Leicester City, Derby County, Millwall, Southampton and Crystal Palace, was an immediate hit when he joined K.C. in 2007. He's a creative midfielder with uncommon qualities, and he scored three goals with seven assists that season. Injuries slowed him early last year, and then in mid-June, he was gone.
All Sporting would say: Family reasons.
"I had to leave last summer to return to look after my mum," Smith said. "What a lot of people don't know if the reason why I left is to be close to her because she suffers from lupus, which is an [autoimmune] disease, and it's a permanent illness as well. Nobody knew that apart from the coaching staff at Kansas City, and that was the reason I was sent home."
He went on trial at Real Zaragoza in Spain, but "nothing worked out over there for whatever reason," Smith said. Then he "spoke to the guys here at Chivas, and they wanted to take me, and that was it. It was pretty much done as quickly as I found out."
January, 16, 2012
1/16/12
4:26
PM PT
By
Scott French
| ESPNLosAngeles.com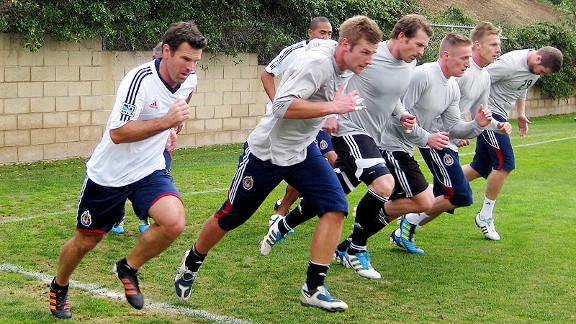 Scott French/ESPNLosAngeles.comAssistant coach Greg Vanney (left) leads Chivas USA' goalkeepers in sprints.
CARSON -- Chivas USA has been looking to tap into Southern California's rich pool of young talent, and the first real foray was on display as the club opened its preseason camp Monday morning at Home Depot Center.

Salvadoran midfielder Marvin Iraheta, who came to Chivas' academy in last year's merger with Cosmos West, was presented, sort of, as the Goats' newest signing. He was the U.S. Developmental Academy's U-17/18 Player of the Year for the 2009-10 season and played at Old Trafford last year with a Cosmos side constructed for Paul Scholes' testimonial match.

Iraheta, just 19, is looking for more.

"I'm very happy about the opportunity I'm being given," Iraheta, who moved from El Salvador to Pasadena when he was 17 and holds a green card, said through a translator. "This is something new for me, and I'm going to work as hard as I can so I can reach the top."

Fraser, who Monday also welcomed English midfielder Ryan Smith, right back James Riley, goalkeeper Tim Melia and rookie forward Casey Townsend to the club, not only likes Iraheta, but also what he represents.

"Marvin is a tremendous product of Southern California soccer," the Goats' head coach said. "He's a kid who was the Development Academy's Player of the Year a couple year back, certainly highly sought-after, well-recognized for his achievements. He's a non-nonsense, hard-working midfielder. He's a battler. He's a true competitor.

"It's great. This is what we've talked about since we got here [a year ago]: to be able to find and unearth some of the local talent that's here, and Marvin is a good example of that. he's a kid who's excelled as a youth player and is certainly moving into this next stage of his career."

Another local talent, former Chivas Academy defender Mario Ledezma, is on trial with the Goats. The El Camino Real High School grad had been in Guadalajara's system.


January, 15, 2012
1/15/12
10:12
PM PT
By
Scott French
| ESPNLosAngeles.com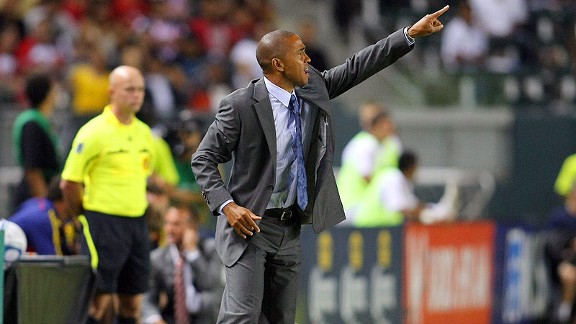 Victor Decolongon/Getty ImagesRobin Fraser is rebuilding his roster again this winter.
CARSON -- Chivas USA's preparations for the 2012 season began with medical exams Sunday and moves onto good, old Field 6 at Home Depot Center on Monday morning, with head coach
Robin Fraser
welcoming a lot of new faces -- and not all of them, by any means, under contract.
The Goats have unloaded nearly half their 2011 roster and added a half-dozen or so new names, and if Fraser's second preseason in charge is anything like the first, plenty of trialists will get a look.
Chivas brass last year looked at more than 80 players, including academy kids, as Fraser and general manager
Jose Domene
presided over a rebuild that the coach said was more building "from scratch."
Fraser's idea this year is to have a team in place as the preseason starts, but he's got roster spots to fill and areas of great need and not all negotiations are finished. Five players will be added in Tuesday's supplemental draft, and another overseas signing is possible.
Here's a quick look at the Goats as their campaign begins:
Chivas endured the kind of up-and-down season common to rebuilding years in 2011, playing some exceptional possession soccer but suffering from inconsistency at both ends. The Goats won back-to-back games just once, in April, and watched .500 slip away over the last two-thirds of the season. Playoff hopes died with a seven-game winless streak in August and September.
Nonetheless, Fraser and his staff built a strong foundation, several players -- especially goalkeeper
Dan Kennedy
, midfielder
Nick LaBrocca
and defender
Heath Pearce
-- enjoyed remarkable seasons and the addition of
Juan Pablo Angel
, in an August trade from the Galaxy, gave the Goats their first top-class MLS striker since
Ante Razov
.
January, 15, 2012
1/15/12
9:16
PM PT
By
Scott French
| ESPNLosAngeles.com
One of Chivas USA's open goalkeeper slots is going to Tim Melia, a two-year Real Salt Lake backup who has seen far more action from loan deals than in Major League Soccer.

The Goats have signed the 25-year-old netminder but have not yet announced the deal, a club official confirmed.

Melia, a third-string keeper at RSL, did not appear for the Utahns' first team, but he was on several 18-man game rosters last season and made seven appearances in the MLS Reserve League.

Melia, who played collegiately at Oneonta State and Lynn, Fla., joined RSL in 2010 after two seasons with the second-tier Rochester Rhinos. He spent most of 2010 on loan to the Charleston Battery, helping the club to the USL Second Division title, and had a loan stint last year with USL Pro side FC New York. He was waived Nov. 23.

Fraser, of course, was an RSL assistant coach in 2010.

Chivas returns starting goalkeeper Dan Kennedy but has jettisoned his two backups, Zach Thornton, who is expected to retire, and Sergio Arias, who returned to Guadalajara and was loaned to Mexican second-tier club Irapuato.

Kevin Guppy, a league pool goalkeeper out of Cal State Northridge who trains with Chivas USA and has served as backup for the Goats, Galaxy and other clubs, is expected to compete for the other job in the nets.