Los Angeles Soccer:

Tim Pontius
June, 12, 2012
6/12/12
8:48
PM PT
By
Scott French
| ESPNLosAngeles.com
IRVINE -- Daniel Steres was drafted by Chivas USA, spent a month in camp with the Seattle Sounders, and has been a force -- in the back or anchoring the midfield -- as the Ventura County Fusion have turned the Premier Development League's Southwest Division into their own playground.

Now he's back with the Sounders, taking the next step in his journey to being a full-fledged professional.

Steres (Calabasas/Calabasas HS), who starred at San Diego State, was taken by Seattle in last week's college-waiver draft and headed over the weekend to Washington.

"We're getting the contract [sorted out], and then working my way up to get a starting role, obviously," Steres told ESPN Los Angeles after the Fusion's 2-1 victory Friday evening over Orange County Blue Star. "Sounds like they're excited to have me come in. I'm excited to go in."

Steres, probably a center back or right back in MLS, lost out in numbers games during preseason at Chivas and, after his release by the Goats, in Seattle. He's been superb for the Fusion, bolstering the backline next to Mickey Daly (Cal State L.A.) or Tim Pontius (Yorba Linda/Servite HS and UC Santa Barbara) or teaming with former Chivas USA/Portland Timbers midfielder Rodrigo Lopez (Santa Barbara/Santa Barbara HS) in central midfield.

The Fusion (6-1-1) are atop the Southwest Division after rallying for a 2-1 win against Blue Star at Concordia University. Travis Bowen (Van Nuys/Chatsworth HS), the older brother of Chivas USA forward Tristan Bowen, scored both goals -- his fourth and division-best fifth of the season -- with the winner coming in the 76th minute.

Ventura is one point ahead of FC Tucson, which visits the Fusion next weekend.

Pontius, the younger brother of D.C. United midfielder Chris Pontius, also is getting some MLS attention. The big center back, a Sounders draft pick, has been in camp the past week with the Galaxy. He says playing with the Fusion has helped prepare him.

"College is one thing," he said. "College prepares you for the next step. This is kind of the in-between phase between college and pros. You've got a lot of players here who can make the next step."

He said his time with Sounders in preseason was "spectacular."

"Unfortunately, it didn't work out for me, but at the end, I gained a lot of experience out of that opportunity," Pontius said. "Spots were tight there, so there's only so much you can do. You play your game, if it doesn't work out, it doesn't work out. You try the next one."

Elsewhere in minor-league soccer:


May, 28, 2012
5/28/12
5:32
PM PT
By
Scott French
| ESPNLosAngeles.com
As much as the Ventura County Fusion want to beat Chivas USA in their U.S. Open Cup clash, impressing their guest might be more important.
A berth in the fourth round of America's oldest soccer competition, possibly against the Galaxy, awaits the winner of Tuesday night's showdown at Ventura College, but the Fusion's stars are looking for something more.
A strong showing against Major League Soccer competition could mean opportunities to play in the top league, perhaps for Chivas, and the Fusion's top players -- many of them with pro experience -- are looking to show what they can do.
"Not just for me, but for all the guys playing PDL,"
Rodrigo Lopez
, the former Chivas/Portland Timbers midfielder who runs the Fusion's attack, told ESPN Los Angeles after Ventura's second-round upset last week over the L.A. Blues. "I think in our situation, it's a good opportunity to show something and to get looked at. Not just to win and keep going -- that's our main goal -- but a lot of guys, that's the way to the main teams, to the MLS teams."
Lopez (Santa Barbara/Santa Barbara HS) has the most extensive MLS experience among the Fusion -- he spent two seasons with the Goats, was with Portland last year and in March played for Chivas in a reserve friendly-- but it's a roster filled with prospects.
Holding midfielder
Daniel Steres
(Calabasas/Calabasas HS), a supplemental draft pick, and winger
Kennedy Chongo
(Biola University) spent preseason with the Goats. Center back
Tim Pontius
(Yorba Linda/Servite HS and UC Santa Barbara) was a Seattle Sounders draft pick; his older brother,
Chris
, is a D.C. United star.
Travis Bowen
(Van Nuys/Chatsworth HS), Chivas forward
Tristan Bowen
's older brother, has been pursuing the pro game around the world. He's coming off a hat trick in the Fusion's Premier Development League victory Saturday over La Mirada's Southern California Seahorses.
"He deserves it more than anybody ...," said Tristan Bowen, who can't play in the game -- his loan deal to Belgium doesn't officially end until the summer transfer window opens June 27 -- but will be there to watch. "The only reason I started playing was because of him. He wandered off after school one day into a playground, and he was playing soccer, and it just kind of stuck. I wasn't very good. He was always better than me, but sometime around 12 or 13 I started scoring a lot of goals."
Travis, 22, is "talking a little bit already" about the game, but Tristan, 21, has so far declined to respond. "I don't want him to do bad," Tristan said, "but I'm in a weird position, you know? ... That would be nice if it's like a 4-3 game where Chivas wins and Travis scores another hat trick. That's an ideal world."
The Fusion went unbeaten against MLS clubs during preseason, with a 1-0 win over Chivas and scoreless draws with Houston and Chicago.
May, 22, 2012
5/22/12
10:45
PM PT
By
Scott French
| ESPNLosAngeles.com
FULLERTON -- Might there be no better soccer team in the country from the 91st minute on than the Ventura County Fusion?

After scoring four goals in overtime to win their U.S. Open Cup opener last week over the Fullerton Rangers, the Premier Development League powerhouse netted two on Tuesday, dispensing with the L.A. Blues in a second-round clash.

Francisco Lopez scored his second goal of the game in the 107th minute -- 17 minutes into the extra period -- and Travis Bowen, Chivas USA forward Tristan Bowen's brother, added another with four minutes to go, and the Fusion stunned the USL Pro club, 3-1, before a sparse crowd at Fullerton College's Sherbeck Field.

Their reward: a third-round showdown next Tuesday night against Chivas USA at Ventura College, pending expected U.S. Soccer approval of the site.

Francisco Lopez converted an extremely iffy penalty kick to force overtime, and UCLA goalkeeper Earl Edwards made a save on Allan Russell's penalty kick for a Blues win in the 85th minute, but there was no doubt which side was more deserving.

With Rodrigo Lopez, a former Chivas USA and the Portland Timbers midfield, running the field, the Fusion absorbed heavy early pressure, gave up an own goal after just 13 minutes, and spent the rest of the game outbattling the Blues all over the field.

"And now we have a home game against Chivas, which we really relish," said Fusion head coach Ole Mikkelsen, who watched the final 23 minutes of overtime from just outside Ventura County's locker room after he was sent off for angrily protesting a call. "I have to say, I thought we were [the better team]. We came out slow, which is to be expected: They're a pro team, they play together every day, they're more comfortable with each other.

"Unfortunately, a miscommunication led to that own goal -- those things happen. It could have buried us, but we kept battling, we added some rhythm, and as soon as we got that first goal, I knew that we were in it, and I knew we had a chance to take it from them."


February, 17, 2012
2/17/12
9:35
PM PT
By
Scott French
| ESPNLosAngeles.com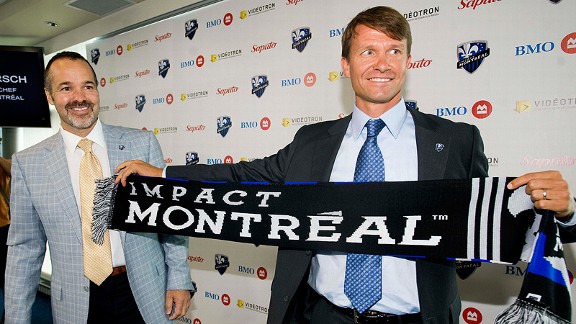 AP Photo/The Canadian Press, Graham HughesNew Montreal coach Jesse Marsch, right, says despite having to trade Brian Ching he felt the veteran forward served an important purpose for his team.

CARSON -- The expansion Montreal Impact got a lot of work done in a nearly two-week stay at Home Depot Center, a good deal of it away from the field.

They finished this swing of their preseason camp Friday with 90-minute games against UCLA (a 0-0 draw) and Ventura County Fusion (a 3-1 victory), but what's been going on off the field has been far more interesting.

The Impact on Thursday traded veteran striker Brian Ching back to the Houston Impact for a conditional first-round selection in next year's SuperDraft. They topped that Friday, shortly after their games on one of Home Depot Center's training fields, by taking former U.S. national team forward Eddie Johnson through the league's allocation dispersal process, then trading him to Seattle for top young attackers Mike Fucito and Lamar Neagle.

It wrapped a wild week that started with Montreal's announcement that Ching, who played last week at HDC against his former Houston teammates, had departed camp for "personal reasons." Turned out he was in Houston negotiating a new deal, one that would significantly trim his salary -- he'll make $250,000 rather than $450,000, The Houston Chronicle reported -- but allow him an expected final season with the club he's identified with as they open a long-awaited stadium.

"This is where I want to be, where I want to retire ...," Ching told The Chronicle. "I know how old I am, and I've been around the league long enough to know my value. I have no problem. I just want this team to be successful, and I'll do what it takes. If that means less money, that means less money. Me taking less money allows me to be here where I want to be, allows me to open up a stadium that I've always dreamed of doing. That's rewarding enough for me."

Ching, 33, considered retirement after Montreal surprisingly took him in November's expansion draft. Trade talks between the Dynamo and Montreal began almost immediately, and the Hawaii-born forward reported to the Impact's camp last month and last week said the idea of playing for Canada's third Major League Soccer franchise was "definitely growing on me. Obviously, it was a very emotional time when it all happened. But I've been with the team for about a month now and enjoy playing with the guys, enjoy the project of trying to build a competitive team here."

Impact coach Jesse Marsch was asked if the Impact had received enough in the trade with Houston.

"I don't think it went the way we all thought it was going to go, whether he was going to stay or go. But in the end, it was just so difficult," the former Chivas USA captain told ESPN Los Angeles. "He committed himself wholly, professionally to being here, but you also could see that his mind was still in Houston.


January, 17, 2012
1/17/12
9:48
PM PT
By
Scott French
| ESPNLosAngeles.com
Andy Rose
figured to find a Major League Soccer club in last week's SuperDraft. He didn't. He made up for it Tuesday by joining two teams.
Rose was an early pick in the MLS Supplemental Draft, taken at No. 6 by Real Salt Lake, which promptly dealt UCLA's captain to the Seattle Sounders.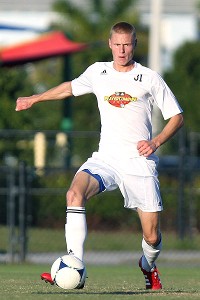 Courtesy of Major League Soccer Real Salt Lake took UCLA midfielder Andy Rose with the sixth pick of Tuesday's supplemental draft.
The Englishman, one of the most prominent players remaining on the board after 38 picks last week, was the first of four Bruins to go in quick succession in the supplemental, with left back Shawn Singh going to Sporting Kansas City with the 16th pick, winger Eder Arreola (Chino Hills/Chino Hills HS) to Houston at No. 18 and goalkeeper Brian Rowe to Chivas USA early in the second round.

That's six players drafted from UCLA's NCAA semifinal team -- New England's Kelyn Rowe and Philadelphia's Chandler Hoffman were first-round picks -- and there are several underclassmen likely to take the step in the next few years.

Rose was one of the real prizes available Tuesday.

"He's a player that we really like," Seattle technical director Chris Henderson, a former UCLA star, told his team's website. "He's a two-way midfielder. He can also sit in as a holding midfielder, so he's pretty versatile. He seems, at a young age, to be a student of the game."

He should be. He grew up in one of the most intense soccer cultures on the planet, and he can compare notes with former U.S. national team coach Bob Bradley, whose daughter dates Rose.

To get him, the Sounders gave up the rights to defender Leone Cruz, a former SMU standout drafted last year who failed to make the team.

Seattle draft selections included UC Santa Barbara defender Tim Pontius (Yorba Linda/Servite HS), the brother of D.C. United standout Chris Pontius, and Cal Poly defender Wes Feighner (Los Alamitos/Los Alamitos HS).


November, 27, 2011
11/27/11
9:51
PM PT
By
Scott French
| ESPNLosAngeles.com
LOS ANGELES -- Beating Rutgers wasn't enough for many affiliated with UCLA's men's soccer program. They wanted a Louisville victory, too.
The Bruins got everything they wished for Sunday, romping to a 3-0 third-round triumph over visiting Rutgers to set up a quarterfinal showdown with Louisville, which kept them from the College Cup final four last year and won a season-opening showdown in August.


Chandler Hoffman
netted his 17th and 18th goals of the season, the first just 42 seconds after kickoff, and fourth-ranked UCLA (17-4-1) advanced to the elite eight for the third straight year with an emphatic victory at Drake Stadium in front of an audience that included former Rutgers star
Alexi Lalas
and Seattle Sounders coach
Sigi Schmid
and technical director
Chris Henderson
, both of whom have UCLA roots.
Victor Chavez
(Fontana/A.B. Miller HS) tallied just before halftime, knocking home the rebound after Scarlet Knights goalkeeper
Kevin McMullen
parried a sizzling
Kelyn Rowe
shot from an abrupt angle, and Hoffman completed his fourth multigoal game of the campaign with a volley four minutes into the second half.
"I thought that we played well," said Hoffman, who will be heading home to Birmingham, Ala., for the College Cup final four with a victory Saturday night at Louisville (14-6-2). "Scoring that goal in the opening munute was huge. Last week, we let Delaware hang around for way too long [in a 1-0 second-round victory], put us under a lot of pressure. So tonight we wanted to put them away early."
Hoffman did that with his first touch, clinically finishing
Patrick Matchett
's ball across the box after a
Ryan Hollingshead
run from midfield. Hoffman also played the ball to Rowe to set up Chavez's 44th-minute goal, and Rowe and Hollingshead had assists on Hoffman's finale.
"[Hoffman has] a huge desire to put the team on his back and get us to College Cup and his hometown. What more can you ask for?" UCLA coach
Jorge Salcedo
said. "The goals that he scores, his hold-up play, his intelligence on the field have all be extremely helpful. ... He's in a great moment right now."
October, 27, 2011
10/27/11
12:14
PM PT
By
Scott French
| ESPNLosAngeles.com
A scoreless draw was enough to give UC Irvine command of the Big West Conference race.

The ninth-ranked Anteaters (13-4-1) held off a late Cal State Northridge push in the Valley to notch their seventh shutout of the season and improve to 5-2-1 in the Big West, giving them a one-point lead over UC Davis (5-3), which lost at UC Santa Barbara. The Matadors are 7-7-2.

UC Irvine has two games remaining -- Saturday at home against UC Riverside and Tuesday at Cal Poly -- and likely will need victories in both to claim the conference crown.

In other men´s action:


Tim Pontius (Yorba Linda/Servite HS) scored twice to lead UC Santa Barbara (10-5-1) to a 3-1 win over UC Davis, knocking the Aggies to second place in the Big West.
Cesar Diaz Pizarro (Chino/Ayala HS) scored in the 65th minute to give UC Riverside (8-5-3) a 1-1 Big West draw with visiting Cal State Fullerton (7-5-4). Oscar Aguero (Anaheim/Katella HS) tallied in the first half for the Titans.
Gabe Ramirez (Pasadena/Crescenta Valley HS) set up goals by Evan Keny-Guyer and Richie Marquez (Pomona/Bloomington HS) as Redlands (16-3-0), the Southern California Intercollegiate Athletic Conference champion, romped to a 3-1 victory at Claremont-Mudd-Scripps (8-4-1).
September, 26, 2011
9/26/11
2:45
PM PT
By
Scott French
| ESPNLosAngeles.com
UCLA opened Pacific 12 Conference play in women'ssoccer with a dominant but tight victory over Washington, but USC couldn't hold on to an early advantage in its opener against Washington State.

Vanderbilt transfer Chelsea Stewart scored UCLA's goal in the 79th minute Friday night in front of 2,350 at Drake Stadium, skipping a free kick through a crowded box and past Huskies goalkeeper Jorde LaFontaine-Kussman.

The Bruins (8-0-1) played superb defense, limiting Washington (3-4-2) to one shot.

USC (3-7-0) on Sunday scored the fastest goal in program history -- Samantha Johnson (Palmdale/Highland HS) on an assist from Haley Boysen (Moorpark/Harvard-Westlake School) just 14 seconds in -- then conceded twice in the last 25 minutes to fall to the Cougars (7-3-1) at McAllister Park.

Rachael Doyle's header off the crossbar evened things in the 67th minute, and Jocelyn Jeffers got the winner with 4½ minutes to play.

In other women's action: