Los Angeles Soccer:

Tim Ward
December, 25, 2011
12/25/11
7:56
AM PT
By
Scott French
| ESPNLosAngeles.com
UCLA's Chandler Hoffman scored goals by the bunches on a quest to go home. Nadia Link netted nearly as many to take Long Beach State to unprecedented heights. Christian Ramirez dazzled for Concordia. And Fabiola da Silva prodded Cal Baptist to a national championship.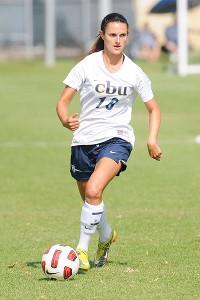 Rachel McDaniel/CBU SportsBrazilian midfielder Fabiola da Silva led Cal Baptist to the NCCAA national title.
They're ESPN Los Angeles College Players of the Year after superb fall campaigns on local fields.

We selected men's and women's teams, one for players from 10 local NCAA Division I institutions and another for players from 24 NCAA Divisions II and III, NAIA and unaffiliated schools.

Our coaches of the year in Division I are Junior Gonzalez, who led the remarkable turnaround by UC Riverside's men, and Tim Ward, whose Pepperdine women were a top-five team during the regular season. In the lower divisions, it's Ralph Perez, who took Redlands' men to 20 wins and NCAA Division III third-round berth, and Kristen St. Clair, who presided over a superb transition from NAIA to NCAA Division II, with the Pacific West Conference title and National Christian Collegiate Athletic Association Division I national crown.

The freshmen of the year: Cal State Northridge's Edwin Rivas and UCLA's Abby Dahlkemper in D1, Cal Baptist's Michael Salazar and Cal Lutheran's Taylor Will in D2/D3/NAIA.

Here are our inaugural postseason all-star teams:


November, 13, 2011
11/13/11
12:27
AM PT
By
Scott French
| ESPNLosAngeles.com
MALIBU -- Nadia Link has netted some wonderful goals this season, but few as sweet -- and none as important -- as her bending blast Saturday afternoon at Pepperdine.
Link fired into the far corner of the net with 13 seconds to go in the first overtime period to lift Long Beach State to a 1-0 triumph over the seventh-ranked Waves in an NCAA Division I tournament opener.
It was the first NCAA victory in 49ers history, and the first over a top-10 opponent, and it was product on Link's twisting shot and five big saves by goalkeeper
Kaitlyn Gustaves
.
"That's seven years of work -- seven and a half years ...," said Long Beach State coach
Mauricio Ingrassia
, who has the 49ers in the NCAA tournament for the third time in four years. "We had a couple of injuries [when we lost in the first round to San Diego] in '08. And last year we played our best game of the year against Santa Clara, but [their goalkeeper] had the game of her life. This year we felt we had the experience. It would have been very painful to be 0-3 in the tournament without scoring a goal."
The goal was a beauty. Link (Rowland Heights/Walnut HS) received a pass from midfielder
Sidney Garza
(Ventura /Buena HS), took the ball up the left flank, then cut inside along the top of the Waves box, where she found uncommon space.
She's a left-footer, but the shot was on her right, and it twisted away -- "corkscrewed," is how Pepperdine coach
Tim Ward
put it -- toward the upper-right. Waves goalkeeper
Roxanne Barker
(Irvine/Woodbridge HS) never had a chance.
"The team was asking why did I wait so long," said Link, who tied the school record with her 16th goal of the season. "I saw the pass coming from Sidney Garza, and all I heard was Mauricio saying, 'Take it down the line!' And I remember thinking, 'That's a long way.' ... It went in, and I don't even remember celebrating. I was too busy crying."
Said Ward: "A moment was going to decide the game, and that moment [belonged to] Nadia Link. ... A great player scored a great goal to beat us."
Link described the odd path of her shot as "the unpredictability of my right foot."
The strike brought a dramatic end to a tight, thrilling clash marked by superb defense in the boxes, with Long Beach State's backline -- especially center back
Jordan Nelson
(Garden Grove/Pacifica HS and Loyola Marymount) -- doing well to get in the way of shots by
Lynn Williams
and
Laura Cole
(Whittier/La Habra HS).
Gustaves (Long Beach/Wilson HS) came up big five times, including a double-save, the second with her foot, on
Amanda LeCave
after an uncharacteristic giveaway by defender
Alex Balcer
. The goalkeeper followed up by snagging a long shot by right back
Michelle Pao
, Pepperdine's most dangerous attacker, then made two diving saves on Williams in the second half.
Long Beach advances to a second-round clash Friday against Miami (10-7-1), a 3-2 winner over Alabama, at UCLA's Drake Stadium.
In other women's action:
Freshman Kylie McCarthy knocked home a 65th-minute rebound as No. 2 UCLA (16-1-3) scored a 1-0 victory over visiting New Mexico (12-5-4) in an NCAA Division I first-round game. The Bruins limited the Mountain West Conference champion to three shots, just two on target, in a dominant performance en route to a second-round clash Friday in Westwood against San Diego.
November, 8, 2011
11/08/11
10:52
PM PT
By
Scott French
| ESPNLosAngeles.com
College all-conference teams are starting to show up, and several local players (and one coach) are winning awards.
All four players of the year in the Big West Conference are with local schools.
Long Beach State's
Nadia Link
(Rowland Heights/Walnut HS) is the Offensive Player of the Year and
Shawna Gordon
(Rancho Cucamonga/Los Osos HS) is Midfielder of the Year.
All-American
CoCo Goodson
of UC Irvine is the Defensive Player of the Year, and Cal State Northridge's
Cynthia Jacobo
(Arleta/Granada Hills HS) is Goalkeeper of the Year.
West Coast Conference co-champion Pepperdine was honored with the conference's Coach of the Year, for
Tim Ward
, and Freshman of the Year, for
Lynn Williams
.
The Most Valuable Offensive Player in the California Collegiate Athletic Association, for NCAA Division II programs, is Cal State Dominguez Hills'
Jessica Murphy
(Torrance/West Torrance HS). Cal Poly Pomona's
Christina Carriaga
(Walnut/Walnut HS and Mt. San Antonio College) is the Newcomer of the Year.
In the Southern California Intercollegiate Athletic Conference, for NCAA Division III schools, Cal Lutheran swept the top awards, with
Sinead Vaughn
(Simi Valley/Royal HS, Moorpark College and Cal State Northridge) voted Athlete of the Year and
Taylor Will
selected Newcomer of the Year.
Here are full lists from the Big West, WCC, CCAA and SCIAC:
October, 29, 2011
10/29/11
8:20
AM PT
By
Scott French
| ESPNLosAngeles.com
Pepperdine's dream of an unbeaten season ended Friday night to a goal scored with just eight seconds to go in the first half.

No. 10 Santa Clara pulled out a 1-0 triumph over the third-ranked Waves, vaulting into the top spot in the West Coast Conference when Bridgett Miller (Los Angeles/Archer School for Girls) put away a deflected free kick in the Bay Area showdown.

Roxanne Barker (Irvine/Woodbridge HS) made two big saves to keep Pepperdine (13-1-4) level, but there were no answers for Miller's goal.

"[Santa Clara is] a good team, and, to their credit, they came out firing, and we came out flat," Waves head coach Tim Ward told his school's athletics web site. "As poorly as we were playing in the first half, I thought we were going to come out with a 0-0 score at half, but, unfortunately,
it didn't happen.

"The second half, we played much better and had some excellent scoring opportunties."

The best was a Myriah Stockman try off a corner kick in the 52nd minute that Broncos goalkeeper Bianca Henninger saved.

Santa Clara (12-1-5) is 5-0-1 in the WCC. The Waves, who are home Sunday against Portland, and San Diego are 5-1; BYU is 4-1-1.

The loss ended a program-record 18-game unbeaten streak for Pepperdine,

In other women´s action:


Taylor Nelson (Garden Grove/Pacifica HS) and Nicole Sweetman (Oxnard/Oaks Christian HS and UCLA) scored goals three minutes apart early in the second half as Long Beach State (12-5-1) clinched a Big West Conference tournament berth and climbed within a point of first-place UC Irvine with one game to go with a 2-0 victory over visiting UC Davis.
Sydney Leroux netted her second first-half hat trick in as many weeks and Jenna Richmond added two goals as sixth-ranked UCLA (13-1-2) romped to an 8-0 Pacific 12 Conference victory at Colorado.
Lauren Mellano (Fullerton/Troy HS) scored 105 seconds into overtime as Cal State Fullerton (8-8-3) edged Pacific, 1-0, in Big West play. The Titans tied an NCAA record (set in 2005 by William & Mary) with their 11th overtime game of the season and are 4-4-3 in games with the extra period.
USC (6-12-0) saw its three-game winning streak halted in a 3-0 Pac-12 loss at Utah.
October, 28, 2011
10/28/11
5:42
PM PT
By
Scott French
| ESPNLosAngeles.com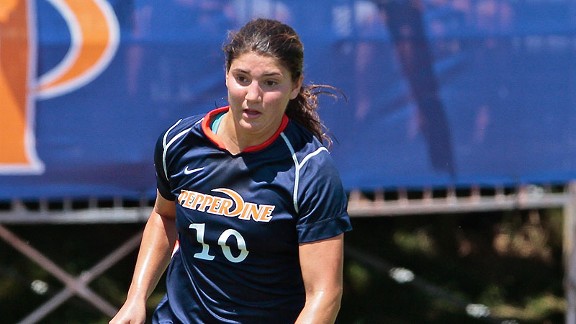 Scott French/ESPNLosAngeles.comAnisa Guajardo leads the Waves with nine goals.
Pepperdine heads into Friday night's showdown at Santa Clara likely for the West Coast Conference women's soccer championship with a 13-0-4 record, a school-record 18-game unbeaten streak and a No. 3 spot in the national rankings.
Head coach
Tim Ward
thinks it's the just the beginning.
Pepperdine has had some outstanding teams but never been considered a national power, but in a landscape that is embracing more and more contenders every year -- it's not just North Carolina, Notre Dame and Santa Clara anymore -- "I feel we're a team of destiny a little bit," Ward says.
"I feel a change in the air ...," he says. "I think it's our time. I think it's our time to rise up and become a power in women's soccer."
They've made their first move with a young but veteran side that has locked things down in the back, conceding just nine goals in 17 games, while feasting on a varied attack led by a local hero and two major signings from Fresno.
The three forwards -- cerebral
Laura Cole
(Whittier/La Habra HS), finisher
Anisa Guajardo
and freshman phenom
Lynn Williams
, the latter two from the Central Valley -- have gotten most of the attention, combining for 19 goals and 13 assists, but Ward is fond of the assessment a friend, a top high school coach, offered after watching the Waves: "Twenty-six women with one heart."
"I don't know if this is the most talented team we've ever had," he says. "It certainly rivals the 2002 team [that went 18-2-2, won the WCC and reached the NCAA Sweet 16], but it is a great team. The environment, the camaraderie and team spirit definitely is what gets us through the tight [moments].
"We still have a long way to go to get better. Here we are undefeated, but we can get so much better. ... We have no illusion we're all that or we're there yet. That's another nice thing about the team. There's a lot of humility. We're sticking together like good teams should, sacrificing for each other, and we're staying humble."
Credit goes to the senior leadership -- Cole, defensive midfielder
Karissa Garcia
and left back
Myriah Stockman
-- and the knowledge that with 10th-ranked Santa Clara and fellow national power Portland still on the schedule, the team hasn't won anything yet.