Los Angeles Soccer:

Tom Payne
February, 17, 2012
2/17/12
5:05
PM PT
By
Scott French
| ESPNLosAngeles.com
The Galaxy made their front-office moves official Friday, announcing the Los Angeles Kings chief operating officer Chris McGowan is taking the same position with the soccer club and will preside over its business decisions.

He replaces Tom Payne, the president of business operations since the end of the 2008 season.

"Chris has been a part of our organization for 16 years and has done an outstanding job with the business side of the Kings to where there is now a lot of enthusiasm and expectations, and he will do the same with the Galaxy," AEG president/CEO Tim Leiweke said in a statement. "With our recent MLS Cup championship, the return of David Beckham and our outstanding roster heading into this season, the Galaxy will continue their rapid growth in this marketplace under Chris' leadership."

Former Galaxy midfielder Chris Klein, who leads the Galaxy's academy, is being promoted to a vice presidency, McGowan told media Thursday, but the move had not been announced. The maneuvers are part of a greater reorganization within AEG.

Payne, in a statement released by the club, claimed it was his decision to leave the Galaxy.

"I have enjoyed my time with the club and have fond memories of all the great things that we have accomplished, including winning the MLS Cup last year in front of our home fans," he said in the statement. "During my time I have been able to see the growth of this club not only here locally, but also nationally and internationally, and I am proud to have been able to play a significant role in that growth."
February, 16, 2012
2/16/12
3:47
PM PT
By
Scott French
| ESPNLosAngeles.com
CARSON -- Tom Payne, who spent the past decade in the Galaxy front office and the past three seasons as the club's president of business operations is "transitioning out of the organization," a club spokesman said.

Los Angeles Kings chief operating officer Chris McGowan steps in as the club's COO while continuing in his position with the hockey team, which, like the Galaxy, is owned by AEG.

Payne, 48, is the second high-profile official to leave the club this week. He was the highest-ranking figure within the club. Communications director Patrick Donnelly exited Monday.

The moves, which appear to be dismissals, are part of a larger reorganization within AEG that has not been announced. McGowan met briefly with media Thursday afternoon.

Payne, the brother of D.C. United president/CEO Kevin Payne, served as vice president of programming and business development from 2003 through 2006 and assistant general manager until he was promoted following Bruce Arena's hire as head coach and general manager in August 2008.
July, 15, 2011
7/15/11
5:54
PM PT
CARSON -- Galaxy players won't lose much sleep if they fall to Real Madrid in Saturday night's highly-anticipated match at the Memorial Coliseum -- at least that's the impression they gave following their final tune-up Friday.

The reasoning, obviously, is that there is no shame in losing to one of the world's premier clubs, even if said team is in the early stages of its preseason training. And for the same reason, defeating a "weaker" Real Madrid wouldn't necessarily induce mass celebrations across the Los Angeles area.
The intrigue, according to Galaxy midfielder
David Beckham
, lies not in the result but in the buzz generated by the big-name opponent.
"Just playing against Real Madrid does a lot for the brand, a lot for this league and a lot for this club," Beckham said Friday. "People talk about Real Madrid as one of the best clubs in the world. It's a huge thing for us whether we win or whether we lose."
Galaxy coach
Bruce Arena
was even more blunt.
"These are games that are enjoyable for the players to play in and the fans to watch," Arena said. "Results aren't life and death. ... No one is foolish enough to believe a result here says something, to be honest."
July, 1, 2011
7/01/11
10:59
PM PT
By
Scott French
| ESPNLosAngeles.com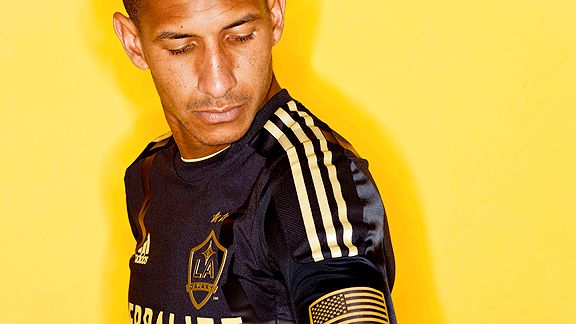 Robert Mora/L.A. Galaxy Palmdale's Sean Franklin shows off the Galaxy's new uniform during the team's Fourth of July fest Friday night in downtown L.A.

When the Galaxy takes the field Monday night at Home Depot Center against the Seattle Sounders, they'll be wearing a new uniform -- their third active "kit," which was unveiled Friday night at a red-carpet Fourth of July Weekend Kickoff Party at L.A. Live in downtown Los Angeles.

The new look -- in "Punjab," a deep, dark blue, and "Light Old Gold" -- plays off their current uniforms, in white and blue.

"We looked at several options for our third jersey, and in the end we all ended up agreeing on the same final design and color scheme," Galaxy president Tom Payne said. "We were especially proud to see the color gold, which has been a constant throughout our club's history, is so prominent in this new jersey."

So ... thumbs up or down?
May, 27, 2011
5/27/11
4:36
PM PT
By
Scott French
| ESPNLosAngeles.com
The Galaxy's friendly with Real Madrid could force Southern California soccer fans into a tough decision. Do you want to see
Cristiano Ronaldo
or
Thierry Henry
?
That's the situation after Major League Soccer, through its marketing arm, confirmed an evening start on July 16 at the Coliseum for the Galaxy's clash with the Spanish giant.


Chivas USA also is playing that night, against Henry,
Rafa Marquez
and the mighty New York Red Bulls at Home Depot Center, a dozen miles south on the Harbor Freeway. It's one of the few money games on the calendar for the Goats, who have not nearly the following the Galaxy does, and the conflict could cost them thousands of fans.
The Galaxy-Real Madrid game is part of this summer's World Football Challenge, featuring MLS clubs against big-name European opposition in a series of exhibitions produced by Soccer United Marketing, MLS's marketing arm, and CAA Sports.
Major League Soccer officials responded to an interview request with a statement: "We are aware of the situation. At this time, we are analyzing options."
Primary among those options would appear to be moving Chivas' game from Saturday night to Sunday, July 17. An MLS spokeswoman said in an email Friday that the "overlap is still being examined."
Tom Payne
, the Galaxy's president of business operations, acknowledged that the conflict was considered "for a minute, to be frank" while setting up the date.
"At the end of the day, sometimes these games are almost dictated for you," he said. "This is the time Real Madrid could play. … We certainly didn't mean it to fall on that day. We didn't have any choice in the end."
Real Madrid, which will be conducting preseason training in Southern California for the second straight year under noted Angelenophile
Jose Mourinho
, had strict timeframes with which to work. The Merengues also are playing Guadalajara on July 20 at Qualcomm Stadium in San Diego, a date that doesn't please the Galaxy.
March, 11, 2011
3/11/11
5:13
PM PT
By
Scott French
| ESPNLosAngeles.com
Is Major League Soccer's championship game returning to Southern California? That's what
Tim Leiweke
, president and CEO of the Galaxy's ownership group, intimated at the club's annual fan luncheon Friday afternoon.
AEG chief Leiweke was expressing his hope that L.A. would capture the MLS Cup title this season after falling just short the last two seasons, when acknowledged it would be nice to win the trophy at home.

"It is set up well where we might happen to have a certain championship in a certain city we all know and love," Leiweke told a gathering in ESPN Zone at L.A. Live. "So it would certainly be a good Cup, that we have a chance to finish [a championship season] here."
Leiweke did not say so, but the game, which will be played in November, would almost certainly be staged at AEG-owned Home Depot Center in Carson, site of the 2003, 2004 and 2008 MLS Cup title games. The 1998 final was played at the Rose Bowl in Pasadena.
Leiweke acknowledged that Commissioner
Don Garber
might not be pleased he was divulging the news, prefacing it: "Have we announced it yet?" And, told no: "Then I can't announce it. … I can do anything I want, because then the commissioner can yell at me, right?"
Garber, through a spokesman, declined to comment on the substance of Leiweke's remarks, but MLS director of communications
Will Kuhns
said the league was "close to finalizing a site for MLS Cup … and hope to announce the details in the near future."
A league official said an announcement was expected in the next month.
Tom Payne
, the Galaxy's president of business operations, told the audience: "I think [Leiweke] might have leaked a bit of information, and it's something we hope we can announce here in the coming weeks."
Leiweke had not been expected to attend the luncheon, and Payne wasn't anticipating he'd talk about the site for the 16th MLS Cup.
"I don't know that it's been finalized," Payne later told ESPNLosAngeles.com. "Our staff doesn't even know. … But if he says it, I guess it has to happen."