Los Angeles Soccer:

Tomislav Colic
January, 29, 2012
1/29/12
3:01
PM PT
By
Scott French
| ESPNLosAngeles.com
ANAHEIM -- Bernie Lilavois said the Anaheim Bolts' meeting Saturday night with Arizona would be a "statement game," and the club sure took him at his word.
The Bolts ended a five-game losing streak with a 17-3 rout of the lowly Storm at the Anaheim Convention Center's arena, easily posting a season-high for goals and giving their sagging playoff hopes a little lift.
It's still a long road to fulfilling Lilavois' preseason "guarantee" that Southern California's indoor team would reach the Professional Arena Soccer League's postseason in its first season, but this is all just growing pains, the Bolts' managing partner/head coach/sometimes player noted following Friday's 10-5 loss to San Diego.
"It's a process," he said. "At any time, Tijuana and Turlock -- the teams we're chasing in the standings -- they can drop a couple games here and there, and we might sneak in. It's an overall process. I said it from Day One: We don't want to be one year and out, it's a long-term thing."
Sneaking in will take some doing. There are three Western Division berths in the seven-team PASL Pro playoffs, and San Diego (13-0) has one of them as final-four host -- and the Sockers, two-time defending league champs, already have the Western title after Saturday's 13-2 defeat of Tijuana.
December, 11, 2011
12/11/11
6:04
PM PT
By
Scott French
| ESPNLosAngeles.com
The Anaheim Bolts have won three in a row -- four, including the Open Cup triumph -- and vaulted into third place in the Professional Arena Soccer League's Western Division after sweeping a set of games in Avondale, Ariz.

Enrique Tovar scored a hat trick to lead the Bolts (3-2) to a 6-2 victory Saturday night over the last-place Phoenix Monsoon (1-7), and Tomislav Colic's hat trick paced an 8-4 win in Sunday afternoon's rematch.

Mexican veteran Rafael Gaytan Espinoza, signed Friday, tallied twice in his debut Saturday.

Tovar leads the Bolts with nine goals.

Anaheim, which plays Friday night at Turlock and Sunday at the Anaheim Convention Center against Tacoma, is a game and a half behind two-time defending PASL Pro champion San Diego (4-0) in the West. Turlock (5-3) is in second, one game back, following a win Sunday over fourth-place Tacoma (3-3).
December, 4, 2011
12/04/11
8:56
AM PT
By
Scott French
| ESPNLosAngeles.com
Hugo Casillas and Tomislav Colic combined for seven goals and Adriano de Lima contributed seven assists as the Anaheim Bolts won their opener Saturday night in the U.S. Open Arena Cup, a competition for indoor soccer clubs.
The Bolts turned a tight game with Docemas, an amateur side (featuring a few pros) from Chino Hills, into a 15-7 romp by scoring the final six goals at the Anaheim Convention Center's arena.
Casillas scored four goals and Colic added three for Anaheim, which sprinted to a 5-0 lead, then, as has been its custom in three PASL Pro league games, let Docemas back in the game.
Tyler Reinhart
, who played at Cal Poly Pomona, scored four for the amateurs, who were missing former Galaxy defender
Mike Randolph
(hamstring injury), a teammate of Colic's and Bolts defender
Carlos Borja
's with the L.A. Blues last summer.
December, 3, 2011
12/03/11
7:12
AM PT
By
Scott French
| ESPNLosAngeles.com
ANAHEIM -- The Anaheim Bolts' first official victory couldn't have been easier -- nor more of a challenge. And it took far longer than it should have.

The Bolts scored the first six goals, then hung on to hand the Turlock Express their first PASL Pro indoor league defeat with a 12-10 decision Friday night in front an announced crowd of 826 at the Anaheim Convention Center's arena.

Enrique Tovar scored four goals and assisted two more, Adriano de Lima added four assists and 42-year-old veteran Paul Wright's importance to the attacking flow was apparent from start to finish for the Bolts (1-2).

The game's start was delayed by a little more than an hour, until just past 9 p.m., because the glass at the attacking ends -- like the glass at hockey rinks -- arrived late from San Diego, where the field is borrowed from the two-time defending league champion Sockers.

The Bolts might like every game to start late.

"They just came out firing, you know what I mean?" Bolts coach Bernie Lilavois said. "They came out great. We've just got to learn to close games out. its the same scenario again. We got it here, but we almost got lucky."

November, 12, 2011
11/12/11
12:19
PM PT
By
Scott French
| ESPNLosAngeles.com
Bernie Lilavois knows well the perils of the indoor game.
The former Cal State Northridge standout has spent most of a 20-year professional career in the arenas, from San Jose to Buffalo, Cleveland to Portland, and stops in between -- nine clubs in all, across five leagues.
"I've been around a long time, playing indoors," Lilavois says. "I hate to say it, but every single team I used to play for doesn't exist anymore. I've seen a lot of mistakes made. But I've seen a lot of good things, too."
It's with the good things in mind that he introduces the Anaheim Bolts, a professional indoor team that makes its league debut Saturday night at the Anaheim Convention Center. It's a culmination of a two-year project to return the beautiful game's fast-paced cousin to Southern California -- for the first time at the top level since the Anaheim Splash, one of Lilavois' former clubs, folded in 1997 after four seasons in the late Continental Indoor Soccer League.
"I just woke up one day and had a crazy idea of bringing professional indoor soccer back here," said Lilavois, who attended La Salle High School in Pasadena and has played and coached for years in and around the L.A. basin. "Ever since the Splash finished up, I've traveled around, playing in all these cities, and in the back of my head it's been 'why not back in Southern California?' "
So Lilavois, 41, stepped up -- he's the Bolts' managing partner, head coach and, if required, a presence on the field -- found partners and built a working relationship with the City of Anaheim, the Bolts' desired destination from Day One. Part of that is lineage from the Splash, which drew well, above 6,000 per game, played an effective, entertaining brand of the game and established itself among the CISL's better clubs.
The nature of the indoor game and its economics -- leagues and clubs fighting for survival, a battle usually lost -- doomed the Splash, just as they had Forum-based predecessors L.A. Lazers (1982-89) and L.A. United (1993).
Expenses are far less in the Professional Arena Soccer League, which kicked off its fourth season last week with 12 clubs. The salary cap is tight -- just $3,000 per game -- and every player works another job or attends school. There's no regular-season interplay between the Western and Eastern divisions, so the longest road trip is to Tacoma, Wash. The arenas are smaller (ACC seats about 7,000; capacity at the Honda Center, the Splash's home, was above 17,000). Costs are kept in check.
Now it's about attracting fans.
April, 29, 2011
4/29/11
10:46
PM PT
By
Scott French
| ESPNLosAngeles.com
The near-marathon trek to start the season went well, for the most part, and now L.A. Blues -- the Southland's newest pro soccer club -- are ready to show their fans what they can do.

They'll get the chance Sunday in their home opener at Cal State Fullerton, and head coach Charlie Naimo admits he's feeling some pressure. He so wants his possession-first squad to make the best impression against USL Pro divisional rival Antigua Barracuda, even if he's unsure who -- or how many -- he'll be looking to impress.

The Blues (3-0-1), who leapt atop the International Division standings in the third-tier league with an unbeaten four-games-in-nine-days trip to the Caribbean, haven't had much opportunity yet to lure followers, so it could be a lot of friends and family joined by a few soccer junkies looking on when the 5 p.m. kickoff arrives at Titan Stadium.

Naimo, who is the Blues' vice president (and de facto technical director for all three pro-level teams within the club), says he doesn't have a feel for how big the opening-night audience but will be satisfied in a couple of thousand stop by. It might take a few games to reach that number -- the Blues also will play home games at Centennial High School in Corona and College of the Canyons in Santa Clarita -- but this is a long-term project.

"If we can get 2,000 in seats [I'll be satisfied]," Naimo said. "I wish it were more, but I'd be happy with it. We're a first-year team with so many things to do. We didn't know we'd be playing until late October, didn't have a [general manager] in place until Feb. 1. Where we are, we have to be realistic with our goals.

"We're looking at the first year as we've got to build toward year two and get better every day. Every day build the fan base more. We're hoping if we do well, keep stringing together results, play well, we can be a team soccer enthusiasts want to support. We're not there yet, but we're headed in the right direction."


April, 21, 2011
4/21/11
2:34
PM PT
By
Scott French
| ESPNLosAngeles.com
Tomislav Colic scored twice as the L.A. Blues remained perfect on their season-opening Caribbean trek, topping Puerto Rico United, 4-2, on Wednesday night in a USL Pro clash in Carolina, Puerto Rico.
Mike Randolph
and
Akeem Priestley
also tallied for the Blues (3-0-0), who finish the trip Saturday against River Plate Puerto Rico in Carolina.
Colic, a Serbian forward who starred at Costa Mesa's Vanguard University, scored in the 29th and 59th minutes. Former Galaxy back Randolph tallied from USL Pro player of the week
Walter Gaitan
's feed in the 33rd, and Priestley cemented the victory in the 83rd.
Hector Ramos
scored for PRU (0-1-1) in the 66th and 78th minutes.
April, 15, 2011
4/15/11
4:44
PM PT
By
Scott French
| ESPNLosAngeles.com
It's a new team in a new league, stuck by its lonesome out here, thousands of miles from its rivals, and guided by a coach who has worked exclusively with women the past dozen years.
The makings of a success story? The L.A. Blues hope so, and as they embark on their inaugural season in USL Pro -- American pro soccer's third tier -- they've got greater designs than putting out an affordable and entertaining alternative to the Galaxy and Chivas USA.
"We want to make the playoffs and get in the championship," says midfielder
Josh Tudela
, one of eight Blues with Major League Soccer experience. "We're not going to settle for anything less than that."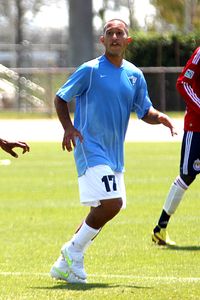 Chivas USAGerardo Bravo will be one of the key players for the L.A. Blues this season.


It's big talk, but the Blues, on paper, at least, have the makings of a contender. They've got Argentine midfielder Walter Gaitan, a superstar of mammoth proportion at this level of the game, veterans such as Tudela and defender Nelson Akwari, rising players like Chivas USA loaner Chukwudi Chijindu and some local-league stars head coach Charlie Naimo says he believes will make their names with the club.

"I feel we've done a pretty good job of putting together a very good roster for this level," said Naimo, who has won three titles in United Soccer Leagues' women's league and was general manager of the L.A. Sol, the short-lived Women's Professional Soccer club partially owned by the Blues organization. "So they need to find some strength in that, then say, 'Hey, we've got the group, now we have to win.' "

If they're not as good as the Galaxy, they might be more fun to watch. The plan is to play a pretty possession game, weaving passing patterns past foes to create chances for Chijindu and the other forwards.

"Everybody wants to play that way," Naimo said, "so time to put up or shut up. Do what is required, and a lot of what I see is when it doesn't work, it's the guys off the ball who aren't working hard enough to get into good spots. You've got to make the game easy for your teammates.

"We're certainly not afraid to pass the ball to guys that are contested. We're certainly not afraid to ask for the ball when guys are on us. It's just a matter of getting those people in a little bit spot, a matter of of making that pass a little bit better so they can escape. And then you discourage that high pressure. That's the only way to slow a game down. Otherwise, what stops the other team from chasing you, from running you over for 90 minutes? You've got to be able to step on the ball. … It's obviously attractive if it comes off."

The Blues open their season Friday night in Juncos, Puerto Rico, where the begin a four-games-in-nine-days sweep of the Caribbean, facing their four International Division rivals. First up: Sevilla FC Puerto Rico, which has weak ties to its Spanish namesake, followed by matches Sunday at Antigua Barracuda, Wednesday at Puerto Rico United and next Saturday against River Plate Puerto Rico.

The home opener is May 1 against Barracuda at Cal State Fullerton's Titan Stadium, and home games also will be played at Centennial High School in Corona and College of the Canyons in Santa Clarita.


April, 3, 2011
4/03/11
10:34
PM PT
By
Scott French
| ESPNLosAngeles.com
The L.A. Blues made their public debut Saturday night, playing in front of a real, paying audience in a charity match -- and impressing with a 7-0 romp over a team organized as the Orange County All-Stars. The real news was in the Blues' lineup.
Two new faces were on the field for So Cal's newest pro team, and both have Major League Soccer experience.
Nelson Akwari
, a UCLA product who spent five years with three MLS clubs, was in central defense.
Edwin Miranda
, a Cal State Northridge alum who was drafted by Dallas in 2004 and has played for El Salvador's national team, was at the bottom of the midfield diamond.
Akwari, 29, will be signed this week, a club source confirmed. Miranda, 30, signed Saturday. Their additions give the Blues (4-1-2 in preseason), who on April 15 open their inaugural season in third-tier league USL Pro, eight players who have spent time on MLS rosters, including Chivas USA forward
Chukwudi Chijindu
(Fontana/Damien HS), who is on loan from the Goats, and former Galaxy defenders
Leonard Griffin
(Palmdale/Littlerock HS and UCLA) and
Mike Randolph
(Chino Hills/Ayala HS), midfielder
Josh Tudela
and forward
Israel Sesay
.
Akwari, who was in residency with the U.S. under-17 team in the late 1990s with
Landon Donovan
,
DaMarcus Beasley
,
Oguchi Onyewu
, etc., played in 2002 with New York, 2003-04 with Columbus and 2005-06 with Real Salt Lake. He's played in lower divisions since, spending last season with the Vancouver Whitecaps, who made the jump this year to MLS.
Miranda, a two-time Big West Conference Defender of the Year at CSUN, didn't make Dallas' team in 2004 and has since played in lower divisions -- Portland Timbers, now in MLS, and Hollywood United FC are former employers. His experience with the Puerto Rico Islanders could be valuable; three of the Blues' International Division rivals are in Puerto Rico.
A GOOD CAUSE:
Blues GM
Alyse LaHue
estimated Saturday's game raised about $1,000 for victims of the earthquakes and tsunami in Japan, with the proceeds going to Orange County Red Cross. Argentine midfielder
Walter Gaitan
tallied twice and Serbian forward
Tomislav Colic
(Vanguard University) netted another in the first half, and Chijindu, Sesay,
Gerardo Bravo-Benavides
and
Cesar Rivera
scored goals after halftime.
November, 13, 2010
11/13/10
11:00
PM PT
By
Scott French
| ESPNLosAngeles.com
Elise Britt and Sydney Leroux scored on each side of halftime, and UCLA held off Central Florida, 2-1, Saturday night at Drake Stadium to reach the final 16 in the NCAA Division I women's tournament.
The Bruins (13-7-2), who have struggled this season and weren't one of 16 national seeds in the tournament, are two wins from an eighth successive College Cup final four berth.
It's an unlikely prospect; UCLA likely is headed to No. 1 Stanford for next weekend's third-round match. The Cardinal (19-0-2) face Santa Clara (13-6-2) in a second-rounder Sunday.
Britt, a senior, scored her first collegiate goal in the 42nd minute, heading home a
Dana Wall
corner kick. Leroux, on the cusp of the U.S. women's national team, netted her 13th goal of the year in the 49th, heading in a cross from
Lauren Barnes
(Upland/Upland HS) after a quick restart near midfield.