Los Angeles Soccer:

Torsten Frings
April, 13, 2012
4/13/12
9:17
PM PT
By
Scott French
| ESPNLosAngeles.com
If Chivas USA did indeed turn a very important corner in last weekend's victory at Portland, they'll need to build on it Saturday when they visit Toronto FC -- the worst team in Major League Soccer, according to the standings -- looking for back-to-back wins for only the second time under
Robin Fraser
.

The Goats (2-3-0, 6 points) followed an abysmal first half with a tremendous second-half performance last week, with virtually everything that had troubled them through the first four games -- the lack of attack the most glaring problem -- falling into place as English winger
Ryan Smith
fueled a comeback for a 2-1 triumph over the Timbers.
It was Chivas' second win in as many road games, and injury-hit Toronto FC, off to a 0-4-0 league start, provides an opportunity to make it two in a row.
Fraser knows that won't be easy.
"I think [Toronto is] a hungry team," he told ESPN Los Angeles on the eve of the clash at BMO Field. "A hungry team that certainly did well in the Champions League, getting some good results and with how they played. They've not had the same results to show in league, but they're definitely better than their record shows.
"At home, I know they feel they must get this win. I expect a very hard-fought game."
March, 7, 2012
3/07/12
9:12
PM PT
By
Scott French
| ESPNLosAngeles.com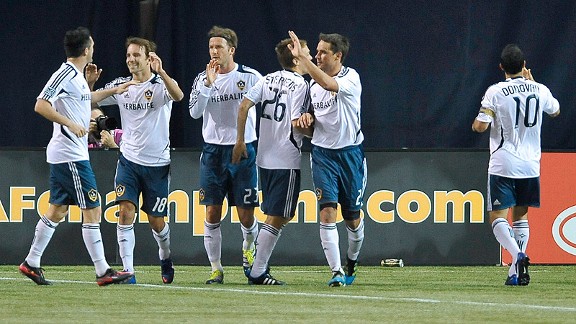 Brad White/Getty ImagesGalaxy players celebrate Landon Donovan's late goal that delivered a 2-2 tie at Toronto.

TORONTO -- Things couldn't have started much worse for the Galaxy on Wednesday night: Two crosses, two defensive miscues, two goals, and a gaping deficit to be bridged to keep alive the hope of a continental title.

Mission accomplished.

The Galaxy got one goal back nearly a half-hour in, then scored a stunning equalizer in the closing minutes -- Landon Donovan stabbing a loose ball into the back of the net following a David Beckham corner kick -- to claim a 2-2 draw in the first leg of their CONCACAF Champions League quarterfinal showdown with Toronto FC.

It quieted a raucous crowd of 47,658 at Rogers Centre and left L.A. needing a victory or low-scoring draw -- 0-0 or 1-1 -- in next week's second leg at Home Depot Center to advance to a semifinal meeting with Mexico's Santos Laguna or Major League Soccer rival Seattle Sounders.




Donovan tallied in the 88th minute, capping a solid final hour after a horrendous beginning in which former German national-teamer Torsten Frings delivered crosses for a 2-0 Toronto advantage after just 17 minutes.

"We put ourselves in a bit of a tough situation, but our response to that was really good," said Donovan, playing his first game since a bout with flu and bronchitis sapped the strength he built up during a seven-week loan spell in England with Everton. "It would have been a little bit cruel leaving there losing, 2-1. We had a number of chances and on a different night could have scored four or five goals."

The strike came from a corner after Beckham, who had to wade through waves of streamers tossed his way every time we went to the flag for a kick. This time a beer can came flying by.

"I think everyone saw what happened," he said. "It's disappointing because I think a crowd like that turns out, it's a great atmosphere, great to play in front of. The majority of fans -- almost all of the fans -- created an amazing atmosphere tonight, so it's disappointing, but it's a minority."

The equalizer, Beckham said, "you know it was coming. It felt like we were never going to get that goal. We had lots of chances and we couldn't put the ball in the back of the net. The ball didn't roll sometimes for us. But we kept at it. I think we deserved a draw at least, but we have to start the game better. That was the disappointing thing for the night."

Frings was pivotal early, setting up goals on a corner kick the Galaxy failed to adequately clear and then a long cross that found rookie Luis Silva -- the former Salesian High School and UC Santa Barbara star -- for a perfectly placed header that beat goalkeeper Josh Saunders to the far post.

Mike Magee emphatically finished a Sean Franklin cross to trim the deficit in the 29th minute, and L.A. tightened its defense all over the field to slow Toronto's fast, explosive attack after its initial success. Beckham was key, moving deep to set L.A.'s attack with his trademark on-the-dime long balls.


November, 8, 2011
11/08/11
12:45
PM PT
By
Scott French
| ESPNLosAngeles.com
The Galaxy received what appears to be a very favorable draw for the CONCACAF Champions League quarterfinals. They were paired Tuesday with Toronto FC, a surprise final-eight side that has never qualified for Major League Soccer's postseason.

A victory would set up a semifinal home-and-home with Mexico's Santos Laguna or the Seattle Sounders, with the Galaxy home for the first leg.

L.A. will open the quarterfinals March 6-8 at BMO Field in Toronto and play the second leg March 13-15 at Home Depot Center. Semifinals dates are March 27-29 and April 3-5, and the final is April 17-19 and 24-26.

Toronto FC went 3-2-1 in Group C, finishing just a point behind reigning Mexican champion Pumas UNAM after beating FC Dallas in a winner-moves-on group finale.

The Reds have found little success in their brief history aside from the Canadian Championship, which determined Canada's entrant to the Champions League, but Dutch manager Aron Winter seems to have built a foundation this year that could profit next spring.

The addition of European stars Danny Koevermans and Torsten Frings and a weeding-out process that saw Winter churn through his roster all season -- he used 41 players in league matches -- led to a decent finish, with just two losses (and only two wins) in the final 11 games.

The Galaxy, of course, are playing in the MLS Cup title game, facing Houston on Nov. 20 at Home Depot Center.

The other side of the bracket has three Mexican clubs, with Morelia -- runner-up to the Galaxy in Group A -- facing defending champions Monterrey and Pumas against El Salvador's Isidro Metapan.


October, 16, 2011
10/16/11
12:00
AM PT
By
Scott French
| ESPNLosAngeles.com
CARSON -- Gregg Berhalter has known all year this would be his last season as a professional soccer player. He just figured the fewer who knew, the better.
The veteran center back, a two-time World Cup selection who came to L.A. after 15 years in Europe and helped create a defensive culture that next month could bring the Galaxy an MLS Cup championship, hopes to get on the field again, and it could happen in Sunday's SuperClasico against Chivas USA at Home Depot Center.
Berhalter, 38, has been upgraded to questionable with a foot sprain that has sidelined him since August -- just the latest in a series of debilitating injuries that have kept him in the trainer's room most of the past 14 months -- and might not have to be content with a postgame tribute in his final regular-season home game.
We'll see. He's been active in training and had been targeting a return after a 12-day break that ends at Sunday's 6 p.m. kickoff. The ailments aren't why he's retiring.
"It wasn't really about the injuries at all," said Berhalter, who also served as an assistant coach this season. "I just felt that it was time. ... I knew coming into the year, my idea that this would be my last year. I didn't really want to make too much of it, and I thought now it was the appropriate time to say it, get it out of the way, have this game, and then focus on the playoffs."
Berhalter, who played for clubs in Holland, England and Germany and was on the U.S. teams
Bruce Arena
took to the World Cup in 2002 and 2006, is admired for his defensive skills, his leadership and, perhaps more than anything else, his embodiment of what it means to be "professional."
Asked about Berhalter, Arena said: "He's been a great professional. I don't want to speak for him, but I think one of the highlights of his playing career had to be the 2002 World Cup, and those guys were fabulous there. Gregg's the one who headed that ball that was a hand ball [against
Torsten Frings
, not called, in the quarterfinal loss to] Germany.
"And what he's done here, besides his ability ... I think around our team for three years a lot of guys have had to wake up and see what a real professional is. And this is a guy that's a real pro, and he's been in very tough environments in his career, and he's brought that attitude and mentality to our team. I think a lot of the young players have prospered from Gregg's being around and demonstrating how you're supposed to conduct yourself each and every day."
September, 24, 2011
9/24/11
10:12
AM PT
By
Scott French
| ESPNLosAngeles.com
Chivas USA can remain alive in the postseason hunt with a victory Saturday night over Toronto FC, a harder proposition than perhaps it ought to be.

The Goats have never lost to the Canadians at Home Depot Center, but they're long, hard fade down the stretch offers only so much hope. They haven't won in seven games, falling from playoff contender to pretender, and no victories in their final four games would leave them one win short of last year's total.

Last year, you might remember, was disastrous, and Chivas cleaned house afterward, in the front office, on the coaching staff and on the field.

There can be few qualms with the work head coach Robin Fraser and Greg Vanney have done in building a new culture for the club -- the Goats (7-12-11) are on the right path, but patience is required -- but questions about the viability of the front office are growing.

Toronto FC (6-12-12) seems a mirror organization, except the Reds have never gotten things right -- and Chivas was a force in MLS during Bob Bradley's and Preki's tenures as head coach.

That seems to be slowly changing. The Reds have lost just once in their last seven games, and the imprint of Designated Players Danny Koevermans and Torsten Frings, both acquired at the end of June, has been massive.

If Maple Leaf Sports & Entertainment, the club's owner, shows more patience with Dutch coach Aron Winter than it did with his predecessors -- and provides the resources necessary, which it seems to be doing -- Toronto could be competing for the postseason next season.

Right now, both clubs are in the race, but only barely. Either side could be eliminated with a defeat and results elsewhere, and it's really just a matter of time. Miracles can happen, and that's what the Goats and Reds need.

July, 1, 2011
7/01/11
6:44
PM PT
By
Scott French
| ESPNLosAngeles.com
Aron Winter and Toronto FC made a statement this week by signing as Designated Players former Germany national team midfielder Torsten Frings and Dutch forward Danny Koevermans. They'll be eligible once the transfer window opens July 15.

Galaxy defender/assistant coach Gregg Berhalter has a bit of history with Frings: It was Berhalter's goal-bound shot that Frings knocked away from the goal line with his left hand, securing the Germans' 1-0 triumph over the U.S. in the 2002 World Cup quarterfinals.

Scottish referee Hugh Dallas, who should have red-carded Frings and awarded the Americans a penalty kick, kept his whistle silent, and the Germans went on to the title game, in which they were beaten by Brazil.

Berhalter was asked after training Friday his memories of that moment.

"The biggest thing you take away from it is you're just shocked that between the referee and his assistants, that they can't sort that out," he said. "It's almost hard to believe that they can't see that, because it's clear to everyone else in the stadium, on TV, on the field. And it's unfortunate. Because in the end, [winning that game] could have translated to a lot more for our country, and it would have been nice.

"But that's the past, and that's exactly where it will stay."

Berhalter, who played seven years in Germany, has played several times against Frings, 34, and calls him "an exceptional player" and an "eccentric."

"On the field, in his day, he was an absolute animal, but he's also skilled, and he's good going forward," Berhalter said. "He meant a lot to all the teams he played on [Alemannia Aachen, Werder Bremen, Borussia Dortmund and Bayern Munich]. ... The question is going to be how does he adapt to MLS, because it's not always easy for foreigners to adapt to MLS, especially guys from Europe. So we'll see. But he definitely has the quality, and I think if the set-up's right for him, he should do well."

Does Berhalter carry any personal animosity over the hand ball that was not called?

"Absolutely not. No," he replied. "I would have done the same thing."