Los Angeles Soccer:

Trevor Whiddon
May, 6, 2012
5/06/12
5:01
PM PT
By
Scott French
| ESPNLosAngeles.com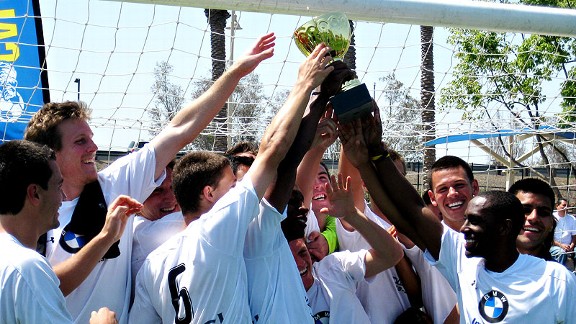 Scott French/ESPNLosAngeles.com PSA Elite celebrates with the cup.
ONTARIO -- There were lot of familiar names on the turf at Ontario Soccer Park for Sunday morning's USASA regional title game, but the biggest name of all actually wasn't anywhere nearby.

Eric Wynalda, the former U.S. national team star and a first-ballot National Soccer Hall of Fame inductee, had to follow his Cal FC team's clash with PSA Elite via constant text messaging while on the air in his main gig in West L.A., as studio analyst at Fox Soccer Channel.

The news he received wasn't good.

A missed penalty kick and a red card proved costly for Thousand Oaks-based Cal FC, which dropped a 2-0 decision to their Orange County-based foe in the U.S. Adult Soccer Association's Region IV championship.

PSA Elite, bolstered by players from Premier Development League power Orange County Blue Star, scored twice in the second half to qualify for the USASA National Cup final four July 20-22 at the Chicago Fire's Toyota Park.

The club from Irvine also got to choose its first-round opponent in the U.S. Open Cup -- well, perhaps -- and decided to play against PDL power Portland Timbers U-23 at Jeld-Wen Stadium, the Timbers' Major League Soccer team's home, in the May 15 opener. That sends Cal FC, which also qualified for the Open Cup, to play reigning PDL champion Kitsap Pumas in Bremerton, Wash.

U.S. Soccer, which runs the nearly 99-year-old tournament, has in the meantime scheduled a coin flip Monday to determine which team plays where.

Andrew Riemer scored in the 63rd minute and set up an 83rd-minute rocket by fellow Blue Star forward Christian Ramirez (Garden Grove/La Quinta HS and UC Santa Barbara/Concordia University).

"Oh, well," Wynalda, Cal FC's head coach, messaged after he was informed of Ramirez's goal. "I have qualified [for the Open Cup]. Time to strengthen the squad."

Both sides came in plenty capable.


September, 9, 2011
9/09/11
2:13
PM PT
By
Scott French
| ESPNLosAngeles.com
Cal State Fullerton not so long ago was a regional power in men's soccer, with nearly annual treks to the NCAA Tournament -- including a final four appearance in 1993 and a run to the quarterfinals the following season.

It's been rough going since the Titans last made the playoffs back in 2000, with 10 successive losing seasons, but their performance last weekend at Cal State Northridge's annual event signals that a renaissance could be at hand.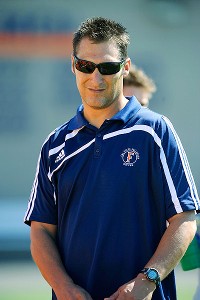 Matt Brown/CS Fullerton athleticsBob Ammann is looking for his first winning season -- and first NCAA appearance -- in his sixth season in charge at Cal State Fullerton.
Fullerton (2-0-1) set the terms with a physical game plan for a 0-0 draw against defending NCAA champion Akron, then displayed its considerable skill in a 5-1 dismantling of UNLV to win the tournament title.

Head coach Bob Ammann, a goalkeeper and assistant coach at CSUF before taking the reins following the 2005 season, has always fielded talented, competitive teams that so often controlled matches but came out one-goal losers. This year looks like it might be different -- he's got a a senior-heavy side featuring 10 returning starters, a little more grit to go with the style, and a belief that it can battle Big West Conference giants UC Santa Barbara and UC Irvine.

"We're confident in where we're at," said Ammann, who started the campaign with a 34-56-9 record. "It's a group that's been with each other for awhile now. We went through our times, obviously, and as I'm constantly preaching to them: Those are the things that grew our skin."

The Titans were a much better team at the end of last season than they'd been most of the fall, upsetting UC Irvine in the Big West tournament semifinals to highlight a 7-12-2 campaign.

Ammann's core group features five seniors: All-Big West first-team forward Nick Posthuma (Pasadena/St. Francis HS) and midfielder Kevin Venegas (Lakewood/Los Alamitos HS) and honorable mention goalkeeper Trevor Whiddon, plus midfielders Oscar Aguero (Anaheim/Katella HS) and Michael Denny. Posthuma led the Titans with nine goals last year; Venegas was the top player at CSUN's tournament.

Also making imprints are juniors Jonathan Birt (Santa Ana/Calvary Chapel HS), the lone returning starter on the backline, and Jesse Escalante (Placentia/Valencia HS), a rising forward first seen in one of Ammann's youth camps.

The Titans' approach -- ball on the ground, keep possession -- and flair required to follow it have impressed opponents all along, but defensive liabilities have hurt. The addition of Englishman Roberto Vernaschi, who transferred from Delaware -- aided by the returns of Mario Alvarez and Bobby Reiss (Palmdale/Quartz Hill HS) after missing last season through injury -- has added steel to Fullerton's game.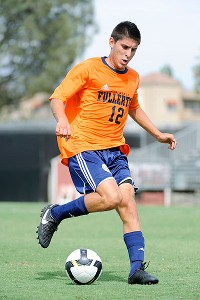 Matt Brown/CS Fullerton athleticsKevin Venegas factored in three goals in the Titans' win over UNLV, which clinched Cal State Northridge's tournament title.
"He's got that kind of bad-boy mentality," Ammann said. "He's got that 'I'm not afraid to tell you what I'm going to do to you.' That's something we've lacked, and the other players are feeding off that."

That was apparent against Akron. The Titans' physical game plan neutralized the Zips, and Fullerton had the better scoring opportunities if less of the game.

"I thought their spirit was good," said Akron coach Caleb Porter, whose team dropped from second to fourth in the NSCAA rankings this week. "I really liked their energy and their attitude and their edge. They have a chip on their shoulder, and they showed that against us, and that was good for our guys to see -- these teams weren't intimidated by Akron. These teams play the UCLAs and UC Santa Barbaras, so playing us isn't going to intimidate them."

Ammann credits depth -- "Now we can bring in guys, and we really don't drop the standard," he says -- and the ability to play both ways.

"We've always been able to score and create, but we've leaked too many goals," he said. "We're really limiting the opportunities of our opponents. This is ultimately going to be the difference. I believe we can score, and as long as we defend and we gain that confidence that we can lock the game down and finish it when we do score, we've got some potential."

Fullerton, which plays this weekend at UNLV's tournament, was third in the Big West coaches preseason pool, behind UC Santa Barbara and Cal Poly but ahead of UC Irvine, which is ranked ninth in the nation. The NCAA tournament is within reach.

"That's something we've been talking about for awhile," Ammann said. "This is definitely the team with the progress. The guys who are seniors now are the first group to come freshman through. And that pays big dividends in college soccer."

September, 2, 2011
9/02/11
6:33
AM PT
By
Scott French
| ESPNLosAngeles.com
Reigning NCAA champion Akron found little to like in its first game this year in Southern California, a rugged 0-0 draw Thursday with Cal State Fullerton that left Zips coaches crying foul. Literally.

The Titans (1-0-1) took a physical approach to the Labor Day Classic encounter at Cal State Northridge, keeping 11 men behind the ball and committing 28 fouls -- to only seven by Akron -- benefiting from a masterful performance by goalkeeper Trevor Whiddon, who made nine saves.

"We're not going to make excuses. We didn't play our best game today," Akron coach Caleb Porter told his school's athletics website. "But, clearly, Fullerton's game plan was to chop the game up with fouls and be physical and not allow us to get into a rhythm.

"We could be disappointed with the way the game was officiated, but bottom line is we didn't handle [the physical play] very well. To me, we looked like a young team that wasn't ready to deal with a physical team that came to play. Fullerton wanted to rattle us, and in some ways it worked. We have to do better next time."

The Titans, who survived a first-half onslaught and outshot Akron, 12-10, after halftime, nearly scored three times: Roberto Vernaschi hit the left post from distance at the start of the second half, and Zips goalkeeper David Meves was required to make two big saves. Fullerton cleared a Scott Caldwell shot off the goal line in the 29th minute.

UNLV beat Cal State Northridge, 2-1, in the second game on Jonny Espinoza's overtime goal. Edwin Rivas (Los Angeles/Santee Education Complex) had pulled the Matadors (1-1-0) even in the 79th minute.

CSUN (1-1-0) meets Akron (1-0-1) in Saturday's tournament finale at 7 p.m.