Los Angeles Soccer:

USASA Region IV
May, 6, 2012
5/06/12
5:01
PM PT
By
Scott French
| ESPNLosAngeles.com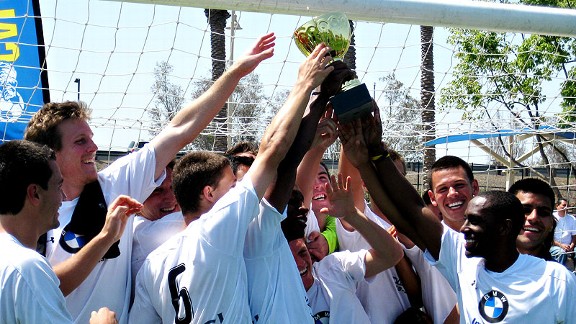 Scott French/ESPNLosAngeles.com PSA Elite celebrates with the cup.
ONTARIO -- There were lot of familiar names on the turf at Ontario Soccer Park for Sunday morning's USASA regional title game, but the biggest name of all actually wasn't anywhere nearby.

Eric Wynalda, the former U.S. national team star and a first-ballot National Soccer Hall of Fame inductee, had to follow his Cal FC team's clash with PSA Elite via constant text messaging while on the air in his main gig in West L.A., as studio analyst at Fox Soccer Channel.

The news he received wasn't good.

A missed penalty kick and a red card proved costly for Thousand Oaks-based Cal FC, which dropped a 2-0 decision to their Orange County-based foe in the U.S. Adult Soccer Association's Region IV championship.

PSA Elite, bolstered by players from Premier Development League power Orange County Blue Star, scored twice in the second half to qualify for the USASA National Cup final four July 20-22 at the Chicago Fire's Toyota Park.

The club from Irvine also got to choose its first-round opponent in the U.S. Open Cup -- well, perhaps -- and decided to play against PDL power Portland Timbers U-23 at Jeld-Wen Stadium, the Timbers' Major League Soccer team's home, in the May 15 opener. That sends Cal FC, which also qualified for the Open Cup, to play reigning PDL champion Kitsap Pumas in Bremerton, Wash.

U.S. Soccer, which runs the nearly 99-year-old tournament, has in the meantime scheduled a coin flip Monday to determine which team plays where.

Andrew Riemer scored in the 63rd minute and set up an 83rd-minute rocket by fellow Blue Star forward Christian Ramirez (Garden Grove/La Quinta HS and UC Santa Barbara/Concordia University).

"Oh, well," Wynalda, Cal FC's head coach, messaged after he was informed of Ramirez's goal. "I have qualified [for the Open Cup]. Time to strengthen the squad."

Both sides came in plenty capable.


May, 6, 2012
5/06/12
12:16
AM PT
By
Scott French
| ESPNLosAngeles.com
Thousand Oaks' Cal FC and Irvine's PSA Elite on Saturday claimed the final two berths in this year's U.S. Open Cup. Now they'll face off for a spot in the U.S. Adult Soccer Association national final four in Chicago this summer.

Cal FC, managed by Eric Wynalda and featuring former Galaxy defender Mike Randolph and UC Santa Barbara alum Danny Barrera, pulled out a 4-3 victory Friday over Manhattan Beach's Doxa Italia in the key Group A match at the seven-team USASA Region IV tournament at Ontario Soccer Park. They won the group Saturday with a 7-0 rout over The Internationalist, from Los Angeles.

The fourth team in the group, EP Elite, an El Paso, Texas, club representing New Mexico, was a no-show for the event and forfeited its three matches.

PSA Elite toppled Northern California's DV8 Defenders, its prime competition, in a Group B opener Friday, then crushed Pittsburg Galaxy, also from the Bay Area, and played fellow Irvine side OC Crew to a scoreless draw Saturday.

Defending Region IV champ Doxa Italia and DV8 Defenders were the region's Open Cup qualifiers last year. Both lost in the first round.

Cal FC and PSA Elite face first-round Open Cup trips to the Pacific Northwest. One will meet defending USL Premier Development League champion Kitsap Pumas in Bremerton, Wash., and the other will play at 2010 PDL titlist Portland Timbers U-23. U.S. Soccer will determine the matchups. The opening round in May 15.

Five other Southern California clubs are in the U.S. Open Cup field. Fullerton Rangers and Ventura County Fusion face off in a May 15 opener, with the winner taking on the L.A. Blues a week late in the second round. The Galaxy and Chivas USA enter the competition in the third round, on May 29.

Sunday morning's game at Ontario begins at 9 a.m.