Los Angeles Soccer:

Vanessa Valentine
June, 12, 2012
6/12/12
8:48
PM PT
By
Scott French
| ESPNLosAngeles.com
IRVINE -- Daniel Steres was drafted by Chivas USA, spent a month in camp with the Seattle Sounders, and has been a force -- in the back or anchoring the midfield -- as the Ventura County Fusion have turned the Premier Development League's Southwest Division into their own playground.

Now he's back with the Sounders, taking the next step in his journey to being a full-fledged professional.

Steres (Calabasas/Calabasas HS), who starred at San Diego State, was taken by Seattle in last week's college-waiver draft and headed over the weekend to Washington.

"We're getting the contract [sorted out], and then working my way up to get a starting role, obviously," Steres told ESPN Los Angeles after the Fusion's 2-1 victory Friday evening over Orange County Blue Star. "Sounds like they're excited to have me come in. I'm excited to go in."

Steres, probably a center back or right back in MLS, lost out in numbers games during preseason at Chivas and, after his release by the Goats, in Seattle. He's been superb for the Fusion, bolstering the backline next to Mickey Daly (Cal State L.A.) or Tim Pontius (Yorba Linda/Servite HS and UC Santa Barbara) or teaming with former Chivas USA/Portland Timbers midfielder Rodrigo Lopez (Santa Barbara/Santa Barbara HS) in central midfield.

The Fusion (6-1-1) are atop the Southwest Division after rallying for a 2-1 win against Blue Star at Concordia University. Travis Bowen (Van Nuys/Chatsworth HS), the older brother of Chivas USA forward Tristan Bowen, scored both goals -- his fourth and division-best fifth of the season -- with the winner coming in the 76th minute.

Ventura is one point ahead of FC Tucson, which visits the Fusion next weekend.

Pontius, the younger brother of D.C. United midfielder Chris Pontius, also is getting some MLS attention. The big center back, a Sounders draft pick, has been in camp the past week with the Galaxy. He says playing with the Fusion has helped prepare him.

"College is one thing," he said. "College prepares you for the next step. This is kind of the in-between phase between college and pros. You've got a lot of players here who can make the next step."

He said his time with Sounders in preseason was "spectacular."

"Unfortunately, it didn't work out for me, but at the end, I gained a lot of experience out of that opportunity," Pontius said. "Spots were tight there, so there's only so much you can do. You play your game, if it doesn't work out, it doesn't work out. You try the next one."

Elsewhere in minor-league soccer:


April, 19, 2012
4/19/12
11:05
PM PT
By
Scott French
| ESPNLosAngeles.com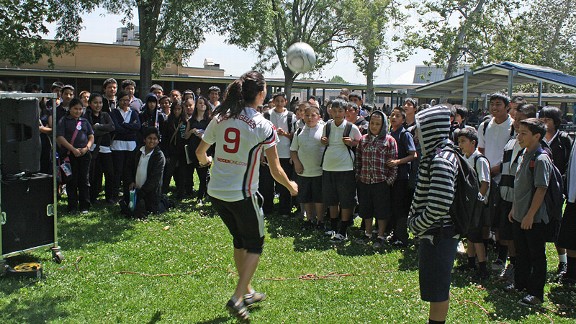 Rebecca Neuren/L.A. StrikersL.A. Strikers captain Vanessa Valentine shows off her skills at Sun Valley Middle School.

The USL W-League season is not quite a month away, and the L.A. Strikers will be looking to take a step forward after a 4-9-1 campaign in their inaugural season. There's new ownership, a new home, new players and high hopes that the team can compete with the giants of the Western Conference, a task that won't be simple.

Whatever the Strikers do, they're champions in the eyes of a lot of middle-schoolers in the San Fernando Valley. The Glendale-based club, represented by captain Vanessa Valentine, Mexican national-teamer Christina Murillo and general manager Rebecca Neuren, paid a visit Wednesday to Sun Valley Middle School's "field of dreams" to promote an after-school recreational program primarily for at-risk youth.

Neuren, Valentine, a four-time All-Big West Conference selection at Cal State Fullerton, and Murillo (Ojai/Nordhoff HS), who was a Big Ten All-Freshman pick last fall at Michigan, juggled soccer balls with the kids during a lunchtime rally, then appeared at an event after final bell to promote participation in Mark Ubben's after-school sports program, which focuses on team sports.

Attendance among girls at the after-school session was double the usual turnout, school officials told the Strikers, who worked with program coaches to run successful practices -- fun, interesting and helpful -- that will keep kids excited and involved.

The program is vital in the mostly Hispanic community, in which pressures at home -- to work, in order to help the family, or take care of younger siblings -- often force middle-school and high school students to miss class time and, ultimately, drop out of school. Ubben's program is designed to improve the kids' educational outlook -- and provide opportunites to grow through team sports.

Neuren, who played club soccer at the College of Charleston, said the Strikers wanted to demonstrate, especially to the girls, how participating in sports can lead to success in other facets of life.

"With the whole climate of women's soccer as unstable as it has been," Neuren said, "I think it's really up to us to show the next generation that girls can play and there is a lot of success in life that comes from being an athlete."