Los Angeles Soccer:

Victoria Beckham
January, 19, 2012
1/19/12
8:45
PM PT
By
Scott French
| ESPNLosAngeles.com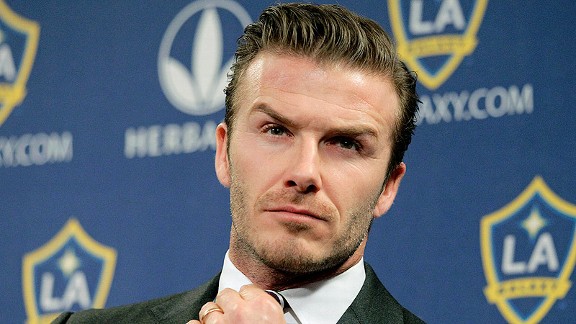 AP Photo/Jae C. HongDavid Beckham's decision to rejoin the Galaxy wasn't as much a victory for the team as it was for the city of L.A.

LOS ANGELES -- The decision was made over a glass of wine with his wife on New Year's Eve, and the contract, he says, was signed not long after. David Beckham's return to the Galaxy, it turns out, was never really in doubt.

Consider it a victory for Los Angeles more than anything else. The English superstar might love playing for the Galaxy, but he and his family are head-over-heels for the city.

That was the message Thursday afternoon at Staples Center, where Major League Soccer's biggest name was reintroduced after the Galaxy's announcement he had signed a two-year contract.

The details remain a little fuzzy -- Is it two years or one year with a one-year mutual option? Has he actually signed? Are the $15 million reports close to reality? -- but Beckham's desire to continue the work he has done for MLS, American soccer and L.A.'s team is clear as can be.

Not that he didn't enjoy watching the media scrum detail how his move to Paris Saint-Germain, which dangled a lucrative offer before him, was a certainty.

"It was fun watching it, to be honest. I must admit," Beckham said after the news conference. "Everyone was just talking about it. Even when I made the decision, I was kind of like, 'Should we wait a few more days ...'

"I always said at the end of last season that there was a good possibility I was coming back. ... I'm happy. I'm very happy to be back. I'm happy to continue playing here. [My family are] all happy. We've been happy here the last five years. We thought: Why change something that works? The kids love living here, I love living here. Los Angeles has been amazing to us as a family. So we're going to continue to enjoy it."

Beckham said he and his wife, Victoria, discussed their options over a glass of wine in their London home on Dec. 31, the day his first, five-year contract with the Galaxy expired, and "that was probably the time I made up my mind and decided that we want to continue our lives in Los Angeles."

His passion for the Galaxy, for the kind of team they've evolved into since Bruce Arena took charge in August 2008, about a year after Beckham's arrival -- and the success that the team found last year, when it won a second straight Supporters' Shield and the franchise's third MLS Cup crown -- had plenty to do with it.

Winning the title, he said, was "the only thing I kept on coming back to" as he mulled a PSG offer reported to be worth $18.7 million over 18 months and several other options, including with two English Premier League clubs (widely reported as Tottenham and Queens Park Rangers, although Beckham wouldn't say so).

He said that winning the MLS Cup title, the club's primary goal, at the end of his contract suggested that "maybe it's in the stars that it's time to step away or step down or stop playing" and that that "all went into my head. I'm not going to lie. ...


December, 15, 2011
12/15/11
1:33
PM PT
By
Scott French
| ESPNLosAngeles.com
Are David and Victoria Beckham headed to Paris this weekend?

That's the claim in French daily Le Parisien, which says the former Posh Spice, who has built an impressive fashion résumé in Los Angeles, "should take the opportunity to explore the addresses where she could establish the offices of his brand of haute couture."

What Beckham might be doing is left unsaid, although meeting with Paris Saint-Germain officials, who hope to bring him in during next month's transfer window, is the implication.

The Beckhams have returned to England for the holidays.

Beckham, the newspaper says, is expected to decide whether to stay with the Galaxy, go to PSG or sign elsewhere -- with Tottenham the likeliest "other" option -- shortly after Christmas. That's the timeline we're looking at on this side of the Atlantic, too.

Reports in the European press seem to assume Beckham is returning to Europe -- his departure from the Galaxy is treated as a done deal -- but Beckham has said nothing of the sort while confirming he really might return for a sixth Major League Soccer season in 2012.

Le Parisien's evidence that Beckham is leaving L.A.: He's already cleaned out his Galaxy locker. That every player has, because it's the offseason, goes unmentioned.

DYNAMO DIVORCE: AEG President Tim Leiweke says the Galaxy's owners will soon offload its half-share of MLS Cup runner-up Houston Dynamo, with prodding from MLS Commissioner Don Garber.

He's looking for local ownership -- half the club is owned by former boxing champion Oscar de la Hoya and businessman Gabriel Brener, both from Los Angeles -- and says AEG has "already been approached by two or three people."


November, 27, 2011
11/27/11
10:44
AM PT
By
Scott French
| ESPNLosAngeles.com
Latest report from Britain on David Beckham's will-he-or-won't-he move to, most likely, Paris Saint-Germain says he might stay with the Galaxy after all, all because his wife, Victoria, doesn't want to leave L.A.
Daily Star Sunday
, a British tabloid, reported Sunday that the former Posh Spice has told her husband she's not willing to move to Paris.
It also says Galaxy owner AEG is preparing an offer to rival the reported $17.9 million deal PSG has proffered to the English superstar.
The paper cited "a source close to" Victoria Beckham, who has built a career in L.A.'s fashion industry since her husband joined the Galaxy in 2007.
"Victoria doesn't want to move to Paris and has told David she doesn't want to live there," the newspaper quoted the source. "She told him she found it hard enough adjusting to life in L.A. when they first moved, and she is putting her foot down."
The newspaper, citing an "aide," claims AEG president
Tim Leiweke
could offer Beckham a vice presidency in the company.
November, 21, 2011
11/21/11
12:01
AM PT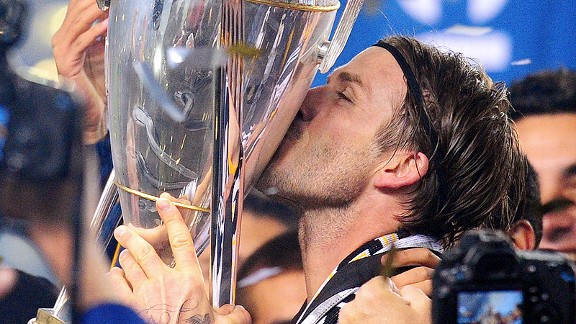 Frederic J. Brown/AFP/Getty ImagesDavid Beckham kisses the MLS Cup trophy after what could be his final game in L.A.

CARSON -- When it was over, the first thing David Beckham did was look for his kids.

As fans chanted "We want Beckham!" and "Come back, David!" Beckham went searching for his sons Brooklyn, 12, Romeo, 9, and Cruz, 6, after the Los Angeles Galaxy defeated the Houston Dynamo 1-0 to win the MLS Cup on Sunday night at Home Depot Center.

He waved the boys over to join him on stage for the trophy presentation, put his arms around them and jumped up and down with them after the Galaxy was presented with the Philip F. Anschutz trophy.




Beckham will decide next month whether Sunday was indeed his final game with the Galaxy after signing a five-year deal in 2007, and the three boys he put championship scarves around after the game will have as much to do with the decision as anyone else.

He continually looked at them during the celebration to make sure they were savoring every moment. He has won his fair share of trophies during his career, but at 36 years old, regardless of where he is next year, he understands that these moments will soon end.

The last time he won a championship was with Real Madrid in 2007, which turned out to be his last season in Spain, and the last time he won before that was with Manchester United in 2003, which turned out to be his last season in England. Winning the championship in the last year of his contract with the Galaxy would be a perfect way to finish his time in the States, but that decision will not be made by Beckham alone.

He admits he will make his decision in the coming days after talking with his family. His sons were too young to remember Beckham's title with Manchester United and still coming of age when he won with Real Madrid. Their formative years have been spent growing up in the United States. His infant daughter Harper was born in Los Angeles and his wife Victoria has a clothing line in the city.

"These are life-changing moments," Beckham said. "I've been lucky enough to have children at a very young age, so Brooklyn, my oldest, has experienced being on the turf at Old Trafford and seeing me pick the Premiership [trophy] up, and all three of them were on the pitch at Real Madrid and all three of them were there tonight. These are great memories. I want my children to be a part of that. My little girl is a little too young for that but she was there with my wife."


November, 4, 2011
11/04/11
12:14
AM PT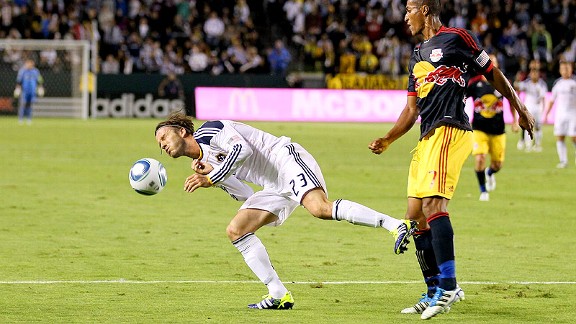 Stephen Dunn/Getty ImagesDavid Beckham, who seemingly willed the Galaxy to victory Thursday, drew a penalty kick on this play that led to L.A.'s second goal.

CARSON, Calif. -- David Beckham is probably thinking the same thing you are as you watch him play this postseason.

Will he be back next season? Are these his final games in Los Angeles? Will he gather wife Victoria and their four children next month, having completed his five-year commitment to the Los Angeles Galaxy and Major League Soccer, and fly back to Europe for good?

"To be honest, I haven't even thought about what's after this," Beckham said Thursday night as he stood in front of his locker after the Galaxy defeated the New York Red Bulls, 2-1, to advance to the Western Conference championship. "Right now I'm concentrating on the moment and us progressing and getting a championship. My time here has been great. I've had a lot of highs playing for this organization, playing with this team and this year has definitely been the most enjoyable."




Beckham is not being coy when he says he honestly does not know what he will do. His next move will not simply be for a paycheck; it will likely influence where he spends his foreseeable future as his children grow up to be adults. His sons, who are 12, 9 and 6 years old, and his infant daughter, have only known Los Angeles as home. A move back to England would likely mean he has left the States for good while a new deal would further root him and his family to Southern California.

People move to L.A. for "just a couple of years" all the time. The next thing you know, 20 or 30 years later they're still here living or chasing the dream. This city is like a bad reality show you love to hate. You can knock it publicly all you want, but when it comes time to program your DVR in private, you know you can't quit it.

Beckham is at a crossroads in his life right now. He is still young enough to chase his dream, but what exactly is that dream?

Is it to win trophies in the States or is it to play for a European power again and represent his country on the international stage?

No one could blame Beckham if he were leaning toward the latter. There's enough evidence to suggest he has often been leaning that way even during his five years in Los Angeles when he trained with Arsenal and Tottenham and was loaned to Milan twice; trying to stay there as long as he could to secure a roster spot for the English National team.


July, 10, 2011
7/10/11
11:49
AM PT
By
Scott French
| ESPNLosAngeles.com
Galaxy star David Beckham and his wife, Victoria, are parents again. Simon Oliveira, the superstar midfielder's representative, reported via Twitter that the couple fourth child, a daughter, was born Sunday morning at Cedars Sinai in West L.A., weighing in at 7 pounds, 10 ounces.
They have three sons:
Brooklyn
, 11,
Romeo
, 8, and
Cruz
, 5.
The child was to be delivered by caesarean section, Beckham said last week.
"It's a waiting game, you know," he said after training Thursday. "It's due anytime this week, this week and next week, so -- as anybody knows that's had babies -- it's a waiting game now, but my wife is more than ready.
"She'll have a C-section because she can't have a baby naturally. We've done that with all three of the other boys."
No name has yet been announced.
Beckham, who is dealing with a minor spinal fracture, scored directly from a corner kick and set up
Landon Donovan
from another corner in the Galaxy's 2-1 victory Saturday night over Chicago at Home Depot Center.
July, 1, 2011
7/01/11
4:21
PM PT
By
Scott French
| ESPNLosAngeles.com
David Beckham
was back on the practice field Friday and optimistic, to a point, that he could be ready to go for the Galaxy's Fourth of July bash with the Seattle Sounders, but those back spasms that sidelined him the last two games are something more serious.
Beckham describes his injury as a "slight stress fracture in the spine" and says the "pain 10 days ago was bad." But plenty of rehab the last two weeks, primarily to strengthen the back, was enough to get him back onto the field, even if he wasn't involved in everything.

"I'm feeling better," said Beckham, who is listed as questionable on MLS's injury report after missing the victory June 18 at Colorado and last weekend's scoreless draw at San Jose. "It's a slow process, but it's getting better."
He said he has been miserable the last couple of weeks -- "I hate missing games, hate missing training" -- but "being out here with the guys again and being part of it again ... it's a good day today."
Beckham sustained the injury during a heavy training session on June 14, the day after returning from a 2012 Olympics appearance in London. "I just felt a little bit from then, and then it just got progressively worse ...," he said. "I don't know whether it's an old injury or new injury, just one of those things that flared up. It's not a big problem. I'm back with the guys training, so it's getting better."
Galaxy coach
Bruce Arena
says the chances are "probably not great" Beckham will be available for Monday night's game at Home Depot Center, and the English midfielder says he's not certain if he can play.
April, 21, 2011
4/21/11
8:21
PM PT
By
Scott French
| ESPNLosAngeles.com
It's one of the biggest events on English soil since
Charles
and
Diana
married and
David Beckham
isn't about to miss it. And when he travels home next week for the royal wedding of
Prince William
and
Kate Middleton
, he'll have the Galaxy's blessing.
The superstar midfielder and his wife,
Victoria
, will attend next Friday's nuptials at Westminster Abbey, and he'll be on the plane to Dallas the following day for the Galaxy's game against FC Dallas two days after the wedding.

It sets up a difficult few days for Beckham, one of England's foremost public figures, who will travel more than 10,000 miles in the days before the critical rematch of last year's Western Conference title game. If all that travel proves too sapping, he has coach
Bruce Arena
's permission to skip the match.
"I'm used to the travel," Beckham said Thursday. "It will be down to the manager, you know? I'll speak to the manager to see how I feel on the day of the game, and I'll do everything right and do everything which is best for the team. If I don't feel that I'll be able to play in the game, it's more important how we're going to win these games."
Not as important as the wedding, perhaps, which clearly seems the priority here, and it shouldn't be the Galaxy's priority.
"Obviously, it's not ideal with the travel," Beckham acknowledged, "but it's a royal wedding, and those don't come around very often."
Beckham said Arena asked him if he preferred to skip the game entirely, to fly home from London more leisurely, "but it's important I'm there [at the game]. It's important the players see me there."
Said Galaxy captain
Landon Donovan
: "The positive is that if anyone can do it, it's him. He's traveled the world and done this many times. So he understands what it's about, and the only expectation for us is that he, like always, shows up and is ready to train and is ready to play, and as long as he does that, it's no issue."
Arena declined to discuss Beckham's trek or how it might affect the Galaxy, responding to a question about his star's wedding plans: "Why are you worried about that? Write something about soccer. ... I don't comment on his social calendar."
Arena then joked that he planned to watch "TMZ," a celebrity news show on the Fox network, "and get all the updates on everything and make sure I understand." Asked a few minutes later about how
Benny Feilhaber
might fare in New England's system, he said: "I don't even know what I'm doing. I mean, I'm worried about the wedding next week. I'm going. That's the news. I'm going to be the best man. You didn't know that?"
The Beckhams will take their three sons to London, but the boys won't attend the wedding, Beckham said.
January, 5, 2011
1/05/11
2:34
PM PT
By
Scott French
| ESPNLosAngeles.com
Will David Beckham be in England by the next week?
Silly question. Beckham has been in England the past month, but reports from over there say the Galaxy is willing to deal.
And perhaps the most substantial word on the subject comes from a report in
The Sun
, which claims Beckham and his wife,
Victoria
, have enrolled their sons
Brooklyn
, 11,
Romeo
, 8, and
Cruz
, 5, into a private school near their Beckingham Palace mansion in London.
The Sun
says the boys will start classes Thursday.
The Beckhams live in Beverly Hills, but Victoria -- the former "Posh Spice" from the 1990s pop group Spice Girls -- wants to be in London for the run-up to next month's "Fashion Week," the tabloid reports.
Beckham has been linked most closely with Tottenham Hotspur, the north London club his maternal grandfather cheered on, and Sky Sports, citing "Sky Sports News sources," reported Wednesday that L.A. would consider a loan "only if their terms are agreed" -- and those terms, the broadcaster's Web site says, are financial.
There are now 14 teams, most in England, that have signaled an interest in taking Beckham on a short-term loan, with Tottenham, Blackburn and Newcastle United making the strongest statements of desire.
Tottenham manager
Harry Redknapp
, who has been the most vocal suitor, told reporters Wednesday that a deal must be struck quickly. Spurs played the first of 11 games through March 11 on Wednesday, and "it can't go on too long, because otherwise it would be a waste of time ...," Redknapp said. "It's dragged on a bit, and [the Galaxy] might not let him go. It's 50-50. We need to know, really."
The Sun
says the Tottenham possibility opened when Beckham was Christmas shopping in Harrods in London and ran into
Jamie Redknapp
, a former English national-teamer and Harry's son.
"David spoke to my son, and that's how it all came about," Harry Redknapp said, according to the newspaper. "He told Jamie, 'I'd fancy playing for Tottenham -- I like the way they play.' "
Beckham is seeking a two-month loan deal, which would enable him to report to the Galaxy before the Major League Soccer opener on March 15. Galaxy head coach
Bruce Arena
's only public statement on the matter has been that the 35-year-old midfielder is expected to be in camp when preseason training begins later this month.