Los Angeles Soccer:

Western Conference final
November, 15, 2010
11/15/10
12:26
AM PT
By
Scott French
| ESPNLosAngeles.com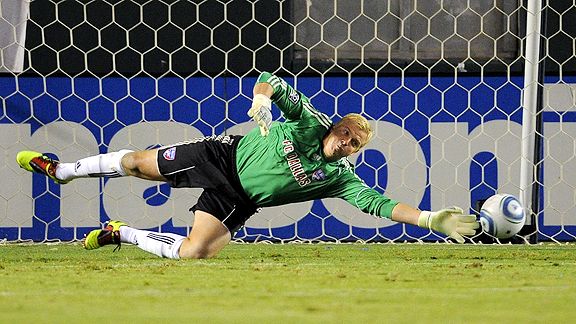 AP Photo/Mark J. Terrill
Former Galaxy goalkeeper Kevin Hartman, now the starter in Dallas, is a major reason why L.A. lost Sunday at home.
CARSON, Calif. -- It's fair to say that had
Kevin Hartman
not been so spectacular Sunday night, the Galaxy would be packing right now for an MLS Cup trek to Toronto.
The Palos Verdes product made four huge first-half saves -- on
Mike Magee
,
Juninho
,
David Beckham
and
Landon
Donovan
-- and had half of them found the net, the Western Conference final would have turned out very differently.
But Hartman is just one of several reasons FC Dallas dumped the Galaxy, 3-0, at the Home Depot Center to snare a spot in its first MLS Cup final, next Sunday against the Colorado Rapids in Toronto.
Here's what made the difference:
1. BE SHARP
The Galaxy wasn't all that bad. They limited Dallas to eight shots, just five on target, created some outstanding chances in the first half-hour or so, and battled hard from start to finish.
But they couldn't match the Hoops.
"We have no excuses ..." Galaxy coach
Bruce Arena
said to open his postgame news conference. "We were outplayed. We were beat on most matchups on the field, and we were outcoached. Dallas deserved the victory."
The Hoops utilized space better than L.A. did, using a quick transition and its speed on the flanks -- with both
Marvin Chavez
and
Brek Shea
making big imprints -- to stretch the Galaxy, especially after
David Ferreira
's 26th-minute opener against the run of play.
From that point on, it was FC Dallas' game.
November, 14, 2010
11/14/10
5:47
PM PT
By
Scott French
| ESPNLosAngeles.com
No change in the Galaxy's lineup for Sunday evening's Western Conference final at the Home Depot Center -- coach Bruce Arena trots out the same starting XI he used in both games against Seattle -- but FC Dallas has a different look.
The Hoops brought back former Chivas USA attacker
Atiba Harris
, as expected, but the surprise is he's replacing speedy forward
Jeff Cunningham
up front rather than diminutive winger
Marvin Chavez
. Harris was red-carded in the first leg of FC Dallas' first-round playoff victory over Real Salt Lake and was suspended for last week's second leg.
The lineups:
Galaxy:
G Donovan Ricketts; D Sean Franklin, Omar Gonzalez, A.J. DeLaGarza and Eddie Lewis; M David Beckham, Juninho, Dema Kovalenko and Landon Donovan; F Edson Buddle and Mike Magee.
FC Dallas:
G Kevin Hartman; D Jackson Goncalves, George John, Ugo Ihemelu and Jair Benitez; M Marvin Chavez, Dax McCarthy, Daniel Hernandez, Brek Shea and David Ferreira; and F Atiba Harris.
November, 14, 2010
11/14/10
3:42
PM PT
By
Scott French
| ESPNLosAngeles.com
Galaxy fans know all about
Kevin Hartman
, who manned L.A.'s nets for a decade and had a tremendous year this season for FC Dallas. The goalkeeper from Palos Verdes was the difference for the Hoops this year, bringing stability to a defense that needed it -- no coincidence that the 19-game unbeaten streak started shortly after he became the No. 1 goalkeeper.


On the field, the most important players are 5-foot-5 playmaker
David Ferreira
, a 31-year-old Colombian who is expected to pick up Major League Soccer's MVP award this week, and central midfielder
Daniel Hernandez
, a 34-year-old Texan who started his pro career with the Galaxy (back in 1998) and played in Mexico for Necaxa, Puebla and Jaguares before joining FC Dallas last season.
Here's the best of what was said about Ferreira and Hernandez heading into Sunday's Western Conference final between the Galaxy at FC Dallas (Home Depot Center, 6 p.m., ESPN2 and ESPN Deportes):
On David Ferreira
"Good quickness, good endurance. He's tough. I think he's the heart of the team. I think he inspires them. I think his performance [in the second leg of the first-round series at Real] Salt Lake was outstanding, his performance when they beat [RSL] in the first leg was impressive, and he's the player who set up the winning goal.
Galaxy coach
Bruce Arena
:
"He's really an impressive player and a player that you can't lose your concentration against, because if you do, he'll take advantage of that."
November, 14, 2010
11/14/10
1:27
PM PT
By
Scott French
| ESPNLosAngeles.com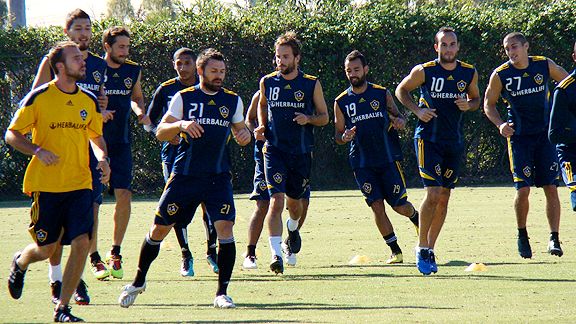 Courtesy of Los Angeles Galaxy
The Galaxy and their beards, some better than others.
With a nod to the World Series champions up north and the legacy of postseasons past, the Galaxy are letting their hair grow for their run toward a second successive MLS Cup title-game appearance.
Every player on the team, some of the staff and a few in the front office have put their razors away for a "fear the beard" campaign that has unified what was a pretty tight group to begin with. What kind of impact will it have in Sunday evening's Western Conference final against FC Dallas at Home Depot Center (ESPN2 and ESPN Deportes, 6 p.m.)? None whatsoever. But who cares?
"I think it's fun," says Galaxy captain
Landon Donovan
, who has one of the better beards on the team. "It gives us unity, and it gives you a common cause. As stupid and cheesy as it sounds, something like that does help bring you together, and every day you look at someone, and you say, 'OK, he's doing the same thing I'm doing. He's in it for the same reasons.' "
Defender
Todd Dunivant
, who has no trouble growing facial hair, came up with the plan as the Galaxy prepared for their first-round playoff series with Seattle. There was resistance in some quarters, but it didn't last.
"I was initially resistant to it, but, uh, if the guys do it, I'll do it," says veteran midfielder
Chris Klein
, who is retiring at season's end. "[Word] just gets around. It goes from one guy to the next, and then the young guys don't have a choice. They have to follow along."
November, 13, 2010
11/13/10
11:24
PM PT
By
Scott French
| ESPNLosAngeles.com
The Galaxy might be the favorite heading into Sunday evening's Western Conference final at Home Depot Center (ESPN2 and ESPN Deportes, 6 p.m.), but FC Dallas, too, has the look of a champion, and neither side would be a surprise in the Nov. 21 MLS Cup final in Toronto.
This one could be decided by the slimmest of margins, no matter what the score, and the team that best couples an effective attack with firm, committed team defense is likely to head off to Canada for a showdown with the Colorado Rapids.
What does the Galaxy need to reach its seventh MLS Cup title game?
1. IT'S ALL ABOUT THE D
L.A.'s players are talking up an attack-first approach, saying they're at home and plan to apply heavy pressure on FC Dallas' defense from the opening whistle. There's something to that -- the Galaxy put Seattle on its heels early in last week's playoff victory at HDC -- but we're betting they're not being entirely truthful.
The dominance of Seattle in the first-round series was based on suffocating, full-field defending from everybody in the lineup, and that's what it's going to take to shut off the Hoops' dynamic, quick-strike attack.
The key is keeping a close eye and lots of bodies on MVP favorite
David Ferreira
, a superb playmaker whose touch and vision are special and whose tendency to drift into unexpected positions makes him particularly difficult to deal with. His ability to find runners from midfield and on the wing and connect with speedy finisher
Jeff Cunningham
up top are deadly; if he finds much success, the Galaxy are done for.
Ferreira carved up Real Salt Lake's league's-best defense in the first round, but stats don't mean a whole lot in this sport, and L.A.'s defensive play the past few weeks -- in the first truly important matches the club has played this season -- has bordered on perfect. Not always in terms of execution, mind you, but the emphasis on swallowing up space in midfield, denying access behind the backline and pressuring opposing midfielders to do something other than what they prefer made the difference certainly against the Sounders.
It's not only about the defenders and goalkeeper
Donovan Ricketts
, all of whom have been really solid, even better than that. (
Omar Gonzalez
and
A.J. DeLaGarza
look like the central partnership going forward;
Sean Franklin
has evolved into a complete right back; why, again, is
Eddie Lewis
retiring?) It's
Edson Buddle
's tireless work up front, the commitment
Landon Donovan
and
David Beckham
are making to defend from box to box; and, of course,
Dema Kovalenko
's take-no-prisoners style in the middle.
All of them will have to be sharp against FC Dallas, which is more athletic, just as dynamic, possibly faster and certainly more dangerous with Ferreira pulling the strings than the Seattle side L.A. conquered the past two weeks.
2. THE SMART GAME WINS
The Galaxy's primary advantages Sunday are home field and experience. They're a team with a lot of big-game veterans -- Beckham and Donovan most of all -- who know how to win when there's no other option.
The Galaxy, more so than any other team in the league, can gut out victories by sheer will whether or not they have more of the ball or most of the game. Nobody manages a game as does L.A. coach
Bruce Arena
, and his team will disrupt the Hoops in every way it can. Look for early, professional fouls that destroy rhythm and momentum, and for tough, physical play, some of which -- especially when Kovalenko is involved -- might "push the envelope," as associate head coach
Dave Sarachan
puts it.
L.A. needs to attack aggressively but be smart about it. FC Dallas likes to counterattack, and its speed and precision can tear up defenses when numbers are even or close to it, so the Galaxy must keep their shape no matter the occasion and make sure the Hoops can't get their transition into high gear.
If that requires an ugly game, so be it. Winning is all that matters; nobody knows this better than the Galaxy.
3. TAKE YOUR CHANCES
The Galaxy has rallied from behind to win just once all season, in its victory over Dallas in the regular-season finale three weeks ago at HDC. The Hoops have surrendered the first goal and rallied to tie or win eight times, including the first-leg triumph over RSL in the first round.
Scoring first is always vital, but the Galaxy's success early in the season was built on a knack for early goals, and they'll be in much better shape here if they can strike quickly.
They're going to have chances -- FC Dallas' defense is good, especially in midfield (with team leader
Daniel Hernandez
) and in the nets (with former Galaxy goalkeeper
Kevin Hartman
), but it's not spectacular. L.A. might not have as many weapons as the Hoops, and they certainly have nobody who can create as Ferreira does, but their 1-2-3 punch of Beckham, Donovan and Buddle is unmatched in MLS.
Donovan can create from nothing, and Beckham's service -- especially on set pieces (which will likely prod the Hoops to use for defensive purposes 6-foot-4
Brek Shea
on the left flank rather than 5-5
Marvin Chavez
) but also from the run of play -- provides danger any time he has the ball on the wing in opposing territory.
Juninho
complements them nicely, and Lewis (or
Todd Dunivant
, if he gets the call at left back) and Franklin are solid on forays forward.
Key will be Buddle, who's big, quick, skillful and has scored 19 goals this season. He's equally capable with his feet and his head and has had his share of spectacular finishes. When he gets his chances, he needs to put them away.
November, 13, 2010
11/13/10
8:38
PM PT
By
Scott French
| ESPNLosAngeles.com
FC Dallas' Kevin Hartman surely would have been Major League Soccer's Goalkeeper of the Year had he not missed the final six weeks with a sprained medial collateral ligament in his right knee, the product of Thierry Henry's mindless goal celebration in a Sept. 16 clash at New York.
Hartman has perhaps been the premier figure in Dallas' run to Sunday evening's Western Conference final against the Galaxy at Home Depot Center (ESPN2 and ESPN Deportes, 6 p.m.). He solidified the defense and posted a 10-1-8 record with nine shutouts and a league-record 0.62 goals-against average as the Hoops tied the MLS mark with just four regular-season defeats, then toppled Real Salt Lake -- the consensus choice as MLS's best side -- in the first round of the playoffs.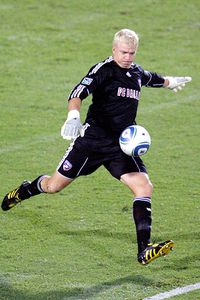 Tom Pennington/Getty ImagesTBD by Editorial


It's been a career-rejuvenating campaign for the 36-year-old veteran, a local product (Palos Verdes and Peninsula high schools, Cal State Dominguez Hills and UCLA) who was a fan favorite in 10 seasons, from 1997 to 2006, with the Galaxy.

He was unceremoniously dumped by the Kansas City Wizards during preseason last spring, was offered a backup job by FC Dallas coach Schellas Hyndman just before the season kicked off and wrested the starting job from Dario Sala by the start of May. The Hoops soon started on their single-season league-record 19-game unbeaten streak and now stand 90 minutes from the club's first MLS Cup title-game appearance.

How is it to be back in L.A.?

It's good to get home and see family and friends, and you can't beat the weather. This is a nice time of year to be here. … But it's funny, because yesterday I started driving around, and I started forgetting where the streets are. And you know that Coffee Bean on Hawthorne [Boulevard]? I was like, "Where is this Coffee Bean? Did they move it?"

You've always had a good relationship with L.A. fans. What are your thoughts on your legacy here -- and did you think you'd spend your entire career with the Galaxy?

I always felt that they treated me very, very fairly, and I would always try to go out of my way to be decent to them and show them that same level of respect. They've always been supportive of me, even maybe after I left. I think this will be the game where they'll have the most difficulty in terms of supporting me. Because this is probably the most important game I've had [against the Galaxy] since I left.