Los Angeles Soccer:

Will Bruin
February, 8, 2012
2/08/12
6:09
PM PT
By
Scott French
| ESPNLosAngeles.com
CARSON --
Brian Ching
's first game against his former Houston Dynamo teammates started with a warning. His one-time (and again) nemesis
Bobby Boswell
told him before kickoff: "Make sure you wear your shinguards."
Ching's response: "Are you sure I don't need a helmet?"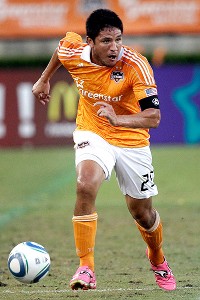 Bob Levey/Getty ImagesBrian Ching, shown here playing for the Houston Dynamo, now plays for expansion Montreal, which played Houston in a friendly Wednesday at HDC.
That's about as emotional as it got for the Montreal Impact's veteran forward, who was forced in November to leave Houston for Major League Soccer's newest club against his (and the Dynamo's) will, and wasn't shy about saying so.

On Wednesday, some 2½ months after Montreal plucked him in the expansion draft, he took on his former 'mates in a preseason friendly on one of the training fields outside Home Depot Center's main stadium. He played the first 45 minutes, battling Boswell and fellow center back Geoff Cameron with some success but few real opportunities, then watched the Dynamo score twice in the second half for a 2-0 victory.

How weird was it for him?

"Ah, playing against the old team," he said after the Impact's first game as an MLS club against an MLS club. "I know all those guys. I've played against them every day. I guess you could say it's a little weird, but not really, at this point."

He said he never mistook an orange-shirted player for a teammate, that there wasn't much conversation with Boswell and Cameron, and that he knows the emotions will be far stronger when the teams meet for real June 23 in Montreal and, especially, July 21 and Oct. 6 in Houston.

"It will definitely be weird," he says. "This is just a preseason game."

DYNAMO ICON: Perhaps not just any preseason game. Ching, 33, had been the iconic face of the Dynamo since the old San Jose Earthquakes, whom he'd played for since 2003, up and moved to South Texas following the 2005 season. He led them for six seasons, through two MLS Cup title-winning campaigns and toward another championship-game appearance last year -- and played a key promotional role in the campaign that led to the downtown stadium that opens in May.


November, 24, 2011
11/24/11
3:36
PM PT
By
Scott French
| ESPNLosAngeles.com
Seems pretty wasteful to let the No. 4 overall pick in last January's draft, an outside back with the potential to become a star (and maybe for the national team, too), slip away for nothing.
Zarek Valentin
's departure from Chivas USA in Major League Soccer's expansion draft isn't so simple. And Chivas coach
Robin Fraser
isn't happy about it.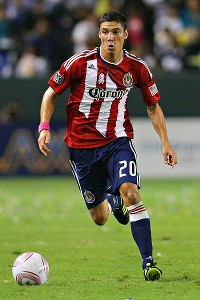 Victor Decolongon/Getty ImagesChivas' Zarek Valentin
The Montreal Impact, which next season will debut as MLS's 19th club, on Wednesday listed Valentin No. 2 on its list of 10 players culled from the other 18 clubs after the Goats failed to include him among the 11 players they were permitted to protect.

The 20-year-old right back's fate is product of MLS's decision to "graduate" him from its Generation adidas developmental program, a decision Fraser, Chivas' head coach, called "baffling" and "extremely, extremely disappointing" -- and one that vastly changed Valentin's worth to the organization.

He's young, he's developing and in no way is he there yet -- just what the Generation adidas program is about -- and as a GA he counted nothing against Chivas' salary cap nor roster size. His change of designation means his salary, $80,000 annually (with $138,000 average guaranteed compensation), suddenly is applied against the cap.

MLS success often is about how well clubs maneuver within and around the salary cap, and the Goats also are getting a salary-cap hit from second-year midfielder Blair Gavin's GA "graduation."

'MADE NO SENSE': "All the ramifications went into that decision" not to protect Valentin, Fraser said Thursday. "Here's a player who comes out early [following his sophomore season at the University of Akron] and is the No. 4 pick and as a GA player that has time to develop.

"It was baffling, to be quite honest. Extremely baffling. And I was extremely, extremely disappointed that he had 'graduated' from that. That's the sort of of program meant to allow players time to develop. For me, it just made no sense."

Valentin and former Akron teammate Perry Kitchen, who had a solid rookie season on D.C. United's backline, were the only GA rookies who "graduated." They also were the only GA rookies to exceed 2,000 regular-season minutes. Kitchen played in 31 games, 30 of them starts, and was on the field for 2,726 minutes. Valentin's numbers were 25 (with 24 starts) and 2,114.


November, 20, 2011
11/20/11
2:01
PM PT
By
Scott French
| ESPNLosAngeles.com
CARSON -- Expect a tight, physical, tactical battle in Sunday evening's MLS Cup final at Home Depot Center, with both teams looking to implement a direct attack -- and the Galaxy, in their home stadium, likely the aggressors, at least to start.
Whether it'll be an attack-filled classic or a defensive struggle is impossible to know. This is an intriguing matchup of size (advantage: Houston) and skill (L.A.), reliance on long balls or possession and the limits of defensive organization, which ultimately will determine who's parading the trophy at the end.
Here are two keys to victory in the final:
1. UP IN THE AIR


Geoff Cameron
is 6-foot-3, fellow center back
Bobby Boswell
is 6-2, and forward
Brian Ching
is a very aggressive 6-1, and the way they go after
Brad Davis
' set pieces is something to behold. The Dynamo are even more dominant at the other end, with Cameron, Boswell and 6-footer
Andre Hainault
repelling crosses into their area.
This team thrives on the aerial game, and in Davis possessed the perfect conduit, the closest thing to a
Bobby Boswell
among American players. Davis' injury complicates things.
Adam Moffat
, who has a rocket foot, will take the set pieces, but speedy
Corey Ashe
, who will take Davis' place on the left side of midfield, has a far different game. Figure Moffat to wander wide to provide service or go over the top for Ching or to take advantage of
Calen Carr
's pace.
Dynamo coach
Dominic Kinnear
can call on rookie
Will Bruin
and Honduran star
Carlo Costly
, both 6-2, if he needs more targets late.
"Adam places a good ball," Davis said. "And I've said all year we've got guys that have the desire and will to want to score goals and want to attack the ball."
The Galaxy have occasionally struggled with their marking on set pieces, so that's been a point of emphasis in preparations.
November, 8, 2011
11/08/11
12:51
PM PT
By
Scott French
| ESPNLosAngeles.com
The first big award has been announced by Major League Soccer, and it's no surprise. Sporting Kansas City forward C.J. Sapong was an expected runaway winner, and he, indeed, was that.

Sapong easily won in each voting bloc -- media, club and player -- for a weighted vote of 106.28 after starting 22 games and contributing five goals and five assists as Sporting captured the Eastern Conference regular-season title. He scored another goal while playing every minute of K.C.'s three playoff games.

He was followed by D.C. United's Perry Kitchen (34.56), Philadelphia's Michael Farfan (33.50), Portland's Darlington Nagbe (28.76) and Houston's Will Bruin (27.44). Kitchen finished second in the media and club votes but fourth among players, who had Nagbe second and Farfan third.

Farfan (Wildomar) starred at Cal State Fullerton for two seasons, then transferred to North Carolina.

Previous winners of the award include Galaxy defenders Sean Franklin (in 2008) and Omar Gonzalez (2009), former Chivas USA star Jonathan Bornstein (2006), Inland Empire products Carlos Bocanegra (2000) and Maurice Edu (2007), U.S. national team star Clint Dempsey (2004) and D.C. United head coach Ben Olsen (1998).

MLS also gave out its Fair Play awards, with Philadelphia forward Sebastien Le Toux repeating as individual winner after committing just 20 fouls with no cards of either color while playing every minute of the season, and the expansion Portland Timbers winning the team honor. Chivas USA was a finalist for the team award.

COACHING NOTES: Two coaching jobs are open now. Colorado has parted ways with Englishman Gary Smith, who guided the Rapids to the MLS Cup title last year but acknowledged near the end of this campaign that he had working conflicts with technical director Paul Bravo. Steve Nicol stepped down as New England coach two weeks ago.



June, 10, 2011
6/10/11
9:45
PM PT
By
Scott French
| ESPNLosAngeles.com
Chivas USA is feeling pretty good about itself after bouncing back from a poor midweek showing last week against Vancouver with a superb effort to beat Portland last weekend -- and now that it has a full complement of players available to head coach
Robin Fraser
for the first time all season.
Will those warm, fuzzy feelings wilt in the Houston heat?
It's a concern of sorts -- South Texas has been baking the past week or so in triple-digit temperatures and that legendary humidity -- even if that's unspoken; nobody's about to admit it, and nobody wants to use it as an excuse if the Goats fail to win Saturday at Robertson Stadium, where they've never won.

The Dynamo come in hungry after failing to win in their last seven, and they're sure to be better attuned to the conditions.
Not that Fraser will admit that.
"It's a soccer field, and there's 11 of them and 11 of us, and whatever the conditions are, you have to be prepared to play ...," Fraser said. "Once you get out there, it's hot and it's humid and it's certainly oppressive, but there's still a game to be won. There's still a job to be done. There's attacking runs to be made, defensive runs to be made, tackles to be made, goals to be scored. At the end of the day, you still have to play."
Central defender
Heath Pearce
became acquainted with the Texas heat during two seasons with FC Dallas.
"In Dallas, you get used to it, but it's all a mentality thing," said Pearce, who grew up in the summer heat of Modesto, in the Central Valley, but played college soccer at Portland and toiled in Denmark and on Germany's Baltic coast before coming to MLS. "If you put yourself in the right mindset, you really don't notice it. If you start to get fatigued, you learn to play through it -- you learn to play differently, to be mentally stronger as you become more physically tired.
"So I don't think it should play much of a factor. I think it's more of a crutch that people like to lean on when they don't get results there, and so we're going to go there with the same mindset as if we're playing at home or anywhere else."
It will be good practice for the next few months, when blistering heat and humidity will greet Chivas pretty much everywhere except to the north, in San Jose (where it can be quite warm) and the Pacific Northwest.
The Goats (4-4-5, just four points out of third place in the Western Conference) are looking to build on their better-than-it-sounds 1-0 victory over the Timbers, and the returns of forward
Alejandro Moreno
and defender
Andy Boyens
from international duty and exits from the injury list by five of six players camped there most or all of the past three months have them moving forward with a real sense of optimism.
May, 25, 2011
5/25/11
7:29
AM PT
By
Scott French
| ESPNLosAngeles.com
There are pluses and minuses to so congested a schedule, the Galaxy says, and how well they manage their roster now -- before things turn ugly -- could determine what riches await in the fall.

The Galaxy faces the Houston Dynamo on Wednesday night at Home Depot Center, the middle game of their third "three-in-a-week" stretch of the season since the second week of April, and head coach Bruce Arena has decisions to make on whom to "rotate" from his roster.



The idea is to keep everyone fresh for a brutal finish to the season, with 28 games over the final four months (one or two less with a quick U.S. Open Cup exit) -- or one every 4.32 days from June 25 to Oct. 23. Followed by playoffs.
"We knew from the beginning that this was going to be a very demanding year for us," said forward
Juan Pablo Angel
, 35, who could get a rest against the Dynamo. "There's a number of competitions [in which] we're going to be involved, and we got to be prepared. The guys that aren't playing that much are going to be recalled, and they're going to be needed for the team. It's important to have that."
One starting job certainly opens, with
David Beckham
"resting" -- he instead played 90 minutes, double the supposed max, in Tuesday's
Gary Neville
testimonial in England and will join up with the team before Saturday's game at New England.
Arena also could choose to give a break to a backline player (
Frankie Hejduk
has seen little playing time, new signing
Kyle Davies
is available, and
Gregg Berhalter
needs to be introduced to the mix at some point) or give reserve players some valuable time (and not just
Michael Stephens
and
Chris Birchall
, but
Bryan Jordan
and
Hector Jimenez
).
"More than anything, it's a great opportunity for guys to play, who haven't played, and we'll see [against Houston] a few guys that haven't played as much," said Galaxy captain
Landon Donovan
, who could miss nearly a month while away for the CONCACAF Gold Cup -- providing an opportunity for somebody to play.
"That's the beauty of this team … as Bruce puts together a team where he's confident putting anybody into the lineup at any time and knowing he'll do well."
January, 12, 2011
1/12/11
11:19
PM PT
By
Scott French
| ESPNLosAngeles.com

The best players available in Thursday's Major League Soccer "SuperDraft"? They're below, in our mock first round. Trades will alter the order, with Real Salt Lake, in particular, looking to deal -- if anybody wants the No. 14 pick.
Several teams, the Galaxy included, could be looking to move up in the draft -- the first half-dozen or so players would help anybody, and there are a few more role players available in a class that might be better than first thought.
The draft has shrunk to just three rounds -- 54 picks -- but those not selected will be available in a four-round supplemental draft Tuesday.
And on to the picks:
January, 7, 2011
1/07/11
7:31
PM PT
By
Scott French
| ESPNLosAngeles.com
Palos Verdes Estates'
Christen Press
, who led the nation in scoring while leading Stanford University to its second successive NCAA Division I title-game appearance, was awarded the Missouri Athletic Club's Hermann Trophy -- college soccer's most prestigious award -- in cermonies Friday night in St. Louis.
Press (Chadwick School), widely expected to win the honor, scored 26 goals and set school career records for goals, assists and total points in a phenomenal senior season. She was the Pac-10's Player of the Year, a first-team NSCAA All-American and a first-team Academic All-American.

Junior forward
Melissa Henderson
(Garland, Texas), who led Notre Dame to the NCAA title, finished second and Diamond Bar's
Alex Morgan
(Diamond Bar HS), who scored 14 goals in a dozen games at Cal, was third.
Press, the second successive winner from Stanford -- Kelley O'Hara won last year -- is expected to be the second selection in next week's Women's Professional Soccer draft, after Morgan, who missed part of her senior season while playing for the U.S. national team.
Darlington Nagbe
(Lakewood, Ohio), the leader of NCAA champion Akron's attack, won the men's honor, following former teammate Teal Bunbury's victory last year. Indiana's
Will Bruin
(St. Louis) finished second and Louisville's
Colin Rolfe
(Canton, Mich.) was third.
Nagbe is widely considered the best bet to be the top pick in Major League Soccer's draft next week.
December, 10, 2010
12/10/10
6:38
PM PT
By
Scott French
| ESPNLosAngeles.com
Stanford's Christen Press and Cal's Alex Morgan, both of them So Cal products, are finalists for the MAC Hermann Award, college soccer's most prestigious player-of-the-year honor.
Also announced Friday: North Carolina midfielder
Michael Farfan
, a Cal State Fullerton transfer from Wildomar in Riverside County, is among five local players on the
NCAA Division I men's All-America team
.
Press (Palos Verdes Estates/Chadwick School), a massive favorite for the honor, scored an NCAA-best 26 goals with eight assists to lead No. 1 Stanford to its second successive NCAA title-game appearance. Morgan (Diamond Bar/Diamond Bar HS), the only college player regularly featured with the U.S. women's national team, scored 14 goals in just 12 games for Cal, her time curtailed by international duty.
The other finalist is
Melissa Henderson
, who scored 17 goals with 11 assists to lead Notre Dame to a national championship. Men's finalists are Indiana's
Will Bruin
, Akron's
Darlington Nagbe
and Louisville's
Colin Rolfe
.
Locals joining Farfan on the National Soccer Coaches Association of America All-America team are four third-teamers:
Loyola Marmount senior midfielder Rafael Baca (Lawndale/Animo Leadership HS)
Cal senior forward Davis Paul (Upland/Damien HS)
UCLA freshman midfielder Kellyn Rowe
UC Santa Barbara senior defender Michael Boxall