Los Angeles Soccer:

Wilmington Hammerheads
June, 30, 2012
6/30/12
8:47
PM PT
By
Scott French
| ESPNLosAngeles.com
If the horrid start to its showdown Saturday evening in North Carolina didn't doom the L.A. Blues, then certainly Maykel Galindo's red card took care of that. Nothing on this crucial East Coast swing is going their way.

The Blues dropped their second in a row after conceding twice in the first five minutes, falling to the Wilmington Hammerheads by a 4-2 count in a wild, sloppy, at times invigorating USL Pro affair that ought to have some bearing on the third-division league's playoff race.

Bright Dike scored for the fourth straight game for the Blues (5-5-2), who dropped from fifth to sixth in the standings and can fall to seventh with another loss Tuesday at Richmond.

Bryce Taylor scored from former Cal State Northridge standout Dylan Riley's feed after just 137 seconds, then fed Corey Hertzog two minutes later to give Wilmington a two-goal lead by the fifth minute.

L.A. twice crept within a goal, but the second strike -- from Bryan Burke in the 60th minute -- was costly. Galindo was caught in a scuffle in the net after the goal, and referee David McPhun produced the red card.

Hertzog, whose loan agreement from the New York Red Bulls was extended this week for the rest of the USL Pro season, scored his second 13 minutes later. Corey Miller hit the net in the 88th for the Blues, but it was waved off.


May, 22, 2012
5/22/12
10:39
PM PT
By
Scott French
| ESPNLosAngeles.com
Eric Wynalda put together a team with a simple, perhaps unachievable goal: win the U.S. Open Cup.
Thousand Oaks' Cal FC took another step toward that Tuesday night, routing USL Pro side Wilmington Hammerheads, 4-0, in North Carolina to advance to the third round of the nation's oldest soccer competition, in which it will face Major League opposition.
Danny Barrera
scored twice from assists by his brother,
Diego
, and the U.S. Adult Soccer Association side earned a date next week with the Portland Timbers.
Wynalda, an American soccer legend and first-ballot National Soccer Hall of Famer from Westlake Village, was on hand to guide Cal FC after missing last week's first-round win over Premier Development League champion Kitsap Pumas while he was in Munich preparing for Fox's coverage of the UEFA Champions League final. Wynalda is a studio analyst on Fox soccer broadcasts.
"Tonight was a good demonstration of what the guys are capable of, at times good and bad," Wynalda told the Wilmington (N.C.) StarNews. "All in all, I'm very happy with them. I think they've come together remarkably, in a very short span of time."
The Barrera brothers hooked up in the 25th and 57th minutes, the first on a corner kick. Former Real Salt Lake forward
Artur Aghasyan
made it 2-0 in the 35th and
Pedro Ferreira-Mendes
added another on a 79th-minute free kick.
The game in Portland will be played next Wednesday.
In the other East Coast game involving a local team:
Carolina RailHawks 6, PSA Elite (Irvine) 0:
The Galaxy is headed to North Carolina after the RailHawks, from the second-tier North American Soccer League, crushed the USASA Region IV champs in Cary, N.C. Carolina will be home for next Tuesday's third-round clash against the reigning MLS champion.
Brian Shriver
scored a club-record six goals, with a first-half hat trick, to lead the Railhawks.
Zack Schilawski
and
Amir Lowery
also tallied for Carolina.
May, 6, 2012
5/06/12
11:21
PM PT
By
Scott French
| ESPNLosAngeles.com
FULLERTON -- The L.A. Blues battled from behind again Sunday -- twice, this time -- and picked up another point, but a bigger addition arrives Monday.
Blues head coach/general manager
Charlie Naimo
said after his team's 2-2 USL Pro draw with the Wilmington Hammerheads that third-year Portland Timbers forward
Bright Dike
is coming in on loan.
With former star Chivas USA forward
Maykel Galindo
in the fold, and looking to get over a sprained ankle before next weekend's trek east, the speedy Dike's arrival ought to provide untold attacking dimensions for the Blues, especially with
Irving Garcia
pulling strings in midfield.
Garcia, a former UC Irvine standout who spent 2010 with the New York Red Bulls, was the catalyst Sunday, breathing real life into a dull affair after coming on in the 60th minute and scoring a brilliant goal as L.A. (1-2-1) rallied from its first deficit.
Cheun-Yong Park
also tallied, also a fine shot inside the left post, and nearly netted a stoppage-time winner as the Blues swapped out the direct style they started with -- and that drove them to a 2-1 comeback victory Friday over the Hammerheads (2-2-2) -- and pieced together some entertaining soccer for a crowd announced as 847 but probably half that.
"Game like today, it's good that we found a way not to lose here," Naimo said. "That's a step in the right direction. Four points on the weekend is not terrible -- we'd like to have had six -- and we've got reinforcements coming. We've got players coming into the team now who have got experience scoring goals at higher levels than this. And we're going to get out captain-type figure in [Iranian defender
Rahman
]
Rezaei
when he gets here. We're only going to get better."
Dike, 25, was a first-round pick by Columbus out of Notre Dame in the 2010 MLS SuperDraft, but he signed with the Timbers -- then a second-division team -- when he didn't make the Crew roster. He scored 10 goals in 23 D2 Pro League games that year, also netted a U.S. Open Cup hat trick against PDL power Kitsap Pumas and was one of the first players Portland signed when it joined Major League Soccer last season.
Dike played in 11 games for all of 175 minutes last year, scoring one goal. He hasn't played for the Timbers' first team this season but has started all three MLS Reserve League games and has two goals.
Jack Avesyan
(Hollywood/La Cañada HS) netted both goals off the bench for Wilmington, knocking home the rebound after Blues goalkeeper
Amir Abedzadeh
parried a shot by
Chukwudi Chijindu
(Fontana/Damien HS) in the 66th minute and heading home a corner kick from former Ventura County Fusion teammate
Hagop Chirishian
(Hollywood/A.G.B.U. Manoogian-Demirdjian School and Pasadena City College) in the 75th.
The second goal was made simple by atrocious marking at the near post. "Our defense on set plays was shocking," Naimo said. "If we could just defend a set piece, we win the game."
Garcia answered the first within two minutes, blasting a ball from just outside the area across the box and inside the left post. Park (Bethesda Christian University) netted the decisive goal in the 84th.
WORTH NOTING:
Play of the game: Abedzadeh's scrambling save to push a sensational, off-balance volley by
Bryce Taylor
past the right post in the 73rd minute. ... Avesyan had a significant cheering section, all wearing jerseys with his name and No. 22 on them, and they displayed an Armenian flag. "All my family was out there, all my cousins, everyone I know," Avesyan said. "This is my home, you know. This is what it's all about, the fans." ... Naimo, on Garcia: "Irving always steps it up when we're down. I don't know what it is, and it might not be always, but from what I've seen since he's been with us, he plays at a different pace and level when we're behind." ... Chijindu, who played last year for the Blues on loan from Chivas USA, departed with an ankle injury. ... The Blues have conceded the first goal in all four games. They play Friday at Dayton and Saturday at Pittsburgh. ... The Rochester Rhinos (4-0-0), which beat the Blues twice to open the season, have not yet given up a goal.
USL PRO
Titan Stadium, Cal State Fullerton
L.A. Blues 2, Wilmington Hammerheads 2
W -- Jack Avesyan 66
LA -- Irving Garcia (Ricky Waddell) 68
W -- Jack Avesyan (Hagop Chirishian) 75
LA -- Cheun-Yong Park (Bryan Burke) 84
L.A. Blues:
Amir Abedzadeh; Erlys Garcia (Israel Sesay, 46), Cory Miller, Ebrima Jatta, Sun-Hyung Cho; Allan Russell (Irving Garcia, 62); Bryan Burke, Carlos Borja, Ricky Waddell (Ladislas Bushiri, 82), Brian Farber (Shay Spitz, 58); Matt Fondy (Cheun-Yong Park, 46).
Unused subs:
Chad Bond, Jose Miranda.
Wilmington Hammerheads:
Alex Horwath; Troy Cole, Gareth Evans, Tyler Lassiter, Yahaya Musa; Mark Briggs, Paul Nicholson; Bryce Taylor, Daniel Roberts (Hagop Chirishian, 54), Andres Cuero (Jack Avesyan, 54); Andriy Budnyy (Chukwudi Chijindu, 56; Dylan Riley, 82).
Unused subs:
Manny Guzman, Tom Parratt.
Yellow cards:
Briggs 40, Jatta 43, Cole 63, Evans 64, Park 64, Lassiter 77, Spitz 82, I. Garcia 88.
Referee:
Reed Christy.
Att.:
847.
May, 5, 2012
5/05/12
12:39
AM PT
By
Scott French
| ESPNLosAngeles.com
FULLERTON -- The L.A. Blues finally scored their first goal, then netted another. It added up to their first win of the season in the oddest of settings.

Matt Fondy scored four minutes into the second half and Scotsman Allan Russell converted a penalty kick eight minutes later as the Blues (1-2-0) pulled out a 2-1 triumph Friday evening over the Wilmington Hammerheads on the FieldTurf in Fullerton College's stadium.

Fondy took a feed from Russell and held off Hammerheads defender Tyler Lassiter to beat goalkeeper Alex Horwath in the 49th minute, ending a 228-minute drought to start the campaign for L.A., which was shut out twice by the Rochester Rhinos to start the season.

Russell tallied from the penalty spot after a hand-ball call.

The game was moved from Cal State Fullerton's Titan Stadium to Fullerton College's far smaller facility because of a conflict the the university's Associated Students spring concert, which was to take place Friday night in the stadium. About 200 fans, all admitted for free, sat in small metal bleachers and individual chairs stretched across the north sideline.


May, 3, 2012
5/03/12
10:18
PM PT
By
Scott French
| ESPNLosAngeles.com
The L.A. Blues will have to wait a little longer before
Maykel Galindo
and
Rahman Rezaei
suit up, and
Charlie Naimo
has only so much patience. He could use both of them -- for the intangibles, more than anything else -- for this weekend's USL Pro games against the Wilmington (N.C.) Hammerheads.

Galindo, a former star forward for Chivas USA who played last season with FC Dallas, was expected to make his Blues debut in Friday's 5 p.m. game at Fullerton College, but an ankle sprain will sideline him this weekend -- game two is Sunday at Cal State Fullerton -- and perhaps for next weekend's trip to play Dayton and Pittsburgh.

Rezaei, a center back who played in Italy's Serie A and for Iran at the 2006 World Cup, has his visa but is going through a final background check before he can enter the country.

They'll provide needed skill and experience up front and at the back for the Blues (0-2-0), who were shut out twice at home by Rochester in the first two weeks of the USL Pro season. More so, they will demand accountability of their teammates, which Naimo, the head coach and general manager, wants to see.

"It still really remains to see who our best 11 is," Naimo said. "That's the biggest mystery, the biggest stresser, is who should be playing. We have a lot of similar players, and there's really not that much of a hierarchy. It's been very hard to find consistency in our team because of that fact."

The Blues' first season veered off course last year after Argentine playmaker Walter Gaitan departed in mid-June, after just 2½ months with the club, leaving them without, Naimo says, "the leader by example that nobody wanted to cross." Galindo and Rezaei will be those guys this year.

"No question in my mind," Naimo said. "I just can't wait for that to happen. Everyone will be more confident players with those guys on the field. Accountability will be difference, and so will confidence."


April, 20, 2012
4/20/12
12:46
PM PT
By
Scott French
| ESPNLosAngeles.com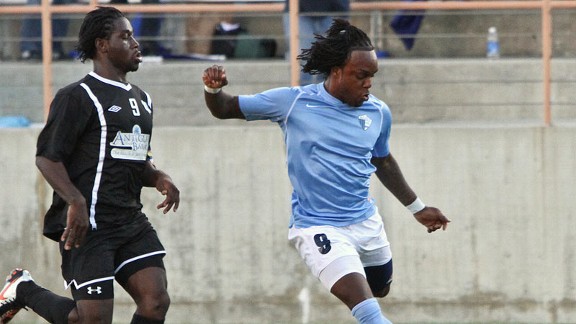 L.A. BluesFormer Chivas USA forward Chukwudi Chijindu, who played last year for the L.A. Blues, is with the Wilmington Hammerheads.

If you're looking for a local team to support in the USL Pro, the third-division league in American soccer's pyramid, the L.A. Blues aren't your only option.

There's also the Wilmington Hammerheads.

The North Carolina club, which will visit the Blues for a couple of games next month at Cal State Fullerton, have the largest collection of Southern California talent in the league: seven players from the area, another who played college ball here, and one more -- not sure he really counts -- who was with the Blues for a short spell last year.

They're among 32 players from Greater Los Angeles in USL Pro, which heads into its third weekend of games with Friday night's Blues-Rochester match at Fullerton.

The Blues, who featured a heavily local roster in their first season, have three players from the area (Anaheim's Carlos Borja, Newport Beach's Bryan Burke and Long Beach's Luis Gonzalez), four more from local colleges (UC Irvine's Irving Garcia, Cal State Fullerton's Shay Spitz and Bethesda Christian's Sun-Hyung Cho and Cheun-Yong Park), plus a former Galaxy winger who has called SoCal home since signing with MLS at 16 nearly five years ago (Israel Sesay).

The Rochester Rhinos, who won a league opener over the Blues last weekend, also have a decent contingent led by former UCLA star Mike Zaher and UC Santa Barbara products Conor Chinn and Tyler Rosenlund. All three, plus former Galaxy defenders Quavas Kirk and Troy Roberts, have MLS experience.

Orlando City has Palmdale's Maxwell Griffin, a UCLA alum whose performance for the champs last year led to a late-season loan deal to the San Jose Earthquakes. Pittsburgh has Long Beach's Tino Nuñez, from UC Santa Barbara, who spent a couple seasons with Real Salt Lake. Three goalkeepers are in the group: L.A.'s Kevin Klasila at Charlotte, Huntington Beach's Kyle Polak with Wilmington, and Laguna Hills' Eric Reed at Charlotte.

Wilmington's So Cal group includes former Chivas USA forward Chukwudi Chijindu, a Fontana product who spent last season with the Blues on loan from the Goats, plus Hollywood's Jack Avesyan and Hagop Chirishian, Laguna Hills' Trey Cole, Lakewood's Manny Guzman and Thousand Oaks' Dylan Riley.

Here's a full list of players with local ties in the USL Pro (with hometown and local high school/college in parenthesis, with local adult club following):


August, 5, 2011
8/05/11
7:21
PM PT
By
Scott French
| ESPNLosAngeles.com
The L.A. Blues' penchant for falling behind, and for coming from behind, were on full display Friday night in Wilmington, N.C., as the West Coast's only USL Pro side began its final road trip of the regular season.

That they couldn't hold onto the point was just one more disappointment in a season that's wobbled between good and bad -- and already has been rewarded with a playoff berth.

Andriy Budnyy's was-it-cheeky-or-unintentional clip over goalkeeper Amir Abedzadeh in the 78th minute lifted the Hammerheads to a playoff-clinching 2-1 victory over the Blues before a club-record crowd of 5,783. Manny Guzman, left alone on a corner kick, provided Wilmington (13-6-3) a 31st-minute lead, and Peter Byers scored a fine goal from Josh Tudela's long ball to bring L.A. (8-6-7) even in the 62nd.

The Blues, who are chasing Rochester (11-7-4) and Harrisburg (9-6-7) in the National Division, play Sunday at Antigua Barracuda (8-13-2), then finish up next weekend with games against Richmond at Cal State Fullerton and Norco College.

L.A., playing a brutal 11-games-in-one-month schedule to close the regular season, have won just once in five games, and chemistry rather than weariness might be the prime culprit. There have been many roster changes, especially up top, with Antiguan star Byers, Mexican youngster Jonathan de Leon and now Armenian attacker Artur Aghasyan added to a multinational corps during the summer transfer window.


July, 2, 2011
7/02/11
8:49
PM PT
By
Scott French
| ESPNLosAngeles.com
The L.A. Blues no longer are in command in the USL Pro's National Division after a late defensive collapse cost them in a 4-2 defeat Saturday at Wilmington, their first road loss of the season.
The Blues (5-4-4) claimed just one point from a two-day, two-game trek to the Carolinas after winning just once in two home games last week against Harrisburg.
It leaves L.A. third in the National Division, eight points behind Rochester (8-4-3), which Sunday plays American Division leader Orlando City, and five behind second-place Harrisburg (7-4-3), which Saturday drilled Charlotte, 4-0. The Blues are winless in five games over nine days, including a U.S. Open Cup defeat Tuesday night against the Galaxy.
Cesar Rivera
's third goal of the campaign, in the 23rd minute, answered
Andriy Budnyy
's strike in the first 30 seconds for the North Carolina-based Hammerheads (6-4-3), who sit fifth in the far tougher American Division.
Wilmington took charge with three goals in 16 minutes, with
Chris Banks
providing a lead in the 66th minute and then assisting
Ivan Becerra
's diving header in the 71st and
Chris Murray
's goal in the 81st.
Akeem Priestley
added a late goal for the Blues, who hadn't previously surrendered more than two goals in any game -- and had conceded one or none in 13 of 16 matches, all competitions.