Los Angeles Soccer:

Zach Loyd
June, 22, 2012
6/22/12
9:38
PM PT
By
Scott French
| ESPNLosAngeles.com
Chivas USA spent most of the last month taking points off Major League Soccer's biggest sides, then climbing to within a point of the Western Conference's playoff zone with an impressive victory over a pretty good Montreal side.

Now they get a taste of the American soccer's ghetto.

The Goats (5-7-4, 18 points) are in Texas on Saturday to take on an FC Dallas team that has been decimated by injuries, red cards and suspensions, hasn't won in two months and sits at the bottom of the Western standings.

That doesn't mean a whole lot, says head coach Robin Fraser, whose team has lost just once -- last weekend to Real Salt Lake -- in its last seven games, all competitions.

"For us, it doesn't matter who the next opponent is, we have to improve," Fraser said. "There are some things that we could he better and sharper at. Regardless of who we play, there's going to be that challenge. Dallas is a very talented team. They've certainly not gotten the results that they're capable of."

Everything has been tough for the Hoops, who played in the MLS Cup final two seasons ago and reached the playoffs last year. 2010 MVP David Ferreira is still out after last year's injury, and nearly a dozen players have joined him on the bench at one time or another.

They're missing starting center backs George John and Ugo Ihemelu, influential midfielder Ricardo Villar and top scorer Blas Perez with one ailment of another, and star winger Brek Shea is just getting back from a foot injury.

And Jair Benitez is suspended after a red card, for an off-the-ball elbow to Colin Clarke's head, in last weekend's loss at Houston. That's five red cards in 16 games for the Hoops (plus another in a U.S. Open Cup loss), plus a three-game suspension to Shea last month for kicking the ball at a linesman.

The red cards have been largely stupid and costly: Dallas watched a lead turn to a loss following Zach Loyd's second yellow card at Columbus last month, and twice it has given up decisive goals in defeat following dismissals.

The Hoops have lost seven of their last eight games, including the Open Cup, are winless in their last 11 games -- and in five of them, they scored first.

"I think that game is there for the taking," Chivas goalkeeper Dan Kennedy said after Wednesday's 2-1 win over Montreal. "It's not like they're on fire and unbeatable. When you win, it can become contagious, and you can build momentum with it, so that's what we need to do."


August, 29, 2011
8/29/11
7:09
PM PT
By
Scott French
| ESPNLosAngeles.com
MANHATTAN BEACH -- Chivas USA defender Heath Pearce is out, and Yorba Linda's Chris Pontius is in.

The U.S. national team on Monday made two substitutions on its 24-man roster for Friday's game at Home Depot Center against Costa Rica and next week's friendly in Brussels against Belgium, replacing Pearce and FC Dallas defender Zach Loyd with D.C. United attacker Pontius and Birmingham City's Jonathan Spector.

Pearce suffered a hamstring injury in Chivas' loss Saturday night to Real Salt Lake -- he said trainers told him they believe it is torn, but no word yet on what tests determined -- and Loyd is nursing a hamstring strain.

Pontius (Servite HS and UC Santa Barbara), 24, who was in the U.S.'s January 2009 camp at HDC, can play several attacking positions and has been employed primarily on the left wing with D.C. He has scored a career-best seven goals in his third season with the club.

DEALING WITH BRADLEY: U.S. coach Jurgen Klinsmann was asked Monday during a roundtable discussion with L.A. soccer media whether it was uncomfortable coaching Michael Bradley, the son of Bob Bradley, Klinsmann's predecessor, who was dismissed from the job last month.

Bradley, whom Major League Soccer's website reports is finalizing a deal to join Italian Serie A club Chievo Verona before Europe's transfer window closes Wednesday, was a starting midfielder for the U.S. in Klinsmann's debut, a 1-1 draw Aug. 10 with Mexico in Philadelphia.

"It was not complicated at all," Klinsmann said. "I called him up and said, 'Michael, first of all, I have the highest respect for Bob. He did a great job, and I will touch base with him down the road. ... I definitely want to sit down with Bob and pick his brain and have a soccer talk.'

"I told him I'm there simply to help him."

JOHNSON CAN'T PLAY: German-born defender/midfielder Fabian Johnson, who plays at 1899 Hoffenheim, is not yet eligible to play for the U.S. -- he represented Germany at the 2009 UEFA U-21 Championship, and FIFA must grant approval for his switch to his father's homeland.


December, 21, 2010
12/21/10
6:19
PM PT
By
Scott French
| ESPNLosAngeles.com
It's a young group, younger than usual, that Bob Bradley is bringing into camp next month with the U.S. national team, signaling the start to a new four-year cycle rather than preparation for next summer's CONCACAF Gold Cup.

A.J. DeLaGarza, so impressive during Major League Soccer's stretch run, gets his first call-up to the national team; he'll be joined by Galaxy backline mates Sean Franklin (Palmdale/Highland HS and Cal State Northridge) and Omar Gonzalez in the Jan. 4-22 camp at Home Depot Center.

Chivas USA forward Justin Braun and three players with local ties -- Real Salt Lake goalkeeper Nick Rimando (Montclair/Montclair HS and UCLA) and Colorado Rapids defender Marvell Wynne (UCLA) and midfielder Jeff Larentowicz (born in Pasadena) -- also are on the 24-man roster, from which Bradley will draw his lineup for the Jan. 24 friendly against Chile at HDC.

The annual January camp, always at HDC, usually is used to scout younger players -- including those who emerged during the previous MLS campaign -- and give U.S.- and Scandinavia-based veterans a foundation to build fitness before their seasons begin in the late winter or spring.

This time Bradley called in very few veterans. Sweden-based midfielder Alejandro Bedoya is the only player from the U.S. pre-World Cup training camp on the roster, and none who went to South Africa is involved. A dozen players are uncapped, five more have just one cap, nobody has made more than six international appearances -- across the roster, there are only 28 caps.

A rundown on the two dozen players coming to HDC:


November, 12, 2010
11/12/10
11:07
PM PT
By
Scott French
| ESPNLosAngeles.com
The Galaxy is seeking their record seventh MLS Cup title-game appearance, and FC Dallas is aiming to reach the final for the first time. Who has the advantage in Sunday night's Western Conference final at Home Depot Center (ESPN2 and ESPN Deportes, 6 p.m.)?
Let's take it piece by piece.
GOALKEEPER
GALAXY:
Donovan Ricketts
FC DALLAS:
Kevin Hartman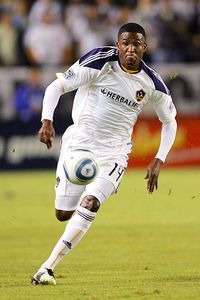 Victor Decolongon/Getty ImagesEdson Buddle of the Los Angeles Galaxy passes the ball on the counterattack against D.C. United during the MLS match at The Home Depot Center on Sept. 18. The Galaxy defeated United 2-1.


Ricketts was MLS's Goalkeeper of the Year. Hartman probably deserved the honor, and had he not missed the final six weeks of the regular season with a sprained right medial collateral ligament -- product of that dumb Thierry Henry celebration -- he surely would have won. Ricketts is the more athletic, and he was sensational against Seattle, the most important figure in the victory up north.

Hartman (Palos Verdes/Peninsula HS and UCLA), still revered in L.A. for his decade of service to the Galaxy, has had a career resurrection in North Texas, and he bears most of the credit for the Hoops' magical campaign. There are few better shot-stoppers in American soccer, and nobody commands his box better than Hartman.

Both prefer to parry than catch in tight situations, and both make the mind-boggling saves that make a difference. Hartman might be a better decision-maker, but there's no denying Ricketts' form.

Advantage: Push

BACKLINE


GALAXY: Sean Franklin, Omar Gonzalez, A.J. DeLaGarza/Gregg Berhalter and Eddie Lewis/Todd Dunivant
FC DALLAS: Jackson Goncalves/Zach Loyd, Ugo Ihemelu, George John and Jair Benitez
October, 24, 2010
10/24/10
7:21
PM PT
By
Scott French
| ESPNLosAngeles.com
Juninho's volley just 31 second into the second half lifted the Galaxy to a 2-1 victory over FC Dallas at Home Depot Center in their regular-season finale, giving L.A. its second successive Western Conference title and its third Supporters' Shield.
David Beckham
also tallied for the Galaxy (18-7-5), which overcame a 22nd-minute deficit. They needed at least a draw to win the conference and Shield titles after Real Salt Lake rallied Saturday night to tie Colorado.
The Galaxy will face the Seattle Sounders in the first round of the MLS playoffs. The opener will be next Sunday at Qwest Field in Seattle (ESPN 2 and ESPN Deportes, 5 p.m.), and the finale in the home-and-home series is slated for Sunday, Nov. 7 at HDC (ESPN and ESPN Deportes, 6 p.m.).
The Supporters' Shield, for best regular-season record, gives the Galaxy a berth in the group phase of next season's CONCACAF Champions League.
Edson Buddle failed to score and finished second, to San Jose's Chris Wondolowski, in the Golden Boot race. Wondolowski netted his 18th goal of the season in the Earthquakes' loss Saturday at Kansas City; Buddle's best opportunity for his 18th, a header from Beckham's corner kick in the 67th minute, was parried by FC Dallas goalkeeper Dario Sala.
Former Chivas USA midfielder
Atiba Harris
gave Dallas the lead after a
Sean Franklin
giveaway, but Beckham tied the score in the 33rd after
Landon Donovan
got away with shoving Hoops defender
Jackson Goncalves
, who was shepherding the ball over the end line, and played the ball back. Beckham hit a low drive inside the left post from 20 yards.
Juninho scored the winner after Dallas defender
Zach Loyd
headed away a cross from Donovan.
Midfielders
Chris Klein
and
Eddie Lewis
, who are retiring, were brought at the finish.
The playoff matchups:
Western Conference

Galaxy (18-7-5) vs. Seattle Sounders (14-10-6)
Real Salt Lake (15-4-11) vs. FC Dallas (12-4-14)
Eastern Conference

New York Red Bulls (15-9-6) vs. San Jose Earthquakes (13-10-7)
Columbus Crew (14-8-8) vs. Colorado Rapids (12-8-10)
The Galaxy would be home for the one-game Western Conference final if it beats Seattle. The MLS Cup championship is Nov. 1 in Toronto.