Los Angeles Soccer:

Zat Knight
July, 1, 2012
7/01/12
10:12
PM PT
By
Scott French
| ESPNLosAngeles.com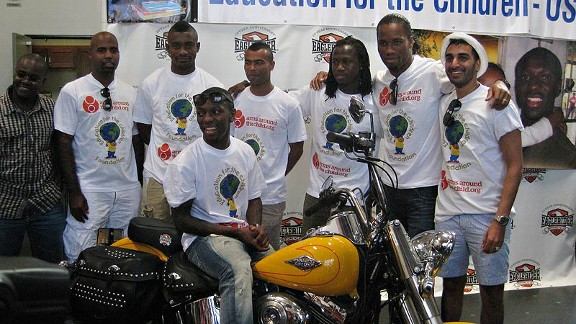 Scott French/For ESPNLA.com
Among the riders: Queens Park Rangers (sitting) and, behind him, starting third from left and moving to the right, Chelsea's Salomon Kalou and Ashley Cole, Bolton's Zat Knight and Shanghai Shenhua's Didier Drogba. The other men are Wright-Phillips associates who also participated in the ride.
HAWTHORNE -- Wayne Rooney was a no-show, but fans who waited three hours to see some soccer royalty Sunday morning were amply rewarded with a few minutes -- photos and autographs, too -- with some of the English Premier League's biggest stars.

Those hoping for a glimpse of Didier Drogba, Ashley Cole, Salomon Kalou, Shaun Wright-Phillips and Zat Knight cruising L.A.'s freeways weren't so fortunate.

Wright-Phillips' annual charity motorcycle ride to benefit two causes aiding children in Africa, India and Central America went off, with a few hitches, but the expected journey -- from EagleRider Motorcycle Rentals down the San Diego Freeway to Seal Beach, then over to Pacific Coast Highway for an oceanside trek through Orange County -- was scrapped for a little footy in a Palos Verdes Peninsula park.

There are only reports about what happened -- virtually nobody was on hand to see $100 million of talent playing pickup soccer -- but the word is they kicked around with a few kids and local coach Lloyd Kinnear, who also took part in the ride.

The event was to raise funds and awareness for Education For The Children, which provides schooling for poor children in Guatemala, and Arms Around the Child, which assists children affected by HIV/AIDS in Africa and India. And if there was any negative, it's that the ride conflicted with the Euro 2012 final, during which Spain beat Italy 4-0 in the Ukraine.

"I'm a bit disappointed about that, if I'm honest. I'm not going to lie," Wright-Phillips, who calls L.A. his second home, said while waiting for the the others to show up at EagleRider's Hawthorne headquarters, which they did an hour or so behind schedule. "But charity is charity. Plus you have TiVo over here, so I recorded it."

His plan: "I just won't listen to anything anyone says about the game."

Drogba, Kalou and Cole played at Chelsea alongside Wright-Phillips, a former England national team winger who now plays at Queens Park Rangers.

"That's my brother there," said Kalou, an Ivorian striker who is a free agent after six years with Chelsea. "Anything he's involved in, it's always a pleasure to come support him.

"This is a good cause. Even though I'm going to miss watching [Spain-Italy], coming here, supporting this cause is very important to me. And for Shaun, I'm here to show him that there is always a family and family always come first."

Drogba, a superstar Ivorian forward who just left Chelsea to sign with China's Shanghai Shenhua, was the biggest name on site after England/Manchester United star Rooney pulled out, and several among the few dozen spectators that waited patiently to meet the players wore his jerseys.


June, 29, 2012
6/29/12
1:31
PM PT
By
Scott French
| ESPNLosAngeles.com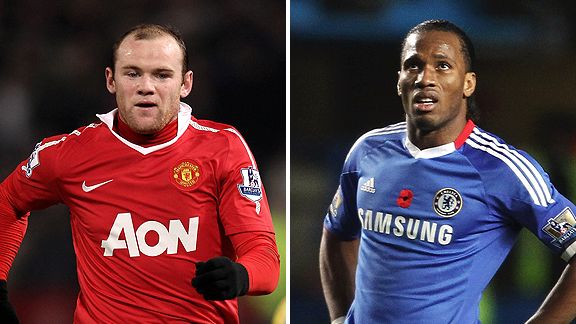 Getty ImagesWayne Rooney, left, and Didier Drogba will be in Hawthorne on Sunday to ride in a motorcycle charity event.

Soccer stars don't come much bigger than Wayne Rooney and Didier Drogba.

And both will be in Southern California on Sunday for the fifth annual ride to raise money and awareness for Arms Around the Child, a program that aids African and Indian orphans affected by HIV/AIDS, and Education for the Children, which works to improve educational opportunities in Central America.

Rooney, Manchester United's star forward, and Drogba, the Ivory Coast superstar who just signed with China's Shanghai Shenhua after eight years at Chelsea, are among six players from the English Premier League who will climb aboard motorcycles for a four-hour ride around town.

Queens Park Rangers winger Shaun Wright-Phillips, a former English national-teamer, is the man behind the ride, which will begin at 11 a.m. at motorcycle rental company EagleRide's headquarters in Hawthorne.

The route is not being publicized -- organizers don't want to disrupt L.A.'s notoriously complicated traffic flow -- but fans can gather from 9 to 11 a.m. at EagleRide, which is located at 11860 S. La Cienega Blvd., to greet the players and get autographs.

Also riding are Chelsea stars Ashley Cole and Salomon Kalou and Bolton defender Zat Knight. They will stop for lunch during their ride -- no particular spot has been determined -- and return to EagleRide at 3 p.m.