Los Angeles Soccer:

Bobby Convey
April, 7, 2012
4/07/12
7:12
PM PT
By
Scott French
| ESPNLosAngeles.com
Could it possibly just be that the Galaxy isn't very good?
It's something worthy of consideration following their latest defeat, a 1-0 decision Saturday afternoon to a vastly superior Sporting Kansas City side, in which L.A.'s vaunted attack -- missing
David Beckham
, yes -- created nearly nothing against Major League Soccer's new standard-bearer.

It was an improvement over last weekend's loss to New England, in that the Galaxy was tight at the back and made K.C. work for its every opportunity, but hardly the stuff championship runs are made of.
Lawndale's Kei Kamara scored the only goal
, [click the link to view a nice video feature on Kamara] and he should have had another, as Sporting became the first MLS club since the Galaxy in 1996 to start a campaign with five straight victories. The ex-Wizards dictated nearly every facet of the match, stringing passes together, opening space through possession and direct play, pressuring the Galaxy all over the field while denying them anything in midfield.
L.A. (1-3-0) got off just four shots, none on target -- K.C. has conceded only one or no shots on goal in four of its five wins -- and completed an abysmal 62 percent of its passes, a number that declined as it increasingly utilized Route 1 trying to get back into the game in the countdown to 90.
One team was outstanding, and that team wasn't the Galaxy.
"We came to compete today, but I don't remember us connecting five passes in a row," Galaxy midfielder
Mike Magee
told media afterward. "Sporting Kansas City played at a high level today. They've got some amazing players, and some good guys coming off the bench. … They're a big, fast, athletic team. They're getting hungrier and hungrier the more they win. They aren't a team I'd like to play every day."
The Galaxy lost most of the battles, seemed to lose every second ball, and struggled to keep the plot, goalkeeper
Josh Saunders
and striker
Robbie Keane
aside.
Edson Buddle
was a step or two slow and never really got involved --
Chad Barrett
's entrance in the 56th minute sparked some life in L.A.'s offense -- and poor showings by
Juninho
in central midfield and right back
Sean Franklin
hurt as Kansas City, fueled with superb showings by Kamara and fellow winger
Bobby Convey
, dominant front man
C.J. Sapong
, central midfielders
Graham Zusi
and
Roger Espinoza
, and center back
Aurelien Collin
, scored a triumph far more one-sided than the score suggests.
December, 2, 2011
12/02/11
7:15
PM PT
By
Scott French
| ESPNLosAngeles.com
Chivas USA on Friday re-signed left back Ante Jazic, as expected, and Galaxy forward Adam Cristman withdrew from Monday's first-stage draft in Major League Soccer's re-entry process.
Jazic, 35, was expected to return to the Goats after the club declined its option on his contract, which was worth $115,000 ($123,000 average guaranteed compensation). Figures from the new pact weren't released and likely won't be available until the MLS Players Union next spring unveils every league salary, as it does annually. The contract is believed to be for one year.
Cristman, 26, whose option was declined, withdrew from the process and could be negotiating a new deal with the Galaxy, although it's unlikely he would accept much less than the $42,000 he made this season.
Midfielder
Jovan Kirovski
, 35, whose option also was declined, pulled out of the process before the re-entry list was released Wednesday. The Escondido product, who made $84,000 in 2011, is expected to re-sign with the Galaxy or retire.
Several others, including one local player, have pulled out of Monday's draft for one reason or another.
Vancouver midfielder
John Thorrington
(Palos Verdes Estates/Chadwick School) withdrew from the process and is in talks on a new contract with the Whitecaps, a club spokesman said.
June, 26, 2011
6/26/11
3:53
PM PT
By
Scott French
| ESPNLosAngeles.com
Mike Magee went well beyond the call when the Galaxy visited San Jose this weekend, and L.A.'s unbeaten streak hit double digits because of it.
Forced into the nets after starting goalkeeper
Donovan Ricketts
was injured and backup
Josh Saunders
red-carded, the 5-foot-10 forward/midfielder pulled on the gloves and stepped between the pipes in the 43rd minute and was rewarded with a shutout in Saturday's draw with the Earthquakes.
The Galaxy (9-2-8) is 5-0-5 in its last 10 after surviving more than a half down a man -- and that after the Quakes dominated the first 45 minutes. But superb defensive organization, marshaled by
Gregg Berhalter
(making his first first-team start of the year), and Magee's huge contribution in unfamiliar territory gained a share of the points.
Ricketts, making his return after missing three games while with Jamaica at the CONCACAF Gold Cup, was stellar in the opening minutes, but he suffered a left forearm injury in a 21st-minute collision with
Khari Stephenson
as both closed in on a
Ryan Johnson
cross and exited the game.
A Galaxy spokesman said the injury will be evaluated Monday and that reports that the preliminary diagnosis was a broken arm, first mentioned on Fox Soccer Channel's broadcast of the game, were in error.
Saunders, who has been solid in seven starts this year while Ricketts was injured or on international duty, stepped in. Within 20 minutes, he was gone, too. It occurred in the least likely of situations: The goalkeeper was holding onto the ball, seemingly by himself, preparing to throw it out to a teammate when San Jose forward
Steven Lenhart
, from behind, leaned down and headed the ball out of Saunders' possession.
That's a big no-no, and referee
Juan Guzman
should have whistled play dead right then. But he didn't, and Saunders scrambled to pick up the ball, then threw an elbow -- perhaps blindly -- that caught Lenhart in the head. Guzman showed Saunders a red card and Lenhart a yellow.
With no other goalkeeper on the bench, Magee volunteered to take the job. He made four saves -- the biggest on a 30-yard
Bobby Convey
blast in the 47th minute and a point-blank leg stop on Lenhart at the right post in the 89th -- and did well handling crosses and taking command of his box.
"I think I blacked out [when I volunteered]," said Magee, who claimed he had "never" played the position, "not even in a non-competitive match."
"I looked around after Josh Saunders got the red card, and I nominated myself. I did all right, I guess. Looking back, I have no idea why I nominated myself. … I only thought I had to make it 10 minutes, and then we'd have a great plan at halftime where I'd be back on the field. And then we got back in [to the locker room], and it started hitting me that I was going back in goal, and that was pretty nerve-wracking.
Bruce
[
Arena
, the Galaxy's head coach], he gave me all the confidence. He said to have fun with it and don't worry about it."
A quick look at the Galaxy's draw:
BEST PLAYER:
Magee gets the nod for his selflessness and for stepping into the most challenging assignment of his career and, truly, shining. He made two big saves -- the point-blank stop on Lenhart at the end was massive -- and provided a real presence in the box. Unquestionably one of the great performances in the Galaxy season.
April, 23, 2011
4/23/11
9:14
AM PT
By
Scott French
| ESPNLosAngeles.com
Chivas USA hasn't been a bust on defense, with back-to-back shutouts despite an injury-shuffled backline, and one reason has been the play of goalkeeper Dan Kennedy.
The former UC Santa Barbara star from Yorba Linda snared the starting job at the end of March, using a solid performance in the U.S. Open Cup qualifying loss in Portland to overtake longtime No. 1
Zach Thornton
, MLS's Goalkeeper of the Year in 2009.
Kennedy (El Dorado HS), who has overcome major injuries that ended the past two seasons prematurely, takes a 234-minute shutout streak into Saturday afternoon's Major League Soccer clash at San Jose, where the Goats (0-2-3) will look for their first victory under
Robin Fraser
.
"Dan's been good. I feel like he's maturing," Fraser said. "For a 28-year-old goalkeeper, he's still relatively young 'cause he's not logged a ton of minutes, and I think what we're seeing is Dan going through a learning curve where he's doing some things very well and some things he's continuing to improve at. It's certainly been positive for us."
For Kennedy, too, especially after a knee injury wiped out his 2009 season and a torn biceps tendon halted last season in August. He came into a camp with three quality goalkeepers -- newcomer
Sergio Arias
, on loan from Guadalajara, is the No. 3 -- having played in just 16 league games in three seasons with Chivas after impressing in the second-tier USL First Division and with Chilean second-division side Municipal Iquique.
"Of course, it's rewarding to be back on the field," said Kennedy, who has made several outstanding stops in successive draws with Toronto FC, Columbus and Vancouver, the last two of them scoreless. "It's what I expected. This is just kind of how I saw it working out, how I prepared for it to work out. Just trying now to maintain and help the team get some wins."
He's had to direct a backline that's been plagued by injury, and he's worked with six different combinations in front of him in four matches, and none of those combinations included de facto captain
Jimmy Conrad
. Instead, he's worked with two first-time center backs (
Heath Pearce
and
Ben Zemanski
), a first-time right back (
Michael Lahoud
) and a rookie in the middle and, after Lahoud's concussion, at right back (
Zarek Valentin
). No problem.
February, 7, 2011
2/07/11
10:02
PM PT
By
Scott French
| ESPNLosAngeles.com
Yes, that was Simon Elliott in midfield for Chivas USA on Monday afternoon, the holding midfielder in a 4-1-4-1 formation Goats coach Robin Fraser presented in a Home Depot Center scrimmage against the San Jose Earthquakes.
The New Zealander, whose Major League Soccer career started 12 years ago with the Galaxy, began a trial this past weekend with Chivas USA. He's 36, but his performance in South Africa during last summer's World Cup testifies he's capable of being influential in the right role.
"Simon has played hundreds of games and the Olympics and World Cup and that sort of thing," Fraser said after Chivas' 1-0 victory. "You look at Simon, I thought he was New Zealand's best player in the World Cup last year. … I just think he's got a tremendous understanding of the game, and I think he can bring a lot to a team."
Elliott's countryman
Andrew Boyens
, a 6-foot-4 defender who played sparingly he past three seasons for the New York Red Bulls (and previously was with Toronto FC), also is in camp. He saw time as a center back and left back against San Jose.
Elliott, a teammate of Fraser's for two seasons in L.A. and two more with the Columbus Crew, says he also contacted the Galaxy about potential opportunities.
"I live here -- my better half is in L.A. -- so it just makes sense, if I can, to try and play here," Elliott said after Chivas' 1-0 victory. "I approached both of the teams here, and this one seemed to be a decent option."
Elliott fared well in front of the backline Monday, playing the first of three 35-minute periods in the 105-minute scrimmage. He was behind
Paulo Nagamura
and
Blair Gavin
in an inspired midfield triangle that was pivotal to Chivas' control of the early action.
February, 7, 2011
2/07/11
1:21
PM PT
By
Scott French
| ESPNLosAngeles.com
The San Jose Earthquakes arrived Sunday for a week of training at Oxnard College, and they've got scrimmages planned against Chivas USA, the Galaxy and the Ventura County Fusion.
The Quakes meet Chivas on Monday afternoon at Home Depot Center Field 4, west of the main stadium. They'll face the Galaxy on Thursday at the HDC track and field stadium and take on the Premier Development League's Fusion on Friday at Oxnard College.
Here's a quick look at the Earthquakes:
WHO ARE THEY?
The Galaxy's former No. 1 rival, before Chivas USA arrived and MLS's original Clash/Quakes hightailed it to Houston after the 2005 season. This model returned to MLS in 2008, with Oakland A's owner
Lew Wolff
(encouraged by super soccer fan/A's GM
Billy Beane
) putting up the money, former star center back
John Doyle
as GM and the return of coach
Frank Yallop
, who guided the previous Quakes to MLS titles in 2001 and 2003. They reached the playoffs last year, knocking off Eastern Conference champ New York to make it to the MLS Cup semifinals.
THE MAN IN CHARGE
Yallop is no stranger to these parts. The English-born Canadian former defender was the Galaxy's head coach the last part of 2006 and during that wasted 2007 campaign, unfairly jettisoned afterward with the Quakes asking for his hand.
Yallop, who's one of the really good guys in MLS, spent 13 seasons with Ipswich Town, played in Tampa Bay in the first three MLS seasons, then worked for the Mutiny and then at D.C. United before taking over in San Jose in 2001. After three seasons and two MLS Cup titles, he became Canada's national team coach, a post he left for the Galaxy job after failing to qualify for the 2006 World Cup.
THE STAR PLAYER
The closest thing San Jose has to a star is forward/midfielder
Chris Wondolowski
, who burst into everyone's consciousness last year (his sixth in MLS) with 18 goals, 10 of them in the final eight games, to swipe the Golden Boot from L.A.'s
Edson Buddle
on the final day of the season.
November, 13, 2010
11/13/10
9:21
PM PT
By
Scott French
| ESPNLosAngeles.com
A look at Saturday's Eastern Conference final:
IN BRIEF:
Colorado reached its second MLS Cup final -- its first in 13 years -- with a deserved 1-0 triumph over visiting San Jose in sub-freezing temperatures just outside Denver. … Right back
Kosuke Kimura
's cross sneaked into the net in the 43rd minute, but the Rapids would have had more if not for another superb performance by Earthquakes goalkeeper
Jon Busch
. … The Rapids await the winner of the Galaxy-FC Dallas clash in Sunday's Western Conference final at Home Depot Center.
BEST PLAYER:
It's
Omar Cummings
again. The speedy Rapids forward tormented the Quakes with runs through and behind the defense, constantly creating or exploiting space -- had his shot been on, he would have had a hat trick. He doesn't get an assist on Kimura's goal, but he deserves one: His near-post run froze Busch, allowing the in-swinging cross to skip past and inside the far post.
BEST GOAL:
There only was one, and, no, it wasn't a work of art, but who cares? Kimura, the only Japanese player in the league, scored his first goal of the campaign -- and just his third in four seasons -- with a sensational cross from the right flank after a throw-in. With
Bobby Convey
applying pressure, Kimura curled a left-footed ball toward Cummings, who split San Jose's
Jason Hernandez
and
Sam Cronin
to get free at the near post. At first, it looked like Cummings got a touch on the ball, sending it past Busch, but replays indicated the cross had sneaked through on its own, and Cummings acknowledged at halftime that he hadn't gotten a piece of it.
BIGGEST STOP:
Busch had plenty, including two big stops on Cummings and another on
Pablo Mastroeni
, but Brazilian forward
Geovanni
made the biggest, keeping the Quakes in the game by clearing
Drew Moor
's header from a
Wells Thompson
corner kick off the line at the right post in the 70th minute.
WORTH NOTING:
The Rapids are the third successive crossover finalist. New York, sent to the Western Conference bracket in 2008 after finishing fifth in the East, stunned Houston and Real Salt Lake to reach the MLS Cup final, and Real Salt Lake's title run last year went through the East after a fifth-place finish in the West. Colorado was, naturally, fifth in the West this year. … The Rapids upset Kansas City and Dallas en route to the 1997 MLS Cup final, but lost, 2-1, against D.C. United in front of 57,431 at RFK Stadium in Washington.
Jaime Moreno
and
Tony Sanneh
gave D.C., coached by current Galaxy boss
Bruce Arena
, a two-goal lead, and
Adrian Paz
got one back in the 75th minute for Colorado.
QUOTE OF THE DAY:
"I think the goal was maybe a little fortuitous, and he doesn't get on the score sheet all that often. … If there had been a bet on it, you would've had very long odds on Koski scoring the game-winner." -- Colorado head coach
Gary Smith
.
THE RESULTS
at Commerce City, Colo.

Colorado 1 (Kimura 43), San Jose 0
Western Conference final
Sunday: L.A. Galaxy vs. FC Dallas at Home Depot Center, 6 p.m., ESPN and ESPN Deportes
MLS Cup
Nov. 21: at Toronto, 5:30 p.m., ESPN and TeleFutura (KFTR/Channel 46)
All times Pacific

November, 10, 2010
11/10/10
8:37
PM PT
By
Scott French
| ESPNLosAngeles.com
Major League Soccer has announced three more awards this week, all of them well-deserved.

San Jose winger
Bobby Convey
, whose phenomenal performance last week prodded the Earthquakes past the New York Red Bulls and into Saturday's Eastern Conference final against the Colorado Rapids, is the Comeback Player of the Year. Real Salt Lake forward
Alvaro Saborio
, who scored 12 league goals and six more to lead the Utahns into next year's CONCACAF Champions League quarterfinals, is Newcomer of the Year. New York midfielder
Seth Stammler
is Humanitarian of the Year.
There were no Galaxy or Chivas USA finalists in any of the categories. L.A. forward
Edson Buddle
and Chivas midfielder
Michael Lahoud
were nominated for the Humanitarian honor.
Fan voting for
Goal of the Year
and
Save of the Year
continues through 8:59 p.m. PT on Thursday.
November, 4, 2010
11/04/10
10:15
PM PT
By
Scott French
| ESPNLosAngeles.com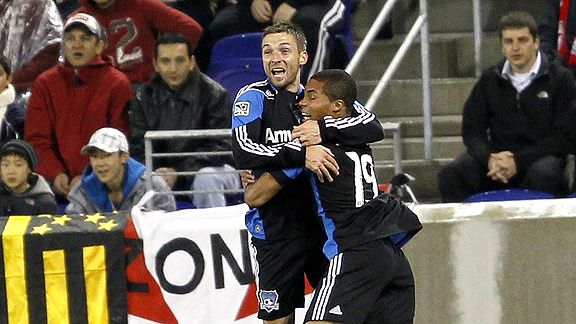 Chris Trotman/Getty Image
Bobby Convey's two goals helped lead San Jose to an upset of New York.
A look at Thursday's MLS postseason action:
IN BRIEF: Bobby Convey
scores twice and sets up MVP finalist
Chris Wondolowski
's decisive header, and San Jose -- the lowest seeded team in the tournament -- pulls out a 3-2 aggregate stunner over Eastern Conference regular-season champion New York to reach the Eastern title game. The Earthquakes, just one win from their first MLS Cup final appearance since their 2008 restoration, score goals five minutes apart for the 3-1 second-leg victory, with Convey providing a would-be winner in the 76th minute and Wondolowski the actual winner in the 81st.
BEST PLAYER:
Convey, a one-time teen phenom who was part of the 2006 U.S. World Cup team, was sensational on the left flank, in midfield for the first half and as left back after
Ramiro Corrales
departed just before halftime with a hamstring injury. Convey, allowed alone into the Red Bulls box by New York midfielder
Rafa Marquez
, side-footed San Jose to a sixth-minute lead after
Ryan Johnson
's cross wasn't adequately dealt with, turned
Tim Ream
at the top of the box to blast home
Arturo Alvarez
's feed for a 2-0 (and 2-1 aggregate) lead, then played a pefect cross for Wondolowski to nod home. His forays forward terrorized New York all night and enabled the Quakes, although outplayed much of the game, to maintain control from start to finish.