Los Angeles Soccer:

Kenny Cooper
May, 23, 2012
5/23/12
9:35
PM PT
By
Scott French
| ESPNLosAngeles.com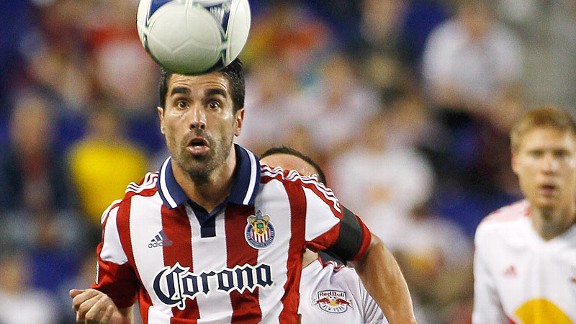 Mike Stobe/Getty ImagesJuan Pablo Angel received a warm welcome in his first game at Red Bull Arena since 2010.
Chivas USA had to do without its new arrival from New York --
Juan Agudelo
is off with the U.S. national team in Florida -- but there's another Red Bulls veteran on the Goats' roster, and he made himself quite at home Wednesday night.
Juan Pablo Angel
, New York's all-time goals leader, returned to Red Bull Arena for the first time since he departed the Red Bulls after the 2010 season, received a warm reception from the fans, then did his best to make their lives miserable.
His best performance of the season was rewarded with a spectacular goal at the start of the first half, and although Chivas couldn't turn it into three points, a 1-1 draw was a rather satisfying result.

The Goats' attack had spark, their defending was mostly exceptional, and had they done a better job holding onto the ball, especially under New York's second-half pressure, they might have boosted their road mark to 4-1-1.
"I think any time you don't get three points, there's some level of disappointment," head coach
Robin Fraser
acknowledged to ESPN Los Angeles. "But, realistically, on the road against the first-place team in the East -- with a five-game winning streak -- you have to look at the big picture. A point in Red Bull Arena is not a bad result."
It could have been worse.
Nick LaBrocca
, a Jersey boy who tested rookie Red Bulls goalkeeper
Ryan Meara
just two minutes in, was done by the fifth minute, tweaking his hamstring chasing
Dane Richards
into the Goats' box. He figures to miss Saturday's game at HDC against Seattle and next week's U.S. Open Cup match against the Ventura County Fusion, and tests will determine if he'll be out longer.
Richards was a handful for Chivas defenders -- he was the pivotal figure on
Kenny Cooper
's 56th-minute equalizer -- but the Goats did well limiting the effectiveness of
Thierry Henry
, returning to the Red Bulls' lineup after missing four games with a hamstring injury, and Cooper, who nonetheless tallied for the fourth straight game.
The
Danny Califf
-
Rauwshan McKenzie
partnership in central defense, just two games in, looks very good, and
Oswaldo Minda
was a force in front of them, keying Chivas' transition game while frustrating Henry and Cooper, both of whom confronted the Ecuadoran midfielder.
Dan Kennedy
was sharp, making a fine reaction stop on Henry's 51st-minute header, and
Ante Jazic
secured the point by clearing
Dax McCarty
's header off the goal line following a corner kick in the 83rd.
Angel, who is still finding his form after missing five games because of a concussion, was the sharpest he has been since his scoring tear last year. He hit the left post in the 25th minute, following a nice sequence involving
Paolo Cardozo
and
Miller Bolaños
, and brilliantly provided a 47th-minute lead.
February, 29, 2012
2/29/12
11:04
PM PT
By
Scott French
| ESPNLosAngeles.com
Galaxy opponents are afraid to commit fouls anywhere near their box when David Beckham is on the field, for obvious reasons. When he's not, it's no big thing.

After Marcelo Sarvas' piece of brilliance Wednesday night, they might be rethinking that philosophy.

Sarvas, on for Beckham with 25 minutes to go in the Desert Diamond Cup group finale against New York, whistled a free kick from inside the semicircle above the box past Red Bulls rookie goalkeeper Ryan Meara and inside the far post to provide L.A. a real highlight in an otherwise disappointing 2-1 defeat in Tucson, Ariz.

Chad Barrett's return to action, for the first time since brutally dislocating his ankle in the lead up to last November's MLS Cup final, was another plus, as was the effort by Canoga Park's Rafael Garcia -- the Cal State Northridge product making a strong bid for a roster spot on the eve of the league's compliance date.

But Omar Gonzalez's absence continues to loom large for L.A., which is just a week from its season opener and continues to struggle without the big man in the back.

Poor defending led to both New York goals, with Kenny Cooper easily broaching the backline to finish rookie Connor Lade's feed in the 31st minute and Thierry Henry running unhindered from midfield to the box, then playing a give-and-go of sorts with Dane Richards and nodding home the return in the 62nd. Rookie Tommy Meyer has great upside, but he's a rookie; Andrew Boyens, his partner on Wednesday, is a reserve, pure and simple. One of them likely will team with A.J. DeLaGarza in central defense, at least until Leonardo is ready to go, and he'll have not played in a year when he's expected to return to the field in April.
It has to be a concern for L.A., which has just one shutout in eight preseason games -- Saturday's 2-0 win over Real Salt Lake -- and has conceded 17 goals, at least two in six games. The five preseason losses, which matters not a whit, is as many as the Galaxy lost all last year in Major League Soccer play, including the postseason.

The Red Bulls were the superior side most of the night, and their victory would have been more pronounced if not for goalkeeper Josh Saunders' off-his-line stop on Richards, who split Boyens and DeLaGarza to run on to Teemu Tainio's superb through ball midway through the first half.

The Galaxy's best chances were, as usual, product of Beckham's right foot, but Meara -- despite a clumsy performance that betrayed his youth -- took care of the most dangerous moments until Sarvas halved the deficit with 12 minutes to go.

The attack, like the defense, is a work in progress. Landon Donovan has not yet trained fully, and Robbie Keane will join the team in the next couple of days, now that his loan deal with Aston Villa is over and Ireland's friendly Wednesday with the Czech Republic done.


January, 15, 2012
1/15/12
9:16
PM PT
By
Scott French
| ESPNLosAngeles.com
One of Chivas USA's open goalkeeper slots is going to Tim Melia, a two-year Real Salt Lake backup who has seen far more action from loan deals than in Major League Soccer.

The Goats have signed the 25-year-old netminder but have not yet announced the deal, a club official confirmed.

Melia, a third-string keeper at RSL, did not appear for the Utahns' first team, but he was on several 18-man game rosters last season and made seven appearances in the MLS Reserve League.

Melia, who played collegiately at Oneonta State and Lynn, Fla., joined RSL in 2010 after two seasons with the second-tier Rochester Rhinos. He spent most of 2010 on loan to the Charleston Battery, helping the club to the USL Second Division title, and had a loan stint last year with USL Pro side FC New York. He was waived Nov. 23.

Fraser, of course, was an RSL assistant coach in 2010.

Chivas returns starting goalkeeper Dan Kennedy but has jettisoned his two backups, Zach Thornton, who is expected to retire, and Sergio Arias, who returned to Guadalajara and was loaned to Mexican second-tier club Irapuato.

Kevin Guppy, a league pool goalkeeper out of Cal State Northridge who trains with Chivas USA and has served as backup for the Goats, Galaxy and other clubs, is expected to compete for the other job in the nets.


August, 4, 2011
8/04/11
12:14
AM PT
By
Scott French
| ESPNLosAngeles.com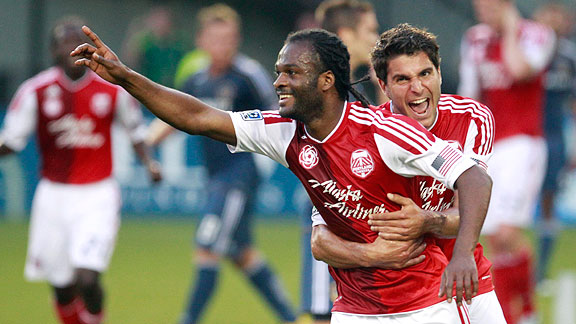 AP Photo/Rick BowmerTimbers forward Jorge Perlaza celebrates with teammate Sal Zizzo, right, after scoring during the first half of their game with the Galaxy.
PORTLAND, Ore. -- The Galaxy faces FC Dallas on Saturday in a showdown between Major League Soccer's two best teams, and good thing: They want to put Wednesday night behind them as quickly as they can.
L.A. was beaten every which way possible in its first visit to the Rose City, a 3-0 romp by the Timbers -- a loss far more one-sided than that score might suggest -- halting a 14-game unbeaten streak that's been going since a May 1 defeat at Dallas.
It might have been the Galaxy's worst performance of the season, and it was surely the lowly Timbers' best. Fine goals by
Mike Chabala
and
Jorge Perlaza
gave Portland control before halftime, and L.A.'s second-half adjustments didn't make a whole lot of difference.
Eric Brunner
's header, after he beat
Sean Franklin
to
Sal Zizzo
's corner kick in the 68th minute, ended all doubt.
The Galaxy (12-3-9) were beaten to nearly every ball, were overrun everywhere on the field, and the one number that speaks loudest is this one: Zero, as in how many shots they managed in the first half.
"I'm surprised in the way we played," said
David Beckham
, who delivered a few nice crosses that failed to connect. "We're not a team that usually gets outworked or out-hustled, but if you perform like that, you deserve to lose like that.
"We got home a little embarrassed because of the result, but at the end of the day, it's the first game we've lost in three months. We've been on a good run. It had to end somewhere."
It was over right from the start. Portland spent most of the first half in and around L.A.'s box, and when the Galaxy gained possession, they couldn't hold it for more than a pass or two.
"From minute one, it seemed like they were on the front foot and we were one the back foot, and we could never regain our confidence," Galaxy left back
Todd Dunivant
said. "[That's what happens when you] play positively and aggressively."
It was as bad a loss, by margin, as the 4-1 debacle March 26 at Real Salt Lake, but at least that one came against what was, at that moment, probably the finest MLS side ever to take the field. These Timbers (7-10-4) hadn't won at home since May 21, six games in all, and had surrendered leads three times in that span.
"I asked the guys from the first minute to try and outrun them every inch of the field, and I think we did that tonight," Portland coach
John Spencer
said. "It's a very pleasing result, obviously, after the way things have been going. I think we showed a massive amount of character tonight."
Galaxy coach
Bruce Arena
was ready to move on.
"You have to throw it behind you," he said. "If you dwell on this, you're not going to win any more games. We were beat tonight, and there's absolutely no excuses."
A quick look at the Galaxy's loss:
BEST PLAYER:
All 11 Timbers are worthy, but we're going to single out forward
Kenny Cooper
, who is going through a tough time in Portland. The former FC Dallas striker returned from a difficult spell in Germany as the Timbers' new star, and Spencer has been shopping him around, looking for the best deal he can find.
April, 24, 2011
4/24/11
12:09
AM PT
By
Scott French
| ESPNLosAngeles.com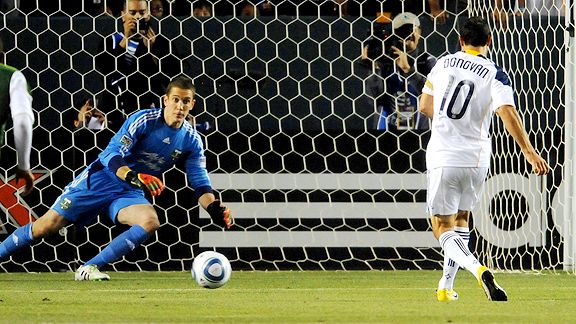 Jayne Kamin-Oncea/US PresswireLandon Donovan scored two goals in the Galaxy's shutout win over the Timber.
The Galaxy got an easy one Saturday night, pummeling Portland, 3-0, at Home Depot Center after scoring twice in the first eight minutes, and if both of those strikes came courtesy of some questionable officiating, L.A. will take it.
Landon Donovan
scored twice, converting an eighth-minute penalty kick and heading home a
Juan Pablo Angel
cross in the 67th, and fed
Chad Barrett
for the fourth-minute opener. The goals were his first in a dozen games for the Galaxy, dating to Sept. 18, not that he cared.
"You guys love those stats, don't you?" Donovan responded when it was brought up in the locker room afterward. "How many wins do we have in that time? Nobody knows, huh?"
Well, Landon, let's see: 3-2-0 to end the regular season last year, 2-1-0 in the playoffs, 2-0-1 this season with you on the field. That's 7-3-1 in games Donovan played but didn't score since his last goal for L.A. Not bad at all.
"I could care less about scoring," said Donovan, who had missed the previous three games with a minor knee injury. "I want to win. I'm not as much of a scorer anymore. I think you guys have seen both with the U.S. team and this year, that part of my game has not been the same as it was when I was younger, but I want to win, and it feels good to win."
Said
David Beckham
, whose passes started the sequence leading to the first two goals: "Of course, it's great to see him back scoring. … It's good to have goals coming from elsewhere, but I know he enjoys scoring goals."
Barrett, who has finally found his footing with the Galaxy, tallied for the second straight game, not that it should have counted. The ball bounced up on him, and he controlled it with his arm before half-volleying a bullet off Timbers goalkeeper Troy Perkins' hand and inside the right post.
Donovan converted a penalty kick four minutes later after
Rodney Wallace
draped himself around L.A.'s captain for a pass from Beckham. It was certainly a foul, but the initial offense occurred outside the box.
April, 23, 2011
4/23/11
2:01
PM PT
By
Scott French
| ESPNLosAngeles.com
A reunion in the middle for former Maryland teammates Omar Gonzalez and A.J. DeLaGarza is likely Saturday night when the Galaxy takes on the Portland Timbers at Home Depot Center.
That's the most appropriate response to
Leonardo
's season-ending knee injury in last week's victory at Chicago. Gonzalez and DeLaGarza, third-year pros who won a national championship with the Terrapins, were paired quite effectively at the end of the season and through the playoffs following
Gregg Berhalter
's mysterious illness last year, and it was somewhat surprising they haven't seen time together this year with Berhalter sidelined with a knee injury.
And it's not certain head coach
Bruce Arena
will team them against the expansion Timbers and their vibrant attack led by
Kenny Cooper
and
Jorge Perlaza
and perhaps newcomer
Diego Chara
.
Sean Franklin
, MLS's Rookie of the Year in 2008 while playing at center back, approached Arena after Leonardo's injury and volunteered to step into the middle. He's played at right back and right midfielder this season.
"Right now, it would either be Franklin or DeLaGarza," Arena said Thursday. What determines who is "a variety of things, maybe opponent, form, all kinds of things. But A.J.'s got the most experience playing in there."
DeLaGarza's versatility -- he's at home in any of the four backline spots -- has made him most valuable but hindered his finding a permanent home in the lineup. He impressed U.S. national team coach
Bob Bradley
with his play for the Galaxy last season and received a call-up for January's camp.
Leonardo, 22, was hurt near the finish of Sunday's 2-1 victory when he landed awkwardly during a challenge with Fire forward
Dominic Oduro
. He tore the anterior cruciate and lateral collateral ligaments in his right knee and is slated to undergo the first of two surgeries next week.
February, 16, 2011
2/16/11
4:52
PM PT
By
Scott French
| ESPNLosAngeles.com
There are numerous procedures to acquire talent in rule-crazy (lawyer-rich) Major League Soccer, and we saw one of them enrich the league's best club and mete out a little justice this past week.
Weighted lotteries dispersed three top young players into the league. Two of them have the potential to be big stars. The third is a highly regarded outside back pegged for a long, productive career.

Real Salt Lake, arguably the finest side in the league, came up the big winner, claiming former Wake Forest forward
Cody Arnoux
against all odds.
Former University of Virginia forward
Chris Agorsor
, who also has star potential, went to Philadelphia, and teen right back
Korey Veeder
was picked up by Columbus.
Neither the Galaxy nor Chivas USA entered the lotteries, for which a team's chances are based on its record in its past 30 games in relation to the other teams involved.
Arnoux, who scored 32 goals in his sophomore and junior seasons at Wake Forest, returned last summer from a year with English club Everton's reserves and seemed to settle in nicely with the Vancouver Whitecaps in their final season as a D2 club.
That's what the Whitecaps figured: They tried to sign Arnoux for their MLS side, but the league wouldn't have it. MLS uses lotteries for players coming out of college who sign after the draft or for players who previously turned down a league offer. Arnoux had been aggressively pursued before he left Wake Forest following his junior season, so to Friday's lottery he went.
RSL won despite just a 5.4 percent chance of success.
"Miracles never cease," quipped GM
Garth Lagerwey
to MLS's website.
Arnoux is renowned for his work rate and his nose for the net, and he said he hoped he could step in for
Robbie Findley
, the World Cup forward who moved to England's Nottingham Forest.
"I never stop working -- that's what I build my game around," Arnoux told the league's website. "I'm not the guy who's going to make the right pass every time or make the right decision. But I'm good in front of goal and have confidence in front of goal and that has to be built back up because I've been off for a while.
"I'm a hard worker, and that's something English fans like. Even though I wasn't playing with [Everton's] first team, they appreciated that a lot, and I know American fans appreciate that a lot. That's the kind of player I am. I've not always been the best, but I've always had to try to work harder to beat everyone else."
February, 3, 2011
2/03/11
2:59
PM PT
By
Scott French
| ESPNLosAngeles.com
The Portland Timbers opened training at Oxnard College earlier this week and meet the Ventura County Fusion -- the reigning Premier Development League Southwest Division champion -- in a friendly Friday night at Ventura College.
The Timbers, preparing for their Major League Soccer debut, conclude their So Cal stay with a closed-door match Tuesday afternoon against the Galaxy at Home Depot Center.
Here's a quick look at the Timbers:
WHO ARE THEY?
One of two Pacific Northwest expansion teams that, like the Seattle Sounders before them (but more so), emerges from longstanding organizations -- and even lengthier histories. The original Timbers, of course, played in the old North American Soccer League; this club was formed in 2001 and has spent the past 10 years in whichever league constituted the second tier of American pro soccer.
THE MAN IN CHARGE
Scotsman
John Spencer
, a compactly built pit bull of a forward for 15 years in Britain, Hong Kong and MLS, takes on his first head-coaching job after serving as Dominic Kinnear's top assistant with the Houston Dynamo for 4½ seasons.
Spencer was a Rangers FC product who toiled for Chelsea and Everton (and others) in England and Scotland (and 14 times for Scotland's national team), then wrapped up his playing career with four fine seasons (and two MLS Best XI awards) with the Colorado Rapids.
THE STAR PLAYER
There isn't one, although there soon will be. Rookie forward/midfielder
Darlington Nagbe
, the No. 2 overall selection in last month's draft, could be something very special, although he's likely -- unlike former University of Akron teammate
Steve Zakuani
up in Seattle -- to seek to avoid the spotlight.
Caleb Porter
, his college coach, told
The Oregonian
Nagbe is "a very humble, soft spoken and genuine kid with a big heart," and Spencer said: "Every time you talk to him, you walk away thinking he's someone you would be happy if your daughter brought him through door and said, 'Hey dad, this is who I'm marrying.' You go up to your room and think, 'Thank God she brought home a good one.' That's probably the highest compliment I could pay the kid."