September, 21, 2014
Sep 21
10:45
PM PT
Recruiting in the SEC is already difficult, but the difficulty in Gainesville is about to be ratcheted up even more as rival recruiters are already pressuring Florida recruits to reconsider. Plus, it was clear Saturday night that Oregon needs help on the offensive line, but the good news is that help is on the way.

September, 21, 2014
Sep 21
8:00
PM PT
What did we learn this week, people? The Pac-12's depth is going to make for a fun season and probably a good dose of insanity when trying to sort out the postseason.
For example, two late games Saturday night that ended in dramatic fashion could have bowl implications. When you look at Cal's remaining schedule, are there four wins out there? How about Washington State? Had the Cougars won, you could make a case that, at 2-2, they weren't out of it yet. But what are the odds the Cougars win five of their next eight?
The Bears kick off a stretch of three games against nonranked opponents (Colorado, Washington State, Washington) before closing the season against five of six teams currently ranked in the Top 25. They will need an upset or two along the way. As for Colorado, that Cal game is a huge swing game for the Buffs as well.
Seven Pac-12 teams are still undefeated -- Oregon, Washington, Oregon State, Arizona, Arizona State, UCLA and Utah. We know that isn't going to last. Oregon and Arizona are two wins away from bowl eligibility. Washington needs seven because of the Hawaii rule, and Oregon State, Arizona State, UCLA and Utah are halfway there.
Things are sure to get more interesting in the coming weeks as we plow full steam ahead into conference play.
For now, here are the projections. As always, salt heavily.
College Football Playoff:
Oregon
Fiesta Bowl:
UCLA
Valero Alamo Bowl:
Stanford
National University Holiday Bowl:
Utah
San Francisco Bowl:
USC
Hyundai Sun Bowl:
Arizona State
Royal Purple Las Vegas Bowl:
Washington
Cactus Bowl:
Arizona
Heart of Dallas Bowl*:
Oregon State
*-At large
September, 21, 2014
Sep 21
2:00
PM PT
September, 19, 2014
Sep 19
8:00
AM PT
Happy Friday!
Leading off
This is the final weekend of "mostly" nonconference play. Starting next week, it's a full slate of Pac-12-only games. So say your hellos and goodbyes to the Michigans, Hawaiis and Georgia States of the world this weekend. There are still three dates with Notre Dame and Cal's season finale against BYU. But for the rest of the league, we wrap up the non-league games this weekend.
The nonconference schedule always makes for some interesting picks. The Pac-12 blog
unleashed its picks
on the world yesterday morning. Not a ton of discrepancy, other than a 4-1 decision on the Utah-Michigan game. Besides that one game, the rest of the Pac-12 blog is in agreement.
Here are what others from across the country are picking for Week 4.
(I'm noticing a lot of folks went 7-1 last week ... hmmm, USC...)
Big Board update
When the first two names are called at the 2015 NFL draft, there's a good chance they will both be from the Pac-12.
So says ESPN's Mel Kiper Jr.
, who updated his Big Board. It's an Insider piece, but I'll tell you the new big board is silly with Pac-12 players. Eight players from the league are in his top 25 -- including three in the top 10.
Mel Kiper Jr. drops Winston from 3rd to 25th on Big Board » pic.twitter.com/Kkc8I249al

— ESPN CollegeFootball (@ESPNCFB) September 18, 2014
News/notes/practice reports
Just for fun
September, 18, 2014
Sep 18
11:00
PM PT
Arkansas needs all the talent it can get at defensive tackle, and the Hogs landed a key defender Thursday. Chris Petersen continues to uncover sleepers at Washington, but can he attract enough talent to win in the Pac-12?
To continue reading this article you must be an Insider
September, 18, 2014
Sep 18
3:54
PM PT
September, 18, 2014
Sep 18
11:04
AM PT
ESPN.com news services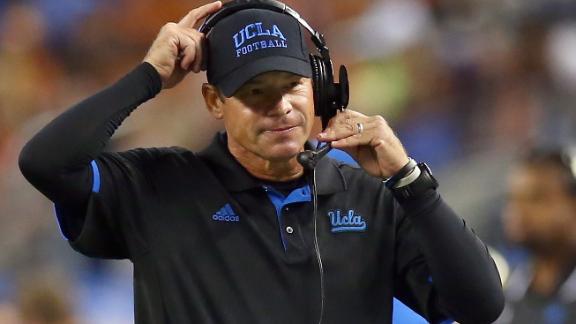 LOS ANGELES -- UCLA coach Jim Mora refused to update the condition of Brett Hundley and isn't saying who will start at quarterback when the No. 12 Bruins visit Arizona State in next week's Pac-12 opener.
Hundley hurt his left elbow on Saturday in the first quarter against Texas, and Jerry Neuheisel came off the bench to throw the winning touchdown pass in a 20-17 win over the Longhorns.
Mora refused to discuss the status of Hundley's non-throwing arm, saying only that "someone has to go in." He also has closed all practices and restricted media availability leading up to the game against the No. 15 Sun Devils.
"I feel good about our team," Mora said when asked about injuries. "They work hard every day. They have a great attitude. They work hard to get back on the field if they are not on the field. They work hard to stay on the field if they are on the field. I'm excited about our team."
Arizona State, meanwhile, has acknowledged that quarterback Taylor Kelly will not play against UCLA after injuring his right foot in a 38-24 win at Colorado.
Mora refused to acknowledge that Neuheisel would be the next man up if Hundley can't play.
I see you have learned to work the Google on the internet machine.
Leading off
The two highest-ranked teams in the Pac-12 -- Oregon and UCLA -- have had some issues along the offensive line three weeks into the season. The Ducks have suffered injuries that have forced some younger or less experienced players into action. The Bruins haven't done a great job protecting their quarterbacks. If either hopes to advance to the College Football Playoff, they are going to have to figure things out up front. That's the premise of Steve Lassen's piece for Athlon Sports, which examines
the offensive lines of both schools so far
.
Lassen on Oregon:
Will Oregon's offensive line woes derail the offense against Washington State or Arizona? Probably not, but a thin offensive line could create more pressure on quarterback Marcus Mariota.
And on UCLA:
The stats from the first three games suggest the offensive line is improving. But what type of impact could a long-term injury to [Malcolm] Bunche hold for this group? And assuming Bunche does return to full strength, can this unit jell and continue to improve after a sluggish start to the season?
UCLA is off this week while Oregon travels to Washington State for its first Pac-12 game of the season. The Bruins will head to Tempe on the 25th to square off with ASU.
Utes & Cats
In
his mailbag this week
, Stewart Mandel of Fox Sports hit on a question about Arizona and Utah and their place in the South Division. Here's an excerpt about the Utes:
This year, with [Travis] Wilson back and currently the nation's No. 2-rated passer, the Utes have clobbered their first two foes, but they were Idaho State and Fresno State. Michigan has certainly proven beatable. If Utah can pull it off on the road, then I'd reevaluate their place in that division.
Mandel says, given the state of the division (injuries to
Taylor Kelly
, a shaky start for UCLA, USC's loss), the Utes might be a good sleeper team to sneak up and steal the division. He doesn't see Arizona as a team ready to make that leap yet. On the field, it won't get settled until the Wildcats make the trip to Salt Lake City on Nov. 22. Might be an intriguing showdown for a couple of teams either looking to reach bowl eligibility or improve their place in the pecking order.
My guess is if Utah wins this weekend, they'll be added to this list.
Notable 3-0 teams that are unbeaten & unranked. pic.twitter.com/kAzFF7oMW6

— College GameDay (@CollegeGameDay) September 17, 2014
News/notes/team reports
Just for fun
If you're a fan of "The Office,"
this is for you
. If you're a fan of Stanford athletics, this is for you. If you're a fan of both, this might be the greatest thing in the world. And if you're a fan of neither, move along. Nothing to see here.
Want to see what the Ducks
saw before their Wyoming game?
Warning: The following video might make you want to go workout.
September, 17, 2014
Sep 17
7:15
PM PT
By
Ted Miller, Kevin Gemmell, Chantel Jennings
and
Kyle Bonagura
| ESPNLosAngeles.com
Your humble #4Pac welcomes you to another installment of what will be a regular feature on the Pac-12 blog. Here's how it works: We take one question or one topic, or maybe it's some other really cool format that we haven't even thought of yet, and all contribute our thoughts.
Have a suggestion for something we should address in a future #4Pac roundtable? Go ahead and send it to our
mailbag
.
Today, we're identifying the best defensive player through the first three weeks of the season.
[+] Enlarge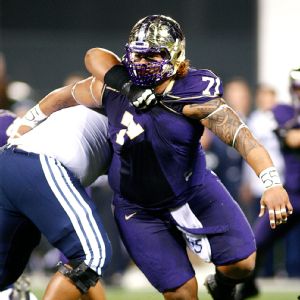 Larry Placido/Icon SMIWashington nose tackle Danny Shelton is clearing up doubts over his production and consistency.
Ted Miller/@TedMillerRK
: In the preseason, there was plenty of chatter about
Washington
NT
Danny Shelton
, mostly centered around if and when he'd be taken in the first round of the NFL draft this spring. The question with Shelton has never been talent or potential. It's been consistency and production. Was he just a big guy who gobbled up blockers, which is important for any interior lineman? Or was he something more, such as a guy who gobbled up blockers but also was a disruptive force -- as in unblockable? There's also the question of whether he'd take a few plays off here and there. Based on the early returns, let's just say the 339 pounder has NFL scouts and defensive coordinators salivating. Shelton not only leads the Pac-12 in sacks with six and tackles for a loss with 7.5, he also leads the Huskies' defense in tackles, period, with 27. Has a 3-4 NT ever led his team in tackles? We're going to say no without even fact-checking that assertion, at least not at the FBS level. It probably won't hold, but the mere fact that's where the numbers are after three games bodes well not only for the Huskies defense, it also figures to make Shelton a lot of money this spring when everyone wants to hand his name to Roger Goodell.
Kyle Bonagura/@BonaguraESPN
: Is there a defensive player in the conference that can do more than Washington linebacker
Shaq Thompson
? Over his first two seasons, he proved to be one of the nation's best linebackers, but some still believe he would make for an even better safety. Against Illinois last week, Thompson scored on a 36-yard interception return and a 52-yard fumble return to become the first player in college football with multiple defensive touchdowns this year. The performance earned him Walter Camp national defensive player of the week honors and came after a 15-tackle game against Eastern Washington the week prior in which he recorded a sack a forced fumble. Thompson is the Huskies' only player to have recorded a sack, interception, pass breakup, and both forced and received a fumble. We're talking defense here, but it seems appropriate to point out he also has six carries for 82 yards, including a 57-yard touchdown, which stands as the Huskies' longest run of the year.
Kevin Gemmell/@Kevin_Gemmell
: No defensive player in the Pac-12 has been more productive over the last three seasons than
UCLA
linebacker
Eric Kendricks
. And he's picked up where he left off last year and the year before that. Kendricks leads the Pac-12 with 37 tackles through three games, including a league-high 21 solo stops. He's averaging 12.3 stops per game -- a full tackle more than Arizona's Scooby Wright (11 per game) -- and more than two tackles per game over every other Pac-12 defender. If the name of the game is production, then Kendricks absolutely qualifies as the most impressive. And it's not just about making tackles, he also has an interception returned for a touchdown and he forced a fumble that led to a defensive score. Both of those happened on the road at Virginia, and as a result he was named the national defensive player of the week for Week 1. On a team loaded with talented playmakers -- some of whom get more buzz than Kendricks -- he's not only been the most complete and impressive player on the Bruins, but also the Pac-12. Excited to see what he does Sept. 25 with the trip to Arizona State against the Sun Devils and
D.J. Foster
, who leads the league with 170 rushing yards per game.
[+] Enlarge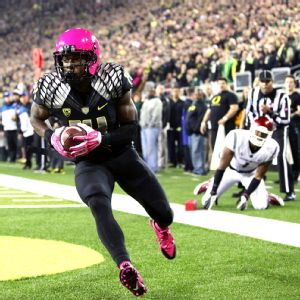 Scott Olmos/USA TODAY SportsOregon's Ifo Ekpre-Olomu isn't putting up big numbers because opposing QBs aren't throwing his way. His one interception this season tells all you need to know about his play-making skills.
Chantel Jennings/@ChantelJennings
:
Oregon
cornerback
Ifo Ekpre-Olomu
is going to have a pretty short highlight reel this season -- because he's that good. Opposing quarterbacks would rather learn what it feels like to be sacked by four members of Oregon's pass rush than to throw at Ekpre-Olomu. And so, through three games, the senior has only tallied 11 tackles and one interception. But my goodness, the one interception displayed everything you need to know about Ekpre-Olomu and his play-making abilities. He showed his awareness, change of direction, speed, jumping abilities, body control and athleticism in that one play. I can't think of another play in the Pac-12 this season in which all of those abilities were displayed so well. I'm expecting a handful more plays similar to this, maybe even something more impressive. But the most impressive part of his play -- and the part that speaks to why he is the best defensive player in the Pac-12 -- is the fact that we're not seeing a ton of him. Because QBs want nothing to do with No. 14.
September, 17, 2014
Sep 17
8:00
AM PT
Come son of Jor-El. Kneel before Zod. Snootchie boochies!
Leading off
It's depth chart Wednesday! There are four teams on bye this week -- Arizona State, Stanford, UCLA and USC -- so we won't update them until next week. Here are the updated depth charts for the other eight.
Some observations:
Mark your calendars
The Pac-12 released
the 2015 schedule
on Tuesday and Kyle Bonagura broke it down last night. You can just scroll down, because it's the post right below this one. Or if you're really lazy, just click
here
.
Some of the key matches that jump out are Michigan's trip to Utah in a rematch of this weekend's game, Arizona State vs. Texas A&M at Reliant Stadium and a rematch of Oregon-Michigan State, with the Ducks traveling to B1G country this time around.
There's the usual matchups of Notre Dame vs. USC and Stanford, plus Oregon State travels to Michigan and Cal heads to Texas. And don't think the Cougars won't have vengeance on their mind when they go to Rutgers.
P-A-C vs. S-E-C
Jon Wilner of the San Jose Mercury News broke down the nonconference performances thus far of the Pac-12 and the SEC to find the answer to the question:
Who is better?
He crunches the results, makes a couple of predictions, and leaves us with this result:
The Pac-12 hasn't outperformed the SEC thus far in Power 5 results and has no discernible advantage going forward in the quantity or quality of its Power 5 games.
News/notes/practice reports
Just for fun
Ever wonder what Mike Leach or Steve Sarkisian would look like if they were the subject of the Mona Lisa? We haven't either, thank goodness
someone has
.
Three times the jinx? We're kidding.
Marcus Mariota is on his third SI cover this week. All 3: pic.twitter.com/59cedWhMvf

— Kyle Bonagura (@BonaguraESPN) September 16, 2014
September, 16, 2014
Sep 16
10:00
PM PT
We're three weeks into 2014 ... so let's talk about 2015.
The Pac-12 released the full 2015 football schedule Tuesday, which begins the third cycle of scheduling among conference teams since the 2011 expansion.
We've known about most of these games for awhile, but it's still fun to scan them all in one place. Chris Petersen's return to Boise State, Arizona State's trip to Houston to play Texas A&M and the state of Oregon against the state of Michigan (on the same day) immediately stand out.
10 notable nonconference games
Michigan at Utah
Arizona State vs Texas A&M
Washington at Boise State
Oregon at Michigan State
Oregon State at Michigan
Washington State at Rutgers
BYU at UCLA
California at Texas
USC at Notre Dame
Notre Dame at Stanford
Here is the full schedule:
Week 1
Thursday, Sept. 3
UTSA at Arizona
Michigan at Utah
Saturday, Sept. 5
Arizona State vs Texas A&M, NRG Stadium, Houston
Arkansas State at USC
Virginia at UCLA
Colorado at Hawaii
Eastern Washington at Oregon
Weber State at Oregon State
Washington at Boise State
Portland State at Washington State
Grambling State at California
Stanford at Northwestern
Week 2
Saturday, Sept. 12
Arizona at Nevada
Cal Poly at Arizona State
Idaho at USC
UCLA at UNLV
UMass at Colorado
Utah State at Utah
Oregon at Michigan State
Oregon State at Michigan
Sacramento State at Washington
Washington State at Rutgers
San Diego State at California
Central Florida at Stanford
Week 3
Saturday, Sept. 19
Northern Arizona at Arizona
New Mexico at Arizona State
Stanford at USC
BYU at UCLA
Colorado vs. Colorado State, Sports Authority Field at Mile High, Denver
Utah at Fresno State
Georgia State at Oregon
San Jose State at Oregon State
Utah State at Washington
Wyoming at Washington State
California at Texas
Week 4
Friday, Sept. 25
Saturday, Sept. 26
UCLA at Arizona
USC at Arizona State
Nicholls State at Colorado
Utah at Oregon
California at Washington
Week 5
Saturday, Oct. 3
Arizona at Stanford
Arizona State at UCLA
Oregon at Colorado
Washington State at California
Week 6
Thursday, Oct. 8
Saturday, Oct. 10
Oregon State at Arizona
Colorado at Arizona State
California at Utah
Washington State at Oregon
Week 7
Thursday, Oct. 15
Saturday, Oct. 17
Arizona at Colorado
Arizona State at Utah
USC at Notre Dame
Oregon at Washington
Oregon State at Washington State
Week 8
Thursday, Oct. 22
Saturday, Oct. 24
Washington State at Arizona
Utah at USC
Colorado at Oregon State
Washington at Stanford
Week 9
Thursday, Oct. 29
Saturday, Oct. 31
Arizona at Washington
USC at California
Colorado at UCLA
Oregon State at Utah
Stanford at Washington State
Week 10
Saturday, Nov. 7
Arizona at USC
Arizona State at Washington State
UCLA at Oregon State
Stanford at Colorado
Utah at Washington
California at Oregon
Week 11
Friday, Nov. 13
Saturday, Nov. 14
Utah at Arizona
Washington at Arizona State
Washington State at UCLA
Oregon at Stanford
Oregon State at California
Week 12
Saturday, Nov. 21
Arizona at Arizona State
USC at Oregon
UCLA at Utah
Colorado at Washington State
California at Stanford
Washington at Oregon State
Week 13
Friday, Nov. 27
Oregon State at Oregon
Washington State at Washington
Saturday, Nov. 28
Arizona State at California
UCLA at USC
Colorado at Utah
Notre Dame at Stanford
Friday, Dec. 4
Pac-12 Championship Game, Levi's Stadium, Santa Clara, California
September, 16, 2014
Sep 16
7:00
PM PT
Here's another look at random stats pertaining to the Pac-12.
Hawaii at Colorado
WR Nelson Spruce has accounted for 39.7 percent of Colorado's receiving yards, the second-highest percentage in the conference.
The Buffaloes have picked up 43 first downs from pass plays, second most in the Pac-12.
Colorado is the only team in the Pac-12 that has been outscored this year (minus-25).
Utah at Michigan
Nine of Utah's 14 touchdown drives have taken two minutes or less.
Utah scores on 70 percent of drives where it gets the initial first down.
QB Travis Wilson is one of 10 players in the country with at least six touchdown passes and no interceptions.
Georgia State at Washington
Georgia State, a second-year FBS program, has never beaten a FBS team.
WR John Ross is averaging 37.3 yards per reception on six catches -- half of which have gone for touchdowns.
In two games with Cyler Miles at quarterback, Washington has averaged 51.5 points and 500.5 yards per game.
California at Arizona
Cal has lost 14 consecutive Pac-12 games, the second-longest conference losing streak in the country.
According to VegasInsider.com, Arizona opened as a 17-point favorite, but dropped to as low as nine points Tuesday morning.
Cal ranks third in the Pac-12, converting on 51.5 percent of its third-down chances.
Arizona ranks No. 8 nationally and No. 1 in the Pac-12 on offense, averaging 582.7 yards per game.
Cal ranks No. 1 in the Pac-12 in rush defense (113 yards per game) and Arizona is No. 3 (116.0)
San Diego State at Oregon State
Oregon State has allowed one more rushing first down (11) than via penalty (10).
San Diego State quarterback Quinn Kaehler and Oregon State quarterback Sean Mannion played against each other in the same high school league.
Mannion ranks No. 2 among active FBS quarterbacks with 11,064 career passing yards.
Oregon at Washington State
Oregon has scored at least 14 points in a national-best 68 straight games.
Both teams rank in the top 15 nationally in total offense: 10. Oregon (573.3); 15. WSU (557.0)
Oregon quarterback Marcus Mariota ranks third nationally averaging 11.35 yards per pass attempt.
Oregon safety Erick Dargan, who chose the Ducks over WSU, leads the nation with three interceptions -- tied with four others.
WSU teammates Isiah Myers and Vince Mayle are the only teammates that both rank in the top 15 in receptions -- Myers is No. 5 with 26; Mayle is No. 7 with 25.
National individual leaders
Passing touchdowns
t1.
Connor Halliday
, WSU — 12
t13.
Sefo Liufau
, Colorado — 8
t13. Marcus Mariota, Oregon — 8
t13.
Cody Kessler
, USC — 8
t13.
Anu Solomon
, Arizona — 8
RawQBR
4. Mariota, Oregon — 93.3
6.
Taylor Kelly
, ASU — 92.1
9.
Jared Goff
, Cal — 90.1
11. Travis Wilson, Utah — 87.5
14. Cyler Miles, Washington — 85.2
Rushing yards
3.
D.J. Foster
, Arizona State — 510
4.
Nick Wilson
, Arizona — 449
Rushing touchdowns
t8.
Royce Freeman
, Oregon — 5
t8. Foster, ASU — 5
Receiving yards
4. Isiah Myers, WSU — 423
10. Nelson Spruce, Colorado — 346
Receiving touchdowns
1. Spruce, Colorado — 6
t2. Myers, WSU — 5
Yards from scrimmage
1. Foster, ASU — 649
9. Wilson, Arizona — 470
Sacks
1.
Danny Shelton
, Washington — 6
t3.
Hau'oli Kikaha
, Washington — 5
Defensive touchdowns
1.
Shaq Thompson
, Washington — 2
Field goals
3.
Casey Skowron
, Arizona — 7
Pac-12 team stats
Offensive touchdown drive percentage
1. Oregon — 56.8
2. Utah — 50
3. Arizona State — 45.2
4. Cal — 40.7
5. Arizona — 36.8
6. Washington State — 35
7. Washington — 34.2
8. Stanford — 33.3
9. USC — 30
10. Colorado — 25
11. Oregon State — 23.3
12. UCLA — 23.1
Defensive touchdown drive percentage
1. Stanford — 2.8
2. Oregon — 15.8
3. Arizona — 17.9
4. Arizona State — 18.6
5. Cal — 19.2
6. Utah — 19.4
7. UCLA — 20
8. USC — 20.5
9. Oregon State — 20.7
10. Washington State — 24.4
11. Washington — 26.3
12. Colorado — 35
Offensive 3-and-out percentage
1. Arizona — 5.3
2. Stanford — 6.1
3. Colorado — 10
3. Washington State — 10
5. Cal — 14.8
6. UCLA — 15.4
7. Oregon — 16.2
8. Washington — 18.4
t9. Oregon State — 20
t9. USC — 20
t11. Arizona State — 21.4
t11. Utah — 21.4
Defensive 3-and-out percentage
1. Utah — 45.2
2. Stanford — 38.9
3. Arizona — 35.9
4. Washington State — 31.7
5. Oregon State — 27.6
6. Washington — 26.3
7. UCLA — 25
t8. USC — 23.1
t8. Cal — 23.1
10. Arizona State — 20.9
11. Colorado — 20
12. Oregon — 15.8
Past weeks
Week 1
Week 2

Week 3
September, 16, 2014
Sep 16
11:00
AM PT
The Pac-12 typically has great quarterbacks and good depth at the position, but the 2014 season is particularly stacked behind center. With a few All-American candidates and early NFL draft picks, it's almost difficult to keep up with who's doing what to whom's secondary.
No worries. We've got you covered. Each week, we will provide you a top-five ranking of the Pac-12 QBs.
Now, it won't always be a 1 to 5 ranking according to the expected pecking order at season's end or NFL draft lists. It will react heavily to the preceding week. And we'll try to spread some love.
Honorable mention
:
Jerry Neuheisel
, UCLA;
Taylor Kelly
, ASU: Neuheisel was a great story this week -- in fact,
the
story this week -- after stepping in for an injured
Brett Hundley
and leading UCLA to a win against Texas. His game-winning touchdown pass with three minutes to go won't soon be forgotten, and the Pac-12 Player of the Week honor was justified. If he's forced back into action again, he'll be considered in future weeks. Kelly was his usual self against Colorado -- completing 13 of 21 passes for 195 yards and three touchdowns -- before exiting with an injury.
Inactive Week 2
:
Jared Goff
, Cal;
Sean Mannion
, Oregon State;
Travis Wilson
, Utah
To see last week's rankings, click here.
2014 TEAM LEADERS
| TEAM | RUSH | PASS | TOTAL |
| --- | --- | --- | --- |
| Offense | 159 | 288 | 447 |
| TEAM | PF | PA | MARGIN |
| Scoring | 30 | 24 | 6 |