August, 22, 2013
8/22/13
7:31
PM PT
By
Myron Metcalf
| ESPN.com
David Wear
loves Los Angeles.
Sure, traffic is a nightmare, but the social vibe is unrivaled.
So it wasn't easy for the Huntington Beach native to leave the West Coast. Picking the
UCLA Bruins
would have made sense for the former McDonald's All American. A traditional powerhouse where he could play in front of his friends and family members? A win-win, right?
Well, few cities can compete with L.A.'s buzz, but the metro's constant activity creates a drawback for college programs: There's usually a better game in town.
The Lakers, Clippers, Kings and a pair of popular MLB teams are perennial obstacles in UCLA's fight for exposure.
CLICK HERE TO READ THE FULL STORY
»
March, 18, 2013
3/18/13
11:26
PM PT
LOS ANGELES -- It's only a few days before the NCAA tournament begins, and the
UCLA Bruins
, just like the 67 other teams in the field, are in scramble mode.
Coaches across the country are scouring sources to get video on second-round opponents so that they can cobble together a game plan for a team that they know very little about.
Ben Howland is no stranger to the ritual, having taken nine previous teams to the Big Dance, but UCLA's coach is pulling double duty this week. Not only is he trying to come up with a scouting report on the
Minnesota Golden Gophers
, who UCLA will face Friday in Austin, Tex., but the loss of freshman guard
Jordan Adams
to a broken foot means Howland is also trying to come up with new ways for his own team to play.
Adams, the team's second leading scorer, is out for the remainder of the season after landing awkwardly on his foot during the final play of UCLA's Pac-12 Conference tournament semifinal victory over the
Arizona Wildcats
last Friday in Las Vegas. It's a devastating blow to the Bruins' chances of making a deep run in the NCAA tournament, as the injury further depletes a thin roster, but the Bruins have no choice but to adjust and adapt on the fly.
Norman Powell
is now starting in place of Adams.
Kyle Anderson
will be asked to play some small forward after playing mostly power forward this season.
Larry Drew II
will have to become a shooting guard at times after spending the season as one of the nation's premier point guards. Everyone, including little-used center
Tony Parker
, will get an increase in minutes.
"It's all adjustments," Howland said. "We're going to figure out how we're going to do some things offensively with Norman and Larry in the backcourt together both being smalls. We've got some things that I'm excited about that we need to work on that I think will help us."
The loss of Adams leaves a lot of holes on the floor for UCLA. He was averaging 15.3 points and 3.8 rebounds and had a conference-leading 73 steals. He was capable of carrying the team offensively for stretches -- as he did with 24 points in his final game of the season -- and was always assigned to defend the opposing team's top wing player.
He was a key cog in a Bruins offense that led the Pac-12 in scoring this season, and his injury is largely considered the reason why UCLA dropped to a No. 6 seed and was shipped to Austin -- the greatest distance any Pac-12 team has to travel -- despite winning the regular-season conference title.
March, 17, 2013
3/17/13
7:33
PM PT
LOS ANGELES -- Ben Howland watched the NCAA tournament selection show Sunday afternoon and came away with as many questions as answers.
He learned that his
UCLA Bruins
made the tournament as the No. 6 seed in the South Regional and that they would play the
Minnesota Golden Gophers
Friday in a second-round game in Austin, Texas, but wondered aloud about why his team was sent packing while PAC-12 rivals California, Oregon and Arizona are staying relatively close to home despite UCLA's résumé being better than all of theirs.
California is seeded No. 12 in the East and will play in San Jose. Oregon is seeded No. 12 in the Midwest and will also play in San Jose. Arizona is seeded No. 6 in the West and will play in Salt Lake City.
"I'd rather be closer," Howland said. "I would rather be. Honestly, I'd rather be Cal right now playing in San Jose. I'd rather be a 12-seed playing in San Jose. Especially for the fans. For Cal, that's a great situation. They're playing at home. I'm happy for them."
Howland felt as though his team deserved better after winning the Pac-12 regular-season title, advancing to the conference tournament championship game and defeating Arizona three times this season, but, he said, even though the other conference teams got more favorable geography, he still thought the conference got slighted. UCLA and Arizona received the highest seedings of any conference team.
"Our league's seedings were really disappointing for me," he said. "I think our conference has a chance to do something good in the tournament. Collectively, now we pull for everybody in the Pac-12 because obviously we need to gain some respect based on how they seeded our teams."
UCLA's stature in the bracket took a significant hit when second-leading scorer
Jordan Adams
broke his foot Friday night in the conference tournament semifinal. Not only did that hamper UCLA's ability to win the tournament, but the selection committee almost certainly knocked the Bruins down a spot or two in the seeding knowing that Adams would not be playing in the tournament.
"It may have slid us a line," Howland said. "I thought we were a 5-seed going in to this. If we had won [the Pac-12 tournament], we may have been a four."
Just getting to the tournament is somewhat of a relief for Howland, whose job has been under scrutiny all season. The Bruins missed the tournament last season -- the second time in three seasons they failed to make the NCAAs. This was a season of high expectations, and while the Bruins would be the first to admit things didn't play out exactly as planned, winning the conference and making the NCAA tournament were definitely on the goal list at the beginning of the season.
And for the majority of UCLA's players, this will be the first taste of the Big Dance. Only senior guard
Larry Drew II
, a transfer from North Carolina who played a reserve role on the Tar Heels' 2009 national championship team, has played in the NCAA tournament before.
"I'm really excited and really nervous," freshman
Shabazz Muhammad
said. "I haven't played in a tournament game before, so I'm really looking forward to it."
Still, even Muhammad couldn't help but feel disappointed about the Bruins getting shipped off to Austin.
"It's disappointing," he said. "We really worked hard this year, and to really punish us to not be in the West is pretty sad."
Sophomore
Norman Powell
echoed that sentiment, but added a little perspective. Every basketball player grows up dreaming of playing in the NCAA tournament, he said, and now, no matter where they are playing, all but one of UCLA's players will realize that dream for the first time.
"We really wanted to be seeded in the West because it would be closer for our fans and our families to get out and see us play," Powell said. "But we're just happy that we got in the tournament, and we're ready to go out and play."
March, 17, 2013
3/17/13
3:43
PM PT
LOS ANGELES -- The
UCLA Bruins
received a No. 6 seed in the South Regional and will face the 11-seed
Minnesota Golden Gophers
in the second round of the NCAA tournament Friday in Austin, Texas.
UCLA (25-9) was the Pac-12 regular-season champion but fell to the
Oregon Ducks
in the conference tournament final. Minnesota (20-12) tied for seventh in the Big Ten, which is widely considered the nation's top conference this season, and lost to Illinois in the conference tournament opening round.
This will be the seventh all-time meeting between the teams, with UCLA holding a 5-1 edge. The winner will play the winner of the game between No. 3 Florida and No. 14 Northwestern State.
March, 14, 2013
3/14/13
5:40
PM PT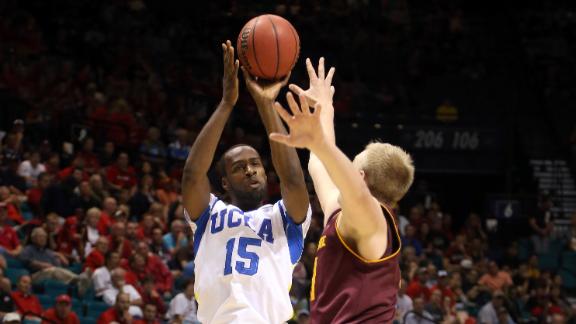 LAS VEGAS -- Long before they were champions of the Pac-12, the
UCLA Bruins
were dogs. Or at least that was one popular description.
Soft.
Spoiled.
Bums.
Busts.
Prima donnas.
Ben Howland figures his players heard it all in November and December, when a loss to Cal Poly and ugly wins over UC Irvine and Texas prompted fans and pundits to all but give up on the Bruins and their roster of future NBA draft picks. And their coach.
Three months later, look at UCLA now.
One week away from the NCAA tournament, Howland's team has a new identity, and it's a far cry from the one that hovered over UCLA's program earlier this season. There's a confidence in the locker room, a swagger on the court, a pride in the huddle. The Bruins have always been skilled.
[+] Enlarge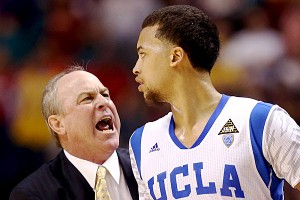 Jeff Gross/Getty ImagesBen Howland has led a resurgence in Westwood after a rough start to the season.
But now they're defined by toughness, too.
Just ask Arizona State, which built a 15-point lead in the second half of Thursday's Pac-12 tournament quarterfinal with UCLA, only to watch the Bruins storm back for an
80-75 victory
. The win was the sixth in the past seven games for UCLA, which had five players score in double figures. The Bruins outrebounded Arizona State 36-28.
"We have to play physical to win," Howland said, "and we did that today."
So revved up were the Bruins that a few of them (
Shabazz Muhammad
and
Kyle Anderson
) even got into a little tussle with Arizona State's
Carrick Felix
in the game's closing seconds. Howland certainly won't approve of any on-court altercations, but he had to have liked the fire.
Howland, who led UCLA to three Final Fours in his first nine seasons in Westwood, said he isn't surprised by his team's new-found toughness.
"I never worried about it," Howland said. "Everybody's got it that's in our program. It was our job to bring it out of them."
It seems almost amusing now that Howland had been rumored to be on the hot seat during a season in which his team won the outright Pac-12 title. UCLA athletic director Dan Guerrero can't fire Howland now.
Heck, he ought to give him an extension.
This is far from Howland's best Bruins team. It may not even rank among his top five. Still, the job Howland has done with this bunch has been masterful considering how disjointed and lackadaisical UCLA looked in December and January. Long known as a strong defensive coach and game tactician, Howland is clearly a strong motivator, too.
"It's all about evolving," Howland said. "Their attitude has been tremendous. It's always, '
What do we have to do to win, coach?
' I haven't had a better group of guys to coach in my 10 years at UCLA. It's been absolutely fantastic. They're coachable, they listen ... it's been unbelievable. So fun."
Indeed, there were certainly plenty of smiles following Thursday's victory, which catapulted the Bruins into Friday's semifinal against Arizona.
The Bruins grabbed 14 offensive rebounds that led to 15 second-chance points. Six of the offensive boards came from Muhammad, the future top-five draft pick who scored 16 points playing in front of hometown fans in his native Las Vegas.
"We were all just really composed," Muhammad said. "That's what happens when you're composed and relaxed."
UCLA doesn't have a true center or a traditional big man, so rebounding is often a struggle. That's why Howland was so pleased that his team won the battle of the boards against an Arizona State squad that features 7-foot-1 center
Jordan Bachynski
and standout four-man Felix, who combine to average 14.3 rebounds.
Most of Howland's praise, however, was reserved for point guard
Larry Drew II
. A senior, Drew II was highly criticized when he left North Carolina -- where he was starting -- midway through the 2010-11 season and transferred to UCLA. The easy assumption was that Drew II would underachieve in Westwood just as he did in Chapel Hill.
Instead, Drew II has improved as much as any player in America. He scored 20 points on eight-of-10 shooting Thursday and also dished out four assists. Drew II leads the country in assist-to-turnover ratio.
"Larry Drew is so good," Howland said. "He looks like he's going to be playing at the next level.
"He's the best passer in the history of UCLA basketball, including all of [John] Wooden's teams. I'm talking about great players. He's the best of all of them. That's an incredible statement. I couldn't be happier for the kid, as maligned as he was. He's improved throughout the year and he's playing his best basketball of the year."
So, too, are the Bruins, who knew they had this in them all along. Even if no one else did.
2013 TEAM LEADERS
| TEAM | RUSH | PASS | TOTAL |
| --- | --- | --- | --- |
| Offense | 196.6 | 251.6 | 448.2 |
| TEAM | PF | PA | MARGIN |
| Scoring | 36.5 | 24.1 | 12.4 |