February, 15, 2013
2/15/13
5:58
PM PT
What:
UCLA Bruins
(18-7, 8-4 Pac-12) at
Stanford Cardinal
(15-10, 6-6)
When:
Saturday, 1 p.m. PT
Where:
Maples Pavilion, Palo Alto, Calif.
TV:
ESPN2
Radio:
AM 570
Scouting the Bruins:
UCLA entered the week in first place in the Pac-12 but is in danger of dropping all the way to fourth place by the end of the weekend with a loss at Stanford. UCLA is 3-4 in its past seven games after getting blown out at California on Thursday in the latest in a line of poorly played games by the Bruins. UCLA shot 37.7 percent against the Golden Bears, the fourth time in five games the Bruins have shot less than 40 percent. This is a team that leads the conference with a 46.1 shooting percentage, although it appears to have hit a wall. The Bruins shot less than 40 percent only one time this season (Nov. 13 versus UC Irvine) before the recent five-game slide. The Bruins also allowed Cal to shoot 50 percent -- the second-highest opponent shooting percentage registered against UCLA this season. Only Georgetown, which shot 54.5 percent Nov. 19, was higher. But Cal was the fourth team in the past seven games to shoot 45 percent or better against the Bruins, and UCLA lost all four of those games. Add in a monster rebounding advantage for UCLA opponents (299-236) across those seven games, and the Bruins simply aren't playing very well in many areas right now.
Scouting the Cardinal:
Stanford has been as difficult to figure out as UCLA in recent weeks. The Cardinal have lost two of their past three but had a victory over first-place Oregon on Jan. 30. Stanford is coming off a 65-64 loss to USC on Thursday, a game USC led by 14 early in the second half before the Cardinal almost completed the comeback. The bad news for the rebounding-challenged Bruins is that Stanford's frontcourt of
Josh Huestis
and
Dwight Powell
boasts two of the top seven rebounders in the Pac-12, averaging 9.3 and 8.3 per game, respectively. Powell had 17 against USC on Thursday. They combined for 23 rebounds the last time Stanford played UCLA. The good news for UCLA is that Stanford is the worst shooting team in the conference, connecting on only 41.4 percent of its shots. Powell leads the team with 15.2 points a game,
Chasson Randle
is averaging 13.7 and Huestis is averaging 10.2.
John Gage
has made 33 of 71 3-point shots (46.5 percent) to lead the conference in that stat. The Cardinal are 10-3 at home this season and have won three of their past four at Maples Pavilion.
The series:
UCLA leads the all-time series 137-91 and defeated the Cardinal 68-60 on Jan. 5 at Pauley Pavilion.
Quick quote:
"We've got our hands full," UCLA coach Ben Howland said about facing the Cardinal. "It's a quick turnaround game, not a lot of prep time. We've just got to come out and play a lot better than we did [Thursday] night to have success [Saturday] afternoon."
January, 4, 2013
1/04/13
12:24
AM PT
LOS ANGELES -- Yes, the
UCLA Bruins
can win games with their defense, too.
After four straight games of running and gunning their way to near-triple digits, the Bruins clamped down on the other end of the floor and defeated California 79-65 in a Pac-12 opener Thursday night at Pauley Pavilion for their sixth consecutive victory.
During the past four games, UCLA (11-3) has averaged 93 points and developed of a reputation as an offense-first team that needed to score as many points as possible because its porous defense couldn't be trusted. Thursday, the Golden Bears (8-5) shot only 39.5 percent from the floor, ending a string of three consecutive games in which UCLA opponents had shot 47 percent or better.
"It's exciting about how we progressed today," UCLA coach Ben Howland said. "Today was a huge step forward. And our players, I think, are really I think understanding it."
Indeed, they are.
Shabazz Muhammad
, for instance, had his best defensive game of the season, especially effort-wise. He showed a high level of energy and was able to shut down his man several times in one-on-one situations. Muhammad is known as an offensive threat, a scorer who is an average defender but said he came to UCLA to improve defensively under Howland and is dedicating himself to doing just that.
"In the paper, people say I can't play defense, but I can play defense," Muhammad said. "That really motivates me. That's why I practice and I'm really working hard on it. I thought tonight was a defensive-state-of-mind game tonight, and I thought I did a good job."
The Bruins played the entire game in a man-to-man defense, and it's no stretch to say it was their best performance in that scheme this season. Early on, the Bruins' man-to-man was like a fawn learning how to walk. Howland, who this week called the early-season man-to-man "horrible," even implemented a zone defense for use in several games despite the fact that he abhors playing zone.
But the man-to-man sparkled Thursday, especially considering Cal coach Mike Montgomery is known for an offense that executes to perfection and rarely makes mistakes.
"It means a lot to us to win that way against a team like this," Bruins guard
Norman Powell
said. "We know we needed to tighten up on defense after the last few games, so to come out and win this way is big for us. Defense is going to win games for us. We know we can score when we want to on offense with the weapons we have, but relying on defense is crucial and that's why we got the win. We created turnovers, forced bad shots, and we're able to get out in transition."
Part of it is the players are finally beginning to understand the importance of solid defense. Muhammad,
Kyle Anderson
and
Jordan Adams
are playing major minutes as freshmen and none of them was a very good defender when they arrived at UCLA. Powell is a sophomore who played sparingly last season.
In high school, those guys didn't need good defense because they were so much better than most of their opponents. In college, they are figuring out that you can't get away with that type of play, and all of them had their best defensive game of the season on Thursday. Muhammad and Powell stood out.
"Shabazz is really growing defensively, and that's probably the most pleasing thing," Howland said. "He's never had to play this hard at that end of the floor. This is a whole new thing that he's being asked to do. He's really taking the challenge on and doing a great job."
Of Powell, who teamed with Adams to hold Pac-12 leading scorer
Allen Crabbe
to five points on 2-of-9 shooting in the first half, Howland called it "one of his best games of his career here."
"His defense was absolutely unbelievable in that first half," Howland said of Powell. "He was great defensively. A lot of what he did doesn't show up in stats, and I'm really pleased and happy for him."
The most improved part of UCLA's defense was the cohesion. Early on, players looked lost as they tried to stay in front of their man, fight through screens, switch and rotate to help one another. They simply could not do those defensive fundamentals effectively. They played well in spurts in recent games, but on Thursday, they looked like they knew what they were doing for about 85 percent of the game.
"It shows a lot," Muhammad said. "We're an offensive team and now we're going out with our defense. Cal is a really good team with Crabbe and [Justin] Cobbs and guys like that who are good in our league, and to show that we played really good defense really sets our team up for a good outing in the Pac-12."
December, 28, 2012
12/28/12
12:29
AM PT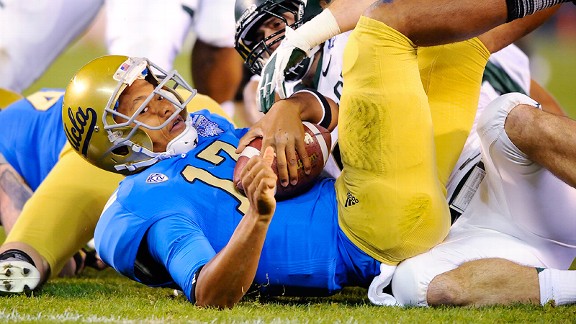 Christopher Hanewinckel/USA TODAY SportsBrett Hundley may be an emerging star, but the Holiday Bowl showed how far the Bruins have to go.
SAN DIEGO -- Bigger, stronger and faster is what every football team strives to be.
It's what UCLA became this season compared with Bruins teams of the recent past, but a stumble to the finish line showed that they aren't quite big enough, strong enough or fast enough to play at an elite level just yet.
A 49-26 loss to Baylor on Thursday night in the Holiday Bowl at Qualcomm Stadium sent UCLA to its third consecutive loss to cap a season of resurgence. The streak -- losses to Stanford in the regular-season finale and the Pac-12 championship game followed by the Holiday blowout -- showed that UCLA's rebuilding project is far from complete.
"We've got a long ways to go," coach Jim Mora acknowledged. "But we're on the right path. … The team that we want to be is a national champion and tonight showed us just how far we have to go, but we're determined to get there. We're heading in the right direction, but we're a long ways off."
Much of the talk around UCLA this season focused on how far the Bruins had come in the first year under Mora. They put up an impressive early victory over Nebraska, came from behind in the final minutes to win on the road at Arizona State and ended a five-game losing streak to cross-town rival USC.
But Stanford showed two weeks in a row that UCLA was not strong enough, and Baylor on Thursday showed that the Bruins are not yet fast enough.
"There are still a lot of little things that need to get done," safety
Andrew Abbott
said. "UCLA is right there. We broke through so many things this year and now we just need to break through the top. I know coach Mora will get the players there."
Experience should help. What needs to be remembered about this UCLA team is that few projected it to be in this position in the first place. Eight wins was thought to be the ceiling for the team, so getting to nine has to be considered a success.
Still, with each victory the pressure mounted as the stakes grew higher. UCLA hadn't been in a position to win high-stakes games for a while, certainly not with the current team, so the last three games should serve as a learning experience heading into next season.
"We have to finish stronger," junior receiver Shaq Evans said. "I think it's experience. I think the moment got too big for a lot of people because this is their first year playing and we have to learn how to finish."
The offseason will be littered with questions about just how far UCLA has come. Is this a top-10 team for next year with an emerging star, in
Brett Hundley
, leading the offense at quarterback? Or is this a one-hit wonder that benefited from an easy schedule and will be brought back to reality next season?
Certainly, UCLA took advantage of the easier schedule and seven home games this season, but what better way to bring along a team that was starting seven freshmen on offense at times. Next year, those players will be battle-tested as they take on a more difficult schedule that includes Oregon and Washington.
And knowing that the season ended with three consecutive losses will stick in the minds of the returning players, who vowed to use the losing streak as fuel to get better before next season.
"We're going to take these losses and really apply it to our offseason workouts," linebacker
Eric Kendricks
said. "I'm going to remember them when I'm training."
It is a bitter end to what had been a sweet season, but the Bruins will still almost certainly begin next season in the top 25 and with hopes that they can get the program to an elite level. It's something that many would have put in the category of foolish pipe dream before this season, but nobody will be shaking their heads at the notion now.
For that, these Bruins can hold their heads high despite the disappointing finish to the season.
"I don't think it takes away anything from what we accomplished this season," Evans said. "The accomplishments of the season can never be taken away from one loss or the last three games."
December, 27, 2012
12/27/12
10:42
PM PT
SAN DIEGO, Calif. -- In a game that was supposed to feature lots of offense, only one team lived up to its end of the bargain. Baylor routed UCLA, 49-26, Thursday night in the Holiday Bowl at Qualcomm Stadium. Here's how the Bruins graded out:
PASSING OFFENSE
Brett Hundley
's 51.1 completion percentage was his lowest of the season. He passed for 329 yards and three touchdowns but had trouble making decisions. It didn't help that he was under pressure all game. The Bruins' depleted offensive line gave up six sacks against a defense that was barely averaging one per game this season.
RUSHING OFFENSE
Johnathan Franklin
had only 34 yards on 14 carries, his lowest total of the season. The Bruins, behind a makeshift offensive line, rushed for only 35 yards as a team -- also the fewest for UCLA this season. The Bruins averaged only 1.2 yards per carry against a Baylor defense that had been giving up 190 yards per game and 4.74 per carry.
PASS DEFENSE
UCLA's secondary was burned for a couple of long plays early, which set the tone of the game as receivers
Tevin Reese
and
Terrance Williams
outran the coverage. The Bruins tightened, however, and Baylor quarterback
Nick Florence
completed only 10 of 13 passes for 188 yards and two touchdowns. Reese and Williams had each had two catches for 68 yards and UCLA sacked Florence only twice.
RUN DEFENSE
Missed tackles plagued UCLA's defense for the entire game as the Bears rushed for 306 yards -- 46 more than any other team against UCLA this season.
Lache Seastrunk
had 138 yards and a touchdown in 16 carries.
Glasco Martin
added 98 yards and three touchdowns in 21 carries, providing a potent 1-2 punch UCLA couldn't stop.
SPECIAL TEAMS
A 51-yard kickoff return by
Steven Manfro
was easily UCLA's biggest play of the game. The second longest was a 43-yard punt return by Shaq Evans.
Jeff Locke
had two punts of 50 yards or more and put three inside the 20. Kicker
Ka'imi Fairbairn
had field goals of 30 and 40 yards.
COACHING
Play calling and decisions on whether to go for it or kick field goals were questionable throughout the game, but the real issue was preparation. With nearly a month between games, the Bruins had no schematic answers for Baylor's potent offense and could not come up with an offensive plan to exploit one of the worst defenses in the nation.
October, 27, 2012
10/27/12
5:59
PM PT
After winning a defensive slugfest in its last game, the
UCLA Bruins
came out on top of a shootout by defeating the
Arizona State Sun Devils
45-43 in a Pac-12 game Saturday in Tempe, Ariz.
Freshman kicker Ka'imi Fairbairn drilled a 33-yard field goal as time expired to give the Bruins (6-2, 3-2 Pac-12) the key conference victory. The Bruins trailed 14-0 after 5 minutes, 10 seconds, but they came back and held a 42-33 lead with 9:01 to play. The Sun Devils (5-3, 3-2) then rallied and took a 43-42 lead with 1:33 to play before Fairbairn's game winner.
Here's how the Bruins graded out:
PASSING OFFENSE
Brett Hundley
passed for 274 yards and four touchdowns -- by far the best totals against a stingy ASU defense that was allowing a national-best 130 yards per game through the air. He stayed calm against Arizona State's aggressive pass rush, but the Bruins get docked for giving up five sacks.
RUSHING OFFENSE
UCLA had 212 yards rushing and
Johnathan Franklin
was dynamic with 164 of those yards. He also had two touchdowns and carried the team in the fourth quarter, with 62 yards in seven carries. Brett Hundley made some nice plays with his legs and finished with 27 yards despite getting sacked five times.
PASS DEFENSE
Arizona State quarterback
Taylor Kelly
completed 25 of 35 passes for 315 yards and four touchdowns. Most of the damage came on short passes to running backs D.J. foster and
Marion Grice
, who combined for 13 catches, 176 yards and three touchdowns. The Bruins did have five sacks and an interception.
RUN DEFENSE
Arizona State rushed for 220 yards against the Bruins. But the Sun Devils also had 59 rushing attempts, so even though it was the second most yards UCLA has given up on the ground this year, a 3.7 yards-per carry average isn't too bad. Linebacker
Eric Kendricks
had a whopping 17 tackles, 11 of them solo.
SPECIAL TEAMS
Punt returns continue to be an adventure. A muff by
Steven Manfro
put the Bruins in an early hole and a near-muff by
Devin Fuller
could have cost the Bruins late in the game. Ka'imi Fairbairn's game-winner and punter
Jeff Locke
, excellent as usual, save the grade.
COACHING
The UCLA captains arrived late for the opening coin toss and Locke had to make the call. It cost the Bruins a possession when Locke won the toss and elected to kick. Continuing to use the struggling Manfro on punt returns is a head scratcher. The staff can't get an "F" after a win, but this was close.
October, 22, 2012
10/22/12
9:40
PM PT
LOS ANGELES -- Noel Mazzone is the
UCLA Bruins
' offensive coordinator, but he expects to spend some time in the defensive team meetings this week.
The Bruins play on the road this weekend, but quarterback
Brett Hundley
has been busy trying to find tickets for friends and family.
When UCLA visits the
Arizona State Sun Devils
in Tempe on Saturday, the teams will be playing for position in the Pac-12 South Division race, but for several Bruins with Phoenix-area ties the game carries a bit more meaning.
Mazzone was the offensive coordinator at Arizona State in 2010 and 2011 and played a major role in recruiting many of the current Sun Devils players. Hundley went to high school in nearby Chandler, Ariz.
Running backs coach Steve Broussard spent the last two seasons as receivers coach at ASU. And punter
Jeff Locke
went to high school in nearby Glendale and grew up and Arizona State fan.
"It special in that I know mostly all of those kids over there and they're great kids," Mazzone said. "But I'm a UCLA Bruin now and I want to go over there and play as hard as we can and come away with a win."
Hundley may have been raised near Tempe, but his father went to Arizona so he grew up in a home that disliked the Sun Devils. Still, he has many friends and family in the area who want to see him play in his first appearance here, so he's been hitting up teammates for extra tickets this week.
"I've been asking everybody," Hundley said. "I've got to try and get as many as possible, so I'm on the prowl for all of them. I'm hoping about 20, but I'm pushing for more."
Finding tickets is not a problem for Locke. He has already warned his friends and family that he wouldn't be able to get enough ducats for them, so they have already bought theirs.
"I've actually been giving tickets to Brett," Locke said.
Locke grew up an Arizona State fan. He said he still has a Sun Devils sweatshirt in his closet at home and that his college choice came down to ASU and UCLA. Still, he said, he enjoyed his last experience playing against the Sun Devils even though it was a bit nerve-racking playing at the stadium where he grew up watching games.
"I got control of my excitement," Locke said. "I got so excited when I went back there. You have to calm it down a little bit and make sure you do your thing."
Arizona State won 55-34 in that 2010 game to which Locke was referring, rallying from a 17-0 first-quarter deficit with an offensive coaching staff that included Mazzone and Broussard. Having two coaches on staff who know the Arizona State players well would seem to be an advantage for the Bruins, but Mazzone said that's only an illusion.
"I think that's sometimes a little overrated," Mazzone said. "It still comes down to blocking and tackling."
Conversely, it might be an advantage for Arizona State's defense to play an offense so similar to the one it faced for two years in practice.
"They know our offense and they know some of our tendencies and things like that," Broussard said. "So we're going to have to try to do some things a little bit different than we would normally do."
One thing Broussard said he wouldn't be doing this week is sending too many text messages or posting on Facebook to his former players.
"You have some friends over there and some relationships with some players," he said. "You tell them, 'Hey, see you on Saturday,' but the last thing you want to do is give anybody any bulletin board material."
October, 22, 2012
10/22/12
6:49
PM PT
LOS ANGELES -- The
UCLA Bruins
held a light, helmets-only practice Monday afternoon as a way to re-acclimate after the team had the weekend off. Coach Jim Mora met with reporters after practice and talked about the bonus practice, coming off the bye week and a special 6-year-old visitor to practice.
October, 22, 2012
10/22/12
4:32
PM PT
LOS ANGELES -- The
UCLA Bruins
will face the
Arizona State Sun Devils
in a key Pac-12 Conference game for both teams Saturday at noon Pacific Time in Tempe, Ariz. It will be televised by FX.
The Bruins (5-2, 2-2) and Sun Devils (5-2, 3-1) are still in the hunt for the Pac-12 South title, with UCLA a game behind the
USC Trojans
(6-1, 4-1) and Arizona State a half-game back. Both teams have games coming up against the division-leading Trojans.
[+] Enlarge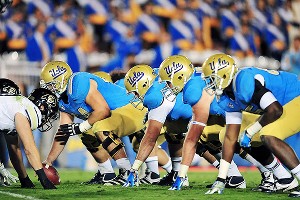 Gary A. Vasquez/US PresswireIt's on the Bruins' O-line to keep Arizona State's second-ranked pass rush out of their QB's face.
"We've got some very important games coming up starting with this one Saturday against a very good Arizona State team," UCLA coach Jim Mora said. "We've got to get ourselves focused in and ready to roll, so that's what we're going to do."
The Bruins are coming off of a bye week, but the Sun Devils are coming off a 43-21 nationally televised loss to the
Oregon Ducks
that was even more of a blowout than the final score indicates. Oregon led 43-7 at halftime, and Arizona State scored two late touchdowns against a Ducks defense composed mostly of reserves.
Whether or not that drubbing provides UCLA with an emotional edge isn't something Mora said he'd be concerned with this week.
"I don't think it matters at all, really," Mora said. "I think had they won they'd be riding high, and the fact that they suffered defeat they'll probably be as determined as ever to get back on track. I think regardless of what happens the week before you just have to do the best that you can to prepare that week going into the game and worry more about yourself than about the opponent's motivation."
What the Bruins will have to figure out is a way to deal with a stout Arizona State pass defense. The Sun Devils are No. 1 in the nation in pass defense, having given up 130.43 yards per game through the air.
They key is a relentless pass rush that is No. 2 in the nation, with four sacks a game, and a swarming front seven that leads the nation with 9.43 tackles for a loss per game.
"They're disruptive," Mora said. "The quarterback doesn't have a lot of time to throw the football; they make him alter his motion a lot. They get him on the move a lot. Down the field they are veterans back there. They play physical. They just play good team pass defense."
The Arizona State front took a couple of major hits last week against Oregon, when
Will Sutton
and
Junior Onyeali
both left with first-quarter injuries. Sutton is third in the nation with 8.5 sacks and fifth in tackles for a loss with 14. The availability of both players against UCLA is to be determined. But the Bruins know Arizona State will be formidable up front regardless.
"Their pass rush is really what helps them out, just getting pressure on the quarterback," UCLA quarterback
Brett Hundley
said. "They have a good D-line, a solid D-line ... very fast. So we just have to be ready."
On offense, Arizona State runs an up-tempo spread attack that centers around athletic quarterback
Taylor Kelly
and a multi-faceted running attack. Kelly has passed for 1,693 yards and 15 touchdowns with only four interceptions this season. He's also part of the team's running attack, tallying 248 yards in 73 carries this season.
The Sun Devils rotate tailbacks
D.J. Foster
,
Cameron Marshall
, Marion Grace and
Michael Eubank
, who have combined for 1,013 yards and 14 touchdowns on the ground. Still, it's Kelly who has Mora most worried, because of his ability to scramble and make positive yards on broken plays.
"He's got speed," Mora said. "That's what really jumps out to me about their quarterback is his mobility, his ability to throw the ball accurately on the run and then the speed at which he runs the ball when he does become a runner. He's not looking to get out of bounds or just get a little bit of yards and get down; he's looking to break them."
The teams have three common opponents so far with both posting home victories over Utah and road wins at Colorado. Arizona State won at California, 27-17, a week before UCLA was thrashed in Berkeley, 43-17.
But Hundley said that coming off a bye week will ensure his team is fresh as they head into a critical stretch of the season.
"It was huge just to be able to get your body back under you, just sort of get rested and come out strong for the rest of the season," Hundley said. "It's almost like a new season.
"These last five games are basically playoffs. They are going to be a big-time test for this team, and we need to be ready for them."
October, 19, 2012
10/19/12
7:10
PM PT
LOS ANGELES -- It's about time for the
UCLA Bruins
to get their seven-game itch.
UCLA (5-2) is on a bye week, sitting on their best record to this point in the season in five years. It's only the fifth time in the last 14 seasons the Bruins have been 5-2 or better through the first seven games.
But seven games do not a season make, and the Bruins know that all too well. In 2003 and 2007, they started 5-2 only to finish 6-7. In 2001, they started 6-1 and finished 7-4.
It won't be easy to erase that trend as the Bruins face much stiffer competition in the next five games than they have in the first seven, with games against the
Arizona State Sun Devils
(5-2),
USC Trojans
(5-1) and
Stanford Cardinal
(4-2) still to come.
"We're about to see what kind of team we are," running back
Johnathan Franklin
said. "We had some success in the first half of our season and now we're going to see how we can deal with it and how we can handle it and how hard we want to work and how bad we want it."
UCLA's first-half success is relative. Its five wins came against teams that are a combined 11-20, and of those teams only Nebraska has a winning record. UCLA's only conference victories are against expansion Pac-12 teams Utah and Colorado.
The Bruins looked OK in a 27-20 loss to the No. 8
Oregon State Beavers
, but two weeks later looked dreadful in a 43-17 loss at
California
(3-4). It's difficult to figure out if the team is getting better as the season goes on, so it's no wonder Bruins fans still have questions and doubts about the legitimacy of UCLA's position at this point in the season.
"It's warranted," senior receiver
Joseph Fauria
said. "We have a lot of disbelievers with our past non-success. It's only fair for them to believe that and we have to win more games for people to start jumping on the bandwagon."
A look at the statistics suggests UCLA is not really getting better. They've progressively dropped each week in several major offensive statistical categories including rushing, passing, total offense and scoring.
Through three weeks this season, the Bruins were averaging 311 yards rushing per game; now they are averaging 216 -- nearly 100 yards fewer. Passing is at 288, down from a peak of 326 in Week 4. Total offense is at 505.29, which is more than 115 yards fewer than the 622 UCLA was averaging through four games.
Defensively, UCLA is showing improvement against the run, giving up 148.29 yards per game after allowing 191 through three weeks. But that is offset by a decline in pass defense. UCLA is giving up 250.86 yards through the air after giving up only 204 through three games.
You could say those numbers are skewed because the Bruins have played tougher competition the last four games than they did the first three ... but then that doesn't bode well for the tougher games coming up.
"We have a tough second half of the year and we're excited for it," linebacker
Jordan Zumwalt
said. "You don't want easy games; you want hard, tough games. I think we feel like we are improving. I know we are a better team than we were last year, and I know we are continuing to get better each week. We'll just come out and perform and see what happens."
That's not to say the Bruins are satisfied with where they are. A one-touchdown loss to Oregon State and the blowout loss to California linger in their minds. An ugly 21-14 victory over the
Utah Utes
also isn't going to make anyone believe this is a Rose Bowl-bound team any time soon, so the Bruins have some things to prove over the remainder of the season.
"I don't think we have reached our potential in any area," safety
Dalton Hilliard
said. "Everyone has something to get better at. We are not satisfied with anything, yet, and we're going to come out guns ablazing after this bye and make sure that we show everybody that we are one heck of a team."
The Bruins are one victory away from becoming bowl eligible. If they can win at Arizona State next Saturday, it would mark only the third time since 1998 they have become bowl eligible before the end of October.
But mere bowl eligibility, something for which the Bruins have strived for much of the last decade, isn't going to cut it with this year's team. These Bruins are looking to go to a respectable bowl, not the bottom-of-the-barrel selections the Bruins got in 2009 and 2011, when they became bowl eligible in the second-to-last week of the season.
"Eagle Bank Bowls, Kraft Hunger Bowls, those are bowls they just throw you in," defensive lineman
Datone Jones
said. "The last ones, you know. It's time for UCLA to start playing in the bigger ones. We have great players on this team and great players deserve to play in the bigger games."
And UCLA controls its own destiny at this point. The Bruins are a game behind Pac-12 South co-leaders USC and Arizona State, but have games coming up against both teams and could take the division by winning out.
It doesn't matter that the schedule remains formidable, the Bruins say, as long as they avoid some of the inconsistencies that led to low moments in the first seven games. They believe they can put together a strong finish to the season.
"We had some ups and downs, but I feel like we answered all the downs so far," Fauria said. "We are still in the hunt for the Pac-12 South title and if anyone doesn't believe that they need to check themselves. We can't look to far ahead but, we have a chance to put a Rose in our mouth and I'm excited for our team and I think we're going in the right direction."
October, 7, 2012
10/07/12
8:15
PM PT
Penalties have officially become a problem for UCLA.
The Bruins racked up 12 penalties for 99 yards during their 43-17 loss at California on Saturday and now lead the nation in both number of penalties (53) and yards penalized (519).
UCLA has lingered near the tops of those lists for most of the season, but before Saturday it hadn't really been an issue because the Bruins were winning in spite of them. Against Oregon State, UCLA's only other loss, the Bruins had season lows of seven penalties and 56 yard penalized.
But Saturday, penalties became an issue on both sides of the ball, helping to extend California drives and serving to stop UCLA drives on offense. Coach Jim Mora said he knew a reduction in penalties would be needed at Cal and so it was more disappointing that the numbers stayed high.
"It wasn't really a concern to me until (Saturday) night," Mora said. "The reason it became a concern was because we put an emphasis on it."
The Bruins committed two personal fouls, a facemask, an illegal block and three defensive offsides Saturday, and several were critical.
In the third quarter,
Cassius Marsh
jumped offsides on a third-and-2 play and gave Cal a first down. A sack on the next play set up a second-and-21, but a facemask by
Aaron Hester
gave Cal another first down. Two plays later,
Zach Maynard
hit
Keenan Allen
for a 34-yard touchdown that gave the Golden Bears a 29-14 lead.
With about nine minutes left to play and UCLA trailing 29-17, quarterback
Brett Hundley
completed a pass to
Johnathan Franklin
to the California 8-yard line, but a holding call wiped it out. Instead of knocking on the door for a touchdown that would have gotten the Bruins to within five points, they faced a second-and-16.
Two plays later, Cal defensive back
Michael Lowe
intercepted a Hundley pass and returned it 57 yards to set up the game-sealing score. But it wasn't the timing of the penalties that had Mora as concerned as the nature of them, he said.
"If we have a hold or a facemask, first of all, are we up against a guy that maybe we're overmatched?," Mora said. "If that's not the case then are we not doing things technique-wise to get ourselves in position to avoid the penalty?
"I felt like some of the penalties that we had ... we just weren't using the appropriate technique that we should use to get ourselves in position to not have to hold and not have to grab a facemask or not have to reach out and trip somebody or something like that."
The solution? Better coaching.
"It's just something we've got to continue to stress and we will continue to stress," Mora said.
October, 5, 2012
10/05/12
12:24
AM PT
The
UCLA Bruins
(4-1, 1-1 Pac-12) will play at
California
(1-4, 0-2) Saturday at 7 p.m. in a game that will be televised by the Pac-12 Networks. It will be the 83rd meeting between the teams and though UCLA holds a 50-31-1 record in the long-standing rivalry, the Bruins are looking to end a losing streak more than a decade long in Berkeley. Here are a few keys to the game:
1. Pomp and circumstance
California's Memorial Stadium got a makeover last season and no team in the conference is happier than UCLA to see the old place go. The Bruins have not won there since 1998, a string of six consecutive losses. However, the Golden Bears have conveniently scheduled a ceremony for Saturday during which the stadium will be rededicated to Californians who have lost their lives in war. Cal also will conduct a special card stunt for the fans, and this also happens to be homecoming weekend in Berkeley. Put it all together and this will be by far the most difficult road environment the Bruins have faced all season; they will have to block out all of the distractions in order to succeed.
2. Sack exchange
UCLA's sack masters,
Anthony Barr
,
Damien Holmes
and
Datone Jones
, could be in for a big day against a California team that has given up 25 sacks, more than any other team in the nation. Barr has six sacks this season, Holmes has four and Jones has two among his team-leading nine tackles for a loss. Holmes had three of his sacks last week after switching to outside linebacker and will again start outside Saturday, so it could be a big day of pass rushing for the Bruins, who are tied for sixth in the nation with 17 sacks.
3. Picking their spots
UCLA enters the game tied for second in the nation with nine interceptions.
Sheldon Price
is tied for the national lead with four interceptions and
Stan McKay
has had one in each of the past two games. Cal quarterback
Zach Maynard
is susceptible to bad passing stretches. He has had five passes intercepted this season and is ninth in the conference and No. 94 in the nation with a 121.82 passer rating. UCLA safety
Tevin McDonald
will be licking his chops. McDonald had a school-record three interceptions last season against Maynard, who had four passes intercepted in the 31-14 UCLA victory last season.
4. The long run
UCLA enters the game No. 4 in the nation in total offense with 558.4 yards per game and No. 13 in rushing offense with 243.4. That bodes well for
Johnathan Franklin
and the UCLA rushing attack, which will go up against a California defense that is giving up 174.8 yards per game on the ground to rank last in the Pac-12. Franklin is third in the nation with 697 yards rushing. The Golden Bears have been particularly vulnerable to big gains, having given up 28 runs of 10 yards or more this season. That list includes runs of 62, 55, 49 and 33 yards.
5. They've got skills
Despite California's 1-4 record, the Golden Bears are loaded at the skill positions on offense. Receiver
Keenan Allen
, an all-Pac-12 selection last season, is among the best in the country at his position and also returns punts and has a 39-yard run for a touchdown on a reverse. Fellow receiver
Bryce Treggs
was one of the top receiver recruits in the nation last season. Running backs
Isi Sofele
and
C.J. Anderson
pack a one-two punch on the ground and are averaging 5.46 yards per carry. Sophomore speedster
Brendan Bigelow
has not been used much (only 10 carries), but he showed what he can do with touchdown runs of 81 and 59 yards against
Ohio State
, so he is someone to watch.
December, 9, 2011
12/09/11
10:25
AM PT
By
Scott French
| ESPNLosAngeles.com
The NCAA College Cup kicks off Friday afternoon in Hoover, Ala., with No. 2 Creighton taking on surprise semifinalist Creighton in the 3 p.m. PST opener. No. 4 UCLA meets No. 3 North Carolina in the second game, at 5:30 p.m.

The title game is Sunday at 1 p.m. All three games will be shown live on ESPNU.

Here's a quick rundown on the final four:


The Bruins lost in the quarterfinals the past two years, but a shift to a pure possession attack -- with style as or more important than results -- has taken UCLA to a different level. Junior forward Chandler Hoffman gets to finish a spectacular campaign, in which he's netted 18 goals to head a dynamic attack, at home: He's from Birmingham.

Pacific 12 MVP Kelyn Rowe adds attacking dimensions off the bench and Englishman Andy Rose provides a midfield foundation around which the Bruins revolve. And they might be at their strongest at the back, where goalkeeper Brian Rowe has posted eight straight shutouts -- keeping his sheet clean for 747 minutes, 40 seconds.


The Tar Heels reached the title game three years ago and lost in the semifinals the past two years, and now first-year coach Carlos Samoano -- promoted when Elmar Bolowich moved to Creighton -- looks to take them to a second title 11 years after the first. They bring in a nine-game winning streak, with six of the victories, including the last two, by shutout.


December, 9, 2011
12/09/11
10:25
AM PT
By
Scott French
| ESPNLosAngeles.com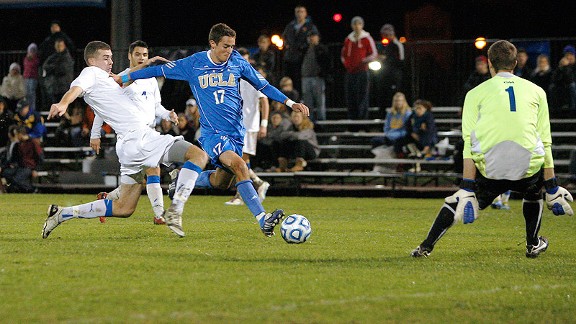 Courtesy of Jeff SipseyChandler Hoffman of UCLA is returning home to Alabama to help lead the Bruins in the College Cup.
LOS ANGELES --
Chandler Hoffman
was heading home to Birmingham, and he was bringing a couple dozen of his best college buddies with him.
They hope to return to L.A. with an NCAA trophy.
Hoffman, a sure-to-be All-American striker, leads UCLA into this weekend's College Cup men's soccer final four in Hoover, Ala., where the Bruins figure to be a fan favorite, with all of his family and friends filling seats.
"Man, my phone has been blowing up. Facebook has been blowing up," Hoffman said as the Bruins prepared for Friday night's semifinal showdown with top-seeded North Carolina. "Everyone's excited to come out. It should be like a home game for UCLA."
This is what Hoffman has envisioned since word arrived earlier this year that the College Cup would be played in Birmingham's suburbs. Now that it's here -- and the Bruins are there -- he can barely contain his excitement.
"I'm so waiting for someone to pinch me and wake up," he said. "It just feels like a dream."
That dream comes true if UCLA (18-4-1) overcomes the Tar Heels (20-2-2), then knocks off second-seeded Creighton (21-2-0) or Charlotte (16-4-3) in Sunday's final. It would be the fifth NCAA men's soccer title in school history, and it would fulfill
Jorge Salcedo
's dream, too.
The Bruins' head coach has been part of three UCLA titles -- as a ballboy in 1985, a freshman midfielder in 1990 and an assistant coach in 2002 -- and came close to winning another in his third season in charge of the program.
"It would mean so much," said Salcedo, who played for four Major League Soccer clubs, including the Galaxy, and Morelia in Mexico. "I quietly always hope that it's going to happen, and now, once again, we have another chance. The loss [to UC Santa Barbara in the final] in 2006 left a bitter taste in my mouth, because we were a good team back then, I think ready to win a championship. But I think we're even more ready now as a program to win one."
The Bruins have ample talent, extraordinary depth -- especially in attack -- and solid upperclass leadership, and there's that destiny thing at work, too. At least Hoffman believes so.
2014 TEAM LEADERS
| TEAM | RUSH | PASS | TOTAL |
| --- | --- | --- | --- |
| Offense | 199.4 | 268.5 | 467.9 |
| TEAM | PF | PA | MARGIN |
| Scoring | 32.9 | 27.5 | 5.4 |