Rising sophomore Johnathan Franklin earned the nickname "Jet Ski" for a reason -- he's quick, agile and smooth. A nagging fumbling issue put a blemish on his rather successful freshman season, and now Franklin is tangled in a competitive race for the starting tailback spot. I caught up with him to talk about last season's fumbling habit, adding muscle in the offseason, the competition at running back and Maurice Jones-Drew.
Blair Angulo: First of all, how have you progressed since last fall?
Johnathan Franklin: I have come a long way all-around -- as far as blocking, as far as catching, as far as holding onto the ball -- just understanding the game of football. I feel like I'm a completely different player this year.
Angulo: Has there been a decrease in thinking? Do you know the playbook well enough to just line up and go?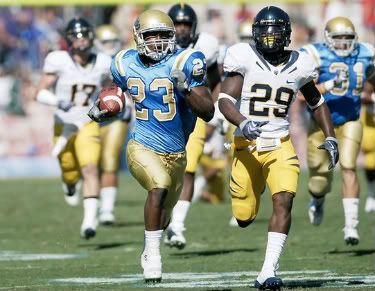 Christine Yuan/Daily Bruin
Running back Johnathan Franklin (23) broke off a long touchdown against Cal last season and looks to be in the lead for the starting spot this spring.
Franklin: Definitely. It's great when you can just come out here and play football. You don't have to think about where you have to go or worry about what the coaches are doing. You're just playing, enjoying the game and having fun. It's great.
Angulo: How are you handling the new "revolver" offense?
Franklin: I like it a lot. Anything that is going to better our team or help us become the best, I'm totally with it.
Angulo: You had some issues last season with fumbles. How have you tried to corrected that?
Franklin: Everyday there is something I need to improve on, but I have come a long way. I still have work to do, but it's just a mental thing. It's thinking too much. I've got that out of the way and now I'm just out here playing.
Angulo: It looks like you've added some bulk.
Franklin: About 10 pounds. I was 190 during the season last year, so I'm at 200 now and looking to gain more this upcoming offseason.
Angulo: How is the competition at running back pushing you to be at your best? How is it helping the position?
Franklin: I feel like all our running backs can start at any Division 1 college in this country. Every day is like a job -- you're competing for your job. The way I look at it, I'm competing for my career, for my future. These other guys are trying to take that away from you, so you have to come out here and work every day.
Angulo: Maurice Jones-Drew was out here for the scrimmage the other day. Did you get a chance to talk to him?
Franklin: A little bit. He was making little comments when I was running around. He's a pretty cool dude.