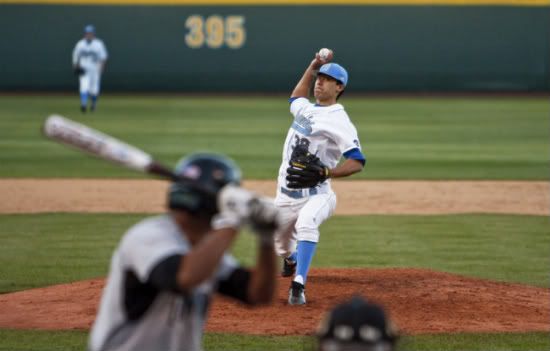 Daily Bruin
Senior pitcher Garett Claypool has his eyes set on getting to Omaha -- then he'll worry about his professional future.
Pitcher Garett Claypool was chosen in the 32nd round of the MLB draft last June, but decided against signing for an opportunity to go to Omaha as a senior. A year later, UCLA is two wins away from a trip to Rosenblatt Stadium and Claypool (8-3, 2.05 ERA) rose to the draft's 11th round. The right-hander spoke Tuesday night about being selected by the Philadelphia Phillies, as well as the Bruins' upcoming Super Regionals matchup against Cal State Fullerton.
What were you doing when you found out you had been chosen?
Claypool: I was actually in the training room getting some work done and a teammate came over and told me. It was really exciting. I didn't really know when I was going to go, but being told I was drafted by the Phillies was an exciting moment.
How many teams were you hearing from?
Claypool: I talked to a lot of teams, but no one was really giving me a concrete answer on when they thought they were going to pick me. I wasn't really sure.
Have you had a chance to get your cap yet?
Claypool: I actually already had one, so I put it on and wore it a little bit.
Talk a bit about being able to increase your stock this season.
Claypool: I built off last year. This year I was way more consistent and throwing more innings helps. Getting more time on the mound and being seen more just helped me in the draft.
How gratifying is it to know you were able to jump a good number of rounds from where you were drafted last June?
Claypool: It's a nice feeling coming back and getting drafted higher. But honestly, the biggest reason why I came back was to get to Omaha. Now we have a chance to do that, so I feel it was a smart move to come back. I'm happy with my decision.
Do you even have to show up this weekend? They didn't really need you in the regional.
Claypool: If our starters go seven or eight innings, then they don't really need me. Hopefully I get a chance to go out there, but if our starters cruise that's even better.
You faced Cal State Fullerton twice this season. How big of a role do you play in terms of being in the other pitchers' ears?
Claypool: I've talked to the starters about it and they know what to expect. We've all seen Fullerton -- we know what they've got. They're good hitters.