Case Keenum's mind-boggling numbers make things go haywire.
To be more specific, they send statisticians, scoreboards and defenses into a tizzy.
Consecutive 5,000-yard passing seasons tend to do that. A run at the all-time NCAA career passing yardage record does, too.
And because Keenum plays quarterback for a Houston team that led the nation in scoring, passing offense and total offense a year ago, he tends to be the focus even when there is a chance he might not play.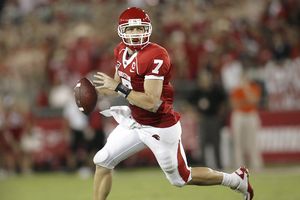 Brett Davis/US Presswire
UCLA is prepping for Houston quarterback Case Keenum, even though he might not play because of a concussion.
Houston visits UCLA Saturday night for a nonconference game at the Rose Bowl, but Keenum, the Cougars' starting quarterback, is no certainty to play after suffering a concussion last week against UTEP.
Still, UCLA coach Rick Neuheisel said the Bruins are preparing this week as if the 2009 Conference USA MVP will be in the lineup.
"You just have to anticipate that he'll be ready," Neuheisel said. "And you have to anticipate that their offense, if he weren't able to go, would be the exactly the same offense that you'd be playing anyway. It won't change how we prepare for the game."
Preparing for that offense means preparing for a heavy dose of offense. Keenum has directed an offense that is averaging 61 points a game through two weeks. He has completed 32 of 46 passes for 553 yards and five touchdowns.
He did not have a touchdown pass last week against UTEP, however, ending a streak of 31 consecutive games with at least one.
He did have 279 yards passing in that game before the concussion knocked him out and he is now seventh on the NCAA FBS all-time list with 13,503 yards -- 3,569 short of the record 17,072 Tommy Chang put up at Hawaii from 2000-04.
"He's very wise in their scheme," Neuheisel said. "He understands it really well. He's got an extremely quick arm and accurate arm. I'd be surprised if he's not a first rounder."
Three others to watch:
Bryce Beall, RB: He showed Houston isn't a one-trick pony by rushing for a career-high 195 yards and three touchdowns last week against UTEP when the Cougars topped 300 yards rushing for the first time since 2007.
James Cleveland, WR: Keenum's favorite target, he led the Cougars in receptions and receiving yards last season. At 6-2, 205, he's the physical compliment to speedsters Patrick Edwards and Tyron Carrier, who joined Cleveland to form the only receiving trio in school history to record 1,000-yard seasons in the same year.
Marcus McGraw, LB: The team tackle leader last season with a whopping 156, he ranked fifth nationally with 11.1 tackles per game. A 6-foot, 215-pound middle linebacker, he already has 17 tackles, a sack, a forced fumble and a fumble recovery this season.