Texas has developed quite a reputation as a run-stuffing team, and it's well-deserved after leading the nation in run defense a year ago and again leading the nation this year.
But if you believe NFL draft analysts, the best defensive players on Texas have little to do with stopping the run. Defensive backs Aaron Williams, Curtis Brown and Chykie Brown rank high on many 2011 draft boards, and make it clear that Texas defense is no one-trick Longhorn.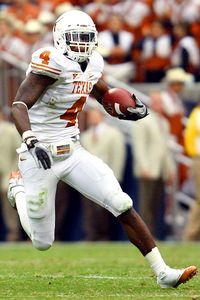 Win McNamee/Getty Images
Texas cornerback Aaron Williams is considered a future first-round NFL draft pick.
"They're more physical than anyone we've played so far," said UCLA receiver Nelson Rosario. "They're very fast. They rely a lot on their speed, but also want to be physical. It's going to be a big challenge going against them."
The Longhorns have faced three spread offenses in Rice, Wyoming and Texas Tech so far this season, but have given up only 162 yards a game through the air. Texas Tech, a perennial leader in passing offense, averaged 347.5 yard passing in its first two games, but had only 158 against Texas last week -- in large part because of Williams, Brown and Brown.
"They have everything you would expect from top-ranked defensive backs," UCLA receiver Ricky Marvray said. "They stick to you and they like to put their helmets on you."
Williams, a 6-1, 195-pound junior, is considered a future first-round NFL draft pick. He's a physical cornerback with exceptional coverage skills, though he is nursing a bruised thigh and has been playing the nickel back this season.
Curtis Brown, a 6-0, 180-pound senior, is a true shut-down corner with blazing closing speed and top-notch instincts. Chykie Brown is a 6-foot, 190-pound ball-hawking senior with sound fundamentals.
Last season, when Texas held opponents to 179.6 yard passing and led the nation with 25 interceptions, Williams, Brown and Brown combined for six interceptions and 29 pass breakups. Last week, Brown was named Big 12 defensive player of the week after a 74-yard interception return.
Brown's interception last week is the only one the three have between them so far this season, but they have combined for 11 pass breakups. Their play is a major reason Texas is among the nation's top-10 in total defense and scoring defense as well as run defense -- though that still isn't enough for them.
"We're not even close to where our expectations are right now," Williams said. "So we're just going to keep chugging, keep working hard, keep going into the film room and try to stay healthy."
With UCLA averaging only 100 yards a game passing, while churning out 203 per game on the ground, Williams said the Longhorns have got to be prepared for a defensive test that is different from what they have seen so far this season.
"Facing three teams with a spread offense, and now going against a team with more of a run scheme is a big change," he said. "You just have to be more physical with the running backs that they have."