First Look: Washington State Cougars at UCLA
September, 28, 2010
9/28/10
11:42
AM PT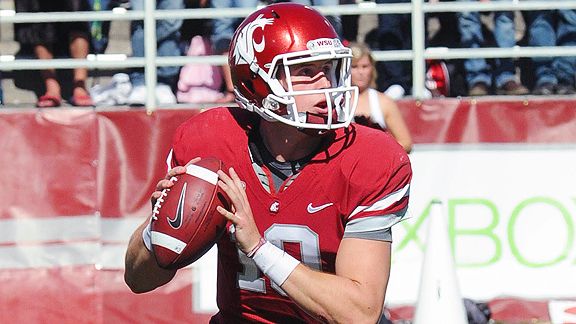 Robert Johnson/Icon SMI
Washington State quarterback Jeff Tuel directs a unit that averages 239 yards a game to rank a respectable 43rd in the nation.
Finally, UCLA gets a break in its schedule.
So far, the Bruins (2-2) have played Kansas State, Stanford, Houston and Texas, four teams with a combined record of 14-2. The only losses among those teams came against UCLA.
So it's no stretch to say that Washington State (1-3), which got its only victory this season against Football Championship Subdivision Montana State and went through 2008 and 2009 with only one Pac-10 victory, will offer the least resistance the Bruins have seen thus far.
The Cougars rank in the bottom 10 in the nation in eight major statistical categories. They are 117th out of 120 Football Bowl Subdivision teams in total defense, giving up 496 yards a game, and their run defense, which gives up 209.75 yards a game to rank 108th, is unlikely to put up much of a fight against UCLA's Pistol attack.
That doesn't mean the Bruins are taking Washington State lightly.
"The numbers would tell you they're struggling, the scoreboard would tell you they're struggling, there's no question," Bruins Coach Rick Neuheisel said. "But, there's only one way to go and I know there's no quit in competitive people. I fully expect them to play their best football game."
The matchup couldn't be any better for the Bruins, though. Washington State's biggest strength is passing offense, with quarterback Jeff Tuel directing a unit that averages 239 yards a game to rank a respectable 43rd in the nation. Receiver Marquess Wilson, averaging 85 yards per game receiving, is Tuel's top target.
But for a UCLA team that has held its own against such opposing quarterbacks as Andrew Luck of Stanford, Houston's Case Keenum and Garrett Gilbert of Texas the last three weeks, Tuel probably won't seem like much of a challenge.
And speaking of pass offenses, this game seems like an ideal opportunity for the Bruins to give theirs another test. UCLA has only 26 pass attempts over its last two games because of a rushing attack that's been unstoppable.
Neuheisel insists that the Bruins will eventually need to throw in order to maintain success over the course of the Pac-10 season, so why not see what they've got in the throwing game against a defense that has given up 286.25 yards per game through the air to rank 116th in the nation?
It might not be that easy. Washington State is a rebuilding team and the Bruins coaches have seen several different schemes on both sides of the ball, so game planning has proven a bit of a challenge.
"We don't know what we'll see from an offensive scheme or from a defensive scheme," Neuheisel said.
Washington State Coach Paul Wulff is in his third year with the Cougars and has only one conference victory so far, but Neuheisel got to know Wulff during a Pac-10 media trip to the East Coast over the summer and said Wulff has the right attitude toward building the program back to where it was when it won the Pac-10 in 2002.
"He understands the mountain he's got to climb," Neuheisel said of Wulff. "But the only way to get to the top of anything is to believe you can. … He's going to be preaching belief."
2013 TEAM LEADERS
| TEAM | RUSH | PASS | TOTAL |
| --- | --- | --- | --- |
| Offense | 196.6 | 251.6 | 448.2 |
| TEAM | PF | PA | MARGIN |
| Scoring | 36.5 | 24.1 | 12.4 |