The last time Jeff Tuel played a game in Southern California, his career changed.
This time, he's hoping to change Washington State's fortunes.
If the Cougars are going to have any chance to defeat UCLA Saturday at the Rose Bowl and turn around their season, they will nedd a big game from Tuel, the Washington State quarterback who came off the bench last Sept. 26 in a game at USC and emerged as the team's starting quarterback.
The Cougars rank near the bottom in the nation in just about every major statistical category, but are a respectable 43rd in passing offense. Tuel has completed 74 of 128 passes for 922 yards and six touchdowns.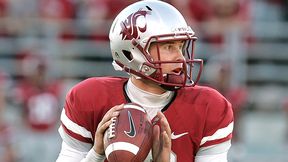 Win McNamee/Getty Images
If Wazzu is moving the ball, it's most certainly because of quarterback Jeff Tuel.
Tuel, 6-3, 214 pounds, has strong arm and moves around well in and out of the pocket. His 954 yards in total offense has accounted for nearly three quarters of Washington State's total of 1,313, yards all the while playing behind an offensive line that has give up 13 sacks—the most in the Pac 10.
"He's running the offense a lot better than past quarterbacks they've had there," Bruins safety Rahim Moore said. "He makes a lot of good decisions and his mobility is so good. He's definitely going to be a challenge for us."
Tuel completed 14 of 22 passes for 130 yards in his career debut against USC last season, then claimed the starting job to join Drew Bledsoe as the only true freshmen in Washington State history to start at quarterback. He started five games and put together a string of three consecutive games with two touchdown passes before a knee injury ended his season.
There was little doubt he'd be the starting quarterback this season, and he's quickly become the leader of a team going through growing pains.
The Cougars coaching staff is clearly comfortable with his leadership skills as they switched to a no-huddle approach last week, giving their young signal caller even more in-game responsibilities.
That experiment had mixed reviews as Tuel, who had only one pass intercepted his first three games, had three picked off against USC. But he also completed 24 of 37 passes (64.8%) for 222 yards and a touchdown.
Three others to watch:
Marquess Wilson, WR, Fr.—A legitimate big-play threat, Wilson is averaging 85 yards receiving per game and 17 yards per reception. He has four catches for 40 yards or more.
Jared Karstetter, WR, Jr.—An honorable mention All Pac-10 selection last year when he was the teams' leading receiver, the sure-handed receiver leads the team with four touchdown receptions this year.
Alex Hoffman-Ellis, LB, Jr.—The middle linebacker was the team's tackles leader last season with 84 and is second this year with 21. He has two interceptions and one sack.