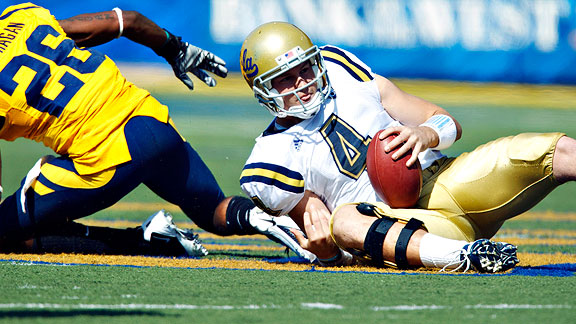 Jason O. Watson/US Presswire
Bears cornerback Darian Hagan sacks UCLA quarterback Kevin Prince during the first quarter at Memorial Stadium.
Here's all you need to know about the state of UCLA's passing game at the midway point of the season: Through six games, the Bruins have only three pass plays of 20 yards or more.
And two of them came on consecutive plays during a fit of fourth-quarter desperation against Kansas State in Week 1.
That's right, a 35-yard Cory Harkey reception and a 29-yard Ricky Marvray touchdown reception against Kansas State's prevent defense constitute two-thirds of UCLA's big pass plays this season.
In the five games since, there's been only one more -- a 22-yard Marvray reception in the second quarter against Houston in Week 3.
The inability to stretch the field vertically didn't seem to matter for a few games. UCLA's run-heavy Pistol offense churned out huge chunks of rushing yards and the Bruins (3-3) won three consecutive games.
But Saturday's 35-7 loss to California exposed the elephant in the locker room. After the Golden Bears jumped out to an early lead and stuffed UCLA's running game, the Bruins had no effective method of response.
They tried to pass their way back, but looked exactly like a team that did not have the ability to throw its way out of a deficit.
"We got way out of our elements as an offense," Coach Rick Neuheisel said after the game. "We were forced to throw the ball more than we wanted to or were prepared to and it didn't go well for us."
The Pistol is not made to come from behind and the Bruins, unpracticed at the pass game because they had not needed it, had problems in all phases of trying to throw the ball.
The offensive line had trouble in pass protection, the receiving corps continued to struggle with route running and holding on to the ball and quarterback Kevin Prince, who completed 13 of 31 passes (42%) for 99 yards was unable to find a throwing rhythm.
It all added up to a glaring weakness that needs fixing, and fast because UCLA can expect future opponents to use Cal's blueprint as a way to slow down the Bruins' running game.
"We've got to figure out some more answers with our offensive scheme so that we don't get stymied like this," Neuheisel said.
In the search for answers, Neuheisel said he will evaluate everything in the passing game, including a possible change at quarterback from Prince to backup Richard Brehaut.
No decision is imminent because the Bruins have a bye week this week, but shoring up the passing game is a top priority as the Bruins head into the second half of the season.
"I haven't made a decision as to who the starting quarterback is," Neuheisel said. "I want to look at the film with the coaches. ... I want to go through it verse by verse. I want to watch practice and I want a bunch of competition at practice and then I want to see what I want to do."
But the passing deficiencies are not all Prince's fault, Neuheisel said. The pass-protection breakdowns were a huge hindrance Saturday. Prince didn't have time to make his reads. The receivers didn't have time to get downfield.
"I know everybody points to the quarterback when the pass game goes awry, you can't put it all on him," Neuheisel said. "There wasn't enough time, and we've got to do a great job of shoring that up."
Prince, however, acknowledged that the Bruins' recent success with running the ball -- they rank 17th in the nation in rushing -- is a bit of a Catch-22. Because they run the ball so well, they haven't needed to pass, but because they haven't needed to pass, the throwing game is out of sorts because of non use.
"It feels a little bit out of sync," Prince said. "But when you've been running the ball so well, it's tough to go away from that. I'm not saying that's why the passing game is out of sync. But as the season progresses, we're going to have to throw the ball."
The statistics agree with Prince.
UCLA ranks last among the 120 Football Bowl Subdivision teams with a passing efficiency of 80.51. The Bruins are averaging a national-worst 4.31 yards per passing attempt and are 117th in the nation with an averaged completed pass of 9.39 yards.
Nelson Rosario is UCLA's leading receiver, averaging a paltry 27.4 yards per game, and Prince hasn't reached the 100-yard passing mark since the season opener at Kansas State when he got 64 of his 120 yards on those two plays in the fourth quarter.
"The pass game has got to go a long way," Neuheisel said.
Yes, much longer than any UCLA pass play has gone this season.