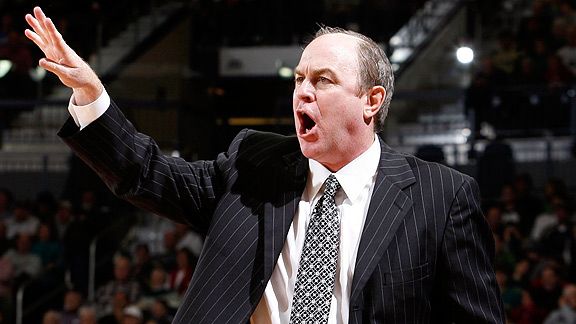 Brian Spurlock/US Presswire
Ben Howland says his freshmen will play an important role right away this season.
Coach Ben Howland will take a young team with no seniors into the basketball season opener Nov. 12 against Cal State Northridge, and he said he will "rely heavily" on incoming freshmen, which doesn't sound so good considering the team is coming off a 14-18 season.
But when you consider the incoming freshman class was ranked among the best in the country, and the impact that freshmen can have in the college game these days, things might not be so bleak.
Howland unveiled his team and the freshman class Wednesday during the team's annual media day at Pauley Pavilion.
The prize of the class is center Josh Smith and there's a lot less of Smith now than there was when he signed with UCLA. Smith is listed at 6 feet 10, 305 pounds, but he wouldn't say if that was his weight before or after a rigorous training program that helped him lose 50 pounds over the summer.
"Right now is probably the best shape I've been in since third grade," Smith said.
Smith led Kentwood High to the Washington state championship last year, averaging 21 points, 14 rebounds and five blocked shots. He worked out three times a day for six days a week during the summer and was not allowed to touch a basketball before he got into shape, he said.
Losing the weight was necessary to compete at the college level, he said.
"It's going to help me be more agile in the post," Smith said. "I can move my feet around."
Howland said one of the key benefits will be Smith's ability to transition from offense to defense and back.
"Everybody is going to try and beat him down the floor when the other team gets the ball," Howland said. "So that's going to be a big challenge for him is to make sure that he's able to keep pace and make sure that he's able to change ends."
Another touted freshman is Tyler Lamb, the former Santa Ana Mater Dei High standout, who will be competing for playing time at shooting guard. The 6-4 Lamb averaged 18.9 points, seven rebounds and 3.5 blocks last season and earned All-State honors.
"Coach has told me I will be getting valuable minutes," Lamb said. "It's up to me to contribute and how much I contribute."
Point guard Matt Carlino is the third high-profile freshman joining the Bruins this season. Carlino graduated a year early from high school so that he could join the Bruins this year after averaging 13.4 points and 4.3 assists at Bloomington South High in Indiana last year.
"The freshman are going to play an important role right away, there's no question," Howland said. "They're going to be thrown into the fire and freshmen make more mistakes, that's a part of it, but I think this team has the potential to be good."
Also joining the Bruins this season is point guard Lazeric Jones, a transfer from John A. Logan College in Chicago. He averaged 14.5 points and 5.7 assists last season.
Three returning starters in junior guard Malcolm Lee and forwards Tyler Honeycutt and Reeves Nelson will add experience. Lee averaged 12.1 points last season and is the top returning scorer for the Bruins. Honeycutt, a sophomore, led UCLA with 6.5 rebounds a game last year as a freshman.
Howland said those players have returned with the added motivation of the bitter taste from their disappointing performance last year.
"It's very painful to lose and it's a very difficult process to go through," Howland said. "I think that the players who return from last year have really worked hard and they want to have a successful campaign."
Practice officially opens Friday. UCLA has exhibition games Nov. 4 against Westmont and Nov. 9 against Cal State Los Angeles before the season opener.