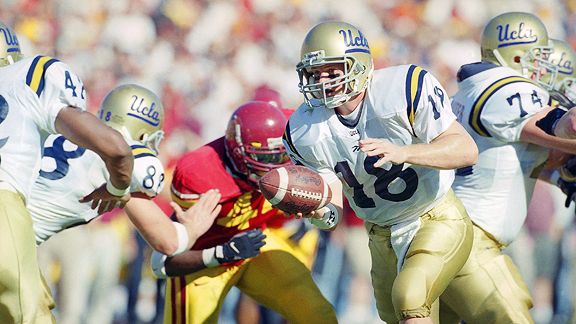 AP Photo/Kevork Djansezian
UCLA quarterback Cade McNown hands off to running back Skip Hicks during the 1997 game.
As Terry Donahue rode off the field on the shoulders of his players after UCLA defeated USC, 24-20, in 1995, he thrust his arms into the air a little harder than he had before and grinned a little wider.
Donahue had defeated USC nine previous times, but this one was special.
It was UCLA's fifth consecutive victory over the Trojans, breaking the record for most consecutive victories in the series. Donahue retired after that season so he wasn't around when UCLA extended the streak to a record eight in a row, but he was the first coach to win five consecutive games in the rivalry--a mark USC's Pete Carroll tied in 2005.
"That was a significant accomplishment," Donahue said. "I was around that rivalry for a long time and I can tell you it really was rewarding to win five straight over SC."
Not too many people have a better grip on the meaning of the USC-UCLA rivalry than Donahue. If you add his four years as UCLA player and four as a Bruins assistant to his 20 years as head coach, Donahue experienced the rivalry 28 times.
It's one of the most unique rivalries in college sports, he said, simply because the teams share the same city. Bragging right really are bragging rights in this rivalry because you will run into fans of the other team in everyday life.
"You work with them, you go to the restaurants with them, you live next door to them," Donahue said. "The intensity of the rivalry is enhanced by being surrounded by the enemy for 365 days a year. That's what makes it unique."
And that's why his win streak against USC is so special.
Only 14 miles separate the schools. Players from each team played with each other in high school. Donahue recalls having players who were roommates with USC players and some who had girlfriends at USC.
"We couldn't send playbooks home with some of those guys," he said. "That's how crazy it can get. It's hard enough to win games against USC, especially when you have all these unique situations you have to worry about."
Donahue had a 10-9-1 record against USC, needing that 1995 game to finish his career with a winning record against the Trojans.
The game itself wasn't the biggest thriller in the history of the rivalry, but it was a significant upset. USC entered that game ranked No. 11 and UCLA was plodding along at 6-5.
UCLA stormed to an early 21-0 lead and held off a late Trojans rally. USC scored a touchdown to make it 24-20 with 3:30 to play, then went for a two-point conversion and failed. UCLA took possession and ran out the clock—aided by a 21-yard scramble by quarterback Cade McNown on a third and 13 play with less than a minute remaining.
But the thrill of winning a fifth consecutive game still hasn't left Donahue. He said that game and his first victory over USC rank as his two most memorable.
"There were some games in between that might have been more important in terms of a Rose Bowl or something like that," Donahue said. "But those were certainly the two that stand out as rewarding."
Donahue's career as Bruins head coach started off with a different kind of streak. He lost his first four games against USC and feared he might not be around for many more had he kept that up. But he went 10-5-1 against the Trojans in his last 16 years, aided by that win streak he says still comes up regularly.
"I live around a bunch of USC fans," he said. "Whenever they give me grief about UCLA, I just say 'Hey, 10-9-1 is all I know, baby. Five in a row.' "