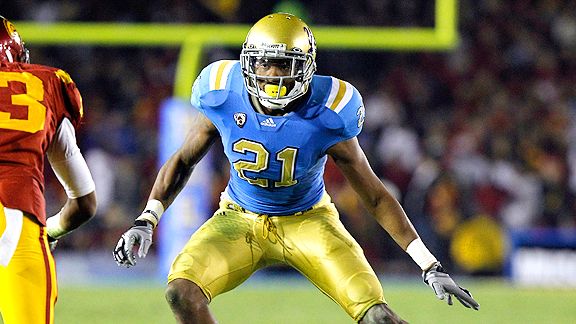 Ric Tapia/Icon SMI
With a year of experience under his belt, Aaron Hester should be able to shake the penalties.
With UCLA preparing to open fall camp on August 8, we will break down the depth charts at each position in order to look at how the Bruins stack up heading into this season. We've previously looked at quarterbacks, the defensive line, the offensive line, the running backs, the linebackers and the receivers. Here, we take a look at the defensive backs.
CORNERBACK
Aaron Hester (Jr., 6-1, 206)
Andrew Abbott (Jr., 5-9, 178)
Brandon Sermons (So., 6-0, 180)
STRONG SAFETY
Dietrich Riley (So., 6-1, 205)
Dalton Hilliard (Jr., 6-0, 200)
Stan McKay (So., 6-1, 198)
FREE SAFETY
Tony Dye (Sr., 6-0, 216)
Alex Mascarenas (So., 5-10, 191)
Tevin McDonald (Fr., 6-0, 195)
CORNERBACK
Sheldon Price (Jr., 6-2, 180)
Anthony Jefferson (Fr., 6-1, 180)
Brandon Sermons (So., 6-0, 180)
There is reason for both great hope and great concern among the defensive backfield.
Three of the four starters from last years crop are back with cornerbacks Aaron Hester and Sheldon Price bring a season of starting experience and Tony Dye coming back as the leader of the defense. Dietrich Riley impressed during his limited action as a true freshman last season and is poised to become one of the cornerstones of the defense.
But the lack of playing experience and depth beyond the starting four is a bit troubling, especially considering Anthony Jefferson is dealing with a back issue that will keep him at least a month and possibly all season.
As long as everyone stays healthy, it shouldn't be an issue. Price and Hester are both tall, speedy corners who can stay with just about any receiver. Hester battled some pass interference problems last season, but also lead the team with three interceptions. With a year of experience under his belt, he should be able to shake the penalties.
Price is a speedster with good coverage instincts. He's a little bit of a liability against the run because of his light frame, but he's worked hard on that aspect of his game and showed improvement as the season went on.
New defensive coordinator Joe Tresey is allowing Hester and Price to play up on the line of scrimmage in order to take advantage of their size and speed and that should help them become more effective. They will also be able to more easily blitz out of that formation, so look for the cornerbacks to be more of a weapon this season.
Dye returns as the leading tackler from a year ago, but he is sliding from strong safety to free safety, where he will replace Rahim Moore. Dye is as smart as they come on the defensive side of the ball and is a shoo-in to be the defensive captain this season. His 96 tackles last season are evidence of his effectiveness in run support and he is a former cornerback so his pass coverage abilities are also very good.
Riley made headlines for his helmet-dislodging hit on Oregon State's Jacquizz Rodgers last season and was one of the top hitters in practice all season, but he didn't get much game action because he was backing up Dye. Now that he has a starting role, he should blossom into a star.
Behind Riley at strong safety are Dalton Hilliard and Stan McKay, both capable backups who make strong safety the deepest position in the defensive backfield. Hilliard is a hard hitter who made an impact in limited duty last season and should be on the field a good amount this year if he stays healthy. He missed time with a shoulder injury and concussion last season and had offseason knee surgery that forced him to miss spring camp.
McKay is another hard hitter who played on special teams last season and provides excellent depth at the position.
Alex Mascarenas and Tevin McDonald both opened some eyes with their play in spring ball and their position battle should be one of the more heated of fall camp. Unfortunately for them, they will be battling for a backup job as Dye has that spot on lockdown. Mascarenas is probably the better pass defender of the two, but McDonald is a physical player who can be an asset in run support.
One of those two could end up sliding over to cornerback, because the Bruins are awfully thin there. Andrew Abbott is the top guy off the bench and will be used as the nickel back as he was last season. He's small, but had good speed and is a sure tackler.
Brandon Sermons is the only other scholarship player in the current depth chart. Sermons has great potential and gained valuable experience as a true freshman two seasons ago, but fractured his femur in spring practice the next season. He's a hard worker, but he must prove that the injury hasn't sapped any of his speed or coverage ability.
There could be some shuffling as the season goes on and coach Rick Neuheisel does have some help on the way. Jamie Graham, who played three seasons at Vanderbilt, is expected to enroll in graduate school at UCLA and will be immediately eligible if he does because he will be a graduate student.
Graham (6-0, 170), is an outstanding athlete who played defensive back, receiver, running back and quarterback at Vanderbilt and also played a season on Commodores' basketball team. He played only four games last season after knee surgery cut his season short, but he had two interceptions for the Commodores in 2009.