HOUSTON -- This one got away from UCLA, now the Bruins must make sure the season doesn't do the same.
UCLA lost, 38-34, to Houston on Saturday at Robertson Field in a game that carried more weight than other season openers. The Bruins needed something to make them believe they are on the right track after years of mediocrity, and coach Rick Neuheisel needed to build some momentum as he started a season in which his job is on the line.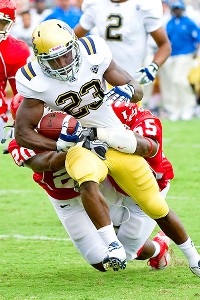 AP Photo/Dave Einsel
"How we come out tomorrow is going to determine our whole season," running back Johnathan Franklin said.
This game offered some hope in the form of an offense that entered the season as a question mark but put up its best performance in two seasons. But that same offense couldn't get the job done in crunch time.
Then there was the defense, considered a strength because if its talent, depth and experience. Its stout second half against Houston couldn't compensate for a first-half no-show that put the Bruins into a hole too deep to climb out.
The bottom line was it turned into a deflating loss for a team that had high hopes and a bunch of confidence. Now the Bruins have to show what they're made of -- and fast.
"How we come out tomorrow is going to determine our whole season," running back Johnathan Franklin said. "How we come out of the film how we come out in workouts, how we come out on Tuesday is going to determine which direction we are going to go. So we have to stay positive and put this game in the past after we watch the film and learn from it."
UCLA's defense appeared to learn on the fly Saturday. Houston and quarterback Case Keenum made a mockery of the UCLA defense in the first half, tallying 296 yards as the Cougars forged a 31-14 halftime lead. Missed tackles were partly to blame, some bad ones turning short gains into long ones, but Keenum kept hitting short, underneath crossing routes to dismantle the Bruins.
Houston's lead was 17-14 with 2:49 to play in the first half, but Keenum led two quick-strike drives -- one 53 seconds and the other 27 -- that resulted in touchdowns and a 17-point halftime lead. He completed 30 of 40 passes for 310 yards and two touchdowns, 188 of those yards coming in the first half when the Bruins were unprepared for the crossing patterns.
"All week we were working to protect the seams because that's usually what they like to hit," safety Tony Dye said. "They changed their things up to where they were hitting the underneath routes on us while we were carrying. So they schemed us up a little bit. We adjusted, but it was mostly on us, the players."
Dye, a team captain, took personal responsibility, saying that the second-half Bruins defense is the one fans can expect
"Every time the offense puts up more than 14 we should win the football game," Dye said. "That's all there is to it."
The offense certainly did that.
The camp-long quarterback controversy proved a non-issue as Kevin Prince left the game with a concussion and Richard Brehaut relieved and led an offensive onslaught. UCLA's 554 total yards were the most for the Bruins since a 2009 victory over Washington State.
Prince and Brehaut combined for 322 yards passing -- 264 by Brehaut -- and tight end Joe Fauria proved a valuable weapon as he caught six passes for 110 yards and a touchdown. Not bad for an offense that ranked 116th in passing last season.
"Those are the numbers that we should expect every game with this offense," Brehaut said. "We did a lot of great things on offense. What we were able to do, I expect us to do every game."
In crunch time, however, the offense faltered. The Bruins took possession at their 20 trailing 31-28 with 14:18 to play, but went three and out. After a punt, Houston marched 63 yards in nine plays for a touchdown and a 38-28 led with 9:31 to play.
"You can't go three and out there," Brehaut said.
UCLA didn't on its next possession, driving inside the Houston 15-yard line. But the drive stalled and kicker Kip Smith missed a field goal and the score remained 38-28. A late touchdown and missed extra point led to the final margin.
Other missteps included four false start penalties, an unsportsmanlike conduct penalty after a tremendous catch by Nelson Rosario and a snap that went sailing over Prince's head for a 15-yard loss.
"We had a lot of stuff that we were shooting ourselves in the foot," Brehaut said. "I don't think Houston did a lot to stop us."
And for as many positives as there were with the overall offensive effort and the second-half defense, the bottom line is that UCLA lost and that's all that matters right now.
"You have to win," Neuheisel said.
And you have to respond when you lose.