UCLA surging in the wake of adversity
March, 3, 2012
3/03/12
4:41
PM PT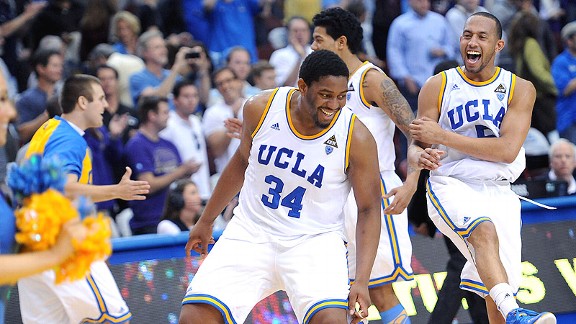 Jayne Kamin-Oncea/US PresswireUCLA players had plenty to celebrate after knocking off conference co-leader Washington on Saturday.
LOS ANGELES -- If UCLA keeps playing this way, coach
Ben Howland
might want to commission an investigative reporter to unearth sordid details about his program every week of the season.
In what has been easily the most difficult week of an unusually difficult season, the Bruins played their best basketball in the wake of a rippling Sports Illustrated report that exposed some dirty little secrets. UCLA capped the regular-season with a 75-69 comeback victory over first-place Washington on Saturday in the Bruins' final game at the Sports Arena.
It followed a resounding 78-46 victory over Washington State that was the largest margin of victory by any Cougars' opponent this season and was the second-largest margin of victory by UCLA. The Bruins played their best back-to-back games in the same week that Sports Illustrated reported mass dysfunction in the UCLA program over the past three or four years.
A pair of victories in a weak Pac-12 Conference certainly doesn't put UCLA back among the nation's elite, but the resolve the team showed this week in the face of such adversity makes it clear that UCLA is not a program in a shambles.
"It speaks to how together our team is and how together we've been all year," guard
Jerime Anderson
said. "Regardless of what anybody thinks outside, we're very close and we love our coach and respect him and have his back totally, 100 percent."
The Bruins (18-13, 11-7 Pac-12) have been close most of the season. They lost five games by three points or fewer this season, including four in Pac-12 play. A few more made free throws here, a defensive stop there and the Bruins would be sitting atop the Pac-12 standings as had been projected in the preseason.
But the Bruins were unable to close out those games. They held second-half leads at Oregon, Oregon State, Washington and Arizona and lost them all. Saturday, they reversed that trend with a defensive onslaught that limited Washington to only 22 points in the second half. That was a season-low for a half by the Huskies, who were averaging 79.4 points per game.
Team defense takes togetherness and for UCLA to display that type of team camaraderie this week against the top team in the conference says a great deal about the character of the Bruins.
"Kids are very resilient and I think the adversity of this week probably brought us closer together," Howland said. "I was really proud of our team."
The Bruins have had to overcome quite a bit this season. Not only did they start poorly with losses to Loyola Marymount and Middle Tennessee during a 2-5 run to begin the season, but they had to contend with the disruptions and eventual dismissal of all-conference forward
Reeves Nelson
.
All the while, the Bruins were dealing with the inconvenience of playing home games at the Sports Arena and the Honda Center in Anaheim because of a major renovation project going on at Pauley Pavilion. Add in the chaos of the Sports Illustrated article this week and the Bruins easily could have fallen apart. Instead, their bond grew stronger as the adversity loomed larger.
"Now it just feels like everybody is playing their hearts out and it feels good," guard
Tyler Lamb
said. "We're playing together."
Clearly Saturday's victory is a momentum builder at just the right time of the season. Next up for the Bruins is the Pac-12 tournament, which at this point is the only path to the NCAA tournament for UCLA. And with the way the Bruins are playing now, there probably aren't many teams looking forward to facing them in a one-and-done scenario.
"We just beat the first-place team in our league that would have won the championship outright regardless of what happens in Palo Alto," Howland said. "So they were playing for a lot and we got their very best effort. I was really pleased with how we handled it."
The victory and Colorado's loss at Oregon State on Saturday give UCLA a fifth-place tie with Colorado in the final standings. UCLA owns the tiebreaker over Colorado and therefore will be seeded No. 5 in the Pac-12 tournament and plays No. 12 USC in the first round Wednesday at 2:30 p.m.
And going into the tournament on a high note certainly gives the Bruins some confidence.
"Hopefully it gives us some momentum," said
Lazeric Jones
, who made two free throws with three seconds remaining to ice the victory Saturday. "We've been there all year. We've been kind of close. Every close game we kind of slipped at the end but hopefully this can be a turning point for us. Sometimes you need games to show you that you can actually play and hopefully we can come out in the Pac-12 tournament and get some wins."
UCLA defeated USC twice this season, 66-47 and 73-63. The second-round matchup would likely be Arizona, but the Bruins aren't really concerned with their opponent. The way they look at it, the difference between fifth place and first is eight points over four games so the Bruins believe they can still run the table in a parity-filled conference, especially considering the tournament is at Staples Center.
"I think we're starting to thrive and surge at the right time," Anderson said. "If I were any team, I wouldn't want to see us, that's all I have to say."
2014 TEAM LEADERS
| TEAM | RUSH | PASS | TOTAL |
| --- | --- | --- | --- |
| Offense | 199.4 | 268.5 | 467.9 |
| TEAM | PF | PA | MARGIN |
| Scoring | 32.9 | 27.5 | 5.4 |