Monday, September 27, 2010
Monday rewind: Old coaches learning new tricks

---
By Peter Yoon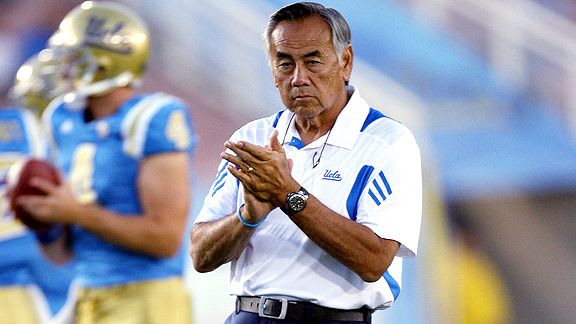 Charles Baus/Icon SMI

UCLA offensive coordinator Norm Chow only cares about winning, not how the Bruins arrive to that end.


AUSTIN, Texas — Norm Chow couldn't help but laugh.

Presented with the passing statistics from UCLA's 34-12 victory over Texas, UCLA's usually stoic offensive coordinator got caught up in the incongruity and let out a hearty chuckle.

"How many did we get passing?" he asked. "Twelve?"

His guess was closer to the truth than Chow could have imagined one of his offenses would ever produce. UCLA had 27 yards passing against what is still the No. 2 defense in the nation -- and won in a rout.

The team led by Rick Neuheisel, an offense-minded former quarterback, with an offense directed by Chow, a noted quarterback guru, attempted only nine passes in its biggest game of the season and won. In the last two weeks combined, the Bruins have attempted 26 passes and rushed 107 times and they are 2-0 in those games.

So while Chow, 64, likes to joke that he is growing soft in his old age, it appears he's actually growing into a smashmouth.

"All you're trying to do is win," Chow said, delivering the coach speak but adding a wide grin that acknowledged he understood the strangeness of it all. "We may have the worst passing statistics in the country but that doesn't really matter. The only stat that matters is try to get that W."

As a matter of fact, the Bruins do have the worst passing statistics in the country. They rank last among the 120 NCAA Football Bowl Subdivision teams with a passing efficiency of 79.57 and they are 118th in passing offense with 81.75 yards per game through the air.

And this on the watch of Chow, whose resume includes overseeing high-scoring, pass-happy offenses at Brigham Young and USC while helping develop notable quarterbacks such as Steve Young, Ty Detmer, Jim McMahon, Carson Palmer and Matt Leinart.

And it's happening under the leadership of Neuheisel, the former Bruins quarterback who guided high-flying teams while he was the head coach at Colorado and Washington.

"I was thinking about that, actually," UCLA quarterback Kevin Prince said. "I was thinking that must be killing Neuheisel that we were running the ball that much."

It's not, because it has produced back-to-back victories over ranked opponents. UCLA defeated Houston and Texas by rushing 50 or more times in consecutive games for the first time since 2007. And the Bruins now have fewer than 100 yards passing in three consecutive games.

At halftime against Texas, Neuheisel discovered that UCLA had only six yards passing.

"I said, 'They're going to cancel my membership to the quarterback club,' " he said.

Maybe, but he'll probably be able to trade it for membership in a Woody Hayes tribute society.

The emergence of UCLA's running game stems from the new Pistol-based attack Neuheisel and Chow installed over the offseason to help rejuvenate a running game that averaged only 114.62  yards a game last year. That part of the plan is in full swing. The Bruins have rushed for 266 and 264 yards the last two games, marking the first time in six seasons the Bruins have rushed for 260 or more yard in consecutive games, and are averaging 218.75 per game.

Still, the offensive braintrust of this team has the wheels churning. The 27 yards passing Saturday were the fewest for the Bruins since 1978 and the Bruins won, but football coaches tend to be stubborn in nature. So, despite the success of the 50-runs-per-game formula, Neuheisel and Chow are diligently working toward adding at least one more wrinkle to the offense.

"We still have to figure it out," Neuheisel said. "How to fit the passing game to it."

Once a quarterback, always a quarterback.


---