Thursday, December 2, 2010
UCLA rivalry moment No. 4: Roses smell sweeter when you beat USC

---
By Peter Yoon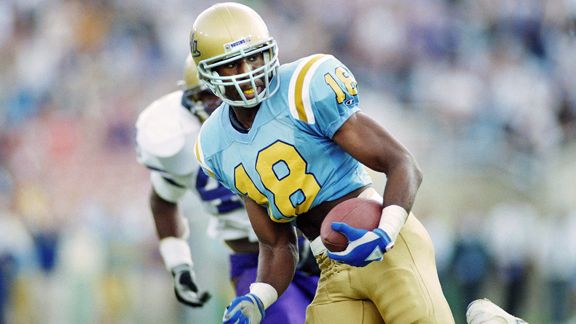 AP Photo/Eric Draper

J.J. Stokes never lost to USC during his time as one of UCLA's top wide receivers in the early 1990s.


J.J. Stokes made many highlights during his four seasons as a UCLA wide receiver and had his share of moments in the UCLA-USC rivalry games, but the one that stands out most is one in which he wasn't even on the field.

Stokes was on the sideline near the end of the 1993 crosstown showdown, watching the Bruins' defense make a classic stand and witnessing Marvin Goodwin's interception that preserved a 27-21 victory.




It stands out above the others, Stokes said, because it was for more than bragging rights that season. The winner would go to the Rose Bowl.

And when you are a UCLA football player the only feeling better than winning against USC is winning against USC when the Rose Bowl is on the line.

"That definitely stands out as one of my most vivid memories," Stokes said. "Every year you want to beat them, but the fact that the Rose Bowl is on the line makes it more special. To be able to walk on the field with the roses in your mouth like you saw as a little kid — that was even sweeter."

The year before against USC, Stokes had 263 yards receiving and three touchdowns as UCLA made a 21-point fourth-quarter comeback to defeat USC, 38-31. He still holds school records for receiving touchdowns in a season and a career and receptions in a game and season.

He's also part of the first UCLA class that went their entire careers without losing to USC and his freshman year in 1991, UCLA began an eight-game win streak against USC—to this day the longest win streak in the history of the rivalry.

Stokes said he relishes all of those accomplishments and that he is very proud to be able to say he never lost to the Trojans and helped start that streak but said the 1993 game his junior year will always hold a special place.

It wasn't just that the Rose Bowl was on the line. This game had one of the classic finishes in the history of the rivalry. USC drove to the UCLA three-yard line with 1:16 to play after Rob Johnson hit a 33-yard pass to Johnnie Morton and a 43-yard pass to Ken Grace.

The Bruins' defense then stood tall, stuffing two consecutive runs. On third and goal from the two, Johnson rolled out and tried to hit tight end Tyler Cashman, but Goodwin stepped in front and intercepted the pass to seal the game with 50 seconds to play.

"It was the nail biter of all nail biters," Stokes said. "It was one of those where everybody was out of their seats, everybody wanted to jump on to the field. You didn't know how to feel because it's like, how do you stop them? Everybody was leaning on each other. It was so intense. We were holding hands, crying, praying everything was going on at once."

Goodwin's interception — Stokes called it "the play of the decade" — not only sent UCLA to the Rose Bowl, but it ended a 10-game Bruins losing streak against USC in games with the Rose Bowl on the line. It is the last time the teams played a winner-to-the-Rose Bowl game.

Stokes said the Bruins put everything they had into ending that streak and getting UCLA to the Rose Bowl for the first time since 1986.

"After it was said and done, everybody was completely drained," Stokes said. "Usually after a game everybody goes and hangs out and has a good time, but after that everyone was like, 'Let's just go have a meal and sit down and reflect.' It was that type of game because there was so much emotion. So much was at stake with the Rose Bowl and that was why everybody was so drained."


---