UCLA:

2013 Pac-12 tournament
March, 16, 2013
3/16/13
10:42
PM PT
The
Oregon Ducks
won their first Pac-12 tournament championship since 2007 with a 78-69 victory over the
UCLA Bruins
on Saturday night at the MGM Grand Garden Arena in Las Vegas. A quick breakdown:
How it happened:
UCLA (25-9) was within two points at 54-52 with 12:07 to play, but following a UCLA timeout the Ducks (25-8) went on an 8-1 run for a 62-53 lead with 10:01 to play. UCLA did not get any closer than four points after that.
Arsalan Kazemi
scored 10 of his 12 points in the second half, including seven in the final 12:42 as Oregon held off any run UCLA made. The Bruins, who came back from double-digit deficits in each of their previous two games of the tournament, appeared to have one last run when
Shabazz Muhammad
scored to cut the Oregon lead to 68-62 with 5:08 to play. But Larry Drew missed a shot,
Travis Wear
failed on a dunk attempt and the Ducks held on.
Oregon had 10 first-half turnovers, but the Bruins could not take advantage, scoring only five points off those turnovers. The Bruins forged an early 14-6 lead, but the Ducks caught fire from behind the arc, as
Damyean Dotson
,
Johnathan Loyd
and
Carlos Emory
combined to make 3-pointers on four consecutive Oregon possessions. That trio of Ducks combined to go 7-of-9 on 3-point attempts over the final 12:25 of the first half as Oregon took a 41-30 halftime lead.
Players of the game:
Loyd and Emory combined for 39 points off the bench for Oregon. Emory, who averages 11.2 points, had 20 points and Loyd, who averages 4.1 points, had 19. Loyd made 8 of 14 shots and Emory made 6 of 14.
Stat of the game:
The Bruins, who have shot 72.7 percent from the free throw line for the season, made only 13 of 22 (59 percent) in the nine-point loss to Oregon.
What it means:
The defeat, coupled with the loss of
Jordan Adams
to a broken foot, means UCLA will probably not get to play as close to home in the NCAA tournament as the Bruins had hoped. They will likely be seeded No. 5 or No. 6. Oregon got a nice résumé-boosting win, but probably can't hope for much more than a No. 7 or No. 8 seeding.
What's next:
The teams will return home to await their NCAA tournament fate. The selections will be revealed Sunday at 3 p.m. PT.
March, 16, 2013
3/16/13
12:59
PM PT
LAS VEGAS -- Tears trickled down
Larry Drew II
's cheeks as he walked through the long corridor leading to UCLA's locker room Friday. Eventually the Bruins point guard pulled his jersey over his face, shouted a profanity and began to sob.
Trailing a few steps behind, guard
Kyle Anderson
clasped his hands on top of his head and dropped his jaw. "Oh my god!" he said. "Oh my god!"
Less than a half hour earlier, UCLA had advanced to the title game of the Pac-12 tournament with a
66-64 semifinal victory
over rival Arizona. But shortly after leaving MGM Grand Garden Arena court pumping their fists in celebration and waving to the crowd, the Bruins were hit with some sobering news.
[+] Enlarge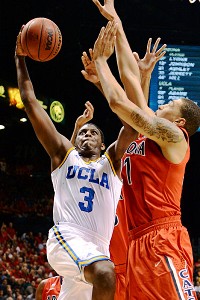 Kyle Terada/USA TODAY SportsJordan Adams broke his foot on the last play of the game and will miss the rest of the season.
An X-ray revealed that freshman
Jordan Adams
, the team's second-leading scorer, had broken a bone in his right foot on the final play of the game. He will miss the remainder of the season.
UCLA coach Ben Howland received the news from Bruins trainer Laef Morris as he exited a postgame news conference that was also attended by Drew II and Anderson. The players overheard the conversation and immediately became emotional.
Drew swore loudly before reaching the locker room, where Howland informed the rest of the team about Adams' injury.
Adams, who scored a game-high 24 points, was among the players trying to defend a potential game-tying shot by Wildcats forward
Solomon Hill
as time expired.
A 6-foot-5 freshman guard, Adams didn't seem seriously injured as the final buzzer sounded. He hobbled through the handshake line and then retreated to the locker room for X-rays. Soon after, it was revealed that Adams had broken the fifth metatarsal in his right foot. Adams, who left the arena on crutches, suffered a similar injury in high school.
"It doesn't get worse than this," forward
Travis Wear
said.
Adams, who averages 15.3 points, proved how much he means to the Bruins on Friday. In what was arguably his finest performance as a collegian, Adams helped his team rally from an 11-point second-half deficit. The victory marked UCLA's third triumph this season over the Wildcats.
"We didn't even celebrate the win," freshman
Shabazz Muhammad
said. "It's just doesn't seem right for someone to get hurt like that this late in the year."
The main storyline surrounding UCLA this season has been its resiliency. Bruins fans were calling for Howland's firing after an early loss to Cal Poly and narrow victories over Cal-Irvine and struggling Texas.
Josh Smith
and Tyler Lamb transferred from the program before the end of the first semester.
But the Bruins just got tougher.
Despite counting three freshmen (Adams, Anderson and Muhammad) among its top players, UCLA improved at a rapid pace and won the Pac-12 regular-season title.
"It's been hard for us all year, with the transfers and the little nagging injuries and now this," Drew II said. "It's tough. But there's something about this team. We find ways to make things happen when it seems like all is lost."
UCLA, however, has not suffered a setback as significant as the loss of Adams this season. The freshman has at times this season played better than Anderson and Muhammad, his more highly touted classmates.
Adams scored 13 straight points during UCLA's second-half rally Friday. The Bruins trailed 49-38 before staging their comeback. Adams was 6-of-13 from the field and 11-of-13 from the foul stripe.
This injury likely means that backup
Norman Powell
will slide into a starting role. Powell is already a significant part of the rotation, contributing 21.2 minutes and 5.9 points off the bench.
UCLA's players said they're confident Powell will step up to the challenge in Saturday's Pac-12 tournament title game against Oregon -- and again during the NCAA tournament, which begins next week. The Bruins, 25-8, have won eight of their past 10 games.
"I just know we've got tough guys out there -- physically and mentally and psychologically," Anderson said. "Norman Powell is a really tough player. It's a terrible loss, but it's not as bad knowing that we've got him coming in to fill that spot.
"It's going to be tough to go without him, but it's all part of handling adversity, and that's something we've shown we're pretty good at."
March, 15, 2013
3/15/13
8:54
PM PT
The
UCLA Bruins
advanced to the Pac-12 Tournament final with a thrilling 66-64 semifinal victory over the
Arizona Wildcats
on Friday night at the MGM Grand Garden Arena in Las Vegas. A quick breakdown:
How it happened:
Jordan Adams
scored 15 of UCLA's final 21 points, including 13 in a row at one point, as the Bruins (25-8) erased an 11-point deficit in the final 10:24. With the Bruins clinging to a 62-61 lead, Adams stripped the ball from Arizona's
Mark Lyons
, then was fouled and made a pair of free throws to give the Bruins a 64-61 lead with 1:13 to play.
Grant Jerrett
drilled a 3-point basket to tie the game at 64 with 55 seconds to play. Adams tried to answer, but his 3-pointer missed.
Kyle Anderson
came up with a huge offensive rebound and putback for a two-point lead with 22 seconds to play.
Solomon Hill
missed a shot as time wound down, and UCLA hung on for its third victory in three tries over the Wildcats (25-7) this season.
The Wildcats, who threatened to run away from the Bruins several times, opened a 49-38 lead with 10:24 to play, thanks in large part to cold shooting by the Bruins. UCLA missed their first six shots of the second half and could not prevent Lyons from penetrating for layups or passes to set up easy shots. Adams caught fire from there, however, making five of his last seven shots and going 6-of-6 from the free throw line in the last 9:56.
During the first half, Arizona went on a tear from long range, making 3-point baskets on three consecutive possessions to open a 26-18 lead with 5:18 before intermission. But UCLA stayed close as Adams made four free throws and
Travis Wear
scored on an alley-oop from Kyle Anderson. The Bruins cut Arizona's lead to 30-26 by halftime.
Player of the game:
Adams had a game-high 24 points, including 16 in the second half, providing most of the offense for a team that was struggling to score for most of the game.
Stat of the game:
The Bruins became the first team this season to win a game against Arizona when scoring fewer than 70 points. The Wildcats had been 23-0 when holding opponents under 70.
What it means:
UCLA has a chance to win its first conference tournament title since 2008 and got a nice addition to its NCAA Tournament résumé by thrice defeating Arizona, which has the highest RPI of any team in the conference. The Bruins are hoping for a seeding that puts them in a pod out West for the national tourney; this victory should help those chances.
What's next:
The Bruins advance to the conference tournament final for the first time since winning it all in 2008. The Wildcats will have Saturday off and await their NCAA tournament fate to be handed out on Selection Sunday.
March, 14, 2013
3/14/13
5:40
PM PT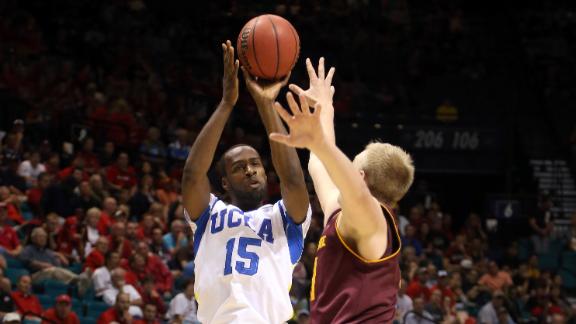 LAS VEGAS -- Long before they were champions of the Pac-12, the
UCLA Bruins
were dogs. Or at least that was one popular description.
Soft.
Spoiled.
Bums.
Busts.
Prima donnas.
Ben Howland figures his players heard it all in November and December, when a loss to Cal Poly and ugly wins over UC Irvine and Texas prompted fans and pundits to all but give up on the Bruins and their roster of future NBA draft picks. And their coach.
Three months later, look at UCLA now.
One week away from the NCAA tournament, Howland's team has a new identity, and it's a far cry from the one that hovered over UCLA's program earlier this season. There's a confidence in the locker room, a swagger on the court, a pride in the huddle. The Bruins have always been skilled.
[+] Enlarge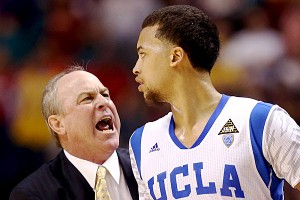 Jeff Gross/Getty ImagesBen Howland has led a resurgence in Westwood after a rough start to the season.
But now they're defined by toughness, too.
Just ask Arizona State, which built a 15-point lead in the second half of Thursday's Pac-12 tournament quarterfinal with UCLA, only to watch the Bruins storm back for an
80-75 victory
. The win was the sixth in the past seven games for UCLA, which had five players score in double figures. The Bruins outrebounded Arizona State 36-28.
"We have to play physical to win," Howland said, "and we did that today."
So revved up were the Bruins that a few of them (
Shabazz Muhammad
and
Kyle Anderson
) even got into a little tussle with Arizona State's
Carrick Felix
in the game's closing seconds. Howland certainly won't approve of any on-court altercations, but he had to have liked the fire.
Howland, who led UCLA to three Final Fours in his first nine seasons in Westwood, said he isn't surprised by his team's new-found toughness.
"I never worried about it," Howland said. "Everybody's got it that's in our program. It was our job to bring it out of them."
It seems almost amusing now that Howland had been rumored to be on the hot seat during a season in which his team won the outright Pac-12 title. UCLA athletic director Dan Guerrero can't fire Howland now.
Heck, he ought to give him an extension.
This is far from Howland's best Bruins team. It may not even rank among his top five. Still, the job Howland has done with this bunch has been masterful considering how disjointed and lackadaisical UCLA looked in December and January. Long known as a strong defensive coach and game tactician, Howland is clearly a strong motivator, too.
"It's all about evolving," Howland said. "Their attitude has been tremendous. It's always, '
What do we have to do to win, coach?
' I haven't had a better group of guys to coach in my 10 years at UCLA. It's been absolutely fantastic. They're coachable, they listen ... it's been unbelievable. So fun."
Indeed, there were certainly plenty of smiles following Thursday's victory, which catapulted the Bruins into Friday's semifinal against Arizona.
The Bruins grabbed 14 offensive rebounds that led to 15 second-chance points. Six of the offensive boards came from Muhammad, the future top-five draft pick who scored 16 points playing in front of hometown fans in his native Las Vegas.
"We were all just really composed," Muhammad said. "That's what happens when you're composed and relaxed."
UCLA doesn't have a true center or a traditional big man, so rebounding is often a struggle. That's why Howland was so pleased that his team won the battle of the boards against an Arizona State squad that features 7-foot-1 center
Jordan Bachynski
and standout four-man Felix, who combine to average 14.3 rebounds.
Most of Howland's praise, however, was reserved for point guard
Larry Drew II
. A senior, Drew II was highly criticized when he left North Carolina -- where he was starting -- midway through the 2010-11 season and transferred to UCLA. The easy assumption was that Drew II would underachieve in Westwood just as he did in Chapel Hill.
Instead, Drew II has improved as much as any player in America. He scored 20 points on eight-of-10 shooting Thursday and also dished out four assists. Drew II leads the country in assist-to-turnover ratio.
"Larry Drew is so good," Howland said. "He looks like he's going to be playing at the next level.
"He's the best passer in the history of UCLA basketball, including all of [John] Wooden's teams. I'm talking about great players. He's the best of all of them. That's an incredible statement. I couldn't be happier for the kid, as maligned as he was. He's improved throughout the year and he's playing his best basketball of the year."
So, too, are the Bruins, who knew they had this in them all along. Even if no one else did.
2013 TEAM LEADERS
| TEAM | RUSH | PASS | TOTAL |
| --- | --- | --- | --- |
| Offense | 196.6 | 251.6 | 448.2 |
| TEAM | PF | PA | MARGIN |
| Scoring | 36.5 | 24.1 | 12.4 |