May, 2, 2014
May 2
7:30
AM PT
Three things we learned this spring
Raising the (next) Barr: All indications are that Kenny Orjioke probably has the inside track at outside linebacker to replace the departed Anthony Barr. Aaron Wallace (dealing with grade issues) and Deon Hollins are still very much in the mix. Several members of the staff said they were pleased with what they saw from Orjioke -- though it's worth noting he didn't play in the spring game for reasons not revealed.
Welcome back, Owa: After missing last season with a hip injury, defensive end Owamagbe Odighizuwa (aka the scourge of spellcheck), returned with a very strong spring session that included a pair of sacks in the spring game. His return bolsters a pass rush that has to replace Barr and Cassius Marsh.
Back depth: The staff has been very pleased with the progress of running back Jordon James. But they feel equally solid about Paul Perkins, Steven Manfro and redshirt freshman Craig Lee. Combined with the scrambling ability of quarterback Brett Hundley, the Bruins should build upon last year's average of 196.6 yards per game.
Three questions for the fall
Line-up: While the coaching staff feels pretty good about its offensive line, finding the right replacement for Xavier Su'a-Filo is still paramount. They think they might have it in graduate transfer Malcolm Bunche from Miami. But a couple of starting spots should still be up for grabs when the Bruins return for fall camp.
Backup plan: A lot rests on the legs and arm of Hundley – a Heisman trophy candidate and presumptive top 10 pick in 2015. Whether it's Jerry Neuheisel or Asiantii Woulard backing him up remains to be seen. Neither were particularly sharp in the spring game, with Neuheisel throwing two interceptions and Woulard completing just 4 of 13 passes.
More D-to-O coming? We know about Myles Jack and the impact he made on offense for the Bruins last season. He didn't get any carries in the spring, though Jim Mora said they'll likely have some packages for him. Will we see others? Eddie Vanderdoes? Ishmael Adams? Not that they'll give it away in the spring, but it will be fun to watch this fall to see how many defensive players see offensive time.
Way-too-early prediction
: The Bruins will win the Pac-12 South for the third time in four years. With Hundley at the helm and an experienced defense, the Bruins not only have the fewest question marks among their Southern brethren, but they have plenty of talent to match on both sides of the ball. Staying healthy will be key, as will gaining some early momentum with critical conference games against ASU, Utah and Oregon in the first half of the season.
April, 2, 2014
Apr 2
5:30
PM PT
One of the ways a football team transitions from a group of wishful maybes to a sense of near-ontological certainty is when its collection of spring practice questions becomes mostly an array of appealing potential options.
So we have
UCLA
as it transitions from an underachieving program (1999-2011) to a good one (2012-2013) to one that has the makings of a national contender in 2014.
[+] Enlarge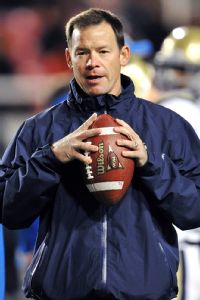 Gene Sweeney Jr/Getty ImagesWith few questions to answer this spring, Jim Mora has the makings of a special 2014 season with UCLA.
While the Bruins have questions on their depth chart, there isn't any particular area of vexing concern. The five positions where starters need to be replaced seem likely to be filled by promising athletes with playing experience. If those more veteran players don't rise to the fore during spring practices, that mostly speaks to the program's strong recruiting under Jim Mora.
Further, it's reasonable to project that those 20 or so freshmen and sophomores who saw significant playing time last year will physically and mentally mature into their primes.
There simply aren't any worrisome voids on this team.
As in:
There are, of course, important questions.
Is defensive end
Owamagbe Odighizuwa
fully healthy? He told reporters Tuesday that he is. So then is the former A-list recruit ready to break through as a senior?
What does LB/RB
Myles Jack
do for an encore after one of the best true freshman seasons in recent memory?
And speaking of what's next, is it reasonable to project Hundley taking a strong step forward as a third-year starter? Of course, that's why the program has already launched a Heisman Trophy campaign.
A lot of variables beyond personnel go into a special season -- a Rose Bowl-, College Football Playoff-type season. A team needs a great offseason. It needs positive chemistry and leadership. It needs to avoid injuries. It needs to stay hungry. It needs laser-like focus every week.
Returning starters do not guarantee anything. National champion Florida State only had 11 of them last year.
But on paper, UCLA appears to be the most likely candidate to break the five-year Stanford-Oregon Pac-12 hegemony atop the Pac-12. The Bruins might even be a team that catches the notice of the CFP selection committee in December.
March, 31, 2014
Mar 31
5:30
PM PT
UCLA opens spring football on Tuesday with high hopes and a good chance to be ranked in the preseason top 10. This is the third spring for UCLA coach Jim Mora, who has led the Bruins to a 19-8 mark in two seasons. He took a couple of minutes to chat with the Pac-12 blog before spring kicks off.
This is your third spring. What have you learned during those first two, and are you going to be doing anything different this time around?
[+] Enlarge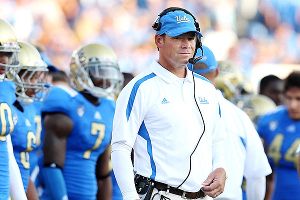 Stephen Dunn/Getty ImagesJim Mora believes spring is a great time to go hard and be physical.
Jim Mora:
Nope. Pretty much the same thing. It's a great time to develop your younger players and start to get a feel for what your team is going to look like in the fall and start to develop that bond you need to have success. We won't change anything. We go hard in the spring. It's physical. It's demanding. I think it's a great time to get physical work in.
After the 2012 season, you closed with the back-to-back losses to Stanford and the bowl loss. Last year you closed with a win over USC and a bowl win. Do you buy into the idea of offseason momentum?
JM
: No. To me, that first year, everyone says, "Oh, you lost three games in a row." But those were three pretty different games. It wasn't like we lost our last three regular season games. We lost our last regular season game, we lost in the Pac-12 championship game and we lost our bowl. It's not like we had this huge slump or something. Every season is a new season. You have to develop the identity of your team. You have to commit to a certain work ethic, and our guys have done that. To me, spring ball signifies the start of a new season.
As a coach, what position battle are you most interested in?
JM
: Outside linebacker, the guy who is going to replace
Anthony Barr
. I think that will be a good battle with
Kenny Orjioke
and
Aaron Wallace
and
Deon Hollins
. I'm excited to see how our defense adapts. We've got a new defensive coordinator. And as a staff we've learned a little bit more about our players and how to play in this conference and how to play college football with what teams are doing. We're going to have to adapt a little bit, but it's going to be fun to see.
With defensive coordinator Lou Spanos heading back to the NFL and Jeff Ulbrich being promoted from within, what kind of impact, if any, will that have on the defense?
JM
: Not a lot. Just like every year, you tweak some things. It's not going to impact it a lot. We've certainly made some changes. But we're going to make changes next year, too. You continue to adapt. You try to grow. You try to add things that will make you better. You try to improve upon things you didn't do well and you try to cut the fat so you're not teaching things you're not going to use throughout the year.
Was that a tough adjustment coming to the college game from the NFL? Every year in college there is going to be a lot of turnover and each season is a different team and a different personality.
JM
: It's interesting because it's very different than the NFL. You're right, there is more turnover. But at the same time, there is a little more certainty as well because unlike the NFL, where there is free agency so you're adding guys, and there's a draft where you're adding guys who should be ready to play right away, in college you know there is going to be a natural attrition and you have a pretty good idea of who you can count on and who still needs to develop going into a season. Hopefully some of the freshmen develop, but you can't always count on that. In some ways, as strange as it seems, it might be a little bit easier because you know what your team makeup is going to be a year in advance.
[+] Enlarge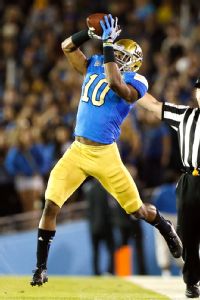 Ric Tapia/Icon SMIRising junior corner Fabian Moreau has earned positive reviews from Jim Mora.
Heading into spring, who is a player we haven't heard of yet, but you think we're going to hear his name a lot in 2014?
JM
: I don't know if you've heard his name a lot. Hopefully you don't hear it a lot because he's a cornerback and when you hear a cornerback's name a lot, that means he's making a lot of tackles because the ball is getting caught on him or he's giving up touchdowns. But I think we have a really fine player in
Fabian Moreau
. Defensive backs are where I've worked most of my career and I think this guy has some real special traits. I think he has a chance to be a great player.
You're big on leadership, as all coaches are. And you like to see players naturally develop into team leaders. Who are you eyeballing this year?
JM
: That's a great question. That's the point of most uncertainty for me is -- who is going to assert themselves on the team. Four of our six team captains return, which is a real positive because they were voted captains by their teammates. You've got
Brett Hundley
. You've got
Eric Kendricks
,
Jake Brendel
our starting center and Ryan Hoffmeister, a linebacker and special teams guy.
Xavier [Su'a-Filo]
and Anthony [Barr] leaving, those are huge voids. It will be fun to see who steps up. Guys like Fabian, even though
Myles Jack
is only a sophomore, I think he's got some leadership qualities to him. I don't want to point too many guys out because there are a whole lot of guys on our team who are capable of stepping into that role.
March, 26, 2014
Mar 26
6:00
AM PT
Starters in, starters out. That's college football. Players' eligibility expires and they leave for the rest of their lives, which might include the NFL or not. And they leave behind shoes of various sizes that need to be filled.
In alphabetical order, we will survey each Pac-12 team's most notable void. Today we look at UCLA.

Biggest shoes
: OLB
Anthony Barr
A two-time All-Pac-12 first-team selection, Barr was one of the most feared linebackers in the nation. He totaled 65 tackles last season, but did most of his damage in the backfield, where he tallied 20 tackles for a loss and 10 sacks. He also forced five fumbles (recovering four of them). He ranked second in the league in tackles for a loss and third in sacks.
Stepping in
:
Kenny Orjioke
(maybe)
The junior-to-be has a ton of upside and potential. He's built like Barr (6-foot-4, 240 pounds) and possesses similar natural athleticism that made Barr such a productive edge rusher. Orjioke produced 11 stops last year, including two tackles for a loss and a pair of sacks. But he's not the only one in the mix.
Aaron Wallace
and
Deon Hollins
should also get looks. Wallace appeared in 13 games last year and had five tackles, while Hollins appeared in 11 with seven stops and a tackle for a loss. UCLA's linebacker corps is solid, despite the departure of Barr and
Jordan Zumwalt
.
Myles Jack
is a gifted playmaker and
Eric Kendricks
has been one of the most productive linebackers in the league the last couple of years. Those two will occupy plenty of attention, leaving Barr's replacement room to work on the edge.
Previous big shoes
August, 1, 2012
8/01/12
3:20
PM PT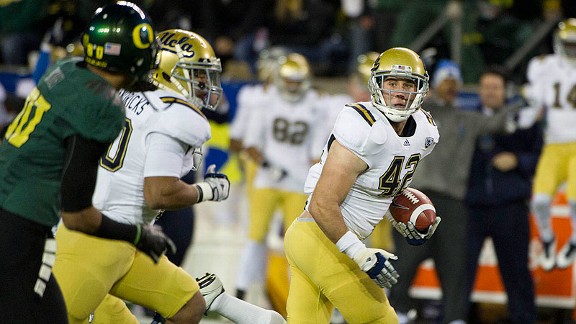 Jim Z. Rider/US PresswirePatrick Larimore leads a group of talented, experienced players at linebacker for UCLA.
With UCLA training camp set to begin Saturday at Cal State San Bernardino, we're taking a preseason look at the roster and breaking down the Bruins position by position.
We went through the offense first, looking at the
quarterbacks
,
offensive line
,
receivers
and
running backs
.
Special teams
came next, and then we started on the defense with the
defensive backs
. Next up: Linebackers.
DEPTH CHART AT THE END OF SPRING PRACTICE:
Left Outside Linebacker
Jordan Zumwalt (6-foot-3, 235 pound, Junior) (4) OR
Keenan Graham (6-2, 247, Jr.)
Aramide Olaniyan (6-1, 210, So.)
Ryan Medina (6-1, 230, Sr.)
Left Inside Linebacker
Patrick Larimore (6-2, 250, Sr.)
Jared Koster (6-1, 208, So.)
Jason Stewart (6-2, 237, Fr.)
Todd Golper (6-0, 235, Jr.)
Right Inside Linebacker
Eric Kendricks (6-0, 230, So.)
Ryan Hofmeister (6-0, 225, So.)
Mike Orloff (6-3, 222, Fr.)
Right Outside Linebacker
Damien Holmes (6-2, 250, Sr.)
Aaron Wallace (6-2, 230, Fr.)
Anthony Barr (6-4, 235, Jr.)
PROJECTED OPENING-DAY DEPTH CHART:
Left Outside Linebacker
Jordan Zumwalt (6-3, 235, Jr.) (4) OR
Keenan Graham (6-2, 247, Jr.)
Aramide Olaniyan (6-1, 210, So.)
Jeremy Castro (6-2, 250, Fr.)
Left Inside Linebacker
Patrick Larimore (6-2, 250, Sr.)
Aaron Porter (6-1, 230, Fr.)
Todd Golper (6-0, 235, Jr.)
Ryan Medina (6-1, 230, Sr.)
Right Inside Linebacker
Eric Kendricks (6-0, 230, So.)
Aaron Wallace (6-2, 230, Fr.)
Ryan Hofmeister (6-0, 225, So.)
Right Outside Linebacker
Damien Holmes (6-2, 250, Sr.)
Anthony Barr (6-4, 235, Jr.)
Nate Iese (6-4, 237, Fr.)
KEY LOSSES:
Sean Westgate, 46 tackles, 3 interceptions; two-year starter. Graduated.
Glenn Love, 39 tackles; part-time starter and key reserve. Graduated.
Isaiah Bowens, 9 tackles; key reserve expected to challenge for starting role. Injured.
May, 1, 2012
5/01/12
7:39
PM PT
LOS ANGELES--Coach Jim Mora met with reporters after Tuesday's practice session, the final spring practice in full pads before the spring game, and discussed an ankle injury to Devin Lucien that forced the freshman receiver to leave the field on crutches and with his ankle heavily wrapped in ice.

He also shared some details of the spring game and touched on the return to practice of injured players such as Darius Bell, Joseph Fauria and Aaron Wallace.


October, 13, 2011
10/13/11
9:48
PM PT
UCLA finished it's bye week practice slate with another day in full pads that was capped with a live scrimmage between the scout teams.
Coach
Rick Neuheisel
said he was satisfied with what the team accomplished during the off week and got a good vibe from the team after sitting on last week's comeback victory over Washington State.
"I thought it was a really good week in terms of fundamentally, in terms of getting guys healthy and getting guys to look toward the future of the second half with the right mindset with respect to what is going to be required for us to compete the way we need to and be successful," Neuheisel said.
A few tidbits:
Brett Hundley ran the two-minute drill at the end of practice and completed seven of nine passes, including a touchdown to Corey Harkey on the final play. He appeared calm for someone running the drill for the first time and his passes were on the money for the most part. His two incomplete passes were a drop by Josh Smith and a spike to kill the clock. "What I know about Brett Hundley is that it's not too big for him," Neuheisel said. "I don't think the stage will--he'll get out there and there will be some butterflies and there will be some plays that won't go exactly as planned but I think he'll respond and he'll play really well if called upon."
Receiver Randall Carroll was getting some work with the defensive backs during seven-on-seven drills, going so far as to change jerseys into a the defensive blue rather than the offense's white. Carroll, who played defensive back in high school and was recruited as a defensive back to USC, said he's getting ready in case of an emergency because the Bruins have some injury issues in the defensive backfield. "I always wanted to try and play both, " Carroll said. "There is a chance I could play in the dime package. So I'm just getting more work as the days go on and then next year hopefully it'll expand to more playing full time on both sides."
With some injury concerns on the offensive line, Wade Yandall got many of the reps first team reps and at strong side guard this week. Yandall, a redshirt freshman, has yet to play in a game, but could be called upon soon. "Hopefully this week has made an impression on the coaches and I can just be consistent and doing what I'm asked to do and hopefully I get to play next week," Yandall said. "A lot of times, I'll show flashes of doing good things, but at the same time I'm not consistent with it. I've got to step up to that." Yandall had some opportunities during training camp, but that lack of consistency kept him from cracking the lineup. Neuheisel said he's getting closer. "It's amazing when you give guys a chance to get up there with the first team again, how they respond after being away," Neuheisel said.
Kicker Tyler Gonzalez wasn't needed in the two-minute drill because the offense scored a touchdown, but he looked very good during warmups and the kicking drills at the start of practice. He made four of four attempts, including one from 50 yards.
Offensive lineman Albert Cid did not dress for practice for the second consecutive day. Cid left the field Tuesday complaining of a shortness of breath and is being held out for precautionary reasons.
Cornerback Sheldon Price, out the last two weeks with a sprained knee, was still wearing a brace and was in shorts and shoulder pads, but was more active in his work on the side. He was running forward and backward and also making some cuts.
Receiver Nelson Rosario (sprained foot) did not dress for practice but did some light running on the side. Receiver Shaquelle Evans (concussion), safeties Tony Dye (neck) and Alex Mascarenas (concussion) also did not dress for practice.
The defense dominated the live scout team scrimmage, with linebacker Aaron Wallace particularly impressive. Wallace had a couple of virtual sacks and at least two other tackles for a loss. Defensive end Sam Tai also had a few nice plays and defensive tackle Brandon Willis was a run-stuffing machine in the middle. Safety Anthony Thompson had an interception. The offense completed two long passes: One from Christoph Bono to Logan Sweet for a touchdown and another from Darius Bell to Jery Rice, Jr. Still, the defense dominated most of the scrimmage. "Looked like defense had their way today," Neuheisel said. "We didn't do a very good job of pass blocking so I'd give the nod to the defense."
March, 24, 2011
3/24/11
10:40
AM PT
With
Akeem Ayers
and
Rahim Moore
headed for the NFL, UCLA football fans will have to get used to some new names.
The front-runner to fill Ayers' outside linebacker spot?
Glenn Love
, a redshirt senior who has plenty of special teams experience but has yet to make a defensive start. The leader to replace Moore at free safety?
Dalton Hilliard
, a junior who, like Love, has zero career starts to his name.
None of that should really matter, though. Love and Hilliard won't be docked for inexperience simply because there is none behind them. For example, the three players listed beneath Hilliard on UCLA's tentative depth chart --
Alex Mascarenas
,
Tevin McDonald
and
Brandon Sermons
-- have three career tackles between them. So even though Hilliard (right knee surgery) will miss spring practice, the starting role doesn't figure to be determined until fall.
Love's situation appears even more favorable. He is ahead of redshirt freshman
Aramide Olaniyan
, true freshman
Aaron Wallace
and redshirt junior
David Allen
(two tackles on special teams last season).
"We want Glenn to have a chance to win a job," coach
Rick Neuheisel
said during a teleconference with reporters Wednesday. "Akeem has left and we wish him well, but Glenn being a senior, being a guy who does everything right in the program, I want him to have a chance to win that job. His body is built for a Sam linebacker. He certainly has cover ability. Now it's just about the physical portion of the job and being instinctive."
Instincts were a major reason why Ayers and Moore had the success they had. All of Ayers' memorable interceptions -- think of his defensive touchdowns against Oregon and Temple -- were a result of his reflexes. He sensed something coming and reacted immediately. It's a big reason why draft pundits believe he will have success at the next level.
Love, a former safety, didn't make the switch to outside linebacker until last season. His mental development will be key over the next four weeks.
Note: This is the second of our five questions leading up to the March 29 opener. Question 1: Will Brett Hundley threaten for starting gig?
2013 TEAM LEADERS
| TEAM | RUSH | PASS | TOTAL |
| --- | --- | --- | --- |
| Offense | 196.6 | 251.6 | 448.2 |
| TEAM | PF | PA | MARGIN |
| Scoring | 36.5 | 24.1 | 12.4 |