October, 9, 2012
10/09/12
4:32
PM PT
LOS ANGELES -- A loss such as the
UCLA Bruins
' 43-17 beatdown by California last week tends to create a lot of questions.
What went wrong? How can it be fixed? Does there need to be a change in personnel?
The answers to the first two are generally found by a review of the game film. It's the third one that requires a little deeper thought.
The general consensus is that UCLA's biggest breakdowns came on the offensive line and in the secondary, and coach Jim Mora said those are the two most difficult positions in which to make personnel changes.
"Positions that depend on real cohesiveness like the offensive line or the secondary is pretty difficult," Mora said. "Probably the offensive line is the most difficult. The other positions you can kind of plug guys in and get through it. Offensive line is tough."
For that reason, the Bruins will stick with their offensive line for Saturday's game against Utah, even though the Bruins gave up five sacks and left tackle
Torian White
was pulled during the game against Cal.
The line includes three freshmen and a sophomore and offensive line coach Adrian Klemm says he wants to keep his young line intact to see if it can continue to develop. He said he won't make any rash decisions based on one poor showing.
"These guys are who we are rolling with," Klemm said. "This is it. We let them know that no one is going to save you. We're one deep. You better get it right or you are going to embarrass yourself."
The fact that the Bruins have very few other linemen with any experience is clearly a factor because replacing the current linemen with inexperienced players would be akin to starting over.
Greg Capella
, one of the few reserves who has experience, has missed the last three games because of a concussion. Alberto Cid and
Brett Downey
also have experience, but the coaching staff said it's too early to disrupt the developing chemistry.
September, 10, 2012
9/10/12
6:57
PM PT
There is plenty of excitement surrounding the
UCLA
football program after its 36-30 victory over
Nebraska
Saturday earned the Bruins a spot in the AP college football poll for the first time since 2008.
[+] Enlarge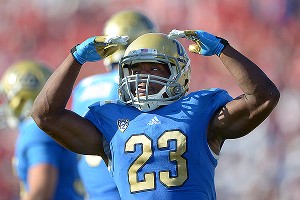 Kirby Lee/Image of Sport/US PresswireUCLA's Johnathan Franklin leads the nation in rushing with 431 yards and has been honored as the Pac-12's offensive player twice in as many weeks.
While there are plenty of good reasons to believe the Bruins have, indeed, turned a corner and are headed for a successful season, there also is room for skepticism about the early triumphs of the team.
So, as the No. 22 Bruins prepare to take on
Houston
Saturday night at the Rose Bowl, we present the top five reasons to believe UCLA is on its way back, and five more reasons to be wary.
Five reasons to believe
1. Jim Mora:
Mora is all business with this team and has instilled a sense of belief that the team seemed to be lacking in the past. He has the players trusting one another, as well as the coaching staff. He's running a very tight ship this season, holding players accountable for every detail, and will accept nothing less than 100 percent effort. The players respect him and have bought in, which means the Bruins should be competitive in every game.
2. The offense:
Offensive coordinator Noel Mazzone has brought in a spread formation that is able to utilize the speed and athleticism that litters UCLA's roster. The Bruins are showing explosiveness and big-play ability and rank No. 3 in the nation in total offense and No. 18 in scoring, with running back
Johnathan Franklin
out in front with a nation-leading 431 yards rushing. It's the type of offense that makes you believe UCLA is capable of staying close in any game and coming back from a deficit no matter what is happening with UCLA's defense. That has not been the case the past several years.
3. Brett Hundley:
Success in football almost always starts with the quarterback and
Hundley
has thus far proved up to the challenge of leading the team. He's shown good decision-making and accuracy in completing 42 of 61 passes (68.9 percent) for 507 yards and six touchdowns, with only one interception. He's also a threat with his legs and has 121 yards rushing in 19 carries. He's only a freshman, so he's only getting better and that means the Bruins will be able to build around him for the next couple of years.
4. The schedule:
In beating Nebraska, the Bruins have just cleared what is perceived to be their biggest hurdle of the early season. Next up are home games against Houston and
Oregon State
followed by a trip to
Colorado
. Sure, the Beavers appear to be a bigger challenge than previously anticipated. And, later,
Arizona
and
Arizona State
could be tougher tests. But at this point, it's conceivable UCLA could be 10-0 heading into its Nov. 17 game against
USC
.
5. The staff:
Mora inherited some very good talent, but he also surrounded himself with a staff that knows the recruiting scene and can land top-level players. By bringing in recruiting aces such as Adrian Klemm and Demetrice Martin, to go along with Angus McClure, Mora has surrounded himself with some of the most tireless recruiters in the business. UCLA landed the No. 19 class in the nation this year despite having only two and a half months to recruit after the coaching pieces were in place. So, with the coaches given full years to work their magic, there is every reason to believe UCLA can keep landing top-notch classes.
Five reasons to be wary
1. We've seen this act before:
In 2007, UCLA started 2-0 and rose to No. 11 in the country only to lose 44-6 at
Utah
and drop from the rankings before finishing 6-7. In 2008, the Bruins defeated
Tennessee
in Rick Neuheisel's UCLA coaching debut; many said then the Bruins had turned a corner. They lost 59-0 next time out and finished 4-8. Neuheisel was fired after the 2011 season with a 21-29 record. The Bruins need to show they can not only sustain the success, but keep getting better.
2. The opponents:
The win over Nebraska means nothing if the Cornhuskers turn out to be an average team. Some of UCLA's most high-profile victories over the past few years have turned out to be mirages. The Bruins defeated No. 20 Arizona State last year and the Sun Devils ended up 6-7. A 2010 victory at No. 7
Texas
seemed impressive until the Longhorns ended up 5-7. The 2008 Tennessee squad Neuheisel's team defeated in his debut was ranked No. 18 at the time but ended the season 5-7.
Rice
isn't exactly a national powerhouse and the jury is still out on Nebraska. It could end up that the Bruins have started 2-0 against two bad teams.
3. The defense:
As impressive as UCLA has been so far on offense, the defense has left something to be desired. UCLA has given up 24 points in the first half of each of its games and currently ranks No. 100 in the nation in rushing defense, giving up an average of 217 yards per game on the ground. The good news is that the coaches have made good halftime adjustments and have been able to shut teams down in the second half of both games. But the offense might not always be able to keep pace, which means a slow start defensively could prove costly.
4. Depth:
The Bruins have been able to escape major injury woes the first two weeks, but they are a twisted ankle or a sprained knee away from getting awfully thin at some positions. The offensive line, which already has three freshmen starters, would have to do some midseason juggling if one of the starters were to go down. Middle linebacker is especially worrisome, as
Damien Holmes
already is starting there after having never played there before this season.
Eric Kendricks
is the other starter and is solid. But there is nobody with experience behind Kendricks or Holmes. The defensive backfield also would have to rely on inexperienced players should an injury hit.
5. The penalties:
UCLA currently leads the nation in yards penalized with 233, and the Bruins are tied for eighth in number of penalties with 19. Those types of numbers are not exactly a recipe for success. They haven't hurt yet, but there were a few against Nebraska that could have cost UCLA the game. Mora said he intends to get the penalties cleaned up and has confidence the players will respond. They had better, because you can't keep giving teams 100 free yards a game and expect sustained success.
August, 9, 2012
8/09/12
9:05
PM PT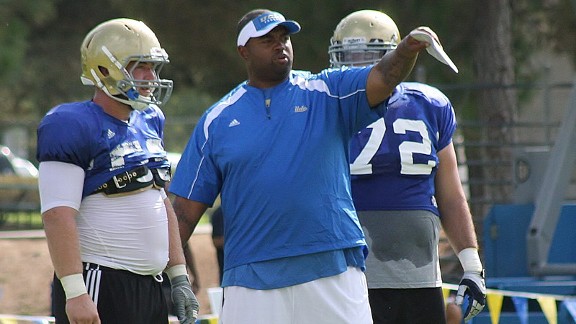 Peter Yoon/ESPNLosAngeles.comUCLA offensive line coach Adrian Klemm had to do some juggling Thursday when his unit had only eight players in practice. Carl Hulick (52) and Alberto Cid (72) are also pictured.
SAN BERNARDINO -- UCLA's offensive line situation went from bad to worse as the Bruins were down to eight active linemen Thursday during training camp at Cal State San Bernardino.
Heat-related illness, concussions and some nicks and dings have taken a toll with
Will Oliver
and Alexandru Cheachir the latest victims. Both became woozy during the break between practices on the first day of two-a-days, and did not come out for the afternoon session.
It made for some interesting rotations for offensive line coach
Adrian Klemm
as the line did not even have a two-deep for substitutions as every offensive player with a number in the 70s was sidelined.
"It's like a puzzle," coach
Jim Mora
said. "Coach Klemm is back there and he's moving guys in and out. Hopefully this is the last day we have to do it because it's not fun. It's tough on those guys and it's not an ideal situation. You kind if hope the worst of it is over. Hopefully we can get some of those guys back."
Greg Capella
, who sat out the latter part of practice Wednesday because of a calf injury, was back Thursday and Mora said some of the players out because of heat-related illness could return Saturday after UCLA takes a day off on Friday.
Brett Downey
did some light work Thursday morning but did not practice in the afternoon.
One player probably not coming back soon is
Jeff Baca
, the senior who is slated to start either at right guard or right tackle. What was at first thought to be heat illness is now being treated as a concussion and Baca will go back to UCLA on Friday for further tests.
Alberto Cid
will join Baca in Westwood for those tests. Cid, competing for a starting guard spot, suffered a head injury Wednesday and did not practice Thursday. Mora said the team is simply not taking any unnecessary risks with concussions or heat-related illness.
"The things that I don't think you should ever mess with at any level of football is head injuries and heat illness," Mora said. "Those things can be deadly and you just have to be really, really careful. If it's close, we're going to hold them out and get somebody else the work."
There are fewer and fewer guys available for that work, however.
Ben Wysocki
, among the linemen still standing at the end of Thursday's afternoon session, estimated that he was on the field for 90-100 reps. A redshirt freshman, Wysocki entered camp No. 2 on the depth chart at left guard, but has been the right tackle with the first team the last few days.
"I didn't imagine this at all," Wysocki said. "The door opened up and I took advantage of it."
August, 8, 2012
8/08/12
9:37
PM PT
SAN BERNARDIO -- The Bruins' offensive line had questions coming in to camp and Thursday the biggest question was: Where's the beef?

The Bruins were down to nine offensive linemen by the end of practice Thursday, when Alberto Cid left because of a head injury and Greg Capella tweaked his calf. They joined Jeff Baca (heat), Simon Goines (heat), Brett Downey (heat), Chris Ward (back) Tre Hale (heat), Colby Cyburt (back) and Torian White (chest pains) on the sideline, giving the Bruins as many injured linemen as healthy at the end of Wednesday's session.

The players out because of heat symptoms should return in the next day or two and so, too, should Cyburt, but this group still has to fill some holes before it starts making them.

Xavier Su'a-Filo is guaranteed to be starting at left tackle and Baca will be starting somewhere, but the other three slots are open. Jake Brendel seems to have taken a stronghold on the center spot and Capella is the early favorite for left guard, but the coaches are still searching high and low for a right tackle.

"It's wide open," offensive line coach Adrian Klemm said. "You can come right in off the street right now and start at right tackle."

White, Goines and Downey were getting the right tackle reps before they were injured and Ben Wysocki is there now with Will Oliver backing him up. If none of them can win the job, Baca will likely move from right guard to right tackle, where he played last season.

Klemm says he prefers to have Baca at guard because that's where Baca will play should he get drafted by an NFL team, but Baca is open to playing tackle if another player is better suited for right guard.

"I don't have a preference," Baca said. "I just like being out there and I'll play any position. I just like to have some time to practice that position."


August, 6, 2012
8/06/12
8:59
PM PT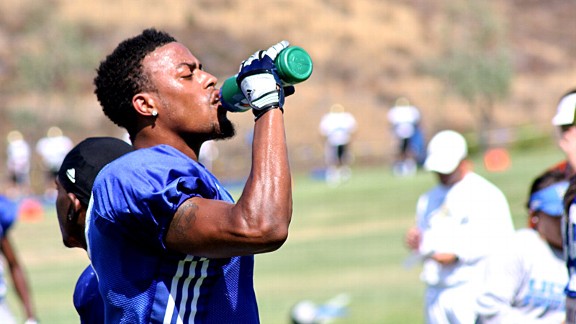 Peter Yoon / For ESPNLosAngeles.com
Receiver Jerry Johnson takes a water break during camp, when temperatures soared to 106.
SAN BERNARDINO -- After two days of relatively mild conditions, the Inland Empire temperatures soared Tuesday during UCLA's training camp and so, too, did the number of players affected by the heat.
Five Bruins players were taken off the field during practice because of reactions to the heat at Cal State San Bernardino, where the temperature reached 106 degrees -- about 10 degrees hotter than the first two days.
Add in the fact that UCLA was in shoulder pads for the first time and it's no wonder linebacker
Patrick Larimore
and offensive linemen
Tre Hale
and
Simon Goines
were carted back to the UCLA locker room for treatment while offensive linemen
Brett Downey
and
Greg Capella
received treatment at the practice field.
In addition, safety
Tevin McDonald
sat out of practice because he was suffering from dehydration issues -- the same thing that kept
Eric Kendricks
and
Cassius Marsh
out of practice Sunday.
"You have to anticipate when you get in this environment some of those bigger guys are going to have some problems," coach
Jim Mora
said. "And we're doing the right thing in terms of taking the helmets off and getting them cooled down and getting them water and being precautionary with anybody that is on the edge."
Mora originally said that the heat-related issues wouldn't mean any changes in practice start times, but he later changed his mind and announced that Tuesday's practice would start at 4 p.m., an hour and 15 minutes later than previously scheduled.
As you might expect, the offensive line was particularly vulnerable to the heat and by the end of practice only 11 linemen were working with the unit. Still, offensive line coach
Adrian Klemm
had his guys doing up-downs and other conditioning drills in the middle of the field even as the defensive linemen sought a shady area under some trees for their drills.
"I look at it like if my guys can take it and want to get better and do whatever it takes to get mentally tough and physically tough then we'll go through it," Klemm said. "If I see guys kind of struggling and not performing to their abilities because of the conditions, then I'll change things. I personally think it's tough, but it's not unbearable."
Klemm, who coached at Southern Methodist before coming to UCLA, said his teams there practiced in similar conditions every day. He said his goal was to get his unit to a point where they don't even notice the temperatures.
"We're not making a big deal about it," he said. "We're going hard trying to build some mental toughness. No one is complaining about it. People are just going and working hard. We're being smart."
Mora has tried to ensure the team has plenty of water -- the training staff carrying water to the players is working just as hard as the team -- and breaks have been plentiful. Toward the end of practice Tuesday, he had everyone remove their helmets and shoulder pads and ran drills in shirts and shorts.
"You just have to be able to work your way through it and work your way around it and be very proactive in treating the guys who have symptoms," Mora said. "I told the team 'I know you guys are all tough, but if you are starting to feel it, let me know so we can get you cooled down before we have any big-time issues.'"
That's easier said than done, though.
"You don't really want to pull yourself out and admit you're defeated," offensive lineman
Jeff Baca
said. "Nobody wants to admit they are defeated like that, but sometimes it's not your fault. Your body reacts differently in different conditions."
December, 15, 2011
12/15/11
6:48
PM PT
UCLA defensive line coach Inoke Breckterfield and quarterbacks coach Marques Tuiasosopo will be retained by incoming coach Jim Mora, the school announced Thursday.

The school also confirmed the previously reported hirings of Demetrice Martin, Adrian Klemm and Steve Broussard. Martin, from Washington, will serve as passing game coordinator/defensive backs coach. Klemm, from Southern Methodist, will take over as run game coordinator/offensive line coach and Broussard, from Arizona State, will serve as running backs coach for the Bruins.

Klemm and Martin will join Mora's staff immediately, while Broussard will come to Los Angeles after Arizona State competes in the Maaco Bowl Las Vegas on Dec. 22. Breckterfield will stay on as defensive line coach, and Tuiasosopo will move to tight ends coach. Mora can add three more coaches.

"Each of these coaches will bring unique qualities to the UCLA football program," Mora said in a statement released by the school. "All of them will be integral pieces of the UCLA football puzzle from their first day on the job."
2013 TEAM LEADERS
| TEAM | RUSH | PASS | TOTAL |
| --- | --- | --- | --- |
| Offense | 196.6 | 251.6 | 448.2 |
| TEAM | PF | PA | MARGIN |
| Scoring | 36.5 | 24.1 | 12.4 |