April, 26, 2012
4/26/12
8:50
PM PT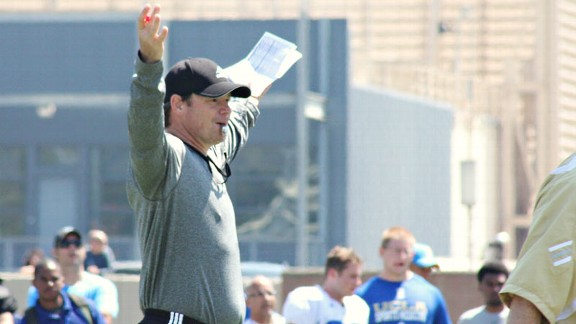 Peter Yoon/ESPNLA.comUCLA coach Jim Mora said the near-brawl Wednesday at practice was "unacceptable" and "not who we're going to be."
LOS ANGELES -- Dust-ups, skirmishes and fights are bound to happen over the course of a spring football camp, but when things border on a brawl, it's time for the coach to take action.
That's what happened Thursday when coach
Jim Mora
halted practice and made the entire team run sprints after a mini-brawl broke out during team drills about midway through the session. Multiple players got involved after linebacker
Eric Kendricks
and offensive lineman
Jeff Baca
engaged in some post-play shoving and offensive linemen
Brett Downey
and
Albert Cid
each went after Kendricks.
Cid eventually threw a punch that sent Kendricks into a tizzy and drew a crowd of players and coaches from the field and the sideline and forced Mora to take action.
"It's unacceptable," Mora said. "That's not who we're going to be and that's not what we're going to do. A punch was thrown and so we paid the consequence for it. I want this team to play with class and composure at all times and in order to play that way, you have to practice that way."
Mora was yelling at Cid the whole time as the team ran sprints for about five minutes, barking about discipline and how throwing a punch would get him kicked out of the game and cost the team 15 yards. Cid, who was suspended a half last season for his role in the benches-clearing brawl at Arizona, said he simply lost his cool.
"Just the heat of the moment," he said. "Nothing serious, I just got a little excited, that was all. There is a lot of competition going on out here and that's just part of competing."
Baca was blocking Kendricks on the play and the two kept going at it after the whistle. After a few shoves, Downey came over and shoved Kendricks, who became even more infuriated. That's when Cid got involved and as Kendricks began to lose his cool, teammates and coaches surrounded the overheated situation and separated skirmishing players before it boiled over.
2014 TEAM LEADERS
| TEAM | RUSH | PASS | TOTAL |
| --- | --- | --- | --- |
| Offense | 199.4 | 268.5 | 467.9 |
| TEAM | PF | PA | MARGIN |
| Scoring | 32.9 | 27.5 | 5.4 |