October, 9, 2012
10/09/12
4:32
PM PT
LOS ANGELES -- A loss such as the
UCLA Bruins
' 43-17 beatdown by California last week tends to create a lot of questions.
What went wrong? How can it be fixed? Does there need to be a change in personnel?
The answers to the first two are generally found by a review of the game film. It's the third one that requires a little deeper thought.
The general consensus is that UCLA's biggest breakdowns came on the offensive line and in the secondary, and coach Jim Mora said those are the two most difficult positions in which to make personnel changes.
"Positions that depend on real cohesiveness like the offensive line or the secondary is pretty difficult," Mora said. "Probably the offensive line is the most difficult. The other positions you can kind of plug guys in and get through it. Offensive line is tough."
For that reason, the Bruins will stick with their offensive line for Saturday's game against Utah, even though the Bruins gave up five sacks and left tackle
Torian White
was pulled during the game against Cal.
The line includes three freshmen and a sophomore and offensive line coach Adrian Klemm says he wants to keep his young line intact to see if it can continue to develop. He said he won't make any rash decisions based on one poor showing.
"These guys are who we are rolling with," Klemm said. "This is it. We let them know that no one is going to save you. We're one deep. You better get it right or you are going to embarrass yourself."
The fact that the Bruins have very few other linemen with any experience is clearly a factor because replacing the current linemen with inexperienced players would be akin to starting over.
Greg Capella
, one of the few reserves who has experience, has missed the last three games because of a concussion. Alberto Cid and
Brett Downey
also have experience, but the coaching staff said it's too early to disrupt the developing chemistry.
August, 25, 2012
8/25/12
4:15
PM PT
LOS ANGELES -- For Andrew Abbott, the announcement was both rewarding and humbling.

Abbott, a senior safety, is one of six team captains for UCLA this year, getting elected by a vote of his teammates earlier this week. Running back Johnathan Franklin, offensive lineman Xavier Su'a-Filo, linebacker Damien Holmes, punter Jeff Locke and fullback David Allen are the others.

For Abbott to be among that group is a reminder of where he came from, he said, because nobody ever thought he would play Division I football, let alone ascend to the role of captain at a major program.

He was an undersized receiver/defensive back coming out of Mater Dei High is Santa Ana and didn't get any scholarship offers. He went to UCLA as a walk-on and earned a scholarship after two years. He became a part-time starter in 2010 and was among the most valuable defensive players on the team last season when he led the team with four interceptions.

"It's an honor," Abbott said. "To go from where I've come from--being a no-rep guy who wasn't even recruited out of high school, to be the captain of a top-notch university like this is big."

Abbott emerged as a leader on the defense last season with his play and was named honorable mention all-Pac-12. His interception with 2:01 to play sealed a 28-25 victory over Washington State and his two interceptions against Colorado helped key the victory that made UCLA bowl eligible.

But he had his biggest impact off the field, when he became a vocal leader after embarrassing losses against Texas, Stanford and Arizona and implored the team to be satisfied after key victories against Oregon State, Washington State and Arizona State.


August, 22, 2012
8/22/12
7:36
PM PT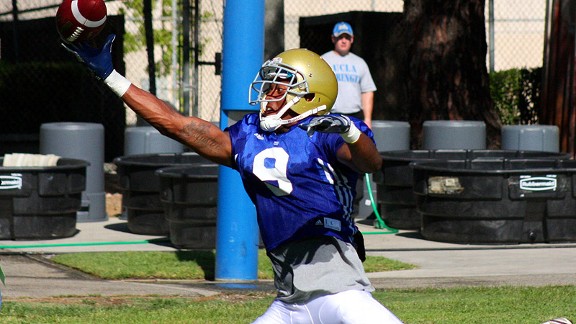 Peter Yoon/ESPNLosAngeles.comJerry Johnson, above, says his rivalry with teammate Aaron Hester has helped raise his level of play.
LOS ANGELES -- With UCLA's training camp coming to a close and the Bruins moving on to game preparation for the Aug. 30 season opener at Rice, a battle within the battle will also quiet down a bit.
Receiver
Jerry Johnson
and cornerback
Aaron Hester
have been going at each other in a competitive and entertaining one-on-one rivalry almost since the beginning of spring practice.
The two have rarely lined up against anyone else during drills at camp and often get matched up during team periods. They talk trash and the play gets physical as each has tried to get the better of the other. Sometimes Johnson comes out on top and other times Hester makes the play.
Now that the focus will shift to other opponents, they won't line up against each other quite as much, but they hope the effects of the rivalry will linger into the season.
"It's helping me because he's getting better," Hester said. "And when he gets better, I get better and when I get better, he gets better. We're just elevating our games to the maximum."
Off the field, the two consider each another close friends. Both redshirt seniors, they came to UCLA together and have been through all of the ups and downs of the last four seasons. But on the field, things get pretty competitive.
"We've talked all kinds of mess with each other," Johnson said. "At one point, I just forgot we were friends for a quick split second. But that's the way it's supposed to be on the field. Out there, you're my enemy. I don't care if you are on my team or not, I'm trying to be beat the guy across from me. Off the field, we're close friends. We talk about everything."
Coach
Jim Mora
likes to see that kind of competitiveness on the field. At 6 feet 3, 211 pounds, Johnson is UCLA's biggest and most physical outside receiver. After three injury-plagued seasons, he's poised for a breakout year. And Hester, at 6-1, 207, is among the few cornerbacks in the Pac-12 who can physically match up with Johnson. He's also a three-year starter.
August, 21, 2012
8/21/12
10:29
PM PT
LOS ANGELES -- The clock is ticking on training camp for UCLA, which held it's final open practice of the fall Tuesday night at Spaulding Field and will go into game-planning mode for Rice on Wednesday.

That means the clock is also ticking on figuring out a starting five on the offensive line -- the biggest remaining unsettled concern the Bruins have before the Aug. 30 season opener.

Projected starters Jeff Baca and Greg Capella have been out for about two weeks because of concussions as has Alberto Cid, a part-time starter last season who was competing to start this year.

Those injuries have forced other players to step in and have forced the coaches to juggle players around, including putting tackles at guard and guards at tackle in an attempt to find a cohesive and effective group. So even with the opening game only eight days away, the Bruins are still far from figuring out who the starting five will be up front.

"Not close yet," coach Jim Mora said. "We're still mixing and matching. We moved some guys around a little bit and trying to find the best combination. Pretty soon here, which to me here is tomorrow or Thursday a week before our first game, we need to settle in and get that group playing and playing well."


August, 18, 2012
8/18/12
8:13
PM PT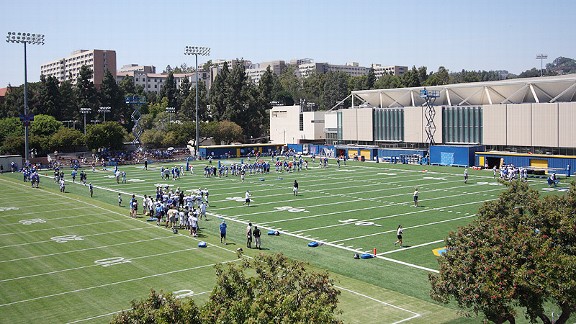 Peter Yoon/ESPNLA.comUCLA practiced at Spaulding Field Saturday for the first time since a new field turf was installed.
LOS ANGELES--Instead of leaving some players in San Bernardino a'la the Junction Boys, UCLA came back from their two-week training camp with one extra body.
Jacob Seydel
, an offensive lineman transfer from Riverside College, was with the Bruins during practice Saturday when the Bruins returned from Spaulding Field after spending the first two weeks of camp at Cal State San Bernardino.
Seydel, a 6-6, 285 pound sophomore, will be eligible to play this season. He was dressed only in shorts as he goes through the mandatory NCAA acclimatization period, but will compete for playing time during the remainder of camp.
He helps add some depth to an offensive line that was hit hard by injuries during the first two weeks of camp.
Jeff Baca
and
Greg Capella
, projected starters, and
Alberto Cid
, a key reserve, were held out of practice again on Saturday and there is no word on a return date for them.
Chris Ward
recently took a medical retirement.
"One of the things we talked about all camp is the need to build depth on our offensive line and this was an opportunity to do that so we took advantage of it," coach
Jim Mora
said. "We have scholarships available and he's a guy that's worthy."
Mora said Seydel would compete mostly at guard but may also get some time at tackle.
"He's athletic, he's got good size," Mora said. "He's got good hands, good feet, good toughness. He's a smart kid."
August, 11, 2012
8/11/12
11:14
PM PT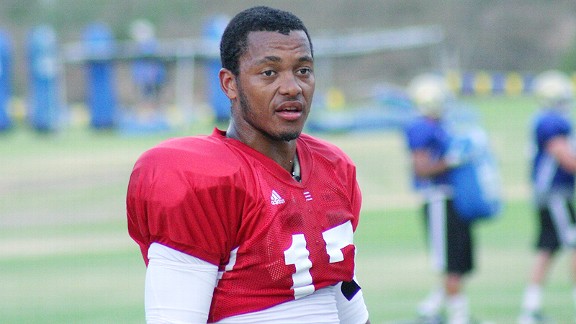 Peter Yoon/ESPNLosAngeles.comOn his first day of practice after being named the starting quarterback, Brett Hundley led the Bruins during a spirited session.
SAN BERNARDINO -- UCLA shed some light on who its starting quarterback will be, but the Bruins were literally in the dark at the end of practice Saturday night.
Coach
Jim Mora
moved the practice start time back a half hour to 6 p.m. and there was very little daylight left by the time
newly-named starting quarterback
Brett Hundley
was finishing up his first day as the official starter two hours later. The facility they are using at Cal State San Bernardino has no lights so the team ran two-minute drills in conditions that made it very difficult to see.
"That was a lot of fun," Mora said. "I think the guys enjoyed it. I think it took some guys back to when they were younger and playing on the streets and you went until your mom called you in, it didn't matter how dark it was."
The session had an energy level that had been missing the last few days as UCLA has fought through temperatures of 105 and higher. It was 96 at the start of practice Saturday night and was in the low 90s by the time the session was over. Plus, nearby storms left a cloud layer that blocked the sun and kept things even cooler.
"I think the combination of having yesterday off and it was cooler and they are young, they're kids," Mora said of the increased energy level. "They like to play ball. They like to go out in the yard and play ball and tonight probably took them back to when they were younger. It was a good energy."
Because of expected high temperatures again Sunday, Mora moved practice to 4 p.m., rather than taking the field at the previously scheduled 11:45. The cooler temperatures Saturday night had a major impact as no players left because of heat-related symptoms for the first time in six practices.
August, 9, 2012
8/09/12
9:05
PM PT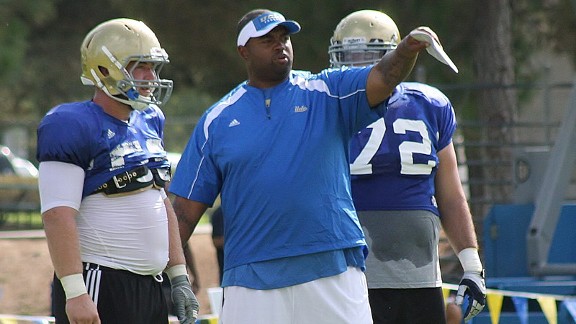 Peter Yoon/ESPNLosAngeles.comUCLA offensive line coach Adrian Klemm had to do some juggling Thursday when his unit had only eight players in practice. Carl Hulick (52) and Alberto Cid (72) are also pictured.
SAN BERNARDINO -- UCLA's offensive line situation went from bad to worse as the Bruins were down to eight active linemen Thursday during training camp at Cal State San Bernardino.
Heat-related illness, concussions and some nicks and dings have taken a toll with
Will Oliver
and Alexandru Cheachir the latest victims. Both became woozy during the break between practices on the first day of two-a-days, and did not come out for the afternoon session.
It made for some interesting rotations for offensive line coach
Adrian Klemm
as the line did not even have a two-deep for substitutions as every offensive player with a number in the 70s was sidelined.
"It's like a puzzle," coach
Jim Mora
said. "Coach Klemm is back there and he's moving guys in and out. Hopefully this is the last day we have to do it because it's not fun. It's tough on those guys and it's not an ideal situation. You kind if hope the worst of it is over. Hopefully we can get some of those guys back."
Greg Capella
, who sat out the latter part of practice Wednesday because of a calf injury, was back Thursday and Mora said some of the players out because of heat-related illness could return Saturday after UCLA takes a day off on Friday.
Brett Downey
did some light work Thursday morning but did not practice in the afternoon.
One player probably not coming back soon is
Jeff Baca
, the senior who is slated to start either at right guard or right tackle. What was at first thought to be heat illness is now being treated as a concussion and Baca will go back to UCLA on Friday for further tests.
Alberto Cid
will join Baca in Westwood for those tests. Cid, competing for a starting guard spot, suffered a head injury Wednesday and did not practice Thursday. Mora said the team is simply not taking any unnecessary risks with concussions or heat-related illness.
"The things that I don't think you should ever mess with at any level of football is head injuries and heat illness," Mora said. "Those things can be deadly and you just have to be really, really careful. If it's close, we're going to hold them out and get somebody else the work."
There are fewer and fewer guys available for that work, however.
Ben Wysocki
, among the linemen still standing at the end of Thursday's afternoon session, estimated that he was on the field for 90-100 reps. A redshirt freshman, Wysocki entered camp No. 2 on the depth chart at left guard, but has been the right tackle with the first team the last few days.
"I didn't imagine this at all," Wysocki said. "The door opened up and I took advantage of it."
August, 8, 2012
8/08/12
9:37
PM PT
SAN BERNARDIO -- The Bruins' offensive line had questions coming in to camp and Thursday the biggest question was: Where's the beef?

The Bruins were down to nine offensive linemen by the end of practice Thursday, when Alberto Cid left because of a head injury and Greg Capella tweaked his calf. They joined Jeff Baca (heat), Simon Goines (heat), Brett Downey (heat), Chris Ward (back) Tre Hale (heat), Colby Cyburt (back) and Torian White (chest pains) on the sideline, giving the Bruins as many injured linemen as healthy at the end of Wednesday's session.

The players out because of heat symptoms should return in the next day or two and so, too, should Cyburt, but this group still has to fill some holes before it starts making them.

Xavier Su'a-Filo is guaranteed to be starting at left tackle and Baca will be starting somewhere, but the other three slots are open. Jake Brendel seems to have taken a stronghold on the center spot and Capella is the early favorite for left guard, but the coaches are still searching high and low for a right tackle.

"It's wide open," offensive line coach Adrian Klemm said. "You can come right in off the street right now and start at right tackle."

White, Goines and Downey were getting the right tackle reps before they were injured and Ben Wysocki is there now with Will Oliver backing him up. If none of them can win the job, Baca will likely move from right guard to right tackle, where he played last season.

Klemm says he prefers to have Baca at guard because that's where Baca will play should he get drafted by an NFL team, but Baca is open to playing tackle if another player is better suited for right guard.

"I don't have a preference," Baca said. "I just like being out there and I'll play any position. I just like to have some time to practice that position."


July, 27, 2012
7/27/12
11:34
AM PT
With UCLA training camp set to begin Aug. 4 at Cal State San Bernardino, we're taking a preseason look at the roster and breaking down the Bruins, position-by-position.
We started with
quarterbacks
and now move to the guys expected to protect the quarterback: The offensive line.
DEPTH CHART AT THE END OF SPRING PRACTICE:
Left Tackle
Xavier Su'a-Filo (6-4, 295, So.)
Michael Padovese (6-5, 310, Fr.)
Left Guard
Wade Yandall (6-4, 315, So.)
Alexandru Ceachir (6-5, 305, So.)
Ben Wysocki (6-4, 295, Fr.)
Center
Greg Capella (6-4, 292, Jr.) OR
Jake Brendel (6-4, 295, Fr.)
Tre Hale (6-1, 308, So.)
Kody Innes (6-3, 291, So.)
Right Guard
Jeff Baca (6-3, 290, Sr.)
Alberto Cid (6-3, 310, Jr.)
Chris Ward (6-4, 305, Jr.)
Right Tackle
Torian White (6-5, 285, Fr.)
Will Oliver (6-7, 290, Fr.)
Brett Downey (6-6, 305, Sr.)
PROJECTED OPENING DAY DEPTH CHART:
Left Tackle
Xavier Su'a-Filo (6-4, 295, So.)
Simon Goines (6-7, 324, Fr.)
Michael Padovese (6-5, 310, Fr.)
Conor McDermott (6-8, 247, Fr.)
Left Guard
Alberto Cid (6-3, 310, Jr.)
Alexandru Ceachir (6-5, 305, So.)
Ben Wysocki (6-4, 295, Fr.)
Center
Jake Brendel (6-4, 295, Fr.)
Carl Hulick (6-2, 300, Fr.)
Tre Hale (6-1, 308, So.)
Kody Innes (6-3, 291, So.)
Right Guard
Greg Capella (6-4, 292, Jr.)
Chris Ward (6-4, 305, Jr.)
Colby Cyburt (6-4, 265, Fr.)
Right Tackle
Jeff Baca (6-3, 290, Sr.)
Torian White (6-5, 285, Fr.)
Brett Downey (6-6, 305, Sr.)
Will Oliver (6-7, 290, Fr.)
KEY LOSSES
Mike Harris, 14-game starter at tackle. Graduated
Kai Maiava, 13-game starter at center. Graduated
Sean Sheller, Started 13 games the last two years. Graduated
Wade Yandall, Projected starter at guard took a medical retirement (concussion).
2014 TEAM LEADERS
| TEAM | RUSH | PASS | TOTAL |
| --- | --- | --- | --- |
| Offense | 208.5 | 278.2 | 486.6 |
| TEAM | PF | PA | MARGIN |
| Scoring | 35 | 27.2 | 7.8 |