January, 2, 2013
1/02/13
8:37
PM PT
What: California Golden Bears (8-4) at UCLA Bruins (9-3)

When: Thursday, 8 p.m. PT

Where: Pauley Pavilion

TV: Fox Sports Net

Radio: AM 570

Scouting the Bruins: UCLA is on a season-long five-game winning streak and is coming off its most impressive performance of the season in a 97-94 overtime victory over then-No. 7 Missouri. The Bruins are getting it done on the offensive end, averaging 93 points per game over the past four. The Bruins enter Pac-12 play leading the conference in scoring at 80.9 points per game and in field goal percentage at 48.6 percent. Defensively, they are at the other end of the spectrum, however, as they are last in the conference in scoring defense (69.5 points per game) and 11th in field goal percentage defense (41.9). Shabazz Muhammad will take the court for his first conference game fresh off a buzz-worthy 27-point performance against Missouri that earned him conference and national player of the week honors. He is averaging a team-best 19.6 points per game and has 21 or more in the past four games as he begins to show why he was touted as the top offensive player out of high school last year. Travis and David Wear also had good games against Missouri, combining for 38 points on 18-of-27 shooting and 15 rebounds. It was the highest combined point total of their careers.

Scouting the Golden Bears: California begins conference play having lost four of its past six games, including a 67-62 setback to Harvard in its previous game. The Golden Bears began the season with six consecutive victories in November, but a difficult December schedule that included losses to No. 18 UNLV and No. 13 Creighton slowed the momentum. Guards Allen Crabbe and Justin Cobbs are among the top backcourt players in the conference and are averaging a combined 37.3 points per game -- more than half of the 71.5 Cal is averaging as a team. Crabbe leads all Pac-12 players with 20.9 points per game. Forwards David Kravish (6-foot-9) and Richard Solomon (6-10) provide plenty of inside size and have helped Cal average 40.2 rebounds per game -- third in the conference. The Golden Bears, under coach Mike Montgomery, are giving up 65.2 points per game. They are 1-1 in road games.

The series: UCLA leads the series 133-99, although Cal swept UCLA last season with an 85-69 victory at home and a 73-63 victory at the Sports Arena. UCLA is 68-48 all-time against California at Pauley.

Quick quote: "It's a whole new season," UCLA coach Ben Howland said about starting Pac-12 Conference play. "Whatever has happened up 'til now is all for experience."
February, 19, 2011
2/19/11
8:51
PM PT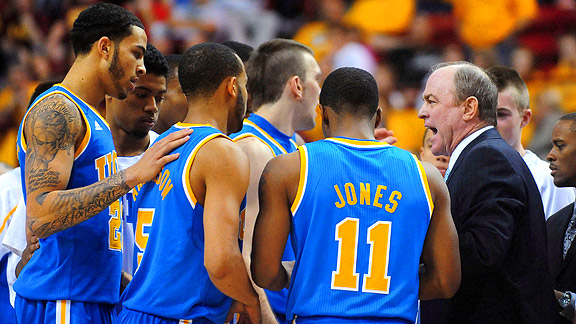 Jennifer Stewart/US PresswireUCLA coach Ben Howland says sometimes Sunday games can be both a blessing and a curse.

BERKELEY, Calif. -- UCLA meets California tonight in a rare Sunday night game and the Bruins have plenty of causes for concern.

First off, California guard Allen Crabbe, averaging 15.4 points in Pac-10 play, is expected to return to the lineup after missing two games because of a concussion. Crabbe scored 13 of his 17 points in the final 3:30 against UCLA on Jan. 20.

Second, California (13-13, 6-8) is on a four-game losing streak and will be desperate for a win when the teams tip off at 7 p.m.

The Golden Bears are better than their record might indicate, having lost six games by four points or fewer -- including a 107-105 triple overtime loss to conference leader Arizona two weeks ago--and have lost three times on the final play of the game.

One of those losses came at UCLA on Jan. 20, when Cal erased a 14-point lead in the final four minutes before Reeves Nelson made a game-winning tip in with two seconds to play an 86-84 UCLA victory.

Add in UCLA's 0-2 record on Sunday this season -- the Bruins lost to Montana on Dec. 11 and at USC on Jan. 9 -- and you can see why Bruins coach Ben Howland is concerned despite UCLA's season-long tying six-game win streak.

"It's going to be hard," Howland said. "They are coming off four tough losses in a row. Mike Montgomery is a Hall of Fame coach. He should be in the Naismith Hall of Fame and I'm sure he will be. He'll have that team ready to go come Sunday night and we know we're going to have to play very well to be able to win the game."

A slip up Sunday against Cal might put UCLA (19-7, 10-3) back on the NCAA tournament bubble, which wouldn't be a good place to be with games against conference-leading Arizona and preseason conference favorite Washington still to come.

"We want to get the next one," Howland said, refusing to look ahead. "We'll have our hands full."


January, 20, 2011
1/20/11
11:40
PM PT
We go beyond the arc following UCLA's dramatic 86-84 victory over California at Pauley Pavilion on Thursday night:
1
THE FINAL 18 SECONDS
2
LEE PUTS CLAMPS ON CRABBE
Malcolm Lee
admitted that his mind went blank as he watched the final three minutes of Thursday night's game from the bench.
"It seems like everything went so fast," Lee said. "Those three minutes seemed liked 15 minutes."
Blame that on Cal freshman
Allen Crabbe
(Los Angeles, Calif./Price), a player Lee had shut down all night. But immediately after Lee's exit, Crabbe turned it on. The reigning Gatorade State Player of the Year scored 13 of his 17 points in the final three-plus minutes. He sank the game-tying three-pointer with 10 seconds left.
Coach
Ben Howland
blamed himself for Lee's foul trouble, saying he played the junior guard too many minutes in the second half. The Bruins led 73-61 when Lee fouled out.
"I just tried to pressure (Crabbe) and make him dribble into his shot," Lee added. "And although a lot of people might not see it, I depend on my teammates a lot on ball picks. ... I was just trying to make him work for it."
3
HEATING UP THE STOVE
Before Thursday night's game, redshirt freshman
Anthony Stover
was best known for his work as UCLA's hype man. You know, dancing in the pregame huddle, bumping chests with starters, waving the towel.
Stover ditched the warm-up suit to make his first career start, a move Howland made to give UCLA a better defensive post presence. He had been virtually unknown, so much so that the top note in his game day biography read: "Was stricken with a gastrointestinal illness on the evening of Dec. 11 and missed practice Dec. 12."
On Thursday, butterflies were the only thing inside his stomach.
"Coach told me not long before the game," Stover said. "I don't know if he did it on purpose, but it was kind of a shock to me. He said, 'You're starting tonight.' I looked at him and thought, 'No I'm not. What are you talking about?' Getting out here and starting was an experience in itself. It was so exciting just to be playing in front of this big crowd."
Stover grabbed a career-best four rebounds in 15 minutes. He didn't play in the final nine minutes, 35 seconds, as Howland opted to go with backup forward
Brendan Lane
.
"It was a lot of nerves, but I tried not to let the nerves get in the way," Stover said. "If I'm starting or coming off the bench playing four minutes a game, I'm just out here to trying to do what I can."
January, 19, 2011
1/19/11
4:28
PM PT
A few notes to preview Thursday night's home game against California:
PROJECTED STARTING LINEUPS

California (9-8, 2-3 Pac-10)
C Mark Sanders-Frison (10.1 points, 8.1 rebounds)
F Harper Kamp (13.8 points, 5.6 rebounds)
G Allen Crabbe (11.1 points, 5.5 rebounds)
G Jorge Gutierrez (12.2 points, 4.0 assists)
G Brandon Smith (4.5 points, 3.3 assists)

UCLA (11-6, 3-2 Pac-10)
F Brendan Lane (3.9 points, 4.4 rebounds)
F Reeves Nelson (13.9 points, 7.8 rebounds)
F Tyler Honeycutt (13.4 points, 7.9 rebounds)
G Malcolm Lee (12.4 points, 1.7 assists)
G Lazeric Jones (10.4 points, 3.2 assists)
KEY MATCHUP
Tyler Honeycutt vs. Allen Crabbe -- Maybe
Gary Franklin
's transfer was for the better of Cal basketball. With local product
Allen Crabbe
(Los Angeles, Calif./Price) leading the charge, it sure looks that way. Crabbe, last year's Gatorade State Player of the Year, has averaged 17.4 points in five Pac-10 games, highlighted by a breakout, 30-point performance against Washington State last week. He has netted an average of 20 points since Franklin (Santa Ana, Calif./Mater Dei) departed Jan. 5.
"It's coming easy to me now," Crabbe told reporters at Cal's weekly news conference. "The more I'm playing, I'm just getting into the flow and letting it come to me instead of thinking too much."
That leaves
Tyler Honeycutt
with a big chore Thursday night. It promises to be an interesting battle on both ends. Can Honeycutt, who is coming off a season-low seven points, squeeze every inch out of his height advantage?
"He's 6-8, so that's going to be a challenge," said the 6-foot-6 Crabbe. "Honeycutt is a good player, a really good player. Playing against good people, I tend to step up. I believe in myself. It's going to be a good matchup."
ABOUT THE GOLDEN BEARS
Cal, a No. 8 seed in last year's NCAA tournament, lost to eventual champion Duke, 68-53, in the second round. ... Coach
Ben Howland
has enjoyed success against the Golden Bears. Howland's teams are 15-6 against Cal. ... On the flip side, Cal coach
Mike Montgomery
is 55-30 (.647) in his two-plus seasons in Berkeley. It's the best winning percentage for a Cal coach since
Pete Newell
(.730) was at the helm from 1955 to 1960. ... Cal knocked UCLA out of the Pac-10 tournament last year, slashing the Bruins' hopes of going dancing.
Michael Roll
's career-high 27 points were not enough, as UCLA fell 85-72 in the semifinals at Staples Center.
BEARS MIGRATING HOME
Crabbe is one of five Southern California players on Cal's roster. The others are:
Bak Bak
(Sun Valley, Calif./Village Christian),
Nigel Carter
(Los Angeles, Calif./Dorsey) and
Richard Solomon
(Los Angeles, Calif./Price).
Justin Cobbs
(Los Angeles, Calif./Bishop Montgomery) is sitting out this season after transferring from Minnesota.
"I think it's going to be a fun weekend," Crabbe said. "I'll get to see friends and family at the games. ... I've been waiting for this weekend for the longest. I'll get to play against some L.A. guys that I used to play against in high school. ... It's just going to be fun playing in front of them. Many of them haven't seen me play since high school. ... I considered UCLA, it was one the schools I wanted to go to when I was younger, but I'm glad I'm here. Cal is a good fit for me."
2013 TEAM LEADERS
| TEAM | RUSH | PASS | TOTAL |
| --- | --- | --- | --- |
| Offense | 196.6 | 251.6 | 448.2 |
| TEAM | PF | PA | MARGIN |
| Scoring | 36.5 | 24.1 | 12.4 |