April, 29, 2011
4/29/11
3:48
PM PT
Former UCLA linebacker Akeem Ayers was taken by the Tennessee Titans with the 39th overall selection in the NFL Draft on Friday.

It's somewhat of a disappointment for Ayers, who had, for a long time, been a projected first-round choice. He was rated as high as No. 13 overall by ESPN, but started slipping after a lackluster showing at the combine in late February.

Ayers was in the green room at Radio City Music Hall for the first round on Thursday but was not visible on Friday.

The outside linebacker joins former teammate Alterraun Verner in Nashville, who had a solid rookie season for the Titans last year.
August, 15, 2010
8/15/10
8:21
PM PT
The Bruins defense enters this season with some big holes to fill after losing key players such as Brian Price and Alterraun Verner to the NFL draft and losing top returning lineman Datone Jones to a broken foot, but even so, the Bruin defenders seemed to have the upper hand in Saturday evening's scrimmage.

Freshman safety Dietrich Riley had two interceptions, linebacker Akeem Ayers made several big hits and the Bruins defense allowed only one score and two plays of more than 10 yards.

"We're ahead of where I thought we'd be," All-American safety Rahim Moore said. "Our IQ game is better. We're smarter, we're more physical, we're faster. We know our goals. We're more hungry."

But did the defense dominate Saturday, or did it just take advantage of an offense that made some crucial mistakes?

"I wouldn't say the defense dominated the offense or that the offense dominated the defense," Moore said. "They put up some plays and we put up some plays. I would just say that we had a good day of competing. That's how I look at it."

Defensive coordinator Chuck Bullough said the best part of his unit's performance was the attitude it took to the field.

"I was pleased with the effort," he said. "There was some hitting going on. There were some good hits. There are still some things we need to clean up, but this is early in season. That's going to happen."
June, 15, 2010
6/15/10
11:45
AM PT
A note:
The
Los Angeles Daily News is reporting
that UCLA starting second baseman and No. 3 hitter
Tyler Rahmatulla
broke his wrist during
this postgame celebration
and will miss the College World Series. Rahmatulla, a sophomore, forced a Game 3 against Cal State Fullerton by blasting a clutch, two-out, two-run home run in the ninth inning of Saturday's elimination game. Head coach
John Savage
has options, though -- he can move third baseman
Cody Regis
to second and have backup first baseman
Dean Espy
man third. Backup catcher
Trevor Brown
, whose two-out, two-run single in extras Saturday gave UCLA the lead, can also play the infield.
A video:
A link:
The Tennessee Titans and fourth-round NFL Draft pick
Alterraun Verner
have agreed to terms on a four-year deal.
Click here
for the Titans' release.
April, 24, 2010
4/24/10
8:35
AM PT
Former UCLA cornerback
Alterraun Verner
was chosen by the
Tennessee Titans
with the sixth pick in the fourth round (104th overall). The Titans traded away backups
LenDale White
and
Kevin Vickerson
to the
Seattle Seahawks
to move up seven slots and choose Verner, who is expected to compete for time in the secondary.
Verner finished his four-year stint at UCLA with 13 career interceptions and five defensive touchdowns.
He joins former teammate
Brian Price
(35th overall to Tampa Bay) as Bruins players taken this year. UCLA did not have any players selected last April.
April, 21, 2010
4/21/10
7:45
PM PT
Cornerback Aaron Hester does a lot of talking on the gridiron, constantly bickering with UCLA's receivers. He did some talking off the field Tuesday, touching on a wide range of topics, from how it feels to be back playing football to what he does on his downtime and why he wears No. 21. Here's a transcript of our conversation:
---
Blair Angulo: How have you handled being back on the field?
Aaron Hester
: I'm just happy to be back playing football, first of all. Everything else has fallen into place. The cream rises to the top, so I've just been working hard trying to make all the plays I can.
Angulo: What was your mindset last season after suffering the leg injury in the opener and not seeing the field the rest of the year?
Hester
: It was tough. It gets lonely being hurt – on the crutches and everything – it's hard to get around limping and in pain. I took it as a lesson learned, it's part of the game. The leg has held up now after doing my proper rehab, so I'm ready.
Angulo: There's a difference between knowing you're going to be out the rest of the season and climbing your way back to full health. You suited up a few times but never saw the field. How tough was it to be teased like that?
Hester
: I think that was the toughest part because I thought I was going to come back and at least be able to get a little taste. But it just didn't happen – that was the roughest part for me. I just took it all in, so when the season comes around I'm going to unleashed all those things I was feeling.
Angulo: Missing time means missing experience, have you been able to recover and make up for that lost time?
Hester
: I've been getting my study habits right and watching a lot of film, breaking it down with
Rahim [Moore]
,
Sheldon [Price]
and
Tony [Dye]
. As a unit we can just play as one and try to be the best secondary in the country.
Angulo: You lose Alterraun Verner. How do you make up for that if you want to be the best secondary?
Hester
: Hard work. Vern' was an excellent player – his intelligence and his instincts will be missed. But Sheldon and I have to work on becoming two shutdown corners. We're young, we're both sophomores this year, so I know we're going to get tested. It will come, but we'll just have to pass the test.
---
Angulo: What do you do when you're not playing football?
Hester
: I like relaxing and watching TV.
Angulo: What do you watch?
Hester
: NFL Total-Access. I've got to keep some football in there.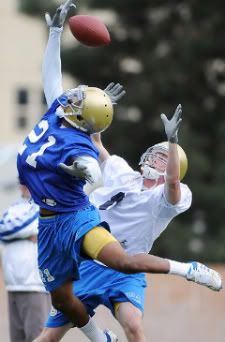 Tiffany Cheng/Daily Bruin Cornerback Aaron Hester (21) can't stay away from football -- even when he's watching television.
Angulo: I know a lot of your teammates are into video games. Do you get involved in all that?
Hester
: The only games I play are NCAA Football or Madden. I have the Call of Duty game, but I can't really get that down pat yet. I let
Datone [Jones]
have it and he plays it every night.
---
Angulo: Have a favorite course you've taken while at UCLA?
Hester
: A screenwriting class.
Angulo: Film and Television, the fundamentals of screenwriting?
Hester
: Yeah, man. It felt cool writing the script. Now I see how people make movies and all that.
---
Angulo: Any pregame meals or rituals?
Hester
: I pray before every game. I don't really have a pregame meal, as long as I get something in me that can hold me for four hours. As far as pregame rituals, I have to talk to my dad. He gets my mind right.
Angulo: Any reason why you wear No. 21?
Hester
: Actually, I was No. 9 before, but I chose 21 because
Sean Taylor
was my favorite player. When he passed I wanted to change my number. I also like
Nnamdi Asomugha
from the Raiders, I think we play alike – we're both
tall, physical and fast
. That's the person I try to mirror my game after.
February, 22, 2010
2/22/10
2:16
PM PT
Carnell Lake
, who served as UCLA's defensive backs coach last season, has stepped down due to family reasons, according to a
press release from the program
.
"Carnell did a great job coaching our cornerbacks last season and will always be remembered as a great Bruin," coach
Rick Neuheisel
said. "Carnell is also a great father and he felt this was in the best interest of his family. We wish him all the best in the future and know he will still be involved in our program as a proud alum."
UCLA ranked 28th in the country in
pass defense last season
.
Cornerback
Alterraun Verner
earned All-American accolades from various publications and is now training in Arizona for next week's NFL Combine. At safety,
Rahim Moore
led the nation with 10 interceptions and fellow sophomore
Tony Dye
became one of the Bruins' most consistent tacklers.
Lake's departure may most be felt in the progression of youngsters
Sheldon Price
and
Aaron Hester
, among others. Price made 11 starts, but was the weak-link in UCLA's defense after replacing the injured Hester. As you may recall, Price was the one who
was beat on the final USC touchdown
.
Hester broke his leg in the season-opener and didn't play the rest of the season, but he has the potential to be the Bruins' best corner.
"I want to thank coach Neuheisel for the opportunity he presented to me and I want to thank the members of the staff for allowing me to work with them the past year," Lake said. "I truly enjoyed my time working with the fine young men on our team."
January, 23, 2010
1/23/10
10:02
PM PT
With about a month left until the NFL scouting combine in Indianapolis, four UCLA players competed in Saturday's East-West Shrine Game in Orlando, Fla., hoping to showcase their talents.
Halfback
Ryan Moya
, who played tight end for the Bruins, caught a touchdown pass from Brigham Young's
Max Hall
with seven minutes left in the fourth quarter to put the West ahead 10-6.
But the East rallied. With 12 seconds left, UCLA linebacker
Reggie Carter
prevented a touchdown by stopping Northwestern's
Mike Kafka
at the West's three-yard line. After a timeout, Kafka sailed a pass over Carter's outstretched arms to connect with Penn State tight end Andrew Quarless in the back of the end zone. The
East won 13-10
.
UCLA receiver
Terrence Austin
caught two passes for 18 yards and posted 40 return yards on special teams (two punt and two kick returns).
Cornerback
Alterraun Verner
made three tackles and deflected a pass but muffed a punt early. Carter finished with five tackles.
Junior
Brian Price
, the Pacific 10 Conference defensive player of the year, is the only UCLA player expected to be taken on the first day of April's NFL draft. The
NFL scouting combine
begins on Feb. 24.
January, 19, 2010
1/19/10
7:03
PM PT
The NFL combine is about a month away, which means
Alterraun Verner
has about a month to get better.
That's a month to work on his technique, a month to refine his coverage skills at cornerback and a month to get stronger and faster.
"You can never take anything lightly," Verner said during a phone interview Tuesday night. "I need to fine-tune everything. Everything."
The senior has been in Florida this week practicing in front of NFL scouts and preparing for Saturday's
East-West Shrine Game
. He is joined by fellow UCLA seniors
Reggie Carter
and
Ryan Moya
on the West roster.
Verner
got an invitation after earning Associated Press third-team All-American honors last season. He finished with 13 career interceptions, including a school-record four
returned for touchdowns
.
Verner has been busy since the Bruins' EagleBank Bowl victory over Temple in December. But with the NFL draft a mere three months away and UCLA's pro day fast approaching, he is glad to take all the work he can get. Before leaving for Florida, Verner spent two weeks training in Phoenix.
"Tough," Verner said of the workouts. "Tough but productive."
Serving as extra motivation is that UCLA didn't have any players selected in last year's draft. Verner doesn't have to worry about that though.
The first Bruins player taken this April will surely be Pacific 10 Conference defensive player of the year
Brian Price
, who leaves after a stellar junior season. Price, a defensive tackle, could be a first-round choice.
Despite the lack of pressure to get UCLA on the board, Verner knows he has to prove himself and make people proud.
"I hope that my legacy is of a young man who worked hard and tried to do everything right," Verner said. "That's hopefully what people think when they remember me. I tried to exemplify what a true UCLA student-athlete should be."
He even has his own commercial:
As the Bruins walked to the visitor's locker room minutes after UCLA's loss to USC at the Coliseum in November, coach
Rick Neuheisel
put an arm around Verner, who had yet to take his helmet off.
"It meant a lot," Verner said. "He was telling me I did my part. It kind of accumulated my years at UCLA. Now it's time to pass the torch."
2013 TEAM LEADERS
| TEAM | RUSH | PASS | TOTAL |
| --- | --- | --- | --- |
| Offense | 196.6 | 251.6 | 448.2 |
| TEAM | PF | PA | MARGIN |
| Scoring | 36.5 | 24.1 | 12.4 |