March, 3, 2014
Mar 3
12:00
PM PT
Looking back at some teams the current group of Pac-12 coaches have led during their respective head-coaching careers turns up an impressive list. All 12 have coached a team to a bowl appearance, 10 have finished a season with double-digit wins and eight have had teams appear in the AP top 10.
Taking it a step further and just looking at each individual coach's best team (in college) also made for an interesting study. Choosing which teams those are is clearly a subjective process so for the purpose of consistency, the teams listed below were chosen based on the final spot in the AP poll.
Here are some notable takeaways:
Eight teams ended with bowl victories, but two occurred after the coach left.

Seven teams started unranked, but only one finished out of the polls.

Half of the coaches did it at their current school, four of which occurred in 2013.

Six teams appeared in the top 5 at some point and nine were in the top 15.

Three coaches immediately parlayed the success into their current job.

Only three of the teams won conference titles, none of which was in the Pac-12.

Two teams beat No. 1-ranked squads.

Four teams played in BCS bowls, and three were victorious.
We're not going attempt to rank them ourselves, but here they are in reverse order based on each team's final AP ranking:
No. 12 Sonny Dykes, Louisiana Tech, 2012
Dykes' record:
9-3 (4-2, third in WAC)
Final AP rank:
unranked
Highest AP rank:
19
Bowl result:
no bowl

The team:
The Bulldogs finished the season as the country's highest scoring team (51.50 ppg) and top-ranked offense (577.9 ypg). They rose to No. 19 in the AP poll before losing their final two games of the season, including one against Mike MacIntyre-coached San Jose State in the season finale. Louisiana Tech was
offered a spot
in the Independence Bowl, but it was given away while the school unsuccessfully sought other bowl options. Dykes left for Cal after the season.
[+] Enlarge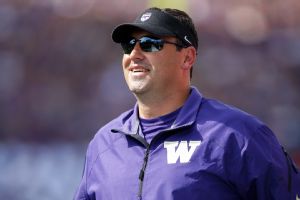 Otto Greule Jr/Getty ImagesSteve Sarkisian parlayed his successful 2013 season into the head-coaching job at USC.
No. 11 Steve Sarkisian, Washington, 2013
Sarkisian's record:
8-4 (5-4, third in Pac-12 North)
Final AP rank:
25
Highest AP rank:
15
Bowl result:
Beat BYU in Fight Hunger Bowl (Sarkisian did not coach)

The team:
The season began with a win against then-No. 19 Boise State, and the season ended with Broncos coach Chris Petersen being hired by the Huskies. Sarkisian departed for USC prior to the bowl. After the win against Boise, Washington debuted in the rankings at No. 19 and rose four spots before a string of three straight losses to Stanford, Oregon and Arizona State.
No. 10 Mike MacIntyre, San Jose State, 2012
MacIntyre's record:
10-2, (5-1, second in WAC)
Final AP rank:
21
Highest AP rank:
21
Bowl result:
Beat Bowling Green in Military Bowl (MacIntyre did not coach)

The team:
Two years after coaching San Jose State to a 1-11 record in his first season as head coach, MacIntyre's team became the first in program history to finish in the final AP poll -- although, the Spartans were unranked when MacIntyre accepted the job at Colorado. SJSU didn't beat any ranked teams, but lost just 20-17 to Stanford, which went on to win Pac-12 and Rose Bowl championships. The other loss came to Utah State, which finished No. 16.
No. 9 Todd Graham, Arizona State, 2013
Graham's record:
10-4 (8-1, won Pac-12 South)
Final AP rank:
21
Highest AP rank:
11
Bowl result:
Lost to Texas Tech in Holiday Bowl
The team:
In his eighth season as an FBS head coach, Graham's most recent Arizona State team was his best. The Sun Devils began the season unranked and entered and exited the Top 25 twice before closing the regular season with a seven-game winning streak. It was ranked No. 11 when it hosted Stanford in the Pac-12 championship game, but a second loss to the Cardinal kept ASU out of the Rose Bowl.
No. 8 Mike Riley, Oregon State, 2008
Riley's record:
9-4 (7-2, tied for second in Pac-10)
Final AP rank:
18
Highest AP rank:
17
Bowl result:
Beat Pittsburgh in the Sun Bowl

The team:
The Beavers started unranked and lost their first two games before winning eight of nine to peak at No. 17. After a 1-2 start, it beat No. 1 USC in Corvallis, but didn't immediately build off the big win. The next week the Beavers lost to Kyle Whittingham's undefeated Utah team (more later).
Riley's highest spot in the polls came in 2012, when the Beavers reached No. 7 after a 6-0 start. He was a head coach in the NFL for three years and the Canadian Football League for four, where he won a pair of Grey Cups.
No. 7 Jim Mora, UCLA, 2013
Mora's record:
10-3 (6-3, second in Pac-12 South)
Final AP rank:
16
Highest AP rank:
9
Bowl result:
Beat Virginia Tech in Sun Bowl

The team:
The Bruins spent the entire season in the polls after starting at No. 21. They began 5-0 and rose to No. 9 before road losses to No. 13 Stanford and No. 3 Oregon. Mora's best coaching job came in the NFL in 2004 when he guided the Atlanta Falcons to an NFC South title and an appearance in the NFC Championship.
No. 6 Mike Leach, Texas Tech, 2008
Leach's record:
11-2 (7-1, tied for first in Big 12 South)
Final AP rank:
12
Highest AP rank:
2
Bowl result:
Lost to Ole Miss in Cotton Bowl

The team:
The Red Raiders started the year at No. 12 and moved up to No. 6 after an 8-0 start. They rose to No. 2 after Michael Crabtree's memorable touchdown catch secured a win vs. No. 1 Texas. After two weeks at No. 2, the Red Raiders lost to No. 5 Oklahoma in a game that propelled Sooners quarterback Sam Bradford to the Heisman Trophy. Leach arrived at WSU in 2012.
[+] Enlarge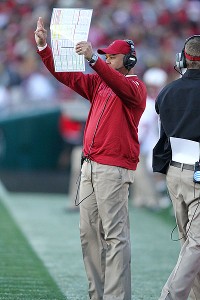 AP Photo/Kevin ReeceDavid Shaw's best team at Stanford didn't win the Pac-12 title.
No. 5 Mark Helfrich, Oregon, 2013
Helfrich's record:
11-2 (7-2, tied for first in Pac-12 North)
Final AP rank:
9
Highest AP rank:
2
Bowl result:
Beat Texas in Alamo Bowl
The team:
Of all the teams on the list, none started higher than the Ducks in Helfrich's head-coaching debut at No. 3. Oregon spent eight weeks at No. 2 before losses to Stanford and Arizona in a three-game span ended any hopes of a conference or national title. The team finished ranked No. 2 in the country in both total offense (565.0 ypg) and scoring (45.5 ppg). Quarterback
Marcus Mariota
dealt with some late-season injury problems, but, when healthy, he was as good as any player in college football.
No. 4 David Shaw, Stanford, 2011
Shaw's record:
11-2 (8-1, second in Pac-12 North)
Final AP rank:
7
Highest AP rank:
3
Bowl result:
Lost to No. 3 Oklahoma State in Fiesta Bowl
The team:
In three seasons as head coach, Shaw has won a pair of Pac-12 titles. But in 2011, when Oregon won the Pac-12 title, he probably had his best team. The Rose Bowl championship team the following year also finished No. 7 and has more hardware, but it didn't have Andrew Luck. Stanford started the year at No. 7, moved up to No. 3 after winning its first nine games, but then lost 53-30 at home to No. 6 Oregon. Stanford received a second consecutive BCS at-large bid, but suffered an overtime loss to No. 3 Oklahoma State in the Fiesta Bowl. In addition to Luck, 10 other players landed on 53-man NFL rosters from the team's departing class. Stanford's low ranking of No. 8 was the best among teams on this list.
No. 3 Rich Rodriguez, West Virginia, 2005
Rodriguez's record:
11-1, (7-0 Big East champion)
Final AP rank:
5
Highest AP rank:
5
Bowl result:
Beat No. 8 Georgia in Sugar Bowl
The team:
Freshmen QB Pat White and RB Steve Slaton were the names of note for the current Arizona coach. West Virginia started the year unranked and its lone loss came to then-No. 3 Virginia Tech. It was the first of three consecutive double-digit win seasons for the Mountaineers, who were undefeated in Big East play and capped the season with a win over No. 8 Georgia in the Sugar Bowl. A strong case can be made that West Virginia had a better team in 2007, when Rodriguez left following the regular-season finale to become head coach at Michigan. The Mountaineers were ranked No. 2 (No. 1 in the coaches poll) going into Rodriguez's final game, but
lost to a 4-7 Pittsburgh team
in the 100th Backyard Brawl, which cost them a chance to play for the national title. They finished No. 6.
No. 2 Chris Petersen, Boise State, 2009
Petersen's record:
14-0 (8-0, WAC champions)
Final AP rank:
4
Highest AP rank:
4
Bowl result:
Beat No. 4 TCU in the Fiesta Bowl
The team:
Washington's new coach has quite the résumé. Many consider Boise State's undefeated 2006 team that beat Oklahoma in that's year memorable Fiesta Bowl as the school's best, but three years later the Broncos finished 14-0 and finished a spot higher in the final AP poll. They opened the season at No. 14 and started with a win against No. 16 Oregon in Chip Kelly's first game as head coach. Boise capped the season with a win against undefeated TCU in the Fiesta Bowl. The team's offensive coordinator, Bryan Harsin, is now the head coach and its defensive coordinator, Justin Wilcox, spent last season with Sarkisian at Washington and followed him to USC in the same capacity.
No. 1 Kyle Whittingham, Utah, 2008
Whittingham's record:
13-0 (8-0, Mountain West champions)
Final AP rank:
2
Highest AP rank:
2
Bowl result:
Beat No. 4 Alabama in Sugar Bowl
The team:
In Whittingham's fourth season as head coach, the Utes finished as the nation's lone undefeated team after starting unranked. Utah opened with a win at Michigan -- Rodriguez's first game as the Wolverines' coach -- and went on to beat four teams that finished in the final AP poll, including Alabama (6), TCU (7), Oregon State (18) and BYU (25). Quarterback Brian Johnson threw for 336 yards in a convincing 31-17 win against Alabama in the Sugar Bowl.
Want to swap out one team for another or switch the order? Email me at Kyle.Bonagura@espn.com.
February, 18, 2014
Feb 18
7:00
PM PT
Elliot Harrison of NFL.com wanted to make a list of up-and-coming NFL players,
so he tapped an all-under-25 NFL team
, and nine of his 26 selections played in the Pac-12.
Not only that, the conference, stereotyped as offense-first, had just as many defensive players -- four -- as offense. And his omission of
Star Lotulelei
, the former Utah defense tackle now starring for the
Carolina Panthers
, is notable because he finished fourth in the AP Defensive Rookie of the Year vote.
Further, these nine guys came from seven conference teams, so this isn't just about USC's pipeline of five-star recruits to the NFL.
Here's the Pac-12 players on his team.
Offense
QB
Andrew Luck
(Stanford), Indianapolis Colts
WR
Keenan Allen
(California), San Diego Chargers
OT
Tyron Smith
(USC), Dallas Cowboys
OG
David DeCastro
(Stanford), Pittsburgh Steelers
Defense
DT
Jurrell Casey
(USC), Tennessee Titans
LB
Vontaze Burfict
(Arizona State), Cincinnati Bengals
LB
Kiko Alonso
(Oregon), Buffalo Bills
CB
Desmond Trufant
(Washington), Atlanta Falcons
Special teams
P
Johnny Hekker
(Oregon State), St. Louis Rams
Of these players, only Burfict and Allen received high recruiting rankings from ESPN.com. Burfict was the nation's No. 1 inside linebacker and Allen was the nation's No. 5 "athlete." ESPN.com ranked Luck the nation's seventh-best quarterback in 2008.
Casey, DeCastro, Trufant and Alonso rated as solid to off-the-radar prospects in most recruiting rankings.
So, again, the best response when Pac-12 teams don't rate highly in recruiting rankings to shrug and move on with your day.
October, 15, 2013
10/15/13
4:00
PM PT
Welcome to the second half.
Greg in Salt Lake City writes:
"If you don't like where you are in the Power Rankings, play better." Oh, like maybe beat No. 5 Stanford? Done. Wait, that didn't really help. Utah is a few turnovers away from being undefeated, they get better every week and just beat Stanford. Because
Power Rankings
take the most recent games into account more we should definitely be ahead of Oregon State and Washington -- neither of which has beat a team that is still ranked. I would think a former MWC guy would show a little more respect ;)
Kevin Gemmell
: I appreciate the passion, Greg. I really do. And I particularly appreciate the emoticon wink. And as a former MWC guy, I've followed Utah's rise in that conference and transition to the Pac-12 with great interest.
For the record, it did help. You moved up from seventh to sixth in this week's Power Rankings.
No, you shouldn't be ahead of Oregon State or Washington. You lost to Oregon State. Any way you slice it, the Beavers have more wins and beat you at home. As for Washington, we'll find out more about them this week when the Huskies travel to Arizona State. Washington lost to Stanford on the road by a field goal. You beat Stanford at home by two field goals. Washington's two losses have been to top-five teams. Utah's losses have been to a top 15 team and an unranked team. Plus Utah has had the luxury of not having to go out of state yet.
I think the Stanford win was a critical stepping stone for the Utes, but it's how they follow it up that will be extremely telling.
This isn't the Mountain West where the entire season boils down to one game against TCU. You beat Stanford. Great. Now can you go on the road and beat Arizona? At USC? Can you avenge the beating you took last year from ASU? Can you win at Autzen?
Recall Washington scored two wins over top-10 teams last year, but still finished with seven wins and the season was perceived as unsuccessful. If Utah fails to make it to the postseason, how much does this one win really mean? Not a whole lot. You'll be viewed as the team that just caught Stanford on a bad day on the road rather than a team that is climbing the Pac-12 pecking order.
It was a good win. What's are you going to do with it?
Ducku03 in Eugene writes:
Hey Kevin I've been reading a lot about that Heisman Moment that takes a candidate over the top. It seems to me that all of these moments, the media talks about, are come-from-behind moments that give their team a miraculous win. Isn't it a little unfair to degrade a Heisman campaign just because your team is always ahead in the fourth quarter such as the case for
Marcus Mariota
?
Kevin Gemmell: Aside from "mandatory" and "colonoscopy," there are no two words put together that irk me more than "Heisman" and "moment." It's a sham. A fluke. Just as I railed in last week's mailbag about one play being a determining factor in a game, one moment doesn't, couldn't, shouldn't determine something as important as a Heisman.
I can think of about two dozen Heisman moments for Marcus Mariota already. And, as you noted, none of them involved a come-from-behind victory. That's because he's got his team so far ahead.
I've written a couple of times on the Heisman in recent years. It's a completely
subjective award
that is open to all kinds of interpretation. I don't think that's a bad thing, but I happen to disagree with how some people go about their voting process. That's what makes the Heisman so controversial.
As I noted in 2011
, Andrew Luck had plenty of Heisman moments, they just weren't "traditional" Heisman moments.
I don't think Mariota's campaign will be slowed down if the Ducks don't have a come-from-behind-fourth-quarter win. What he's done so far has been too impressive. Obviously, the Stanford game will be of significance. It will be nationally televised and East Coast voters should stay up to watch.
The whole Heisman exercise has gotten out of hand. It's taken on such a life of its own that it's essentially downgraded the importance of some other awards like the Maxwell and Walter Camp, the Outland and the Rimington. I hate that the metrics aren't there for linemen or defensive players to win it. And the spread offense has completely slanted the playing field in favor of quarterbacks. The whole process feels less like a celebration of greatness and more like, well, a mandatory colonoscopy.
Tommy Trojan in a beach chair on the beach writes
: I know and the USC faithful know how important a win against ND this weekend is for the future of the program and for the rivalry. What does a USC win mean in the world of the Pac-12 down the stretch?
Kevin Gemmell:
In terms of the standings, not a whole lot. In terms of their perception, it's huge. USC's brand has taken a huge hit over the last 12 months. With that comes negative recruiting from other schools and a general uneasy feeling about the state of the program.
But USC is still a brand. And it will endure. Because there are always going to be elite athletes who want to come to USC.
The Trojans aren't out of the South Division hunt yet, but they'll need some help along the way. All they can do is hope to win out and restore the confidence of the fan base and potential future Trojan players. Winning at Notre Dame would be a huge first step toward rebuilding that.
Chris in Foresthill, Calif. writes:
Sonny Dykes is on record that Cal has the prerequisites "location, facilities, weather, academics and access to state-wide and national talent" to be a national championship contender. I don't see it due to the predominance of pro sports in the Bay Area. In three to five years, do you see Cal as a contender, pretender or also-ran?
Kevin Gemmell:
I think what we have right now, this year, with Cal is the perfect storm of a young team adjusting to new schemes, a horrific string of injuries and one of the toughest schedules in the country.
The Bears have been able to move the ball, they just haven't been able to score. I still think the skill position players are really good, they just haven't been able to translate it on the field on Saturdays.
Losing 10 of 11 potential starters on defense doesn't help. Dykes said today that he's never seen this many season-ending injuries in one year in his career.
In three to five years I think Cal should certainly be a mainstay in the postseason. Cal has too many advantages not to, at the very least, be a six-win team. I'm cutting Dykes and Co. some slack simply because of all the dice loaded against them this season. But there are still six opportunities left for progress. And six opportunities for a lot of younger players to get some valuable experience.
Don in Newberg, Ore. writes:
Kevin, Most impressive aspect of the Ducks' win @ Washington? When the season started, there was no argument that Oregon's best three offensive players were Mariota, DAT and Lyerla. They beat the Dawgs without two of those three. That says something.
Kevin Gemmell
: I'd argue that
Ifo Ekpre-Olomu
and
Terrance Mitchell
were right up there in terms of preseason hype. And so far Oregon's secondary has been beastly. I'd say that was the most impressive aspect.
Keith Price
did what he could, but the Ducks held him to his lowest output of the season in terms of yards and touchdowns. His longest pass was 28 yards. His completion percentage was below 60 percent for just the second time this year (the Arizona rain game was his lowest).
For as much as people want to talk about what Oregon is doing on offense -- and full disclosure, I'm one of those guys talking about their offense -- the defense has quietly been one of the best in league. Just as it was quietly one of the best in the league last year, and the year before that. They are allowing a league-low 13.8 points per game and have only allowed four touchdowns in the air. Be impressed with the offense. But don't forget what the guys on the other side of the ball are doing.
Darin in Monterey, Calif. writes:
I have a couple of questions about QBR ratings. Can you explain to me how you get a high QBR rating? Mariotta has an average of 96 or something like that and Mannion only has 82. When Oregon State played Colorado Mannion only recorded a QBR of 61, while scoring 6 TDs. … I understand that Colorado isn't exactly a powerhouse, but Mariotta scored a 96 QBR against Nicholls St. while throwing less touchdowns and about the same pass completions. So, what's the difference?
Kevin Gemmell
: You basically have two different QBR ratings. One is raw QBR, the other is adjusted QBR. Adjusted takes into account the strength of opponent and various other factors.
Essentially, it boils down to how much of a contribution did the quarterback make? What was his completion percentage on first, second or third down? What were the circumstances under which a touchdown was scored?
Here's
the complete guide to the QBR
that fully explains it all. It's a lot to take in, and requires reading it a few times. But once it all settles, you'll start to look at QB stats differently.
Like all stats, it's not a complete representation of the player. But it's, in my opinion, the best statistical measuring stick out there.
Scappoozer in Scappoose, Ore. writes:
I won't say I told you so. I like your coverage of Pac-12 football and a little homerism to boot but you and Ted have never jumped on your potential champions bandwagon the way the SEC bloggers have never wavered over Alabama. You start your article by saying Oregon is the national title contender we thought they were, huh? Last week Ted puts Stanford back to No. 1 in the Power Rankings? Pick a team and stick with them. Win the Decade is soooo sweet. You drank the Washington Kool-aid, yes they are a good team but pupil of the spread was not ready to beat the teacher of the spread. I've said all along Stanford is too slow and it showed, Washington might be better. I just felt like nationally and through voting the rest of the nation were closer to reality than the Pac-12 bloggers I follow. Washington was overrated and you guys always had them ranked too high and they are not ready to compete for a national championship let alone a Pac-12 championship. Our local reporters can't even pronounce our QB's name correctly, it's MARIO-TA. Go Ducks!
Kevin Gemmell:
First off, the "I told you so" doesn't fly with me. I went back through my entire mailbag for the last six months and this is the first note I got from you. But I'm happy to answer it.
Second, I challenge you go to back through the blog and find a single instance where either Ted or I wrote that Washington was ready to compete for a national championship. I'll save you the time. It's not there. Neither of us ever wrote that.
Did Ted and I like Washington coming into the season? Yep. Still do. Did we expect them to be where they are right now? Yep. No shame in losing on the road to Stanford and at home to Oregon.
The Stanford is too slow argument doesn't work, either. Does anyone really think
Ty Montgomery
looked slow the last couple of weeks?
Yes, Ted did put Stanford on top of the Power Rankings last week. As he noted, he and I squabbled over that decision. But since he gets the final byline, he pulled rank. Just as he had
Paul Richardson
at No. 10 in his midseason top 10 player re-ranking. But since I had the final byline, I swapped Richardson out for Montgomery and I pulled rank.
I get it. You're excited about your team. We're excited about them too. Coming into the season, we both felt it was 50-50 with Stanford and Oregon, and our only reservations where the coaching change. It's clear now that Mark Helfrich has done a phenomenal job and the Ducks haven't missed a beat. In fact, they've gotten better.
We've said all season long we thought the Pac-12 had two teams that could challenge for a national championship. Oregon was always one of those teams.
So go ahead and keep being excited for your team and their possible date with the BCS championship game. But don't forget what happened last year when everyone said Stanford was down. All they did was run off 12 straight, beat Oregon in Eugene and win the Rose Bowl.
Be confident. Be excited. Be proud. But don't get cocky until you're holding a crystal ball.
That, my new friend from whom I expect to hear more, you can quote me on.
September, 30, 2011
9/30/11
8:00
AM PT
1. RUSH WEEK
The UCLA offense has made its mark by running the ball. Stanford's defense has made its mark by stopping the run. Something will have to give when the Bruins, ranked No. 28 in the nation with 214 yards rushing per game, match blows with the Cardinal, which is giving up only 36 yards rushing per game to rank No. 1 in the nation. If the Bruins intend on pounding it, they are going to have to soften up the Stanford defense early with the passing game. Some long passes or swing passes in the flat could help spread the Cardinal and create wider running lanes for what has proven to be a potent 1-2 punch of
Johnathan Franklin
and
Derrick Coleman
.


2. A LITTLE LUCK
Stanford quarterback
Andrew Luck
is the real deal and containing him will be the ultimate challenge for UCLA's defense. The Bruins didn't do a very good job against the last elite quarterback they faced as Houston's
Case Keenum
picked them apart with his arm and his legs. Luck, the projected top pick in the 2012 NFL draft, is averaging 262 yards passing and has eight touchdowns in three games. He also hurt UCLA with his legs last year when he ran for 63 yards. There is no easy scheme to stop him so the Bruins will simply have to try and limit his production with good coverage in the secondary and timely pressure up front to keep him off balance and prevent him from getting too comfortable.
3. NICKEL AND DIME
UCLA's secondary was going to have its hands full no matter what, but the fact that the Bruins are coming into this game with a depleted secondary makes the challenge of stopping Luck even greater.
Sheldon Price
, the team's top cover corner, will almost certainly miss the game with a knee injury. Safeties
Dalton Hilliard
(shoulder) and
Alex Mascarenas
(concussion) are also unlikely to play. Stanford is No. 9 in the nation in scoring at 46 points a game and in order to prevent the Cardinal from reaching that total again, the Bruins will need big time games from players such as cornerbacks
Aaron Hester
and
Andrew Abbott
and safeties
Dietrich Riley
,
Tevin McDonald
and
Tony Dye
.
4. AT A LOSS
UCLA's offensive line is going to have to find a way to prevent Stanford from penetrating the Bruins backfield. It won't be easy as the Cardinal leads the nation with 10.33 tackles for loss per game and is second with 4.33 sacks per game. The Bruins have been good at preventing sacks, giving up only three so far, but they haven't face d team with more than five sacks this season. Stanford has 13. Stanford linebacker
Shayne Skov
, the team's top defensive player, is out for the season so that should help, but defensive lineman
Ben Gardner
and linebacker
Chase Thomas
are also averaging more than one tackle for a loss per game.
5. KEEP IT TIGHT
Stanford has a game-breaking speed merchant at wide receiver in
Chris Owusu
, but the most dangerous offensive weapon in the passing game might be the three-headed monster at tight end.
Zack Ertz
(6-6, 249),
Coby Fleener
(6-6, 244) and
Levine Toilolo
(6-8, 263) all present size matchups for defenders and they have combined for 19 receptions for 365 yards and seven touchdowns through the first three games. Ertz, has a touchdown catch in all three games this season and Fleener, the team's second leading receiver behind Owusu, is averaging 22.7 yards per catch and also has three touchdowns. UCLA's linebackers and safeties will have their hands full against those guys.
September, 29, 2011
9/29/11
7:40
PM PT
UCLA finished its practice week with a light day in short and shoulder pads, spending a large chunk of time on special teams and red-zone drills and now moves into final preparations for Saturday's game against No. 6 Stanford in Palo Alto.
"Excited with the week of practice and the way the team has responded to the challenge of a top-10 opponent," coach
Rick Neuheisel
said. "Now we look forward to the opportunity to play the game and play as well as we can and hopefully give ourselves a great chance."
A few tidbits:
Neuhesel said he expected a physical game Saturday because that is the way Stanford has played over the last few years. "You understand as you do in prize fighting that you're going in against somebody that likes to punch, like to slug," he said. "Our defense has to understand that and our offense has to understand that. It's a key piece to this game, the physical nature that they like to play with and frankly it's been kind of their calling card. We have to match that because as we evolve as a program we're trying to have that be also a part of our identity."
Neuheisel added that Stanford quarterback Andrew Luck is what separates the Cardinal and makes them a top-10 team. "It's a proven formula over the years that if you get a great quarterback you can usually do some good things around him," he said. "That's not to take away from the other terrific players in their program, but that quarterback allows them to really tee off and have some opportunities because there are very few mistakes on the offensive side."
Neuheisel, like most coaches in the country, doesn't have a Luck-caliber quarterback. He said he's pleased with the progress Richard Brehaut has made but would like to see him get to another level. "I think he's come a long way,' Neuheisel said. "I'm excited about continuing the journey toward becoming a really, really good player. ... There are things that we discover all the time that are in his head that aren't exactly correct and we've got to get those weeded out."
The two-minute drill at the end of practice wasn't exactly smooth. On the first play, safety Stan McKay intercepted a Brehaut pass. They started over and Johnathan Franklin got stuffed for no gain follwed by consecutive dropped passes by Shaquelle Evans and Franklin. Brehaut then connected with Taylor Embree for 30 yards on fourth and 10, setting up a 35-yard field goal by Jeff Locke, which he made.
Injuries once again kept cornerback Sheldon Price (knee), safety Dalton Hilliard (shoulder) and safety Alex Mascarenas (concussion) on the sidelines. Neuheisel said they would all be game-time decisions. "We've got a number of kids that are dying to play that listed right now as questionable and doubtful and all that kind of stuff so we'll just have to wait and see at game time," Neuheisel said. "Certainly they've played a lot of football and they'll be missed if not available and if they can play we'd like to have them."
Joining the walking wounded was linebacker Glenn Love who sat out because of a hamstring issue. "We're hopeful that he can be ready to go," Neuheisel said.
September, 29, 2011
9/29/11
7:59
AM PT
The challenge that faces the UCLA secondary this week is enormous: The Bruins must stop the best quarterback in the country.
Many before have tried, few have succeeded.
Stanford quarterback
Andrew Luck
, the Heisman runner up last season and projected first pick in the 2012 NFL draft, is 23-5 in his career as a starter and guided the Cardinal to the No. 9 scoring offense in the nation last season and again to the No. 9 scoring offense this season.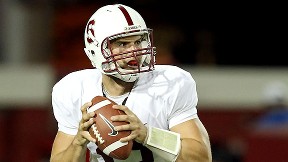 Christian Petersen/Getty Images Stanford QB Andrew Luck possesses the arm, the legs and the matter between the ears.
There is no easy way to stop Luck because when he isn't beating you with his arm--he has 6,699 yards passing and 53 touchdowns in 28 career games--he can beat you with his legs. He has rushed for 854 yards in his career, averaging 6.9 yards per carry.
But his most dangerous weapon is his brain. He can decipher a defense in seconds at the line, check out of a play and get the defense on its heels. It adds up to a challenge that will require the best of what UCLA's secondary has to offer.
"Flat out if you look at the film, he is the best quarterback in the country by far," cornerback
Aaron Hester
said. "We just have to be on our a-game in the secondary to make sure that we make plays."
Last year, UCLA did a pretty good job of containing Luck as a passer. He completed 11 of 24 passes for 151 yards--his lowest passing output of the season. Yet Luck was efficient, completing two of those passes for touchdowns and completing third down passes for 19, 34 and 22 yards.
But he really hurt UCLA by scrambling. He had runs of 16, 11, 13 and 11 yards among his 63 yards rushing in that game.
September, 28, 2011
9/28/11
11:02
PM PT
Is quarterback
Richard Brehaut
good enough to save UCLA coach Rick Neuheisel's job?
While it would be an exaggeration to say Neuheisel has gone all-in with Brehaut, it appears that Brehaut has put some distance between himself and
Kevin Prince
since Prince threw three first-quarter interceptions against Texas.
"He is our starting quarterback at this time," Neuheisel said. "There is no question about that."
Not a ringing endorsement? Well, how about this.
[+] Enlarge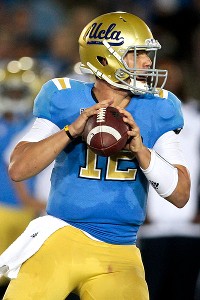 AP Photo/Bret HartmanUCLA will need a big game out of Richard Brehaut if it hopes to upset Stanford.
"He's been terrific," Neuheisel said.
But Neuheisel, who has long been known to be hard on quarterbacks, and particularly hard on Brehaut, then added, "I still think he can continue to develop his understanding of how defenses play and how to get us to the right plays."
Still, Brehaut has given the Bruins -- and Neuheisel -- a chance. They are 2-2 after winning at Oregon State and a bowl game is not an unreasonable expectation.
Of course, Saturday's visit to No. 6 Stanford looks like a place where newfound momentum might peter out. The Cardinal beat the Bruins 35-0 last year in the Rose Bowl and are coming off a bye week.
"They were more physical than us a year ago and we're going to have to answer the bell this week to have a chance," Neuheisel said.
The Cardinal defense, in particular, has been stout and physical against the run. Stanford ranks No. 1 in the nation against the run -- 36 yards per game -- though this will be its first contest without stalwart inside linebacker Shayne Skov.
That suggests that Brehaut and the Bruins won't be able to rely primarily on their pistol running game. Brehaut will have to throw, and he's been solid if unspectacular doing that thus far. He's completing 55.7 percent of his passes with four TDs and, most importantly, no interceptions. He ranks 38th in the nation in passing efficiency.
Neuheisel said he's seen growth, particularly on the mental side of things. Brehaut previously was known for interrupting several good plays with an inexplicable gaffe. In fact, Brehaut often was unable to tell Neuheisel why he did something when he screwed up, which was not a good way to endear himself to his coach, who also oversees the QBs.
"His poise is at his best right now," Neuheisel said. "He kind of understands what we're trying to do. He's doing a nice job of keeping the ball away from opponent defenses."
Still, Brehaut probably won't have much luck throwing 50 times. The Bruins need some running threat, and they've been solid running the ball this year, with 214 yards rushing per game, which ranks second in the Pac-12. That's a critical strength-on-strength matchup. And for the pistol to work best, Brehaut has to be a threat to keep the ball.
"I wouldn't call him a running threat, but the thing is you still have to account for him," Stanford coach David Shaw said. "If you don't, he'll pick up a first down. He's athletic enough to pull the ball out and get positive yards."
Brehaut has rushed 27 times for 140 yards with two TDs. Solid but unspectacular numbers, not unlike his passing stats. Brehaut's improvement as a runner has been a big reason that he's eclipsed the more athletic, though injury-prone, Prince.
There are plenty of concerns for Neuheisel and the Bruins beyond quarterback play. For one, the defense has been mostly awful. It played better at Oregon State, but Stanford is no Oregon State. Further, the Bruins have a banged-up secondary -- five defensive backs are nursing injuries -- which is not a good thing when you're facing quarterback
Andrew Luck
.
Neuheisel is effusive -- as most coaches are -- when asked about Luck.
"A really, really complete and wonderful player. He's got it all," Neuheisel said.
It's obvious that Neuheisel doesn't have a QB on his roster who has it all (at least not yet; see talented true freshman
Brett Hundley
, who may still see action this year). But the question is whether he has a quarterback who has
enough
. And is that Richard Brehaut?
A lot depends on the answer for Neuheisel.
September, 27, 2011
9/27/11
6:34
AM PT
Any time Stanford football comes up, thoughts immediately turn to quarterback
Andrew Luck
and the Cardinal offense, but the other side of the ball should is cause for just as much concern.
Luck is almost a certainty to go as the No. 1 pick in the NFL draft next spring and the balanced offense he directs is a major reason why Stanford is ranked No. 4 in the Associated Press poll, but the Cardinal defensive numbers are off the chart.

Stanford leads the nation in rushing defense, giving up a paltry 36 yards per game on the ground. True, the Cardinal has played some opponents with pretty weak running games (Duke is 96th in the nation in rushing offense and Arizona is 119th), but 36 yards?
The Cardinal defense has also given up only two touchdowns in three games this season and only nine in nine games dating to last season. It's no wonder Stanford has the nation's longest current win streak at 11 consecutive games.
"They're on a great run," UCLA coach
Rick Neuheisel
said. "They've lost one game since the last time we saw them and the last time we saw them, they waxed us. So we've got a huge challenge ahead of us."
Stanford has a new head coach in
David Shaw
, a new offensive coordinator in
Pep Hamilton
and a new defensive coordinator in
Derek Mason
, but all three were on the staff last season under
Jim Harbaugh
, so the schemes have not changed much and that could be bad news for UCLA.
Stanford defeated the Bruins, 35-0, at the Rose Bowl last season--one of three shutouts the Cardinal posted in 2010. Neuheisel called his team's performance "an offensive disaster" after passing for only 81 yards and committing three turnovers.
September, 9, 2010
9/09/10
9:19
AM PT
Stanford's Owen Marecic does it all.

The senior is regarded as one of the nation's best fullbacks -- a title he gained by paving the way for Heisman Trophy finalist Toby Gerhart. A ball carrier is only as good as the blocks in front of him, and given Gerhart's size, the gaps in front of him had to be wide.

Four of Marecic's eight receptions last year were for touchdowns, so he's not just a blocker.

When the Cardinal offense is done, Marecic stays on the field. He also starts at middle linebacker.

And if that weren't enough, Marecic is a human biology major with a GPA hovering near 4.00.

"You don't see anybody do what we're doing this year, starting him on both sides of the ball," coach Jim Harbaugh said. "I don't know if teams have a guy like Owen Marecic. This youngster is an amazing football player, the perfectly engineered football player."

We caught up with him at Pac-10 media day, where he tried to describe quarterback Andrew Luck and spoke about playing both sides of the ball. Watch the video below.


September, 9, 2010
9/09/10
7:27
AM PT
Last year,
Andrew Luck
was a young and inexperienced redshirt freshman playing quarterback, but that was OK because he had workhorse running back such as
Toby Gerhart
to help get through the growing pains.
A year later, Gerhart is gone to the NFL and Stanford is thinking it's nice to have Luck on its side.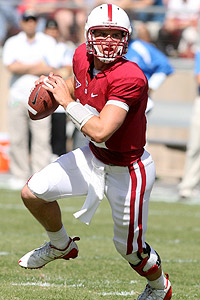 Associated Press
With Toby Gerhart a member of the Minnesota Vikings, the Cardinal spotlight shines solely on quarterback Andrew Luck.

Already considered one of the top pro quarterback prospects in the nation, Luck, who turns 21 Sunday, has a strong accurate arm that helped him lead the Pac-10 in passing efficiency last year.
And as the son of former Houston Oilers quarterback
Oliver Luck
, he's been around the game enough to develop the type of impeccable instincts that have him pegged as an early NFL draft pick even if he came out of school after this season.
"He puts the ball on the money, he's real patient in the pocket and he's probably one of the best quarterbacks we're going to see all year," said UCLA cornerback
Aaron Hester
, whose Bruins will face Stanford Saturday at 7:30 p.m. at the Rose Bowl.
Despite playing in the shadow of Gerhart, the nation's leading rusher and Heisman Trophy runner up last season, Luck managed to pass for 2,575 yards and 13 touchdowns as Stanford set a school record for scoring with 461 points.
Now, he's primed to become the spotlight player on that offense. In Stanford's opening 52-17 victory over Sacramento State, he completed 17 of 23 passes for 316 yards and four touchdowns despite playing barely more than a half.
The added emphasis on the passing game is just fine, he said.
"It's definitely different," Luck told ESPN.com's Ted Miller. "Toby was definitely the man for the whole team last year. I tried to put more pressure on myself this spring to step up and shoulder the load of the team more."
Luck's arm is clearly what makes him so highly regarded, but he's no one-trick pony. Last year he was second to Gerhart on the team with 354 yards rushing—the most by a Stanford quarterback since 1966. Still, it's his arm that has UCLA most concerned.
"Luck is a very accomplished player and he's very accomplished throwing the ball deep down the field," UCLA Coach
Rick Neuheisel
said.
Luck burned UCLA a couple of times last season, when Stanford defeated the Bruins, 24-16, completing two long passes inside the Bruins' 10 that set up Gerhart touchdown runs.
"He's going to be a tough test," UCLA cornerback
Sheldon Price
said. "We're going to have to be on our 'A' game."
Three other Cardinal to watch:
Chris Owusu
, WR—A player Neuheisel called "a speed merchant," he had a team-high five touchdown receptions and was second with 37 catches and 682 yards, but he does even more damage as a kick returner. He had three return touchdowns last year and five returns of 50 yards or more.
Thomas Keiser
, LB/DE—Keiser is a pass rush specialist no matter if he's on the line or backing it. He has 15 sacks in 25 career games and tied for fourth in the Pac-10 with nine sacks last season. His 15 tackles for a loss last season tied for third in the conference.
Chase Beeler
, C—Beeler is the leader of an offensive line that returns four starters from the group that helped pave the way for Gerhart's 1,871 yards rushing last season and led the Pac-10 in fewest sacks allowed with seven. He's started 21 games since 2008, including all 13 last season.
September, 8, 2010
9/08/10
5:02
PM PT
If you recall, UCLA had an extra week to prepare for Stanford's Toby Gerhart last year. The Bruins knew exactly who he was, knew exactly what he would try to do.

Three straight wins to start the season, followed by a bye week, had UCLA optimistic about its trip to Palo Alto.

But as was the case with Kansas State's Daniel Thomas last week, Stanford's burly back reached the end zone three times, helping the Cardinal to a 24-16 win.

Hidden in an array of broken tackles and powerful stiff arms was Andrew Luck's emergence as Stanford's quarterback. When UCLA's defense had Stanford in trouble, Luck found his charm. He was 14 of 20 for 198 yards in just his fifth career start.

With Gerhart now taking handoffs for the Minnesota Vikings, Luck is the focal point of coach Jim Harbaugh's offense. UCLA cornerbacks Sheldon Price and Aaron Hester know who he is.

They also have an idea of what he'll try to do.


September, 7, 2010
9/07/10
10:56
AM PT
Replacing running back
Toby Gerhart
was never going to be easy, so Stanford is not even trying.
The Cardinal have pla different look now that Gerhart is with the NFL's Minnesota Vikings, using a running back-by-committee approach as quarterback
Andrew Luck
has become the offensive centerpiece of the team UCLA will face Saturday at the Rose Bowl in a Pac-10 opener for both teams.
The game is at 7:30 and will be shown on ESPN.

Usua Amanam
,
Stepfan Taylor
,
Jeremy Stewart
,
Tyler Gaffney
and
Anthony Wilkerson
each had at least five carries in Stanford's opening 52-17 rout over Sacramento State while Luck passed for 316 yards and a career-high four touchdowns.
Still, UCLA Coach
Rick Neuheisel
isn't putting much stock in what Stanford did against a Football Championship Subdivision team.
"They'll have a lot of new things for us which is an advantage for them given that they didn't have to use anything that they've been working on," Neuheisel said.
UCLA, on the other hand, played Big 12 member Kansas State in a tight game that wasn't decided until the final 80 seconds.
"In so being, we had to play with everything we had," Neuheisel said. "There wasn't a lot we could hold back. A number of teams around the country did not chose to begin that way and so they have the luxury of being able to hold on to some things on their shelves."
Neuheisel said that initial reviews of Stanford's Week 1 game tapes revealed that the Cardinal defense played a nickel package the entire game. Stanford defensive coordinator
Vic Fangio
who coached alongside Neuheisel when both were on the Baltimore Ravens' staff, is known for running 3-4 defenses.
"He's a brilliant defensive coach," Neuheisel said. "But he didn't play one snap of their base defense—or what they've said is their base defense--against Sacramento State. "But, as I said, I worked with him. I have a good idea of how they'll go about it and hopefully we can catch up as the game goes on in terms of schemes."
Neuheisel said he expects Stanford to try and establish a running attack behind a physical offensive line that returns four of the starters who helped spring Gerhart for a nation-leading 1,871 yards and 28 touchdowns last season, when he was the Heisman runner-up.
"They love to run the football and they're effective at it," he said. "They have maybe the most amount of formations with five, six, seven offensive linemen coming at you."
Still, Luck, the sophomore who is considered among the top quarterbacks in the country, is the player UCLA must stop. He passed for 2,575 yards and 13 touchdowns last season and led the Pac 10 with a 143.5 passer rating as Stanford finished second in the conference.
Stanford is vulnerable on defense, however. The Cardinal finished ninth in the Pac 10 in total defense last year and lost safety
Bo McNally
, its leading tackler the last three seasons. Stanford hasn't won at the Rose Bowl since 1996, a trend that could continue if the Bruins can find consistency in their passing game in order to exploit a weak Stanford secondary.
2013 TEAM LEADERS
| TEAM | RUSH | PASS | TOTAL |
| --- | --- | --- | --- |
| Offense | 196.6 | 251.6 | 448.2 |
| TEAM | PF | PA | MARGIN |
| Scoring | 36.5 | 24.1 | 12.4 |