September, 10, 2012
9/10/12
6:57
PM PT
There is plenty of excitement surrounding the
UCLA
football program after its 36-30 victory over
Nebraska
Saturday earned the Bruins a spot in the AP college football poll for the first time since 2008.
[+] Enlarge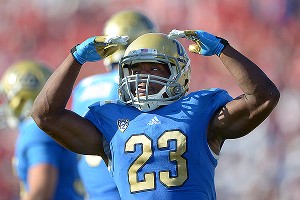 Kirby Lee/Image of Sport/US PresswireUCLA's Johnathan Franklin leads the nation in rushing with 431 yards and has been honored as the Pac-12's offensive player twice in as many weeks.
While there are plenty of good reasons to believe the Bruins have, indeed, turned a corner and are headed for a successful season, there also is room for skepticism about the early triumphs of the team.
So, as the No. 22 Bruins prepare to take on
Houston
Saturday night at the Rose Bowl, we present the top five reasons to believe UCLA is on its way back, and five more reasons to be wary.
Five reasons to believe
1. Jim Mora:
Mora is all business with this team and has instilled a sense of belief that the team seemed to be lacking in the past. He has the players trusting one another, as well as the coaching staff. He's running a very tight ship this season, holding players accountable for every detail, and will accept nothing less than 100 percent effort. The players respect him and have bought in, which means the Bruins should be competitive in every game.
2. The offense:
Offensive coordinator Noel Mazzone has brought in a spread formation that is able to utilize the speed and athleticism that litters UCLA's roster. The Bruins are showing explosiveness and big-play ability and rank No. 3 in the nation in total offense and No. 18 in scoring, with running back
Johnathan Franklin
out in front with a nation-leading 431 yards rushing. It's the type of offense that makes you believe UCLA is capable of staying close in any game and coming back from a deficit no matter what is happening with UCLA's defense. That has not been the case the past several years.
3. Brett Hundley:
Success in football almost always starts with the quarterback and
Hundley
has thus far proved up to the challenge of leading the team. He's shown good decision-making and accuracy in completing 42 of 61 passes (68.9 percent) for 507 yards and six touchdowns, with only one interception. He's also a threat with his legs and has 121 yards rushing in 19 carries. He's only a freshman, so he's only getting better and that means the Bruins will be able to build around him for the next couple of years.
4. The schedule:
In beating Nebraska, the Bruins have just cleared what is perceived to be their biggest hurdle of the early season. Next up are home games against Houston and
Oregon State
followed by a trip to
Colorado
. Sure, the Beavers appear to be a bigger challenge than previously anticipated. And, later,
Arizona
and
Arizona State
could be tougher tests. But at this point, it's conceivable UCLA could be 10-0 heading into its Nov. 17 game against
USC
.
5. The staff:
Mora inherited some very good talent, but he also surrounded himself with a staff that knows the recruiting scene and can land top-level players. By bringing in recruiting aces such as Adrian Klemm and Demetrice Martin, to go along with Angus McClure, Mora has surrounded himself with some of the most tireless recruiters in the business. UCLA landed the No. 19 class in the nation this year despite having only two and a half months to recruit after the coaching pieces were in place. So, with the coaches given full years to work their magic, there is every reason to believe UCLA can keep landing top-notch classes.
Five reasons to be wary
1. We've seen this act before:
In 2007, UCLA started 2-0 and rose to No. 11 in the country only to lose 44-6 at
Utah
and drop from the rankings before finishing 6-7. In 2008, the Bruins defeated
Tennessee
in Rick Neuheisel's UCLA coaching debut; many said then the Bruins had turned a corner. They lost 59-0 next time out and finished 4-8. Neuheisel was fired after the 2011 season with a 21-29 record. The Bruins need to show they can not only sustain the success, but keep getting better.
2. The opponents:
The win over Nebraska means nothing if the Cornhuskers turn out to be an average team. Some of UCLA's most high-profile victories over the past few years have turned out to be mirages. The Bruins defeated No. 20 Arizona State last year and the Sun Devils ended up 6-7. A 2010 victory at No. 7
Texas
seemed impressive until the Longhorns ended up 5-7. The 2008 Tennessee squad Neuheisel's team defeated in his debut was ranked No. 18 at the time but ended the season 5-7.
Rice
isn't exactly a national powerhouse and the jury is still out on Nebraska. It could end up that the Bruins have started 2-0 against two bad teams.
3. The defense:
As impressive as UCLA has been so far on offense, the defense has left something to be desired. UCLA has given up 24 points in the first half of each of its games and currently ranks No. 100 in the nation in rushing defense, giving up an average of 217 yards per game on the ground. The good news is that the coaches have made good halftime adjustments and have been able to shut teams down in the second half of both games. But the offense might not always be able to keep pace, which means a slow start defensively could prove costly.
4. Depth:
The Bruins have been able to escape major injury woes the first two weeks, but they are a twisted ankle or a sprained knee away from getting awfully thin at some positions. The offensive line, which already has three freshmen starters, would have to do some midseason juggling if one of the starters were to go down. Middle linebacker is especially worrisome, as
Damien Holmes
already is starting there after having never played there before this season.
Eric Kendricks
is the other starter and is solid. But there is nobody with experience behind Kendricks or Holmes. The defensive backfield also would have to rely on inexperienced players should an injury hit.
5. The penalties:
UCLA currently leads the nation in yards penalized with 233, and the Bruins are tied for eighth in number of penalties with 19. Those types of numbers are not exactly a recipe for success. They haven't hurt yet, but there were a few against Nebraska that could have cost UCLA the game. Mora said he intends to get the penalties cleaned up and has confidence the players will respond. They had better, because you can't keep giving teams 100 free yards a game and expect sustained success.
May, 3, 2012
5/03/12
10:30
PM PT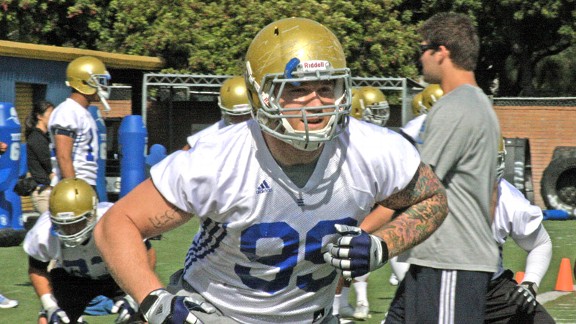 Peter Yoon for ESPNLA.comCassius Marsh
LOS ANGELES -- It's been an awfully quiet spring for
Cassius Marsh
, and that's not necessarily a bad thing.
It's actually a very good thing in some eyes.
UCLA's spring camp has been littered with a dust-up here, a fracas there as well as skirmishes and a near brawl, but Marsh has not been involved in any.
A year ago, Marsh seemed to be in the middle of all of them. A 6-4, 295-pound defensive lineman with a mean streak, Marsh frequently found himself pushing and shoving after the whistle whenever he was on the field.
This spring? Not a peep. You'd be hard-pressed to find a play this spring in which Marsh didn't stop playing when the whistle blew, let alone find one where he was involved in extracurricular activity. It's the new Cassius Marsh, he said.
"As a man, I recognize that I made a lot of mistakes last year and I'm not willing to make those mistakes again," Marsh said. "I'm trying to develop not only as a player, but also as a man and as a teammate. I need to be a leader for these guys because I'm not a young guy any more. I don't have that excuse any more."
The lowlight of Marsh's season came at Arizona when Marsh got in the middle of the on-field brawl at Arizona and replays showed him swinging his helmet at Wildcats players. The Pac-12 suspended 10 players for their actions in that benches-clearing brawl, but Marsh drew a two-game suspension--the most severe penalty of all.
Last spring, Marsh foreshadowed that nasty side when he got entangled in a shoving match then slammed his helmet to the ground, stripped off his shoulder pads and made a big production of walking off the field in the middle of practice.
This spring, Marsh's production has come in full uniform. He's among the first to arrive at practice and is regularly first in line for drills. He's leading by example and trying to leave his turbulent past behind.
"I try to just listen and be the best example I can for the rest of these guys," Marsh said. "I'm not going to cause scenes like I might have in the past. It's football and things will happen and you just have to learn to get over that and not worry about it. After the whistle blows, it's the next play. Don't worry about the last one."
Defensive line coach
Angus McClure
, the only full-time coach remaining on staff from last season, said he has been quite impressed with the new attitude Marsh brought to camp.
"He's matured quite a bit," McClure said. "He's quietly become one of our leaders. He's a real lead by example guy and it's been great to see."
September, 22, 2011
9/22/11
6:45
AM PT
Jeff Locke
hadn't attempted a field goal in a game since he was a senior in high school four years ago and he had been shaky on his field goal attempts during practice, but coach
Rick Neuheisel
called his number anyway.
[+] Enlarge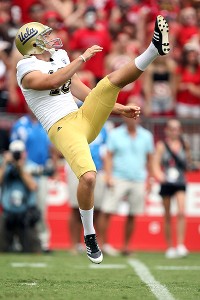 Thomas Campbell/US PresswirePressed into action, Jeff Locke drilled a 51 and 49-yard field goals against Texas.
Never mind that it was against Texas or that the game was on national television or that it was for a 51-yard field goal.
The Bruins needed a field goal and Locke was the best field goal kicker available at the time, so Neuheisel sent Locke out there with time winding down in the first half and Locke delivered. Then he delivered again early in the second half, drilling a 49-yard field goal that got he Bruins to within striking distance at 28-13.
UCLA wound up losing, 49-20, but in an ugly game, Locke certainly stood out and made a breakthrough as a field goal kicker just in time for the Bruins to open Pac-12 play Saturday at Oregon State.
"It was definitely a big confidence boost in terms of kicking field goals because frankly I wasn't comfortable kicking field goals up to that point," Locke said.
He was kind of forced into the job.
Kip Smith
, the first-string kicker, strained his hip flexor last Tuesday in practice and was unavailable for the game. Backup kicker
Joe Roberts
has a quad injury so he was out of the picture. The team brought on walk-on
Tyler Gonzalez
, but he wasn't quite ready for competition after just two days of practice.
September, 2, 2011
9/02/11
9:10
AM PT
1. THE QUARTERBACK SITUATION

Kevin Prince
will start, but coach
Rick Neuheisel
has promised
Richard Brehaut
will get in the game. He didn't say when or for how long either would play or if they would rotate or any other details of the dual-quarterback plan, so it will be interesting to see how it all plays out.
If Prince is on fire in the first half, but the game is still close, does he pull Prince anyway? Will Prince play more conservatively in fear of making a mistake that will put him on the bench? Will Brehaut go in there and try to do do much in an attempt to show he's the man for the starting job?
Dual quarterback systems rarely work out over the long haul of a season, but it's certainly not unprecedented for a team to win a game using two quarterbacks. Still, this is an interesting decision for Neuheisel in an opener that will set the tone for a season in which his job is on the line.
2. THE OFFENSE
Last season, UCLA's offense was pitiful for the first two weeks of the season and while the running game showed some life, the passing game never got much better.
This year, there have been wholesale changes on the offensive coaching staff in the hopes of producing a
more dynamic
and not-so one-dimensional offense after the Bruins finished 32nd in the nation in rushing, but 116th in passing last year.
UCLA's first series last year was a harbinger of things to come as
Morrell Presley
dropped passes on the first two plays and then Prince missed
Taylor Embree
for a quick three-and-out. The Bruins will need to get off on the right foot in this game in order to gain confidence in the new schemes.
Johnathan Franklin
, 1,127-yard rusher last season, is UCLA's best weapon and the Bruins certainly won't be shy about handing him the ball because they need to control the clock in this game, but they will need other elements to prevent Houston from keying on stopping him. Neuheisel and offensive coordinator
Mike Johnson
have promised to add such elements.
3. THE KICKING GAME
Mr. automatic
Kai Forbath
is no longer with the Bruins, leaving the field goal kicking duties to redshirt freshman
Kip Smith
. Forbath shares the school record of 85 field goals and had an .842 field goal percentage--second in school history.
Smith learned from Forbath all last season and appeared ready to carry on the tradition of top-flight kickers at UCLA, but began to falter in the spring and lost his confidence during training camp. He's improved, but has still been inconsistent and you have to wonder if Neuheisel will have the trust to send him in there on a fourth and short to try a 45-yard field goal.
With Forbath it would have been a no-brainer. But what if it's Smith first attempt? You'd rather have him build confidence by trying a couple of 25-or 30-yarders first, wouldn't you? And how will Smith and Neuheisel handle things if Smith misses an early attempt?
Oh, and an added special teams bonus to watch will be
Jared Koster
on the kickoff team. He's
shouldering quite a load
after getting knocked out for the season on the opening kickoff against Houston last year.
4. THE DEFENSIVE SECONDARY
Houston is going to try to pass the ball. The Cougars' spread offense, led by veteran quarterback
Case Keenum
, is pass happy. Keenum tore his ACL against UCLA and was lost for the season, but when he was in there the year before, Houston passed 747 times and rushed 403--65% passing plays.
Last year, with Keenum out, they were more balanced at 54% passing, but Keenum isn't tracking in on NCAA records for passing yards and touchdowns because he hands the ball to running backs and that means a test for UCLA's secondary. Last year, they held their own even before Keenum's injury as Keenum completed 10 of 18 passes for only 83 yards with two interceptions before leaving with four minutes left in the first half.
UCLA's defensive front will try to help by getting pressure on Keenum, but cornerbacks
Aaron Hester
and
Sheldon Price
need to be ready to run with backups
Brandon Sermons
and
Andrew Abbott
prepared to get a few more reps than they normally would. Safeties
Tony Dye
,
Dalton Hilliard
,
Dietrich Riely
,
Alex Mascarenas
,
Tevin McDonald
and
Stan McKay
will all get action in an effort to stay fresh and the Bruins will play a lot of nickel with Abbott, Mascarenas and McDonald on the field quite a bit at that spot.
James Cleveland
, the receiver who torched UCLA for 144 yards receiving last season, graduated, but Houston's best athletes are still the receivers with
Partick Edwards
and
Tyron Carrier
presenting the biggest challenges because they have been favorite targets for Keenum in the past. If the secondary allows them too much daylight, it could be a long game for the Bruins.
5. THE COACHES
Neuheisel brought five new coaches into the mix this season, including Johnson, the offensive coordinator, and
Joe Tresey
, the defensive coordinator. Also new are running game coordinator
Jim Mastro
, defensive line coach
Inoke Breckterfield
and special teams coach
Angus McClure
.
That's a lot of new cooks in the kitchen, especially considering Johnson, Mastro and Neuheisel will all have a hand in play calling duties. There seems to have been a good rapport brewing throughout camp, but this group has never before coached together in a game situation and personalities can certainly change in battle, so this will be the first true test of the chemistry of this staff.
If you see Neuheisel red faced and screaming into his headset, you can be sure something has gone awry. If he's smiling and laughing and looking confident, then things are going just fine.
Another thing to keep an eye on here is the hot seat temperature. It's certainly going to go up if UCLA gets off to a poor start and you have to wonder if Neuheisel will change the way he coaches, calling plays more aggressively and taking more chances, because his job status is so perilous.
August, 18, 2011
8/18/11
7:23
PM PT
It was a pretty light practice for UCLA Thursday as many of the starters rested the last portion in order to keep fresh for Saturday's scrimmage.
A couple of noteworthy items:
Kicker Kip Smith looked great in an early drill, nailing four out of four attempts and making solid kicks on all four. Later, however, things didn't go as well when put into a pseudo-live situation. He made two out of five with players yelling and screaming behind him, coach Rick Neuheisel blowing a whistle and special teams coach Angus McClure squirting water in Smith's direction. On the last one, Neuheisel laid down on the ground right in front of Smith, who pushed the attempt to the right.
Linebacker Sean Westgate sat out because of illness but is expected to be back for the scrimmage. Eric Kendricks filled in on the first team.
Defensive back Jamie Graham returned to the sidelines only one day after having surgery to repair a torn meniscus. He was on crutches and in good spirits and said the surgery went well and that he would be back "sooner than everyone thinks."
Linebacker Jordan Zumwalt is fully recovered from a concussion and was practicing without the red no-contact jersey he had been wearing the last two days.
Sean "P. Diddy" Combs who caused quite a stir when he came to practice Wednesday morning, attended practice again, but this visit was decidedly more low key. He entered inconspicuously without an entourage and watched briefly from a far corner before exiting out a back gate. Combs is at UCLA with his son Justin, a high school cornerback recruit making an unofficial visit.
August, 18, 2011
8/18/11
11:28
AM PT
Kickers Kip Smith and Joe Roberts had their best day of practice Wednesday, shaking off a dismal start to training camp and regaining confidence in themselves and the confidence of their coaches and teammates.

Smith made a 42-yard field goal in a two-minute drill to close the morning practice and then kicked two solid short field goals to end drives in the red zone during the afternoon practice. He also made three of four kicks in a kicking drill to begin the afternoon practice with his final attempt, a 45-yarder, hitting the left upright.

Roberts and Smith were both booming kickoffs into the end zone during special teams practice and Roberts made three of three field goals attempts during the kicking drills, but did not have an attempt during the live session.

"I always knew I had it in me, but it didn't happen until yesterday when I felt comfortable," Smith said. "I was too tense so I just loosened up and tried not to think about it too much. That's what I did and focused on my form and it's working."

Smith said a team bonding session Tuesday night helped. Teammates got together and shared personal details about their lives in an attempt to get to know one another better.

"I got some things off my chest and I'm feeling great," he said. "I'm feeling the most confident since I've been here."

Roberts acknowledged that he had been letting the pressure of trying to win the kicking job get to him, but remembered that pressure is part of the job.

"It's kind of the life we chose," he said. "We were born with the talent to kick the ball and we all know we can. We've been doing it for years now and pressure is something we chose so we have to do it. We have to kick in front of 60,000 people and whoever is watching at home."

Special teams coach Angus McClure wasn't all that concerned with the early struggles of the kickers given that both are redshirt freshmen trying to replace Kai Forbath--one of the top kickers in school and NCAA history.

"We went through the same growing pains when I coached the field goal unit in 2007 with Kai," he said. "We're doing the same type of things as we did then. They've been inconsistent as most freshmen are, so we're just working on getting them more consistent."
July, 25, 2011
7/25/11
5:45
PM PT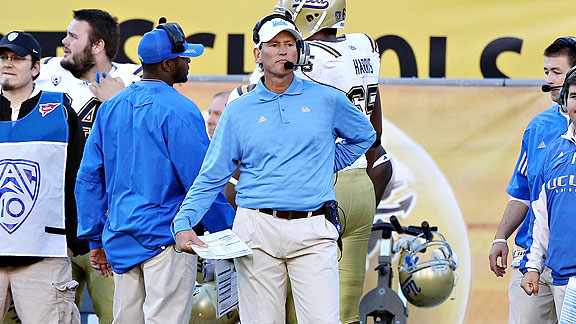 Christian Petersen/Getty ImagesRick Neuheisel will face many questions about his job security on PAC-12 media day.
Questions abound when it comes to the 2011 UCLA football team, and there will be plenty of questions directed the way of Coach
Rick Neuheisel
concerning the direction of the program and his future within it.
The real answers, of course, will come during the season when we find out if the Bruins can improve upon their disappointing 2010 season, but we'll start hearing from Neuheisel and the other coaches in the newly aligned Pac-12 Tuesday during the annual conference media day.
Here, we take a look at some of the biggest questions facing UCLA:
1. HOW HOT IS NEUHEISEL'S SEAT?
This is guaranteed to be the topic of the day when it comes time for Neuheisel to address the media on Tuesday. Each coach gets 15 minutes in front of the reporters and cameras and it could very well be the only topic Neuheisel discusses.
In his first three seasons at UCLA, his teams have gone 4-8, 7-6 and 4-8. Last season injuries played a significant factor, but there is no getting around the fact that UCLA left a sour taste in the mouths of their fans by losing six of seven games to close the season and going 2-7 in conference.
Neuheisel is 8-19 in conference games as UCLA's coach and the Bruins have finished no better than eighth in the Pac-10 in Neuheisel's three seasons. UCLA has only two victories against teams that ended up with a winning record (Tennessee and Temple in 2009).
Neuheisel has gotten a pass for the first three years because he has been rebuilding the program, but outside pressures and calls for his job are going to come early and often if he doesn't get things turned around this season.
2. WILL THE NEW COACHING STAFF GEL?

Neuheisel cleaned house as far as the coaching staff is concerned. Offensive coordinator
Mike Johnson
and defensive coordinator
Joe Tresey
replace
Norm Chow
and
Chuck Bullough
while
Inoke Breckterfield
(defensive line),
Jim Mastro
(Tight ends/F-backs) and
Angus McClure
(special teams) are also new to the staff.
Neuheisel has cited a lack of chemistry among the coaching staff as a reason for some of the problems over the last couple of years so bringing in some different personalities could help resolve some of those issues.
Neuheisel, who is adding quarterbacks coach to his responsibilities, has worked with Johnson in the past, so that is a proven relationship and should help get the offensive braintrust on the same page—a place it couldn't seem to find last season.
Tresey, the man in charge of the defense, is bringing a freewheeling, spirited style that should help the players stay more comfortable on the field.
3. WHO WILL PLAY QUARTERBACK?
It's been the big question on the field since fall camp of last season and it will most likely linger all the way until the season opener Sept. 3 at Houston.
Kevin Prince
entered last season with the job, but promptly got hurt in fall camp. He tried to play through it and was ineffective early in the season. When he finally got healthy, the Bruins got on a bit of a roll, but he then suffered a season-ending knee injury.
That gave
Richard Brehaut
a chance to show his mettle, and while he showed flashes of top-tier talent, he failed to overwhelm with his performance.
Prince, when healthy, is probably the best choice. While not a flashy talent with a big arm, he's a respected leader with field smarts and the fortitude to win big games (at Tennessee in 2009, against Temple in the 2009 Eagle Bank Bowl and at Texas in 2010).
Brehaut is a talented athlete with a strong arm, but seems to keep himself at arm's length from fully committing to becoming a top-tier quarterback. If the competitive fire lights and he becomes fully immersed in the competition, he could win the job this fall.
Waiting in the wings is freshman
Brett Hundley
, who is undoubtedly the quarterback of the future. He'll be in the mix, but even though he participated in spring camp, is still probably a year away from getting enough of a command of the position to seize the job full time.
4. WILL THE DEFENSE BE AS GOOD ON THE FIELD AS IT IS ON PAPER?
Defensively, UCLA appears to be loaded from the front line to the deep safety. Defensive end
Datone Jones
, middle linebacker
Patrick Larimore
and safety
Tony Dye
are All-Conference caliber players. Cornerbacks
Aaron Hester
and
Sheldon Price
are both physical and quick. Interior linemen
Cassius Marsh
and
Nate Chandler
are as tough as they come.
Their defensive front goes 10 deep with talented experienced players. The linebacker crew is filled with gritty, blue collar workhorses and the secondary could be among the conference's best.
Now, the Bruins must translate that talent into performance. Last year, many of those players were raw and inexperienced and the defense suffered. With a year of seasoning and on-the-job training, this is a unit that could carry the Bruins this season.
5. HOW WILL THE OFFENSIVE LINE HOLD UP?
The Bruins are deep at running back with 1,000-yard rusher
Johnathan Franklin
leading a group that goes four deep, and have enough speed and talent at wide receiver to make any quarterback look good.
But the offense will only go as far as the offensive line, and keeping that unit on the field has been a problem. Injuries and ineligibility made this a fairly shallow unit last season and things got off on the wrong foot in the spring when projected starters
Jeff Baca
,
Kai Maiava
and
Sean Sheller
all missed time because of injuries.
When healthy, this unit is at worst passable and at best very good. Staying healthy hasn't been all that easy, though, and it will need to if the Bruins want to have success.
6. WHERE WILL THE BRUINS FINISH?
It's media day, so we have to have a prediction, right?
The new conference alignment helps the Bruins in a big way. They are in the Pac-12 South and away from Oregon and Stanford, widely considered the top two teams in the conference (UCLA plays Stanford, but won't be in a division race with the Cardinal).
The South is wide open and it's conceivable that the Bruins could win the Pac-12 South. Yes, you read that right.
In order for that to happen, however, everything would have to go right: The coaching staff has to gel, Prince has to stay healthy, the offensive line has to stay together and the defense has to take a step forward.
The chances of all those forces aligning are, admittedly, slim, so we're going to shy away from picking the Bruins to win the South. We'll say Prince stays healthy and the coaching staff has good chemistry, but the offensive line depth will be problematic and the defense will have a crucial lapse or two.
The Bruins finish 7-5, good enough for a second-tier bowl game.
Predicted Pac-12 standings:
NORTH
Oregon
Stanford
Washington
Oregon State
California
Washington State
SOUTH
USC
Arizona State
UCLA
Utah
Arizona
Colorado
2014 TEAM LEADERS
| TEAM | RUSH | PASS | TOTAL |
| --- | --- | --- | --- |
| Offense | 199.4 | 268.5 | 467.9 |
| TEAM | PF | PA | MARGIN |
| Scoring | 32.9 | 27.5 | 5.4 |