August, 1, 2012
8/01/12
3:20
PM PT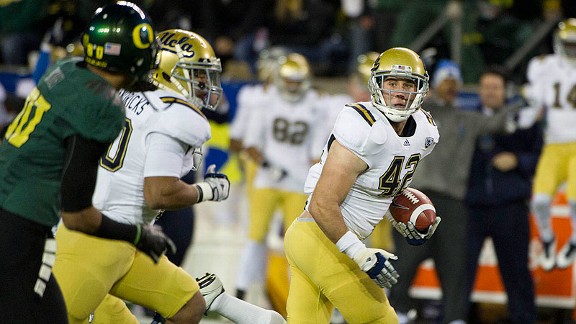 Jim Z. Rider/US PresswirePatrick Larimore leads a group of talented, experienced players at linebacker for UCLA.
With UCLA training camp set to begin Saturday at Cal State San Bernardino, we're taking a preseason look at the roster and breaking down the Bruins position by position.
We went through the offense first, looking at the
quarterbacks
,
offensive line
,
receivers
and
running backs
.
Special teams
came next, and then we started on the defense with the
defensive backs
. Next up: Linebackers.
DEPTH CHART AT THE END OF SPRING PRACTICE:
Left Outside Linebacker
Jordan Zumwalt (6-foot-3, 235 pound, Junior) (4) OR
Keenan Graham (6-2, 247, Jr.)
Aramide Olaniyan (6-1, 210, So.)
Ryan Medina (6-1, 230, Sr.)
Left Inside Linebacker
Patrick Larimore (6-2, 250, Sr.)
Jared Koster (6-1, 208, So.)
Jason Stewart (6-2, 237, Fr.)
Todd Golper (6-0, 235, Jr.)
Right Inside Linebacker
Eric Kendricks (6-0, 230, So.)
Ryan Hofmeister (6-0, 225, So.)
Mike Orloff (6-3, 222, Fr.)
Right Outside Linebacker
Damien Holmes (6-2, 250, Sr.)
Aaron Wallace (6-2, 230, Fr.)
Anthony Barr (6-4, 235, Jr.)
PROJECTED OPENING-DAY DEPTH CHART:
Left Outside Linebacker
Jordan Zumwalt (6-3, 235, Jr.) (4) OR
Keenan Graham (6-2, 247, Jr.)
Aramide Olaniyan (6-1, 210, So.)
Jeremy Castro (6-2, 250, Fr.)
Left Inside Linebacker
Patrick Larimore (6-2, 250, Sr.)
Aaron Porter (6-1, 230, Fr.)
Todd Golper (6-0, 235, Jr.)
Ryan Medina (6-1, 230, Sr.)
Right Inside Linebacker
Eric Kendricks (6-0, 230, So.)
Aaron Wallace (6-2, 230, Fr.)
Ryan Hofmeister (6-0, 225, So.)
Right Outside Linebacker
Damien Holmes (6-2, 250, Sr.)
Anthony Barr (6-4, 235, Jr.)
Nate Iese (6-4, 237, Fr.)
KEY LOSSES:
Sean Westgate, 46 tackles, 3 interceptions; two-year starter. Graduated.
Glenn Love, 39 tackles; part-time starter and key reserve. Graduated.
Isaiah Bowens, 9 tackles; key reserve expected to challenge for starting role. Injured.
November, 17, 2011
11/17/11
6:29
PM PT
UCLA running back Malcolm Jones heads a list of 13 Bruins football players who earned Pac-12 all-academic honors, the conference announced Thursday.

Jones, a sophomore with a 3.20 GPA, was named to the first team. F-back Anthony Barr and punter Jeff Locke earned second-team honors. Barr has a 3.14 GPA and Locke, a first-team selection in 2009 and 2010, has a 3.63 GPA.

Ten UCLA players earned honorable mention nods: quarterback Kevin Prince, kicker Tyler Gonzalez, linebackers Sean Westgate, Eric Kendricks, Phil Ruhl, Aramide Olaniyan and Jared Koster, long snapper Kevin McDermott, defensive end Owamagbe Odighizuwa and offensive lineman Chris Ward.
November, 2, 2011
11/02/11
8:33
PM PT
Aramide Olaniyan had waited patiently for his opportunity, sitting through a redshirt season last year and getting limited action on special teams this year, so you can understand his excitement when he finally made a play.

Olaniyan sacked California quarterback Zach Maynard last week on a third-down play, resulting in a four-yard loss. On the following play, Cal kicker Gior Tavecchio missed a 42-yard field goal that would have tied the score.

It turned out to be a momentum switcher as the Bruins cruised to a 31-14 victory.

"I had the biggest smile on my face and I was running up and down and trying to celebrate with every single person on that field and everyone on the sideline," Olaniyan said. "I just wanted to share that moment with all of my teammates. I was fired up."

Olaniyan had a difficult time keeping his spirits up while he wasn't getting on the field. At 215 pounds, the coaches thought he was too small to play defensive end, so they switched him to linebacker. But for the California game, they moved him back to defensive end in the quarter package to create some pressure with his speed.

"I'm sure the offensive linemen were wondering who is this skinny guy when they saw a guy about 215 lining up out there," Olaniyan said. "But size only matters so much. Strength and speed plays a lot into it also."

Olaniyan's personnel group was on the field for only a handful of plays, but he said he was happy to get any time at all after sitting on the sidelines for a season and a half.


October, 29, 2011
10/29/11
10:36
PM PT
Defensive players and coaches like to talk about sudden change.

It's when the defense makes a stop, get off the field and then have to go right back out because of a turnover or a penalty.

UCLA displayed a different kind of sudden change Saturday during a 31-14 victory over California.

The Bruins defense, maligned and beleaguered most of this season and especially after dismal performance last week at Arizona, came up with its best game of the season and it pretty much came out of nowhere.

The Bruins, who had forced only nine turnovers through the first seven games, got five against the Golden Bears. UCLA, who had given up more third down conversions than any team in the country, gave up only two against Cal.

After giving up a season-high 573 yards against Arizona, the Bruins gave up only 333--the second fewest against UCLA this season--and gave up a season-low 14 points.

Sudden change, indeed.

"The Arizona game was incredibly embarrassing across the program," linebacker Patrick Larimore said. "A lot of guys were down. I was down, but you have to come back every week and that's what we did."

It was especially important given the offensive game plan. UCLA was down four receivers because of suspensions handed down by the Pac-12 conference after last week's brawl at Arizona. So the plan was to run, run, run and control the clock.

In order for it to work, UCLA's defense had to cooperate by keeping California from getting points. A season low will certainly do, but considering both of California's touchdowns came after turnovers deep in UCLA territory, California was lucky to score at all.

"This wasn't the same team from last week," defensive coordinator Joe Tresey said. "I think last week was a gut check and they responded to the gut check. It came down to guys looking in the mirror and saying 'Where is our confidence? Why can't we do this? We've got good players in this room. We've got to start believing. We've got to have energy.' And we did that tonight."

California, averaging 293 yards passing coming in to the game, had only 199 thanks in large part to three interceptions by safety Tevin McDonald. The Bruins had five interceptions as a team coming into the game and nearly doubled that total with four on Saturday.

"For us to come out and put out that kind of effort out showed the world 'Don't believe what you saw last week,'" McDonald said.

What we saw this week was a different defense--literally. Tresey made major changes by shifting players around and introducing some new schemes.

Defensive end Datone Jones shifted inside to tackle and redshirt freshman Aramide Olaniyan got his first significant action outside of special teams. Keenan Graham got a lot more playing time at defensive end and linebackers Eric Kendricks and Jordan Zumwalt and safety Stan McKay were on the field for more snaps than in past games.

The moves paid off. Jones and McKay shared the team lead with six tackles. Kendricks was next with five. Graham had a sack and Jones had two. Olaniyan made a tackle for a four-yard loss.

The Bruins also introduced a quarter package with six defensive backs on the field at the same time and three down linemen.

"We knew we needed to change some things up, but mostly we needed to change our attitude," said Jones, who shared the team lead with six tackles and led the team with two sacks. "We needed to play with our heads on fire, everyone. We fed off each other. We were like piranhas. One guy gets the first bite and then 10 others swarm."

And all it took was hitting rock bottom last week, when Arizona bolted to a 42-7 lead by halftime and scored touchdowns on all six first half possessions.

"I don't know if you can go any lower than the Arizona game," Larimore said. "So yeah, we responded tonight. Now we can't lose this. We have to come out and play with the same kind of intensity next week."

Jones said he believes the defense finally found itself. For most of the season it's been a disappointing unit across the board. The Bruins were 106th in the nation in total defense before this game, a far cry from the team that entered this season looking like it would be a strength.

The Bruins had given up 49, 45 and 48 points in UCLA's last three losses, but they banded together Saturday when the team needed them most.

"A lot of guys are fed up with it," Jones said. "It's been embarrassing. It's tough to deal with that. We just promised each other to step up. The playmakers had to make plays."

The key now will be to keep the momentum going. The Bruins have followed each victory this season with a loss the next week. They gave up 17 points against San Jose State, then 49 against Texas. They gave up 19 against Oregon State, then 45 at Stanford. They gave up 25 against Washington State and 48 against Arizona.

"What a roller coaster," Tresey said. "But I think the whole theme this week has to be 'OK, we've done this, now we've got to keep playing like this at this level. The guys locked arms and got it done tonight, but can we back it up by doing it again. That would be nice for a change."

A sudden change, at that.
August, 6, 2011
8/06/11
3:33
PM PT
With UCLA preparing to open fall camp on August 8, we will break down the depth charts at each position in order to look at how the Bruins stack up heading into this season. We've previously looked at
quarterbacks
, the
defensive line
, the
offensive line
, and the
running backs
. Now we turn our attention to the linebackers.
Current depth chart:
STRONG SIDE LINEBACKER
Glenn Love (Sr., 6-4, 213)
Jordan Zumwalt (So., 6-4, 236)
Aramide Olaniyan (Fr., 6-2, 212)
MIDDLE LINEBACKER
Patrick Larimore (Jr., 6-3, 250)
Isaiah Bowens (So., 6-1, 233)
Phillip Ruhl (Fr., 6-1, 230)
WEAK SIDE LINEBACKER
Sean Westgate (Sr., 5-11, 225)
Erick Kendricks (Fr., 6-1, 228)
Ryan Hofmeister (So., 6-0, 220)
March, 24, 2011
3/24/11
10:40
AM PT
With
Akeem Ayers
and
Rahim Moore
headed for the NFL, UCLA football fans will have to get used to some new names.
The front-runner to fill Ayers' outside linebacker spot?
Glenn Love
, a redshirt senior who has plenty of special teams experience but has yet to make a defensive start. The leader to replace Moore at free safety?
Dalton Hilliard
, a junior who, like Love, has zero career starts to his name.
None of that should really matter, though. Love and Hilliard won't be docked for inexperience simply because there is none behind them. For example, the three players listed beneath Hilliard on UCLA's tentative depth chart --
Alex Mascarenas
,
Tevin McDonald
and
Brandon Sermons
-- have three career tackles between them. So even though Hilliard (right knee surgery) will miss spring practice, the starting role doesn't figure to be determined until fall.
Love's situation appears even more favorable. He is ahead of redshirt freshman
Aramide Olaniyan
, true freshman
Aaron Wallace
and redshirt junior
David Allen
(two tackles on special teams last season).
"We want Glenn to have a chance to win a job," coach
Rick Neuheisel
said during a teleconference with reporters Wednesday. "Akeem has left and we wish him well, but Glenn being a senior, being a guy who does everything right in the program, I want him to have a chance to win that job. His body is built for a Sam linebacker. He certainly has cover ability. Now it's just about the physical portion of the job and being instinctive."
Instincts were a major reason why Ayers and Moore had the success they had. All of Ayers' memorable interceptions -- think of his defensive touchdowns against Oregon and Temple -- were a result of his reflexes. He sensed something coming and reacted immediately. It's a big reason why draft pundits believe he will have success at the next level.
Love, a former safety, didn't make the switch to outside linebacker until last season. His mental development will be key over the next four weeks.
Note: This is the second of our five questions leading up to the March 29 opener. Question 1: Will Brett Hundley threaten for starting gig?
January, 18, 2011
1/18/11
9:30
PM PT
By
ESPNLosAngeles.com staff
From a UCLA news release:
Running back
Johnathan Franklin
, linebacker
Akeem Ayers
and safety
Tony Dye
were selected winners of UCLA's Henry R. "Red" Sanders Award for Most Valuable Player at the Annual UCLA Football Awards Banquet, held Tuesday evening at the Hyatt Century Plaza Hotel.
Franklin became the first Bruin since
Chris Markey
in 2006 to rush for over 1,000 yards. He finished with 1,127 yards, the highest total by a Bruin since 1997. He ranked fifth in the Pac-10 in rushing and earned second-team All-Pac-10 honors from the league's coaches.
Ayers, one of the most versatile defensive performers in the country, earned second-team All-America honors from the Walter Camp Football Foundation. On the year, Ayers ranked fourth on the team with 68 tackles, first (tied) with 4.0 sacks, second with 10.0 tackles for loss and second with two interceptions.
Dye led the team with 96 tackles in his 12 games and his average of 8.00 tackles per contest ranked fourth (tied) in the Pac-10. He also led the Bruins and ranked seventh (tied) in the league with 10 passes defended (nine passes broken up and one interception). He earned All-Pac-10 honorable mention from the league's coaches.
The complete list of winners:
Charles Pike Memorial Award for Outstanding Scout Team Player: Offense: running back Jordon James; Defense: linebacker Eric Kendricks; Special Teams: linebacker Aramide Olaniyan
Jack. R. Robinson Award for Highest Scholarship of a Senior Player: holder/punter Danny Rees
N.N. Sugarman Award for Best Leadership: Offense: center Ryan Taylor; Defense: linebacker Sean Westgate
Captain Don Brown Memorial Award for Most Improved Player: Offense: tackle Sean Sheller; Defense: linebacker Patrick Larimore
John Boncheff, Jr. Memorial Award for Rookie of the Year: Offense: F-back Anthony Barr; Defense: linebacker Jordan Zumwalt, tackle Cassius Marsh, end Owa Odighizuwa
Ed Kezirian "Coach K" Award for Academic and Athletic Excellence: safety Dietrich Riley
Tommy Prothro Award for Outstanding Special Teams Player: place kicker Kai Forbath, punter Jeff Locke, running back Derrick Coleman
Kenneth S. Washington Award for Outstanding Senior: Offense: tackle Micah Kia; Defense: tackle David Carter
George W. Dickerson Award for Outstanding Offensive Player vs. USC: running back Johnathan Franklin
Donn Moomaw Award for Outstanding Defensive Player vs. USC: safety Tony Dye
Paul I. Wellman Memorial Award for All-Around Excellence: wide receiver Taylor Embree
Jerry Long "Heart" Award: offensive guard Darius Savage
Special Recognition: linebacker Akeem Ayers, safety Rahim Moore
Henry R. "Red" Sanders Award for Most Valuable Player: Offense: running back Johnathan Franklin; Defense: linebacker Akeem Ayers, safety Tony Dye
November, 11, 2010
11/11/10
6:42
PM PT
For the third consecutive day, UCLA brought a lot of energy and spirit to the practice field on Thursday. Defensive players erupted in the Florida State/Atlanta Braves "tomahawk chop" chant during team drills and there were a few minor skirmishes during the mid-day practice session.
"Kids are excited about playing and finishing," Coach
Rick Neuheisel
said. "It's that portion of the season where the guys who are fortunate enough to still be going are excited about it. And there's a lot to play for especially given the conference. Only three teams are guaranteed a bowl and everyone else is in the same situation, fighting like mad and it's going to make for some very, very competitive games."
The Bruins will take the next two days off as the coaches do some recruiting. The next practice is Sunday.
A few tidbits from Thursday:
As with last time the Bruins were off, the final practice of the bye week ended with a live scrimmage between the scout teams. Linebackers Eric Kendricks and Aramide Olaniyan each made a couple of nice plays on defense while Jerry Rice Jr. continued to show off some nice speed and open-field moves on offense. The offense converted a couple of fourth down plays, but did not score a touchdown. Receivers dropped several passes, two or three of which hit the ground in the end zone. "It's fun to watch them compete and watch their teammates get excited for them," Neuheisel said.
Receiver Nelson Rosario was limited after aggravating his sprained ankle on Tuesday. Neuheisel said he hoped Rosario would be at full strength soon. "He's still a little hampered," Neuheisel said. "Those are slow injuries to heal. I can be frustrated or I can be hopeful. I'm going to choose helpful."
Linebacker Patrick Larimore sought a second opinion on his dislocated shoulder, but Neuheisel did not have an update. Larimore injured his left shoulder against Oregon and season-ending surgery is a possibility.
Linebacker Steve Sloan did not dress, but did some running on the side as he tries to come back from a hamstring strain. Neuheisel said Sloan should practice Sunday, but would not commit to him getting his spot back at middle linebacker. Freshman Jordan Zumwalt has performed admirably in his absence. "We'll wait and see," Neuheisel said. "Certainly we like competition at all positions."
Special teams practice was especially spirited, with Coach Frank Ganz, Jr. even more animated than usual. Ganz, unhappy with one kickoff, asked the players "What is this, Dancing with the Stars?" then pointed at Ricky Marvray and said "Ricky, you're voted off." Later, Ganz tried to inspire the team by telling them Washington has a "martian who is 6-foot-10 and weighs 5,000 pounds and you better block him."
Offensive lineman Eddie Williams missed practice for the third consecutive day because of a sprained foot. Tight end Cory Harkey missed his second consecutive practice because of food poisoning. Safety Dalton Hilliard practiced in a red no-contact jersey as he recovers from a concussion.
2014 TEAM LEADERS
| TEAM | RUSH | PASS | TOTAL |
| --- | --- | --- | --- |
| Offense | 199.4 | 268.5 | 467.9 |
| TEAM | PF | PA | MARGIN |
| Scoring | 32.9 | 27.5 | 5.4 |