June, 4, 2014
Jun 4
11:30
AM PT
The blood-dimmed tide is loosed, and everywhere
The ceremony of innocence is drowned.
The best lack all conviction, while the worst
Are full of passionate intensity.
May, 27, 2014
May 27
9:00
AM PT
While summer is considered the "offseason," we all know there is no offseason. Every Pac-12 team is either gaining -- or losing -- ground right now due to its focus and effort at getting better, both on a team and individual level.
So how do things stand in advance of teams beginning preseason camp?
Glad you asked (and you can view the
final 2013 power rankings here
).

1. Oregon
: I know. We always rank Oregon here, underrating Stanford and its more physical but less sexy style of play. But the return of QB
Marcus Mariota
and a veteran offensive line is just too tantalizing. The Ducks look like the Pac-12's best bet for an entrant in the inaugural College Football Playoff.

2.
UCLA
: I know. We're dropping the two-time defending Pac-12 champions to No. 3, underrating Stanford and its more physical but less sexy style of play. But the Pac-12 blog keeps reviewing the Bruins' depth chart and
contemplating a trip to Vegas
... 20/1 ... hmm.

3.
Stanford
: The quandary with Stanford: Was the defensive front seven dominant this spring because it's going to again be among the best in the nation (probably)? Or was it because four new starters on the O-line means a step back on offense (maybe)? Two other issues: 1. Replacing D-coordinator Derek Mason; 2. Can QB
Kevin Hogan
improve enough on short and intermediate throws to take advantage of a strong crew of receivers?

4.
USC
: The Trojans enter the final season under NCAA scholarship reductions with a starting 22 good enough to win the Pac-12, but depth and health are issues. There is a lot to like on both sides of the ball, though the offensive line probably rates as the most critical question mark.

5.
Arizona State
: The defending South champions are going to be tough to stop on offense behind QB
Taylor Kelly
and WR
Jaelen Strong
, but replacing nine starters -- and just about all its star power -- on defense is not an issue you can write off with a "Hey, we've got lots of great JC transfers coming in."

6.
Washington
: The return of QB
Cyler Miles
from suspension provides a big boost and probably means that the Huskies can be a factor in the North race. The secondary is a concern, and that's not a good concern to have in the QB-laden conference this fall. And there is some mystery as to whether there will be growing pains during the transition to Chris Petersen from Steve Sarkisian.

7.
Oregon State
: We expect the Beavers defense to be better this fall compared to last season, so the big question is how do the 10 guys on offense complement QB
Sean Mannion
? The O-line -- again -- is a question, and it's not easy to replace the nation's best receiver. Still, we expect the 2014 Beavers to be better than the 2013 version. Perhaps much better.

8.
Washington State
: If you are looking for a true conference dark horse, it's the Cougars. There are questions on the O-line and on defense, but the passing game should be outstanding with third-year starter
Connor Halliday
and a deep, talented crew of receivers. Put it this way: What does this team look like if it improves as much in Mike Leach's third year as it did in Year 2?

9.
Arizona
: The Wildcats are outstanding at receiver, good on the offensive line and solid at safety. There are questions just about everywhere else, and the strange thing is that quarterback might be the least worrisome. Still, to show how we view the Pac-12's depth again this fall, the Wildcats over/under for wins is seven.

10.
Utah
: The Utes situation seems fairly simple. If the production at quarterback is consistent, this is a bowl team. The best bet is with a healthy
Travis Wilson
, though it really is about just starting the same guy all 12 games.

11.
Colorado
: The Buffaloes should take another step forward in Year 2 under Mike MacIntyre, but the real issue is whom can they crawl over to rise in the conference pecking order? With about six or seven projected senior starters this fall, the Buffs might not make a move up until 2015.

12.
California
: If the bet were to pick who finishes last in the Pac-12 in 2014, Cal or the field, I'd be reluctant to tap Cal. I'd much rather go with the field because I think the Bears were awful in Year 1 under Sonny Dykes because of an epidemic of injuries and a poorly-coached defense. The latter should be solved by the hiring of coordinator Art Kaufman, and I can't foresee the injury situation being nearly as bad.
April, 25, 2014
Apr 25
12:00
PM PT
Three more Pac-12 spring games are slated for Saturday. Here's a look at what to watch in all three.
California

Where
: Memorial Stadium
Kickoff
: 11 a.m. PT
TV
: Pac-12 Network (Replays throughout the week)
What to watch
: The Bears have a new defensive coordinator … again …
so watching them adjust
to Art Kaufman's 4-3 vs. Andy Buh's 4-3 will be of note. Though a
depth chart
was recently released, there are still a few positions up for grabs. There are some questions about the right side of the offensive line and backup quarterbacks can usually make an impression in the spring. The depth chart lists an "or" between
Austin Hinder
and
Kyle Boehm
, so expect those two to jockey for position behind incumbent starter
Jared Goff
. The event is free and there will be giveaways and kids' activities.
Click here for details
.
UCLA

Where
: StubHub Center, Carson, Calif.
Kickoff
: 5 p.m. PT
TV
: Pac-12 Network (Replays throughout the week)
What to watch:
As has been the case with UCLA the last couple of years, youth and injuries make for some mixing and matching on the offensive line. This spring has proven no different, so look for the right tackle spot to be highly competitive beyond Saturday's game. The running backs are intriguing as well. Offensive coordinator Noel Mazzone said
Jordon James
has evolved into the one-cut runner that he wants him to be, but
Paul Perkins
,
Steven Manfro
and touted redshirt freshman
Craig Lee
will push for carries. Finding a suitable backup for
Brett Hundley
, be it
Asiantii Woulard
or
Jerry Neuheisel
, is also a top priority, and the spring game could create some separation. Note, tickets are $5 in advance, $10 day of (free for UCLA students and children 2 and younger). Parking is $15. Players will be available for autographs between 3 and 3:45.
Click here for details
.
Washington State

Where
: Joe Albi Stadium, Spokane, Wash.
Kickoff
: 1 p.m. PT
TV
: Pac-12 Network (Replays throughout the week)
What to watch
: This is the fourth year the Cougars will be holding their spring game in Spokane. All reports are that quarterback
Connor Halliday
has shown a strong command of the offense and wide receiver
Vince Mayle
has been outstanding
. However, the big question mark still lies in the secondary, where definitely three -- maybe four -- positions are still up for grabs. The spring depth chart has
Charleston White
and
Daquawn Brown
at the corner spots and
Isaac Dotson
and
Taylor Taliulu
as the safeties. But those won't be set in stone for a while. There are other position groups of interest, naturally. But defensive coordinator Mike Breske
told the Pac-12 blog
, while he likes his front seven, the back end of the defense, without question, has been the biggest point of emphasis this spring.
March, 7, 2014
Mar 7
9:00
AM PT
There are plenty of issues Pac-12 teams will be addressing this spring. Here are some that are front and center for your Pac-12 insiders.
Ted Miller
: Spring practice is the official transition from taking stock of the 2013 season, including recruiting, to looking ahead to next fall. The 2013 season was all about top-to-bottom depth for the Pac-12 -- and the lack of an elite national-title contender. That might be the case again in 2014, but if the conference is going to be nationally relevant in Year 1 of the four-team College Football Playoff, I think it will be because of the depth and quality of the quarterbacks.
If
Travis Wilson
is cleared to play at Utah, 10 Pac-12 teams welcome back their 2013 starters, and many of these guys are All-American candidates, most notably Oregon's
Marcus Mariota
, UCLA's
Brett Hundley
, Arizona State's
Taylor Kelly
and Oregon State's
Sean Mannion
.
[+] Enlarge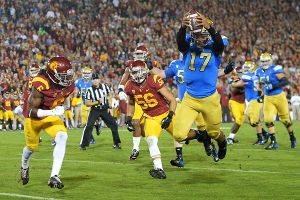 Kirby Lee/USA TODAY SportsHaving Brett Hundley back makes UCLA the favorite in the Pac-12 South.
The big question for these guys is if they can be better this season than last. If that happens -- for the above four and the six other returning starters -- then it should be a high-flying season with lots of offense. And perhaps a team emerges as a candidate for the playoff.
What most interests you this spring with the Pac-12?
Kyle Bonagura
: As a result of the continuity at quarterback, offenses should be in line for a collective step forward. How far could be determined by how quickly the conference's seven new defensive coordinators acclimate to -- and perform at -- their new jobs.
We won't get a great read on how that process is going during the spring, but it'll be interesting to see in what ways defenses evolve moving forward.
For Arizona State, Oregon, Stanford and UCLA, the change will be minimal. Todd Graham will remain heavily involved in how ASU plays defense, and the other three promoted staff members will use the framework and schemes already in place. USC might have a new staff, but considering coach Steve Sarkisian and defensive coordinator Justin Wilcox were in the conference last season, it should be an easy transition.
I'm more interested to see how things play out at California and Washington.
Washington is set up for success with the much-anticipated arrival of longtime Boise State coach Chris Petersen, who brought his defensive coordinator for the past four seasons, Pete Kwiatkowski. They have a talented front seven to work with and a favorable early schedule that will allow the staff to iron out any kinks: at Hawaii, Eastern Washington, Illinois, Georgia State.
Art Kaufman's job taking over the Cal defense won't be as easy. The Golden Bears should be in better shape than last season from a health and experience standpoint -- the latter partially a result of 2013's injury woes -- but there's a lot of ground to cover between where they were and being competitive.
Ted Miller
: One team that had coaching continuity at both coordinator spots is Arizona, and I think the Wildcats are setting up to be a dark horse in the Pac-12 South, though I do see UCLA as a strong favorite at this point. The intrigue with Arizona, though, is at quarterback. It seems like the most wide-open competition in the conference.
If
Cyler Miles
gets back in Petersen's good graces, he's got a significant lead for the Washington QB vacancy. At USC, I think that
Cody Kessler
is likely to retain his starting job over touted redshirt freshman
Max Browne
. Kessler steadily improved as a difficult season went on, and he still has his 2013 offensive coordinator/position coach in Clay Helton. At Utah, a healthy Wilson starts for the Utes.
But Arizona has four guys with a legitimate shot at winning the starting QB job this fall: Redshirt freshman
Anu Solomon
, senior
Jesse Scroggins
, sophomore
Connor Brewer
and junior Jerrard Randall. Solomon was one of the jewels of the 2013 recruiting class, while the other three are transfers from A-list programs -- Scroggins from USC, Brewer from Texas and Randall from LSU.
The first big question will be whether Rich Rodriguez narrows the field at the end of spring practices. How much does he want to establish a clear pecking order? You'd think at least one of these guys is going to be relegated to fourth place because there are only so many practice reps to go around.
The good news is the guy who wins the job is going to have an outstanding crew of receivers. He won't have running back
Ka'Deem Carey
lining up as a security blanket behind him, but Rodriguez's offenses almost always run the ball well. The Wildcats will average more than 200 yards rushing again next season, I feel confident saying that.
The million-dollar question -- the difference between competing for the South title and winning eight games again -- is how efficient the guy behind center is.
Any position battles particularly intrigue you this spring?
Kyle Bonagura
: Like you, I'm really intrigued to see how the quarterback competition at Arizona progresses. That's a lot of pressure for the three guys who already transferred from big-time programs. All of them clearly want to play, and it makes you wonder if one of them will end up at an FCS school before the season starts.
The most high-profile battle outside of quarterback has to be at Stanford, where four guys are competing to replace
Tyler Gaffney
at running back. I was out at the Cardinal's first open practice of the spring last week -- and will be out there again on Saturday -- and what stood out immediately was how balanced the reps were. If
Remound Wright
,
Ricky Seale
,
Barry Sanders
and
Kelsey Young
didn't have equal reps with the first team, it was close.
However it plays out, it's unlikely Stanford will feature one back like it has the past six years with Gaffney, Stepfan Taylor and Toby Gerhart.
Wright probably holds a slight edge in terms of the overall package -- largely because of his capabilities in pass protection -- but there are more similarities than differences in comparing each guy. A lot of people ask about Sanders because of his famous father (my favorite football player as a kid), but the reality with him is that expectations were probably too high when he arrived. His name and recruiting profile are to blame, and the coaching staff isn't going to force his development.
Young, who switched back to running back from receiver, might be the most dangerous with the ball in his hands and Seale, a fifth-year senior, might have the best grasp of the offense.
2014 TEAM LEADERS
| TEAM | RUSH | PASS | TOTAL |
| --- | --- | --- | --- |
| Offense | 159 | 288 | 447 |
| TEAM | PF | PA | MARGIN |
| Scoring | 30 | 24 | 6 |