June, 7, 2012
6/07/12
5:51
PM PT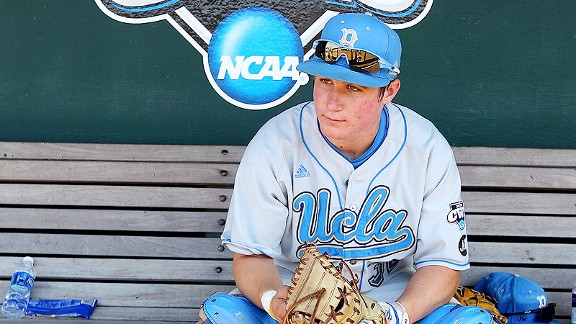 Christian Petersen/Getty ImagesTyler Heineman considered leaving UCLA -- his dream school -- after sitting on the bench for most of his first two seasons.
LOS ANGELES -- As it turns out, getting stuck with
Tyler Heineman
at catcher has worked out pretty well for the UCLA baseball team.
He's a .351-hitting catcher who bats second on the team seeded No. 2 nationally in the NCAA baseball tournament, a top-notch defensive catcher who handles the pitchers like a pro and a valuable clubhouse presence who provides leadership to a young pitching staff.
He has started 54 of UCLA's 59 games this season, will start another when the Bruins begin their NCAA super regional against Texas Christian on Friday at 6 p.m. PT at Jackie Robinson Stadium and was selected by the Houston Astros this week in the eighth round of the Major League Baseball draft.
Not bad for a guy who was supposed to be the weak link for UCLA this season -- a junior who received no scholarship offers out of Windward High School, came to UCLA as a walk-on only because it was his dream school and played sparingly during his first two seasons.
When three-year starter
Steve Rodriguez
and top high school recruit
Austin Hedges
signed with major league teams after getting picked in the 2011 draft, Heineman became the UCLA starting catcher by default. But he since has emerged as one of the top college catchers in the country and was one of 12 semifinalists for the Johnny Bench Award, given annually to the nation's top catcher.
"You never really expect to have this kind of a year, but I always hoped I would," Heineman said. "I certainly knew I was capable of it and wanted to, but until you go out and do it, you just never know. I'm extremely happy with how it's played out so far."
There weren't many others who knew Heineman was capable of this type of season, especially offensively. His .351 average is second on the team, and his batting skills have developed into those of a prototypical No. 2 hitter. He leads the team with 16 sacrifice bunts and has a 20-14 walk-to-strikeout ratio.
His work behind the plate is even better. He has been charged with only four passed balls and two errors in 54 games, and has thrown out 20 of 44 (45.4 percent) would-be base stealers. All that in addition to providing a calming influence on a staff that lost aces
Gerrit Cole
and
Trevor Bauer
to the major leagues last season, and is relying on three sophomores and a freshman to anchor the starting rotation.
"He's just made himself a really good baseball player," coach
John Savage
said. "It's really a great story of a guy that's stayed with it and a guy who didn't play very much his first two years and came on to the scene as a junior and has made a huge impression."
It's also a rarity, Savage said, especially for a catcher. Sitting on the bench for the better part of two seasons tends to erode skills, but Heineman kept his focus, soaked in as much knowledge as possible and put everything together this season to become a team leader in all areas.
August, 15, 2011
8/15/11
11:34
PM PT
The yearly "deadline day" has become a whirlwind of emotion and anticipation for UCLA head baseball coach John Savage. Monday night was no different, as the Bruins' skipper learned that his top three incoming freshmen -- first-round draft selection Joe Ross (Oakland, Calif./Bishop O'Dowd), supplemental first-rounder Tyler Goeddel (Hillsborough, Calif./St. Francis) and second-rounder Austin Hedges (San Juan Capistrano, Calif./JSerra) -- had signed professional contracts shortly prior to the 9 p.m. PT deadline.

And, just like that, years of recruiting, scouting and convincing were gone.

"You're talking about guys that stuck by their [signing] numbers, guys that knew exactly what it would take to sign them," Savage said. "And they got that, so there's no hard feelings."

Ross, a promising pitcher and 25th overall pick in June's draft, signed with the San Diego Padres, reportedly for a $2.75 million bonus. Goeddel, an outfielder chosen 41st overall by the Tampa Bay Rays and younger brother of former Bruins pitcher Erik Goeddel, reportedly signed for $1.5 million. Hedges, considered by many as the top defensive catcher in the draft, fell from the first round due to signability concerns. Still, he bagged a signing bonus of $3 million from the Padres, according to reports.

"The system probably needs to be looked at," Savage said. "There's no such thing as slot. That's clear. There's no hard feelings towards professional baseball or the families. In this business the only thing you ask for is honesty. I don't feel like we were involved with the wrong guys."

Savage said he and his staff spent more than two years luring the group to first choose, then sign with UCLA. The main objective, he said, is to recognize players that are serious about attending college. Savage did manage to hang on to infielder Kevin Kramer (Turlock, Calif./Turlock), a 25th-round pick of the Cleveland Indians, and pitcher Jacob Ehret (San Dimas, Calif./San Dimas), a 37th-round pick of the Florida Marlins.

Pitcher Gerrit Cole, the No. 1 overall selection, signed with the Pittsburgh Pirates on Monday night. Over the years, Savage has lost players such as Jason Heyward (Atlanta Braves) and Tyler Chatwood (Los Angeles Angels) at the deadline.

"We still feel like the incoming class is very strong," Savage said, citing players like Eric Snyder (Huntington Beach, Calif./Edison) and Zack Ortiz (Cypress, Calif./Cypress). "Everybody that we sign is a good player. Whenever you lose three guys on the last day it's always difficult. You're prepared for it. You don't sit here and think you're going to get every player you sign. You're not going to hold on to everyone.

"I'm happy for the players and I'm happy for their families," Savage continued. "We'll be fine. The hard ones are when they say they'll sign for $1 million and they take $500,000. That's when I think the college coach gets upset."
June, 7, 2011
6/07/11
11:05
AM PT
UCLA signee Austin Hedges (San Juan Capistrano, Calif./JSerra) was selected Tuesday in the second round by the San Diego Padres in the Major League Baseball first-year player draft.

Considered the best defensive catcher in the draft, Hedges reportedly fell from the first round because of signability concerns. He was the fifth catcher taken and second by the Padres. San Diego also picked Bruins signee Joe Ross (Oakland, Calif./Bishop O'Dowd) in the first round.
2014 TEAM LEADERS
| TEAM | RUSH | PASS | TOTAL |
| --- | --- | --- | --- |
| Offense | 199.4 | 268.5 | 467.9 |
| TEAM | PF | PA | MARGIN |
| Scoring | 32.9 | 27.5 | 5.4 |