April, 25, 2014
4/25/14
2:45
PM PT
Happy Friday. Welcome to the Mailbag.
Following the Pac-12 blog on Twitter
is the equivalent of eating a perfectly cooked bone-in ribeye, only with the caloric burn of a P90X workout.
To the notes.
Bellingham Duck from Bellingham, Wash., writes:
I remember as kid sitting on my back porch listening to my Ducks get blown out by perennial powerhouse Oklahoma 62-7. I dreamed of what it what it would be like to ever be that good. Too ashamed to ask God to intervene, I accepted what seemed to be our fate. What Pac-12 program that is currently down is most unlikely but still destined to reach the top and stay a while?
Ted Miller
: This question interested me because of my initial reaction: I see reasons for optimism for EVERY SINGLE PAC-12 TEAM.
That reaction made me grumpy. That much optimism doesn't sit well with me. The Pac-12 blog is not "Oprah." We aren't about uplifting folks. We aren't about fairy tales and happy endings. We are about being realistic. Objective. We want to tell it like it is. We're like Marlo Stanfield in "The Wire" whispering with understated but ineluctable menace, "You want it to be one way… but it's the other way."
And we are not embarrassed to admit we enjoy a bit of snark.
Yet here's what I see with the Pac-12 heading into the 2014 season: Oregon, Stanford, UCLA, USC, Arizona State and Washington look like potential top-25 teams to me. Oregon State, Arizona, Washington State and Utah look like teams that could be dark horses if a couple of things fall into place and they stay healthy. And California and Colorado look like they will be much better in 2014 than they were last season.
The biggest potential backward step? Arizona State, because it's rebuilding its defense. But I see the Sun Devils as a team that could win nine games, so we're not talking about a tumble.
But none of this answers your question.
Part of that nonanswer is only Utah, Colorado and California could qualify as "down" after the 2013 season. Everyone else seemed to be maintaining a solid status or trending up.
So if you are asking me which program among those three should most decisively reverse course in the next five years, I'd go with Cal, mostly because of its recently -- and dramatically -- upgraded facilities and recruiting base.
If you're asking me which Pac-12 team is on the midst of making a major leap as a program, I'd go with UCLA in the South Division -- as long the Bruins retain Jim Mora -- and Washington in the North.
I also think the Arizona-Arizona State rivalry is going to get very interesting if both retain their present coaching staffs.
---

Brandon from Seattle writes:
This isn't a new topic and relates more to my recent discovery of
cfbstats.com
(and my loss of productivity). I'm a die-hard Coug fan and after looking into some rushing statistics, I've got a small bone to pick with college football analysts. The last two seasons, much has been made about WSU's ineffectiveness running the football. This viewpoint comes around because of two archaic "truths" of college football: 1. Balance means a team is 50-50 rushing and passing; and 2. Sacks are counted as rush attempts. Without getting into why I believe those "truths" are archaic, I'll just state my point that WSU's rushing game isn't nearly as bad as it's made out to be. In fact, if you look just at rushes by running backs, WSU ranks sixth in yards per attempt at 4.97. That's better than Stanford at 4.96 and UCLA at 4.72. I?m definitely not downplaying those teams' abilities to run the ball, but instead I'd like to bring to light the fact that WSU's O-line and running backs are significantly more efficient in the run game than what we're led to believe by many media members. Just food for thought and a hope that analysts might eventually take a deeper dive than rushing and passing totals.
Ted Miller
: This gets a yes and no.
Yes, Washington State was better running the ball than its paltry 53.4 yards per game suggests. Each of its top four running backs averaged 4.5 yards per carry or better. The poor rushing stats were mostly due to a lack of attempts and, as you note, losing 244 yards on 32 sacks. Further, as coach Mike Leach often points out, his short passing game using running backs isn't much different than handing off.
Yet, just as you've gone inside the numbers, you also can go a bit deeper.
Two stats stand out: Third-down conversions and red-zone offense. Both tend to be better for teams with reliable running games.
The Cougars ranked seventh in the Pac-12 in third-down conversions and 10th in red-zone offense. They were eighth in red-zone TD percentage (though it's a curiosity that said TD percentage was better than both Arizona State and Stanford, two good running teams).
Most notable: The Cougars turned the ball over in the red zone a conference-worst seven times. Hard to believe part of that isn't about the challenge of throwing the ball in a compressed space when defenses aren't worried about the run.
All this said, it's really about results. The Cougars ranked eighth in the Pac-12 in scoring last year -- ninth in conference games -- and finished 6-7. If they finished in the top three in scoring and won eight or more games, nobody would care about the rushing statistics.
---

Mitch from Tucson writes:
Hey Ted, longtime reader, first-time writer. What was your reasoning for leaving
Austin Hill
off
the "2014 challengers" list
? If I remember correctly, that guy was pretty good. ... Maybe even All-American good: "The sophomore looked like a potential All-American in 2013 after catching 81 passes for 1,364 yards -- 16.8 yards per reception -- with 11 touchdowns. " - Ted Miller
Ted Miller
: Considering the receiving depth in the Pac-12 next year, if I listed all the potential challengers to lead the Pac-12 in receiving yards, there would be 20 names.
There are two reasons I left out Hill. First, he's coming back from a knee injury that killed his 2013 season and he wasn't 100 percent himself this spring. I want to see how he reacts when the lights come on and the games are for real. I do suspect we're going to see a guy who is even better than he was in 2012.
But the biggest reason is this: Arizona is as deep as any team in the country at receiver. It's much deeper than it was in 2012, when Hill put up huge numbers, and 2013, when Hill was out. I could see multiple 1,000-yard receivers for Arizona -- or four guys with over 800 yards -- but not one guy with, say, 1,500 yards.
Also, based on how Texas transfer
Cayleb Jones
looked this spring, he might actually be the favorite to lead the Wildcats in receiving yards.
---
Kurt from Corvallis writes:
Naming the starting QB? Simple:
When the coach knows, he announces
.
Ted Miller
: Maybe for some, but plenty of coaches subscribe to the notion that they want to prolong the competition as long as possible.
For example, it was pretty obvious that
B.J. Denker
was going to be Arizona's starting quarterback early in fall camp last year, but Rich Rodriguez opted
not to announce it until the week of the first game
. Why? He didn't want Denker to become comfortable. He told me specifically that he wanted to cultivate as much mental toughness as possible in Denker because he knew Denker's lackluster arm would not be widely celebrated among the Wildcats' fan base and there would be growing pains. As there were -- see his game at Washington.
Chip Kelly also wasn't a big fan of showing his cards early. Think about what we know about
Marcus Mariota
now. But he wasn't revealed as the Ducks starter as a freshman until after 22 fall camp practices, one week before the opener.
Again, some coaches like to anoint a QB as soon as possible in order to allow him to take up a defined leadership role. Others like to wait as long as possible, believing a lengthy, stressful competition creates mental toughness.
---
Matt from Carrollton, Texas, writes:
Hi, Ted. I'm a longtime fan of USC and the Pac-12 blog, which means it would take something I consider especially momentous to write in (given that I value Kevin and your opinions so much). Anyways, I also happen to be an avid NCAA football gamer on Xbox 360 (read in: nerd), and I hit a milestone this past weekend with a resounding 252-0 win as USC over Wazzu (the first game in my 21st Dynasty season, and first over 250 points). I figured I'd send you this in the hopes that it warrants some space on your next mailbag, especially since it probably took me roughly 340-plus hours of gameplay to accomplish this. P.S.: Before you ask, those 340 hours took place over the course of the past 21 months, and yes, this was on "freshman" difficulty, but in my defense I do play only six-minute quarters and use an accelerated play clock. That's gotta count for something right?
Ted Miller
: The Nobel committee has been alerted.
Now, Matt, please go read a book.
January, 14, 2014
1/14/14
8:00
AM PT
There were many remarkable performances in the Pac-12 this year. And some remarkably bad ones. Of course, one team rolling is another team getting rolled.
Here are some high & low lights of the 2013 season (conference games only).
And some of these are intriguing because they say the opposite thing.
Such as …
Worst rushing performance:
Washington rushed for negative-5 yards at Arizona State on Oct. 19 in a 53-24 defeat.
Best rushing performance
: Washington rushed for 530 yards at Oregon State in a 69-27 win on Nov. 23.
Best yards per rush
: Washington averaged 9.1 yards per carry at Oregon State.
Most points
: Washington at Oregon State.
Most rushing TDs
: The Huskies at seven rushing touchdowns at … well, you get the picture.
[+] Enlarge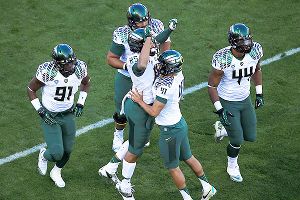 Doug Pensinger/Getty ImagesThe Oregon Ducks had plenty to celebrate when they piled up 755 yards against Colorado on Oct. 5.
Most yards
: Oregon gained 755 yards at Colorado on Oct. 5.
Most yards per play
: USC averaged 9.8 yards per play at California on Nov. 9.
Longest run
: USC running back
Javorius Allen
had a 79-yard touchdown run at Cal.
Longest pass
: Cal QB
Jared Goff
connected with
Chris Harper
for an 89-yard TD against Washington State on Oct. 5
Fewest pass completions
: Utah completed just six passes against Arizona State in a 20-19 defeat on Nov. 9.
Worst completion percentage:
Utes QB
Travis Wilson
completed 28.6 percent of his throws against the Sun Devils.
Best completion percentage
: Arizona's
B.J. Denker
completed 86.4 percent of his throws -- 19 of 22 -- against Oregon on Nov. 23.
Most interceptions
: Wilson threw six interceptions in the Utes 34-27 loss to UCLA on Oct. 3.
Shortest "long" pass in a game
: USC's longest completion against Washington State on Sept. 7 went for 8 yards.
Longest field goal
: Arizona's
Jake Smith
(vs. Cal) and Colorado's
Will Oliver
(vs. Arizona) both made 53-yard boots.
Longest punt
: Utah's
Tom Hackett
posted a 70-yard punt against Arizona State.
Best punt average in a game
: Cal's Cole Leiniger averaged 54.2 yards on four punts at Colorado.
Longest punt return
: USC's
Nelson Agholor
returned a punt 93 yards for a TD at Cal. He also had a 75-yard TD on a punt return in that game.
Longest kick return
: Stanford's
Ty Montgomery
went 100 yards for a touchdown at Utah on Oct. 12.
Most fumbles lost
: Cal lost four fumbles at Oregon on Oct. 28.
Most sacks allowed
: UCLA gave up nine sacks to Arizona State on Nov. 23.
Most sacks by a player in a game
: Both Arizona State's
Chris Young
(vs. UCLA) and Arizona's
Sione Tuihalamaka
(vs. Arizona State) had three.
Most penalties
: UCLA had 13 penalties for 100 yards at Utah.
Most penalty yards
: The Bruins had 122 yards in penalties -- on 11 flags -- against Colorado.
Touchdowns in one game
: Montgomery had five at California on Nov. 23 (four receiving, one rushing).
Most rushing yards in a game
: Washington's
Bishop Sankey
gained 241 yards against Cal.
Most passing yards in a game
: Washington State's
Connor Halliday
passed for 557 yards at Oregon. (Just don't remind Nick Aliotti).
Most passing touchdowns in a game
: Oregon State's
Sean Mannion
threw six touchdown passes against Colorado.
Most receiving yards in a game
: Oregon State WR
Brandin Cooks
had 237 yards receiving at Cal on 13 receptions.
Most receiving TDs in a game
: Montgomery had four against Cal.
December, 31, 2013
12/31/13
10:30
AM PT
Both Kevin and Ted correctly picked Oregon, but missed on Arizona State. Kevin is 79-19 on the season, and Ted is 75-23.
AdvoCare V100: Arizona vs. Boston College


Kevin Gemmell
: The big storyline here is obviously the running backs – Arizona's
Ka'Deem Carey
and Boston College's
Andre Williams
. Both were Doak Walker finalists, and Williams took home the trophy. But the real story should be
B.J. Denker
, who is averaging 95 yards per game on the ground with four touchdowns over the past six games. Boston College is a better team than the one that lost to USC, 35-7 back in September. But the Eagles also feasted on a lot of weaker competition. So did Arizona, but it at least has a win over a top-five team (Oregon) to its credit. I like Carey and Co. to outdistance the Eagles.
Arizona 38, Boston College 28.
Ted Miller
: While all the hype of about this game is about the running backs, and justifiably so, here's a guess that the ultimate difference-maker is someone we're not expecting, though Kevin's noting Denker would be my first guess. Boston College played Florida State tough and beat Virginia Tech, and Arizona's red-letter moment was a win over Oregon. This feels like a game that might go to the fourth quarter, but we like the Wildcats' chances because their offense is ultimately not one-dimensional.
Arizona 35, Boston College 24.
Hyundai Sun Bowl


Kevin Gemmell
: Virginia Tech doesn't give up a lot of points -- only 17.4 per game, to be exact. They don't score many, either (23.4). And they head into the postseason having lost three of their past five. The Bruins got healthy in a lot of different areas, and they have the offense (36.5 points per game) and the defense (24.1) to match the Hokies on both sides of the ball. As is always the case when UCLA plays, the question is whether Virginia Tech can 1) get to
Brett Hundley
and 2) actually get him down. No quarterback in the Pac-12, maybe the country, is as good at extending plays. That's going to put a lot of pressure on Virginia Tech's defense. And after last season's bowl debacle, I think the Bruins feel like they have something to prove.
UCLA 31, Virginia Tech 21.
Ted Miller
: It's not good that the UCLA defense will be without leading tackler
Eric Kendricks
, but Virginia Tech has struggled to run the ball and, forced to pass, it has yielded 2.5 sacks per game. That's not a good sign with
Anthony Barr
is on the opposite side of the line. Hundley and the Bruins' offense should be challenged by a good Hokies' defense, but they'll score enough to get the W.
UCLA 24, Virginia Tech 20.
December, 26, 2013
12/26/13
2:30
PM PT
Here comes the letdown, Christmas is over;
Here comes the meltdown, there goes the cheer.
But before we have a breakdown, let us remember;
The light of the world is still here.
November, 7, 2013
11/07/13
5:30
PM PT
Last Nov. 3, Arizona headed to UCLA riding a hot streak. It had won two in a row, obliterating Washington 52-17 and shocking then-No. 9 USC 39-36. The Wildcats were squarely in the Pac-12 South Division race.
Then Arizona made like a rotten Halloween pumpkin being hurled off the roof of a 50-story building. The Bruins delivered a 66-10 smashing that was pretty much over after the first quarter.
"Why did you have to bring it up?" replied Arizona coach Rich Rodriguez when asked about what went wrong. "About everything did. ... There wasn't a single thing we did well, in any phase. If you want to know what went wrong, it was everything."
[+] Enlarge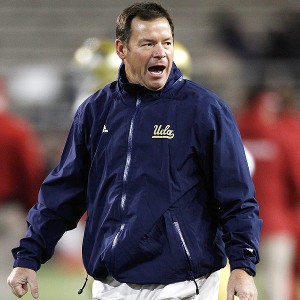 William Mancebo/Getty ImagesUCLA coach Jim Mora believes last year's blowout win against Arizona is "irrelevant" to this year's game.
UCLA led 21-0 after the first quarter and 42-3 at halftime. The Bruins outgained the Wildcats 611 yards to 257. Arizona running back
Ka'Deem Carey
would go on to lead the nation in rushing, but he managed just 54 yards on 16 carries against the Bruins. That was a season low, as was his 3.4 yards per carry.
UCLA wasn't 56 points better than the Wildcats, who finished last season 8-5. It was just one of those games. The Bruins played well in all phases and the Wildcats played poorly.
Funny thing about games like that, though. The losing coach tends to volunteer a better memory of it. The winning coach wants his players to erase their recollection and any residual feelings that might influence their perception of how and why things went down as they did.
As Bruins coach Jim Mora effused, "It's pretty irrelevant to us."
Mora's Bruins are headed to Tucson to again face the Wildcats in another key South clash on Saturday night. He doesn't want his players to think this game will be easy just because last year's was. And Rodriguez is hoping his players might compete with a little more edge and focus, knowing they got humiliated last year in by far the team's worst performance in Rodriguez's first season.
"I would hope just from a competitor's standpoint, when you didn't play well against somebody, you'd want to have another chance to show you are a little bit better than what you did," Rodriguez said.
Last year's game also had another notable occurrence:
B.J. Denker
had to come off the bench for an injured
Matt Scott
, who suffered a concussion, and Denker would make his first career start the following weekend against Colorado.
While Denker is a much different and better quarterback than he was a year ago, this game more likely turns on Carey looking like a player trying to lead the nation in rushing for a second consecutive season rather than the guy he was in last year's UCLA-Arizona game.
Carey leads the nation with 153.1 yards rushing per game and averages a strong 5.7 yards per carry. While the Bruins' run defense has yielded some yards -- 167.6 per game, which ranks eighth in the Pac-12 -- it limits opposing runners to 3.9 yards per carry, which is tied for fifth in the conference.
Carey was largely irrelevant in last year's game because the Wildcats fell behind by a large margin, forcing them to throw, and throw ineffectively.
[+] Enlarge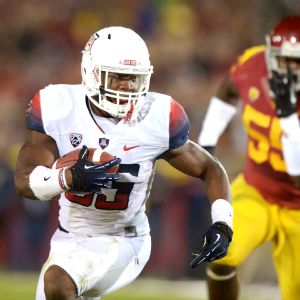 Kirby Lee/USA TODAY SportsArizona will need a big performance from running back Ka'Deem Carey, who leads the nation in rushing yards per game this season.
Arizona can't afford to let the Bruins get off to another fast start and take Carey -- and the crowd -- out of the game. Mora certainly knows that Carey is where everything starts for the Wildcats offense.
"This guy, I don't think you stop him," Mora said. "He's too good. He's leading the nation in rushing. You just hope to contain him a little bit, not let him break the long ones."
While Mora didn't have many thoughts about last year's game, he did have some ideas about why Carey is again putting up such big numbers.
"He runs hard," Mora said. "He's got great vision. He's good after contact. He's elusive. He's powerful. He's a slasher. He can catch it in the open field. He can break the long one. He can get the tough yards up inside. He's got all the attributes you look for in a great running back."
The good news for the Bruins is they have a strong defensive front seven, a 3-4 scheme anchored by a crew of linebackers who rank among the nation's best.
Yet defense is also where Arizona is most different from 2012. The Wildcats wore down last year on defense in the first year of using Jeff Casteel's 3-3-5 scheme. An inexperienced unit that wasn't that talented in the first place was hit hard by injuries. This year, the Wildcats rank among the Pac-12 leaders in most defensive categories. While still not exactly loaded with future NFL talent, particularly on the defensive line, the Wildcats are playing good team defense.
That said, the best offenses on the Wildcats' schedule have yet to be faced, and that starts Saturday with the Bruins and quarterback
Brett Hundley
.
Both teams are 6-2 overall and 3-2 in conference play, though the Bruins are 19th in the BCS rankings largely due to their first eight games being significantly tougher.
Still, both teams' seasons will be judged by how they handle their final four contests. The winner Saturday, for one, will announce itself as a South Division contender.
"This is at least where you want to be in November, with a chance to play meaningful games with a lot at stake," Rodriguez said. "And here we are with a big one Saturday night."
October, 31, 2013
10/31/13
10:15
AM PT
A few storylines to keep an eye on this week in the Pac-12.
Light week: Only four games on the Pac-12 docket this week, including one on Thursday (Arizona State at Washington State), one on Friday (USC at Oregon State) and two on Saturday (Arizona at California and Colorado at UCLA).

Let's go bowling: Three teams, Oregon, Stanford and Oregon State, are already bowl bound. Four others sit on the precipice and as many as seven others are still in the hunt (note, because of the 13-game schedule, USC needs seven wins to become bowl eligible). Arizona State, Arizona and UCLA can all become bowl eligible this week.

[+] Enlarge

AP Photo/Elaine ThompsonBishop Sankey is one of four Pac-12 backs who average at least 100 yards a game.

1K club: Washington running back Bishop Sankey became the Pac-12's first 1,000-yard rusher this season and has 1,162 yards on the year. Arizona's Ka'Deem Carey (920 yards) probably will break through this week against a Cal rush defense that yields an average of 189.1 yards per game. Carey leads the league with 153.3 yards per game, one of four backs who average at least 100 yards per contest (Sankey, 145.2; Tyler Gaffney, 110.8; Byron Marshall, 109.9).

Scoreboard, baby: The Sun Devils have the top two scorers in FBS football in running back Marion Grice (15.4 points per game) and kicker Zane Gonzalez (11.4 ppg) and rank sixth in the nation with 45.4 points per game. Four times this year they have posted 50 or more points. That's the most since the 1973 team. Worth noting, too that Oregon State's Brandin Cooks is third nationally in scoring, making it a hat trick for the conference.

Rubber arm: Washington State quarterback Connor Halliday is on pace to set single-season school records in pass attempts and completions. Through eight games he has completed 273 passes on 428 attempts. Gabe Marks has been the primary recipient with 59 catches for 655 yards. But eight different WSU receivers have 20 or more catches.

Remember, Reser: The Beavers have won three straight over USC in Corvallis, but the Trojans' defense, though injury-depleted, is having a fine season. The Trojans have held six of their eight opponents to fewer than 300 yards. They'll be tested by an Oregon State passing attack that, despite a loss last week to Stanford, is still one of the best in the nation. Cooks leads the FBS with 10.6 receptions per game and 157 yards per game. USC is tied for the conference lead with 27 sacks, which might not bode well for an Oregon State team that gave up eight sacks to the Cardinal last week.

Off and running: The aforementioned Carey is 80 yards shy of reaching 1,000. When he gets there, he'll be just the third Arizona running back to post multiple 1,000-yard rushing seasons. He has rushed for at least 100 yards in 10 straight games, which is the longest active streak in FBS. But it was quarterback B.J. Denker who led the Wildcats in rushing last week, posting 192 yards on 15 carries.

Where's the points? Cal, still winless in conference play, is giving up a league high 44 points per game and scoring a league low 22.9 points per game. Moving the ball isn't a problem. The Bears rank sixth in the league in total offense, averaging 468.4 yards per game. But they have only scored 20 touchdowns on the year, second worst only to Colorado's 19. Receivers Chris Harper and Bryce Treggs have combined for 112 catches for 1,387 yards, but just six touchdowns -- five from Harper.

Back to basics: The Bruins are looking to snap a two-game slide after dropping back-to-back road games at Stanford and Oregon. Keep in mind the Bruins have played 32 freshmen this year -- including 17 true freshman. Last year they played 26, including 12 true. Through the first five games, quarterback Brett Hundley averaged 293.8 passing yards per game, was completing 68 percent of his throws with 12 touchdowns to four interceptions. In the last two weeks he averaged just 128 yards and completed 63 percent of his throws with two touchdowns to four interceptions. The more comfortable he gets with his young, reshaped offensive line, and the fact that he's not playing two of the top teams in the league, should help him bounce back.

Explosive potential: The Buffs rebuilding process has yet to produce a conference win. But that doesn't mean Colorado can't be explosive. Wide receiver Paul Richardson has 50 catches and 914 yards with seven touchdowns, and he's sneaking up on some Colorado single-season marks. He has six plays of 50 yards or longer this season. Freshman quarterback Sefo Liufau is 1-1 as a starter and is completing 59 percent of his throws with two touchdowns and an interception.
October, 28, 2013
10/28/13
11:00
AM PT
Taking stock of Week 9 in the Pac-12.
Team of the week
: UCLA had a good plan and played with fire at Oregon, but the Ducks owned the second half, scoring 28 unanswered points in a 42-14 blowout that seemed like a potentially tight game at halftime. Oregon made another strong statement for its national title candidacy.
Best game
: Stanford seemed in control with its dominant defense owning an 11-point lead late in the fourth quarter over Oregon State, but a fumble and a failed third-and-1 conversion gave the Beavers new life, and they nearly forced overtime before yielding 20-12. About a quarter of the Beavers crowd was headed for the gates with five minutes left, but many of them did an about-face and joined the hopeful frenzy that didn't die until the very end.
Biggest play(s)
: The Beavers had a first-and-goal on the Stanford 7-yard line in the final minute, needing a touchdown and a 2-point conversion to force overtime. They got four shots at the end zone, but each
Sean Mannion
pass fell incomplete, including a fourth-down attempt that, for a moment, seemed to have a chance.
[+] Enlarge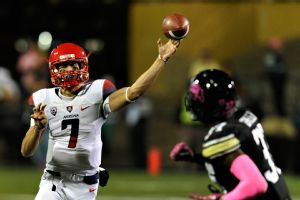 Karl Gehring/The Denver Post/Getty Images B.J. Denker had a big night against Colorado.
Offensive standout:
There have been and probably will continue to be doubts about Arizona QB
B.J. Denker
, but you have to credit him for showing grit in the face of criticism and, by golly, for improving. He accounted for 457 total yards in the 44-20 win at Colorado. He completed 21 of 32 passes for 265 yards with a TD and interception and he also rushed for 192 yards on 15 carries.
Offensive standout II
: Just like Denker, Washington RB
Bishop Sankey
put up big numbers against a Pac-12 bottom-feeder, but you can't ignore the numbers: a career-high 241 yards on 27 carries -- which works out to 8.9 yards per rush -- with two touchdowns in a 41-17 win over California.
Defensive standout
: Stanford outside linebacker
Trent Murphy
had 2.5 sacks and 3.5 tackles for loss among his eight total tackles in Stanford's win over Oregon State. He also broke up a pass and blocked another as the Cardinal defense held the Beavers to just 288 total yards. And he was a disruptive force well beyond the stats. There seemed to be six Murphys on the field, and the Beavers didn't block any of them.
Defensive standout, team editions
: USC, Oregon and Stanford each deserve special note for playing outstanding team defense. USC held Utah to three points and 201 total yards, Oregon pitched a second-half shutout and Stanford held the most potent passing attack in the nation to 271 yards.
Special-teams standout
: Washington K/P
Travis Coons
was 2-2 on field goals in the Huskies 41-17 win over California, making kicks of 46 and 42 yards. He was perfect on five PATs and had three of his eight punts downed inside the California 20-yard line, as well as a 46-yard effort.
Smiley face
: Stanford and Oregon both took care of business against ranked teams, setting up a marquee matchup of national interest on Thursday, Nov. 7. While the Cardinal's loss at Utah reduces the overall wow factor of the Pac-12 showdown that was circled in red in the preseason to some extent, these are still teams in the top five of the BCS rankings, and the Pac-12 North Division is likely at stake. It's good for the Pac-12 as a whole to have the big stage to itself. And both teams get extra time to prepare, so THERE WILL BE NO EXCUSES!
[+] Enlarge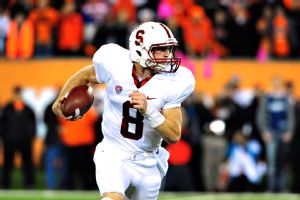 Steve Dykes/Getty ImagesStanford needs more offense from Kevin Hogan & Co. to keep up with Oregon.
Frowny face
: Stanford will have no chance against the Ducks without some passing game, and the one the Cardinal brought to Oregon State won't cut it against the Ducks defense, which might have the nation's best secondary. QB
Kevin Hogan
completed just 8 of 18 passes for 88 yards (4.9 per completion), with a QBR of 27.0 -- 50 being average -- against an inspired Beavers defense. Stanford coach David Shaw said as much about his offense after the game. The Cardinal needs receiver
Devon Cajuste
to get healthy, if that's even possible.
Thought of the week
: Let the bowl scramble begin! Oregon, Stanford and Oregon State are already bowl-eligible, with Oregon and Stanford both in position to obtain BCS bowl berths. Arizona, Arizona State, UCLA and Washington each have five wins, needing one more to become bowl-eligible. Of course, the South Division winner also has a shot of getting a Rose Bowl berth in the Pac-12 championship game. USC, Utah and Washington State need two more wins to become bowl-eligible. Only Cal, at 1-7, is out of the running, though Colorado getting three wins is a decided long shot. After the BCS bowls, things will get pretty interesting in the rush for the best bowl slots -- Alamo and Holiday -- compared to the other choices. There might be some hurt feelings -- "Hey, we beat them and have the same record and they got a better game!"
Questions for the week
: Where are the road warriors (other than Oregon)? Go through the Pac-12 schedule: There have been few impressive or surprising road wins this year. Arizona lost at USC and Washington. Arizona State lost at Stanford and to Notre Dame in AT&T Stadium. UCLA lost at Stanford and Oregon. USC lost at Arizona and Notre Dame. Utah lost at Arizona and USC. Stanford lost at Utah. Washington lost at Stanford and Arizona State. The best road wins? Stanford over Oregon State on Saturday. Oregon over Washington on Oct. 12. Washington State over USC on Sept. 7, perhaps the most surprising win. UCLA over Utah on Oct. 3. And Oregon State over Washington State on Oct. 12. That's about it. A program goes from good to great by learning how to consistently win on the road -- see Oregon and Stanford
October, 27, 2013
10/27/13
10:00
AM PT
Five things we learned in Week 9 in the Pac-12.
[+] Enlarge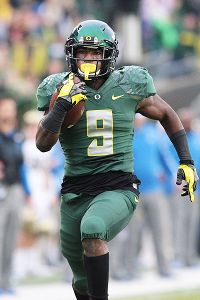 Scott Olmos/USA TODAY SportsByron Marshall rushed for 1,038 yards for the Ducks in 2013.
See Ducks run
: First, credit the Bruins for effort. They sold out and committed to the run and totaled 219 yards on the ground in playing the Ducks to a 14-14 halftime tie. They weren't intimidated and they didn't back down from the challenge. But like Jim Mora said, "the heck with being close." UCLA needs to start winning these games if it wants to be considered an elite Pac-12 team. That said, Oregon simply needed 48 minutes instead of its usual 30 to dispatch a team, ranked or not. And it was refreshing to see how the Ducks would react to being punched back. They reacted like a championship team should. Oregon picked up 325 yards on the ground, with 133 yards and three touchdowns from
Byron Marshall
. And we've been saying it in the blog for a while now: Oregon's defense is really, really good. The Ducks picked off
Brett Hundley
twice and held him to just 64 yards in the air.
Marcus Mariota
was a very clean 21-of-28 for 230 yards and a touchdown. His streak of games with at least one rushing and one passing touchdown came to an end, but he extended his interception-less streak to 292 consecutive passes. And it has to be comforting to know that if every Oregon running back is suddenly stricken with sprained ankles,
Rodney Hardrick
can always carry the rock.
Typical Stanford
: Stanford's offense survived on the strength of tough running by
Tyler Gaffney
and a defense that sacked Oregon State quarterback
Sean Mannion
eight times. But it was Gaffney's late-game fumble that should serve as a reminder that Stanford hasn't been scoring many points of late. So, not unlike last year's Stanford team, white knuckles will likely be required down the stretch. But credit the defense for creating pressure on Mannion, who was 41-of-57 for 271 yards and a touchdown. His partner in crime,
Brandin Cooks
, had nine catches for 80 yards and a score. Sans the late-game fumble, Gaffney was stellar again, this time going for 145 yards and three touchdowns. The Beavers saw their six-game winning streak come to an end. But there's little time to wallow with USC coming into town before a bye and then going on the road for two of their last three. The next time Stanford takes the field will be when Oregon comes to town. And despite the one Cardinal loss, that game still has all the fun subplots and polish we were hoping for.
Where's the offense?
The Utes are reeling after failing to win on the road for the second straight week. And the once-potent offense managed just three points and 201 yards, and it turned the ball over four times. Remember, this is the team that put up 410 yards on Stanford. But this was the worst offensive output by far. A lot of that has to do with the health of
Travis Wilson
, who sat out the second half for the second straight week. The offensive line looked leaky and the explosive attack we'd come to know the first half of the season looked flat. The defense did what it could, but the offense left it in bad spots. Which leads us to the Trojans. Not a particularly great offensive showing for them, either, so a game ball to
Andre Heidari
and his four field goals.
Cody Kessler
looked pretty good, taking care of the ball and completing 21 of 32 passes for 230 yards with a touchdown. But minus-30 yards in sacks left the Trojans with just 30 total rushing yards for the game. Credit USC's defense for being opportunistic and big ups to the Trojans for continuing to persevere despite a depleted roster. They did what they had to do to win. But now Utah's signature win a couple of weeks ago is starting to look more and more like a one-week-wonder.
Carey keeps rolling
: The leading rusher against Colorado was not Ka'Deem Carey, surprisingly enough. But Carey did rush for 119 yards and four touchdowns, giving him 10 straight games of at least 100 yards dating back to last year's game against Colorado. It was quarterback
B.J. Denker
who carried 15 times for 192 yards. The Buffs played this one tough for a while, even leading 13-10 with five minutes left in the half. But the Wildcats struck hard and fast with two late-half touchdowns, and it was game over from there. You can get the sense that this is a different Colorado team than last season. And
Paul Richardson
is simply outstanding (seven catches, 132 yards, one score). The results just aren't showing up in the win column. Arizona broke through with its second straight conference win and will look to become bowl eligible next week against Cal.
Huskies bounce back
: Washington got exactly what it needed: a win, and a convincing win at that. Cal continues to be everyone's slump buster. And the Huskies busted their three-game slump with a monster 241-yard, two-touchdown performance from
Bishop Sankey
. This win won't get the Huskies back in the Top 25. And beating Colorado next week probably won't, either. But the Huskies are one step closer to another year of bowl eligibility, and with back-to-back road games at UCLA and Oregon State before the Apple Cup, Washington has an opportunity to finish very strong and break the seven-win curse. For Cal, it's about finding the little positives. But the Bears have now dropped 10 straight Pac-12 contests dating back to last year. And after another blowout loss, you have to wonder if that streak will end this season.
October, 17, 2013
10/17/13
10:15
AM PT
A few storylines to keep an eye on this week in the Pac-12:
1. Title game rematch
: UCLA and Stanford will face each other for the third time in the last 10 months. Only this time it's the Bruins who are the higher-ranked team, coming in at No. 9 after Stanford slid to No. 13 following its loss at Utah. Remember all of those side-to-side swing passes that Dennis Erickson and Utah used to keep Stanford off balance? Remember who worked for Erickson at ASU? Yep, Noel Mazzone. And UCLA loves to hit its receivers in the flat. Keep an eye on what happens after the second-half kickoff, as well. The Bruins are outscoring opponents 71-0 in the third quarter this year. Stanford has a 12-game home winning streak -- third longest in the nation -- and is 10-1 at home against ranked opponents since 2009. Stanford hasn't lost consecutive games since the middle of the 2009 season.
[+] Enlarge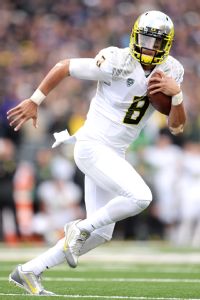 Allen Kee/ESPN ImagesMarcus Mariota and the Ducks are expected to be one of the top two teams when the BCS standings are released on Sunday.
2. BCS time
: The first Harris Poll of the season was released Sunday and featured four Pac-12 teams in the top 25: Oregon (2), UCLA (9), Stanford (12) and Washington (25). The first BCS standings will be released this week -- which comes on the heels of the announced selection committee for the College Football Playoff that starts next year. We're all expecting Oregon to be in one of the top two spots. Question is, where will UCLA or Stanford land?
3. North vs. South:
Two more critical North versus South showdowns this week with UCLA traveling to Stanford and Washington heading to Arizona State. The UCLA-Stanford game takes center stage for obvious reasons. But Washington-ASU has all the makings of a thriller. This is one of those 50-50 games that either team needs to win to show they belong in the upper tier of the Pac-12. The quarterbacks,
Keith Price
and
Taylor Kelly
, are obviously the mechanisms that make their teams go. But Washington running back
Bishop Sankey
(899 yards) has rushed for at least 125 yards in five of six games and ASU gives up almost 170 yards per game on the ground. Look for him to probably break 1,000 for the season by the final whistle. On the flip side, ASU's
Marion Grice
already has 15 total touchdowns. He had 19 last year, so look for him to eclipse that mark in the next couple of games.
4. Making up is hard to do
: Colorado will face Charleston Southern this week as a makeup for the Sept. 14 game against Fresno State that was canceled because of severe rain and flooding in Colorado. Charleston Southern is a perfect 7-0 on the year and is receiving votes in the Sports Network FCS College Football Poll. The Buffs are looking to get to 3-3 for the first time since 2010. And they are making a change at quarterback with
Sefo Liufau
stepping in after going 18 of 26 for 169 yards and a touchdown and two interceptions in relief against Arizona State.
5. No. 5?
The Cougars are looking for their fifth win for the first time since 2007. Tough draw, however, this week with a trip to Oregon. The Ducks are averaging 56.8 points per game and are second in the country in total offense with 630.5 yards per game.
6. Taking care of the ball
: Speaking of Oregon, quarterback
Marcus Mariota
, the Heisman frontrunner through the first half of the season, continues to impress with turnover-free performances. Though his completion percentage is down from last year, he hasn't thrown an interception in 165 pass attempts this year -- which extends a streak dating back to last season of 233 attempts. His last interception was against Stanford. During that stretch, he's completed 100 passes for 1,724 yards and 17 touchdowns. Receivers
Josh Huff
and
Bralon Addison
have 27 catches each for a combined 1,054 yards and 11 touchdowns.
7. Rebuilding the brand:
Nothing can unite the USC fan base like a win against Notre Dame. Better yet, a win
at
Notre Dame. The Trojans won their first game of the Ed Orgeron era and look to follow it up against the Irish. Neither team is ranked, but the names carry a lot of weight. This is a game that could re-energize the Trojans moving forward.
Marqise Lee
and
Morgan Breslin
have both practiced and it's looking like both will play. That should be a huge boost after getting running back
Silas Redd
back last week.
8. Momentum building?
What do the Utes do with their big win over Stanford? Do they keep the momentum rolling? They have to go on the road for four of their next six -- including leaving the state for the first time this season when they travel to face Arizona. The Wildcats are still looking for their first conference win, though quarterback
B.J. Denker
had a strong statistical performance in the loss last week to USC, completing 28 of 44 passes for a career high 363 yards and four touchdowns.
9. Who needs a running game?
The Pac-12's top two passing offenses square off with Oregon State's trip to Cal. OSU quarterback
Sean Mannion
has six straight games of 350 passing yards and the Beavers lead the conference with 433.2 passing yards per game and 25 passing touchdowns. Cal averages 371.3 yards in the air -- second in the league, but just 11 passing touchdowns, third worst. The Bears can move it, they just haven't been able to convert yards into points.
10. No off week:
For the second straight week, all 12 schools will be in action. This was supposed to be a bye week for Colorado, but the Charleston Southern game fills the void. Next week Arizona State and Washington State are on bye. It will be the first of two byes in three weeks for the Cougars, who will have opened the year with eight straight games following this week's matchup with Oregon.
October, 1, 2013
10/01/13
11:30
AM PT
I'm gonna go get the papers, get the papers.
2014 TEAM LEADERS
| TEAM | RUSH | PASS | TOTAL |
| --- | --- | --- | --- |
| Offense | 199.4 | 268.5 | 467.9 |
| TEAM | PF | PA | MARGIN |
| Scoring | 32.9 | 27.5 | 5.4 |