August, 16, 2011
8/16/11
8:08
PM PT
Citrus College transfer Albert Cid worked with the first team offensive line Tuesday, ascending the depth chart only one week after his transfer to UCLA was approved.

Cid (6-2, 330) replaced sophomore Chris Ward at the strong side guard position.

"I was happy because it was an opportunity and I didn't want to let this opportunity slip away," Cid said. "I want to make the most of it."

Offensive line coach Bob Palcic used junior college transfers Ryan Taylor and Eddie Williams the last two seasons, but he said Cid got up to speed much more quickly than expected.

"He's coming along faster than I thought he would," Palcic said. "It took Eddie Williams three or four games to get going and same thing with Ryan Taylor, but Alberto is progressing faster than I anticipated, to be honest."

Cid acknowledged that he wasn't yet in playing shape, but said it's easier to play when you line up next to experienced linemen such as center Kai Maiava and string side tackle Mike Harris.

"Today I felt really comfortable with Kai and Mike Harris," Cid said. "Kai was making all the calls and he was doing all the thinking, I just have to play."

And he did that just fine, according to Palcic.

"I think he can be a real good player," Palcic said. "I thought he did a decent job in there. He's going to be a good football player. He's a big strong kid and has good mobility and likes to play. He's everything I thought he was when I watched him on junior college tape."
August, 9, 2011
8/09/11
8:01
PM PT
UCLA coach Rick Neuheisel on Tuesday officially welcomed offensive lineman Albert Cid and defensive back Jamie Graham to the football team after both players cleared the UCLA admissions process and both players participated in practice on the second day of fall camp.

Cid (6-4, 330) is an offensive lineman who played last season at Citrus College and Graham (6-0, 195) played defensive back for three seasons at Vanderbilt.

They are welcome additions for UCLA, which is thin at both offensive line and defensive back.

Graham is more game ready of the two as camp gets underway because he played under defensive coordinator Jamie Bryan, who is close friends with UCLA defensive coordinator Joe Tresey and uses a similar defensive system at Vanderbilt.

"Every call is the exact same," Graham said. "I went in there the first day and I looked at the calls and I was like, 'Oh, OK.' So not much studying going on right now."

Cid has spent the past six weeks finishing up summer school classes so he would meet the UCLA admissions requirements so he acknowledged that he has had much time to get into football shape. He said he 330 pound right now and would like to get down to 315 by the end of camp.

"Right now it's about getting in shape," he said. "I'll pick up the playbook quick and then from there they'll be able to determine how fast I'll play."

Cid said he played in a zone blocking scheme at Citrus, so that knowledge should help him at UCLA, who also uses zone blocking. Offensive line coach Bob Palcic said Cid is a welcome addition to his thin troops, but won't expect too much too soon.

"We've just got to take one step at a time and be patient," Palcic said. "He has the athletic skills and he runs well and he's strong but there's a long learning curve that he has to work on."

There is also a spot on the offensive line that is up for grabs. Projected starter Jeff Baca is out for at least the first month of the season as he recovers from a broken ankle and freshman Wade Yandall has been taking reps at that spot, but it appears to be a spot that's till up for grabs.

"My expectations are to get in shape as fast as I can within two or three weeks and from there I'll know the playbook and then I should be fighting for a starting position," Cid said.

He added that it was "a dream come true" to be at UCLA.

"It's overwhelming," he said. "I was packing up my stuff I was like 'I'm going to college. I'm going to be a Division I football player now."
August, 5, 2011
8/05/11
4:17
PM PT
With UCLA preparing to open fall camp on August 8, we will break down the depth charts at each position in order to look at how the Bruins stack up heading into this season. We've previously looked at
quarterbacks
and
defensive line
. Now we move to the offensive line.
Current depth chart:
TACKLE
Sean Sheller (Sr., 6-5, 304)
Connor Bradford (Jr., 6-6, 275)
GUARD
Jeff Baca (Jr., 6-4, 305)
Casey Griffiths (So., 6-4, 284)
CENTER
Kai Maiava (Sr., 6-1, 318)
Greg Capella (So., 6-3, 292)
Kody Innes (Fr., 6-4, 291)
GUARD
Chris Ward (So., 6-4, 330)
Wade Yandall (Fr., 6-4, 328)
TACKLE
Mike Harris (Sr., 6-5, 326)
Brett Downey (Jr., 6-7, 290)
February, 10, 2011
2/10/11
1:46
PM PT
UCLA football coach Rick Neuheisel announced Thursday the hiring of Jim Mastro and dismissal of defensive line coach Todd Howard.

Mastro, who served as Nevada's running backs coach the last 11 years, will work with tight ends and F-backs. According to the statement released by the school, Mastro will "also play a key role in the continued development of the running component of UCLA's offense that incorporates elements of the Pistol schemes."

"Jim has a wealth of knowledge and experience with the Pistol and will be a great asset as we incorporate many of its run-game principles into our offense," Neuheisel said in the statement. "He has enjoyed great success in the running game and I feel he will work well alongside (offensive coordinator) Mike Johnson, (running back coach) Wayne Moses and (offensive line coach) Bob Palcic to give us a very cohesive offensive staff."

Howard had worked with UCLA's defensive line the last five seasons. The move comes 54 days after the firing of former defensive coordinator Chuck Bullough. Neuheisel has interviewed a number of candidates but has yet to hire a replacement.

"Todd knew that this was a possibility," Neuheisel said. "We discussed the situation back in December and decided to wait until after recruiting to make a final decision. I feel that it is in the best interest of our program and also in Todd's best interest that we part ways at this time. I appreciate all that he has done for UCLA football and I know that he will be successful in his next position."
October, 3, 2010
10/03/10
11:00
PM PT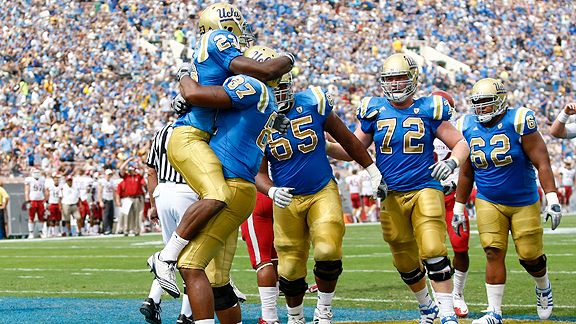 Craig Bennett/Icon SMI
UCLA offensive linemen, who embrace the nickname the "Filthy Five" enjoy the reward of helping a running back reach the end zone.
When UCLA took the ball at its 1-yard line in the fourth quarter with the score tied Saturday against Washington State, the Bruins had only one thing on their minds.
"Time to get filthy," guard
Eddie Williams
said.
It worked. UCLA went on a 99-yard scoring drive, keyed in large part by the play of UCLA's ragtag bunch of offensive linemen, who have been dubbed "The Filthy Five" by the Bruins coaches.
It's a collection of former castoff linemen suddenly thrust into starting roles who have become the most consistent performers in what has been a wildly inconsistent Bruins team.
"This isn't the most talented group that I've ever coached in my career, but they work as hard as any group I've ever coached," said Bruins veteran offensive line coach
Bob Palcic
. "They work for each other. There's no selfishness in the group. They've bought into what we're doing and it's showing up on the field."
There are actually six of them -- Williams,
Sean Sheller
,
Ryan Taylor
,
Darius Savage
,
Micah Kia
and
Mike Harris
-- but the name applies to whichever five are on the field at the time.
On Saturday, all six were blasting open holes for a UCLA running game that piled up 437 yards rushing—the most by a Bruins team since 1979.
Johnathan Franklin
had a career-high 216 yards rushing and
Derrick Coleman
set his career high with 185.
It was the first time in school history that two backs had rushed for 180 yards in a game, and it was no fluke. The offensive line has allowed Franklin to eclipse the 100-yard mark in three consecutive games—the first Bruins back to do that since Maurice Jones-Drew in 2004.
August, 24, 2010
8/24/10
7:12
PM PT
With Fall camp ending and the Bruins switching to game preparation mode, the fuses of many UCLA coaches have become quite a bit shorter.

Many on the staff, including coach Rick Neuheisel, defensive coordinator Chuck Bullough, offensive line coach Bob Palcic and special teams coach Frank Gansz had a noticeable uptick in the number of choice words over the past two days.

"They're not tolerating the same mistakes that we made early in camp," receiver Ricky Marvray said. "It's time to start sharpening up, honing in our skills and becoming the team that's going to beat Kansas State."
2014 TEAM LEADERS
| TEAM | RUSH | PASS | TOTAL |
| --- | --- | --- | --- |
| Offense | 200.6 | 291.9 | 492.4 |
| TEAM | PF | PA | MARGIN |
| Scoring | 35.1 | 29.3 | 5.9 |