March, 27, 2013
3/27/13
7:19
PM PT
LOS ANGELES -- Rick Pitino? Really?
Billy Donovan? Phil Jackson?
Why on Earth would UCLA want to hire one of those guys?
OK, they are all proven winners who have shown they know how to run a program with consistent success. On that level, it makes sense. Those guys are legends and maybe you want to go after the best in the business.
[+] Enlarge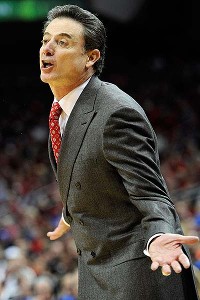 Jamie Rhodes/USA TODAY SportsRick Pitino would be a big name for UCLA to land as coach, but would he be a good fit for the Bruins?
But this is UCLA we're talking about. UCLA makes legends, not the other way around. It is one of college basketball's meccas. It's the dream job for just about any coach in the country and the place where the coach should become a star.
Those other guys are already stars for things they did somewhere else. The stories for those coaches and others in their class have already been written. Bringing them to the Bruins would be a mercenary hire. UCLA shouldn't be looking at coaches who cemented their legacies at some other job; UCLA should be looking for someone who will cement his legacy in Westwood. UCLA should be looking for a guy who will eventually go to the Hall of Fame and there will be no doubt about what hat he chooses to wear.
Ask yourself: Is Pitino the Louisville guy or the Kentucky guy? Is Jackson better known as the former Lakers coach or the former Bulls coach? That's what you'd be asking about Donovan if he came to UCLA and won a couple of national titles the way he already has at Florida.
The coach is the face of the program, but when you see Pitino or Donovan or Jackson, you're going to see many different teams or programs. That's not something you should be seeing when you see the coach of UCLA, one of the Mount Rushmore programs in college basketball. UCLA should be looking for the guy who will become known only for leading the program back to the national elite. UCLA should be looking for the next Pitino, the next Donovan, the next Jackson.
That's why coaches like Brad Stevens of Butler and Shaka Smart of Virginia Commonwealth make so much more sense. Guys like that have cut their teeth and shown they can coach. They've taken their respective schools to unprecedented heights but haven't yet reached the pinnacle. If a coach like that came to UCLA and won a national title, they would become college basketball royalty.
Stevens or Smart have been the top two candidates on any coaching list the past couple of years, but it doesn't have to be one of them. They have in the past spurned the advances of bigger schools because of their love of small-college life.
Smart looks as if he's done it again
, and if Stevens does, too, Bruins fans shouldn't fret.
March, 26, 2013
3/26/13
10:10
AM PT
LOS ANGELES--Let the coaching search begin.

Ben Howland and Dan Guerrero have said their piece to each other and to the public through press conferences and now a job thought to be among the most prestigious in all of college sports is open.

Just how prestigious the job really is, we're about to find out. Guerrero, UCLA's athletic director, and his search team will no doubt scour the nation and make runs at some of the top coaches in the country. They are armed with plenty of money thanks to the Pac-12 Networks deal, so if they strike out, it will be an indication that the UCLA job isn't as elite as it once was.

The Bruis will need to act quickly. The National signing period for basketball begins April 17. Not only does UCLA need to fill some roster spots, but the three players who signed in the early period need to see who the new coach is and decide whether or not UCLA is still for them. The Bruins hope to have a coach in place by the Final Four weekend, April 6-7.

Whoever gets the job won't have to worry about administrative support. Howland, fired Sunday after 10 years, received plenty of votes of confidence over the years in terms of contract extensions. He signed a seven-year deal in 2008 then signed one-year extensions in 2009, 2010 and 2011 meaning he was under contract through 2018.

Howland received one-year extensions after finishing second in the Pac-10 and losing in the second round of the NCAA tournament in 2008-09, got another extension after going 14-18 in 2009-10 and then another after finishing second in the Pac-10 and losing in the second round of the NCAA tournament in 2010-11.

This year, after winning the Pac-12, he got fired. Don't worry about him, though. He'll land on his feet and is a good enough coach to quickly get another job. Plus, he'll receive $3.5 million as a parting gift thanks to the buyout clause in his contract and those extensions. Howland receives $300,000 for each remaining year on his contract plus the guaranteed $2 million fee he was going to make next year.

Without those extensions after posting substandard results, UCLA could have saved $900,000. Knowing how generous UCLA can be with coaches may help lure one of the top targets to Westwood. Associate athletic director Mark Harlan, who heads up department development, is surely working overtime to get the support of UCLA's boosters as the program gears up to make what it hopes will be the kind of splashy hire that will excite the fan base.

And just who are those targets? Speculation has already begun, on Twitter and message boards and in the media. And while this is by no means intended to represent an actual coaching search list, here are some of the names you're likely to hear:

NO-BRAINERS

Coach: Mark Few

Current position: Gonzaga

Why he's a no-brainer: A long-established power coach on the West Coast, Few has maintained an elite-level program at Gonzaga for 14 years. He's made four Sweet 16 appearances and this season had the Bulldogs ranked No. 1 in the nation.

Fast fact: Despite the collegiate success, only seven Gonzaga players from the Few era have made the NBA and none has averaged more than 7.5 points or 3.6 rebounds in their NBA career.

Coach: Shaka Smart

Current position: Virginia Commonwealth

Why he's a no-brainer: He's one of the hottest up-and-coming coaches after taking VCU to the Final Four in 2011-12 and building a nationally relevant program at a mid-major. His "havoc" style of play adds entertainment value and helps recruit players who enjoy the up-tempo pace.

Fast fact: Despite his success on the national level, he has not won a conference title in four years as a head coach.

Coach: Brad Stevens

Current position: Butler

Why he's a no-brainer: Considered perhaps the top young coach in the college game, Stevens took tiny Butler to the national championship game in 2009-10 and again in 2010-11. He's among the brightest students of the game and an expert at game planning and adjusting.

Fast fact: He's a rising star in the coaching world from a mid-major school in Indiana. The last time UCLA hired someone with that description, he went on to win 10 national championships with the Bruins.


2014 TEAM LEADERS
| TEAM | RUSH | PASS | TOTAL |
| --- | --- | --- | --- |
| Offense | 200.6 | 291.9 | 492.4 |
| TEAM | PF | PA | MARGIN |
| Scoring | 35.1 | 29.3 | 5.9 |